Kobayashi Seimen boasts over 70 years of history producing safe, quality, delicious noodles. Developing Halal-certified and Vegan-certified, gluten-free noodles, which are available overseas. Let's meet Kobayashi Seimen's President, Hironori Kobayashi, to learn the company's aspirations for developing Halal products and its product specialities.
Kobayashi Seimen started in 1947; I'm the third generation in the founding family. In the early days, we produced dumpling skins and udon noodles before adding business-use ramen and gluten-free noodles during my father's generation. Our lineup now includes Halal, gluten-free noodles in my generation.
Halal, gluten-free noodles are not exactly a popular choice for many buyers. Despite that, we constantly develop them not for profit but just for the joy of creating and providing food for people who can only eat what we make.
As our company name suggests, we have mainly focused on 'Seimen' (生麵=fresh noodles) since our establishment. The Halal and gluten-free market is relatively small, so longevity becomes a crucial factor. This is why we are gradually handling more and more instant products.
Even the gluten-free noodle we started exporting last year is instant noodles with soup. Our Halal-certified, gluten-free and Vegan-certified products are also suitable for Muslims, people with wheat allergies and vegans. With their long lifespan, they are also perfect for stockpiling.
We also work on various collaborative items with other companies. With the Halal ramen restaurant Ramen Honolu, we made products for export storable at room temperature, now available at Don Don Donki Malaysia.
I first became aware of Halal over 20 years ago. It all started back when I studied at universities in America and Australia. From there, my frequent business trips abroad increased my awareness of the necessity of Halal food.
We were already selling gluten-free noodles for people with allergies. Yet, I soon wanted Muslims to also be able to enjoy the delicious Japanese ramen. Of course, some Muslims also have wheat allergies. Therefore, we developed gluten-free Halal ramen in 2016 as a product everyone with food restrictions can eat.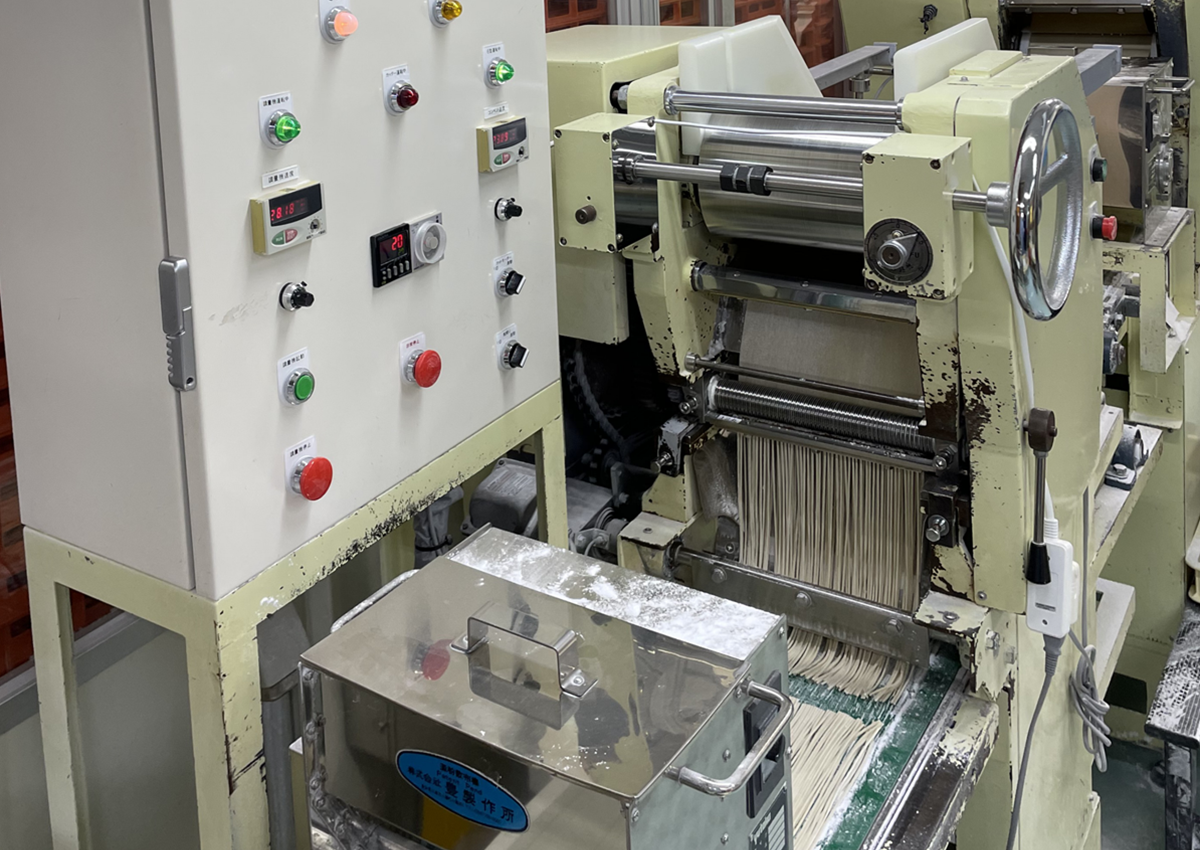 Among all, making fresh noodles last longer without using alcohol was challenging.
Thanks to our patented gluten-free method, even fresh noodles can have a longer shelf life. Food can preserve for a long time in several ways. We could prolong ours by adding acid ('acidity')–to a level that your tongue won't even feel it–then heat-sterilising the sealed package.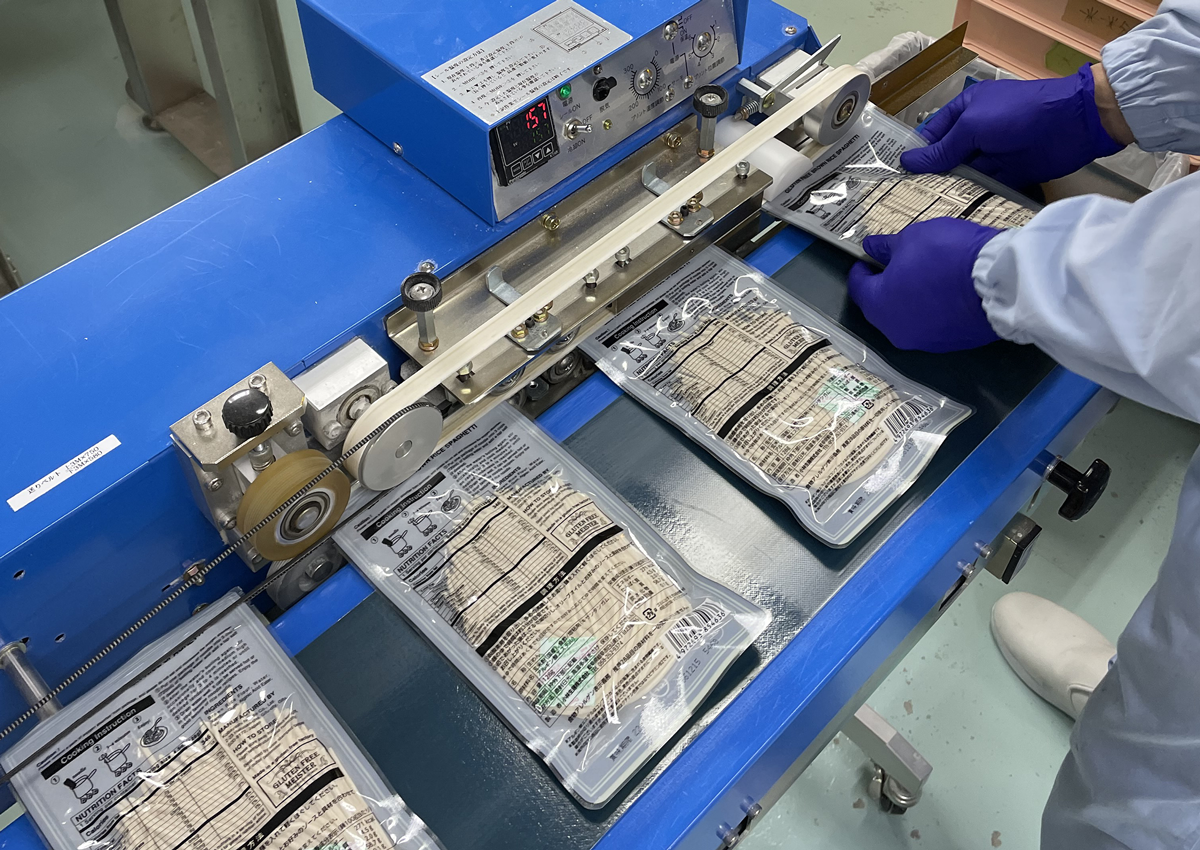 Another challenging part was to create a tasty soup without any animal-based ingredients to make the product Muslim/Vegan friendly.
When I expressed the necessity of Halal food to a soup manufacturer I had long known, they gladly stepped into the development even though it was their first attempt at Halal/Vegan.
In fact, I used to run a French restaurant. I applied all my knowledge to find solutions to deepen the flavour and make it better without animal substances. With the help of the soup manufacturer, we successfully completed a delicious Halal ramen soup.
In the last few years, demand for commercial ramen and others wholesaled to restaurants fell sharply due to the pandemic. At the same time, sales of gluten-free noodles grew by 1.5 times more proportionally to this. Profits from exports, including Halal/gluten-free, were especially booming.
Though times are still tough, we are more than happy if our products can benefit the people who need Halal/gluten-free products.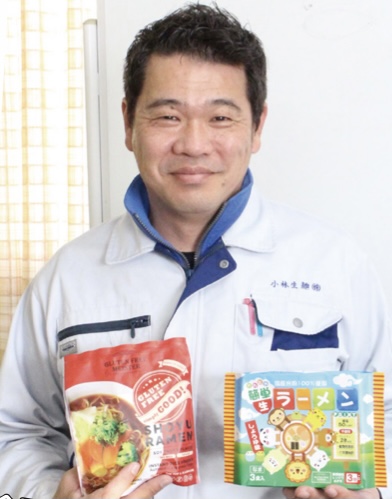 We wish to enable many people in different countries to relish and enjoy ramen and other Japanese noodles. Towards this goal, we will continue producing and selling safe, high-quality and delectable products that everyone, from Muslims to people with allergies, can enjoy.
< Company Profile >
Company name: Kobayashi Seimen
Head office: 2-23-5 Hakusancho, Gifu, 500-8172
Business outline: Manufacture and sell fresh noodles
Official HP: Kobayashi Seimen
---
We have a network of Japanese companies keen to expand into the Halal market in Malaysia & Indonesia.
If you are interested in connecting with sustainable technology companies in Japan, simply JOIN the network from below. We will match the right one for you!