50% less sugar, 10x fibre! Nichirei's new rice food
Japan is a country of "improvement". The people constantly re-examine and brush up on everything.
And now, the Japanese are revamping the rice grain itself. Wow!
Major food manufacturer NICHIREI has come out with a new product called "Gohan no Mirai", the next-generation rice with 50% less sugar and 10 times more dietary fibre.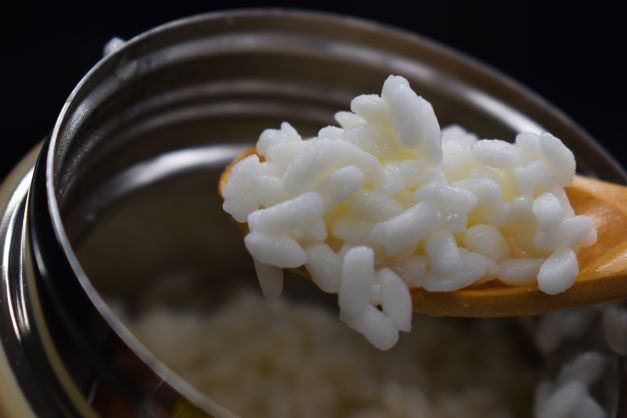 Gohan no Mirai combines powdered rice with rice-derived dietary fibre (resistant starch). It looks like regular rice, but Nichirei proposed it as a completely new staple food.
The cooking method is so simple. Users only need to add hot water, so you don't need to cook rice from scratch. Brilliant!!
Gohan no Mirai is a "Plain" rice range with low carbohydrate and high dietary fibre content. It also includes five other variations with additional nutrients, such as +zinc, +iron, +calcium, +folic acid and +vitamin C.
Although the company has no plans to release the product overseas, here are the selling prices in Japan for your reference.
・Starter Set ("Gohan no Mirai" exclusive keep-warm container + 7 servings of Gohan no Mirai)
Plain: JPY 3,780 (incl. tax) *about $32* / Nutrients+: JPY 3,930 (incl. tax) *about $34*
・Refill (14 servings of "Gohan no Mirai")
Plain: JPY 3,780 (incl. tax) *about $32* / Nutrients+: JPY 4,082 (incl. tax) *about $35*
When you consume sugar, your blood sugar level rises. So, your pancreas releases insulin (hormone) to lower your blood sugar levels. Insulin converts the sugar in your blood into fat for the body to store.
Dietary fibre also helps prevent diabetes by slowing down sugar absorption, thus reducing the rise in blood sugar levels after eating.

Southeast Asia is home to some of the largest Muslim populations in the world. At the same time, obesity is a common social problem in Southeast Asian countries that need a major solution.
The situation is even more critical in Malaysia. Today there are 3.6 million people with diabetes, and this number could double to 7 million by 2025. That's nearly a third of Malaysia's population aged above 18.
The Health Ministry cautions that rising healthcare costs are putting pressure on the nation's finances.
Meanwhile, many Japanese cuisines are often more healthy. And Japan has developed many foods with functional claims (FFC)*1 to support health and wellness.
If there is a demand for products like this, Japanese companies will surely develop their products to be halal.
To do so, please share this article on your Facebook, too.
May all of you be in good health always!!
<Word Meaning>
*1 Food with functional claims (FFC): foods that the operator claims to have a specific function (beneficial for health maintenance/improvement) labelled on the product packaging, based on scientific proof. For example, "regulates bowel movement" or " slows down fat absorption".
Information on the evidence supporting the product safety and effectiveness must submit to the Secretary-General of the Consumer Affairs Agency (CAA) before selling the product.
Related Article:
Halal-certified frozen & chilled warehouse, Nichirei Logistics Group, Kyokurei
---
We have a network of Japanese companies keen to expand into the Halal market in Malaysia & Indonesia.
If you are interested in connecting with sustainable technology companies in Japan, simply JOIN the network from below. We will match the right one for you!