Tasty meal for Muslim & allergic people with halal emergency food
Used in various ways for school lunches, home dining and disaster supplies—Alpha Rice. The manufacturer/seller, ALPHA FOODS, is now increasing its disaster supply line-up to include Halal-certified items. Hear straight from the Sales Planning Dept's Imasaka on its path towards the certification, including what makes Alpha Rice unique and how to use it.
Since our beginning in 1966, Alpha Rice has been the core of our processed rice production and selling. Alpha Rice is rice quickly dried with hot air for quick and easy cooking with all the same tasty goodness.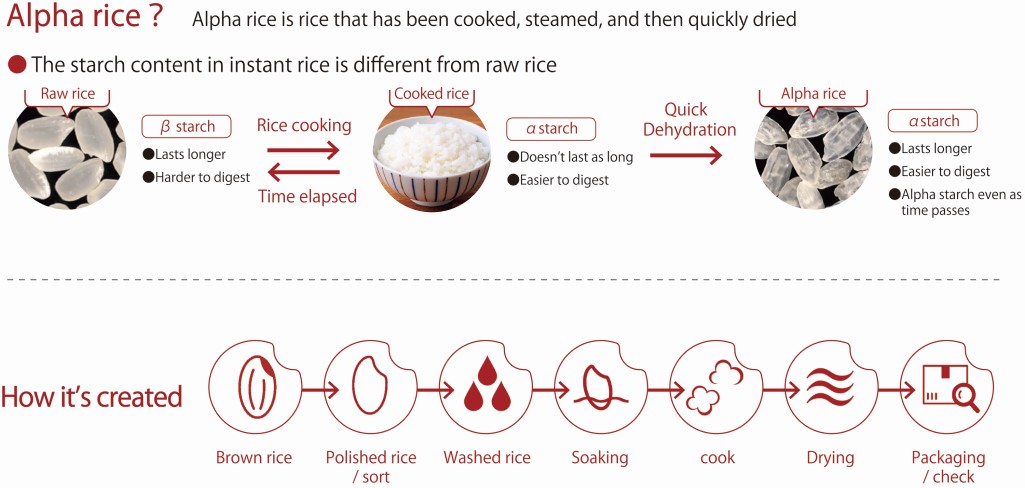 We have been supplying Alpha Rice for school lunches since the 1970s.
For some time after the war, bread was the norm for school lunches in Japan. Despite popular demands for more rice meals, almost all bread factories set up across the country were geared for bread-based school lunches. They tried to cook large quantities of rice using bread factory equipment, but it was hard to do so because of uneven rice cooking and scorching.
To solve this, we supplied Alpha Rice for school lunches, which allows bread machines to cook rice, helping widespread use of rice meals. Even to this day, we carry on the school lunch operation as a designated Alpha Rice factory of the National School Lunch Union [全国学校給食会連合会].
At the time, we began manufacturing and selling products for home and commercial use, using technology developed in the school lunch industry to make delicious yet often time-consuming okowa [Japanese mixed glutinous rice] and sekihan [red rice] easier to eat.
Gradually, the company moved on to produce emergency food for disaster prevention as people became more aware of disaster preparedness.
What triggered this was the Great Hanshin-Awaji Earthquake of 1995. Wishing to lift the spirits of those affected, we operated our factory at full blast to deliver supplies. It earned us an appreciation letter from the Minister of Agriculture, Forestry and Fisheries (MAFF) for our contribution in supporting the disaster-affected areas. In 2005, our products were also used as aid supplies for the Sumatra earthquake in Indonesia.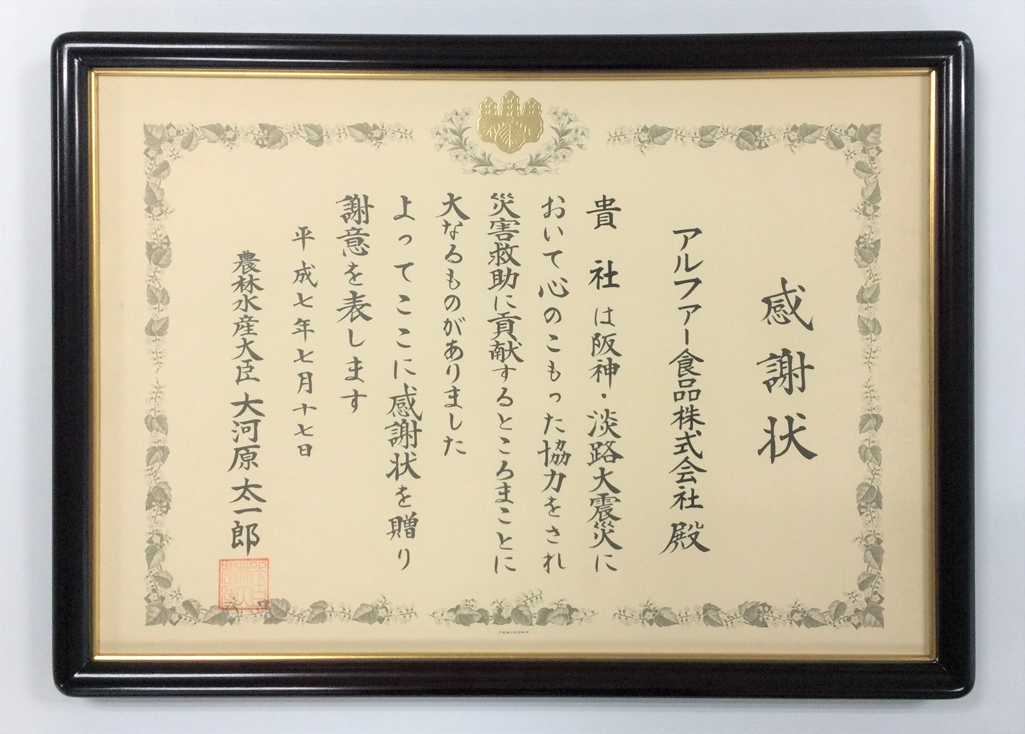 Looking back at the Great Hanshin-Awaji Earthquake, this unprecedented disaster struck in January. Our Alpha Rice, which can be served as a hot meal even in mid-winter, made its mark as emergency food.
However, some survivors who evacuated to the shelter had food allergies. Because the food supplies (at the time) were not 100% allergy-friendly and the lack of awareness among the distributors, it was impossible to provide safe meals for everyone. Severe food allergy illnesses are critical that even eating a tiny amount can be life-threatening.
From the voices on-site, we decided to be a pioneer of allergy-friendly emergency rice food for disaster preparedness, overcoming our conflicting desire to "help those in need during disasters" with "meticulous care and possible risks" in all stages from ingredients to processing and packaging. Until now, the company offers a wide range of emergency food that is safe from 28 specific food allergens*1.
With more and more foreign residents and tourists in Japan, Halal-certified emergency food is becoming a must for disaster preparedness. We already have Halal certification for 13 emergency food products that last for five years at room temperature; we will add more items over time.
You may think that "emergency food is tasteless to eat in disasters". But we care deeply about the taste of our emergency food as much as we care about our regular products for households, school lunches and mass retailers. That is why, you can enjoy them as a daily meal easily and quickly while trying out your own recipes.
We want people overseas to enjoy our emergency food 'Anshin-Mai' and 'Anshin-Mai Quick' as simple-delicious Japanese food. Ours are certified Halal by the Nippon Asia Halal Association (NAHA). Since NAHA has mutual certification with JAKIM, we will first launch them in Don Don Donki Malaysia. In the future, we hope to expand the business further to Indonesia and beyond.
With our Halal and food allergy-compliant, safe and delicious products, we definitely would like more people to know about them. So, we use pictograms to let people overseas understand how the products and cooking methods work. In addition, we design packaging with a different colour theme for each type. We have plans to increase our product line-up from here onwards.
These products make it easy to eat delicious Japanese rice without a rice cooker, which can be a wonderful Japanese souvenir for people overseas. It is lightweight, compact, perfect for outdoor activities such as mountain climbing.
As a delicious and convenient choice, be sure to add Alpha Rice into your daily life, or even use it in case of emergencies.
< Company Profile >
Company name: Alpha Foods Co.,Ltd.
Head office: 645 Taishacho Kitaaraki, Izumo, Shimane 699-0722
Business outline: Manufacture and sell processed rice products, mainly with alpha rice.
Official HP: Alpha Foods Co.,Ltd.
Online shop: Alpha Foods Online Shop
*1 Specific food allergens: Japan has 28 ingredients identified as allergens (e.g. shrimp, crab, wheat, buckwheat, egg, milk, peanut) under the Food Sanitation Act, which manufacturers must label on their products.
Related Article:
New Halal Long-life Food, ANSHIN-MAI Quick
---
We have a network of Japanese companies keen to expand into the Halal market in Malaysia & Indonesia.
If you are interested in connecting with sustainable technology companies in Japan, simply JOIN the network from below. We will match the right one for you!