New Halal Long-life Food, ANSHIN-MAI Quick
Alpha Foods will start shipping its Halal-certified long-term shelf-stable food*1 "ANSHIN-MAI Quick" series from January 2022. It is ready to eat in 5 minutes after pouring hot water, perfect for outdoor use and as emergency food with its longer product life.
ANSHIN-MAI Quick series uses 100% locally grown (Japan) rice. It is certified halal by Nippon Asia Halal Association (NAHA), so Muslims can also safely enjoy this product.
For foreign consumers, it has QR codes on the back of the product with instructions in English, Indonesian, Arabic, Chinese and Korean. This product is also suitable for people with food allergies as it does not contain any of the 28 specific food allergens*2.
It uses Alpha rice*3, which takes only 5 minutes to cook with boiling water, or 30 minutes with just water (approx. 15°C). It includes a spoon inside, and consumers can even use the packaging as tableware. You can store it at room temperature for up to 5 years. Making it ideal for use as stockpile or emergency rations in evacuation centres, lodging facilities, and more.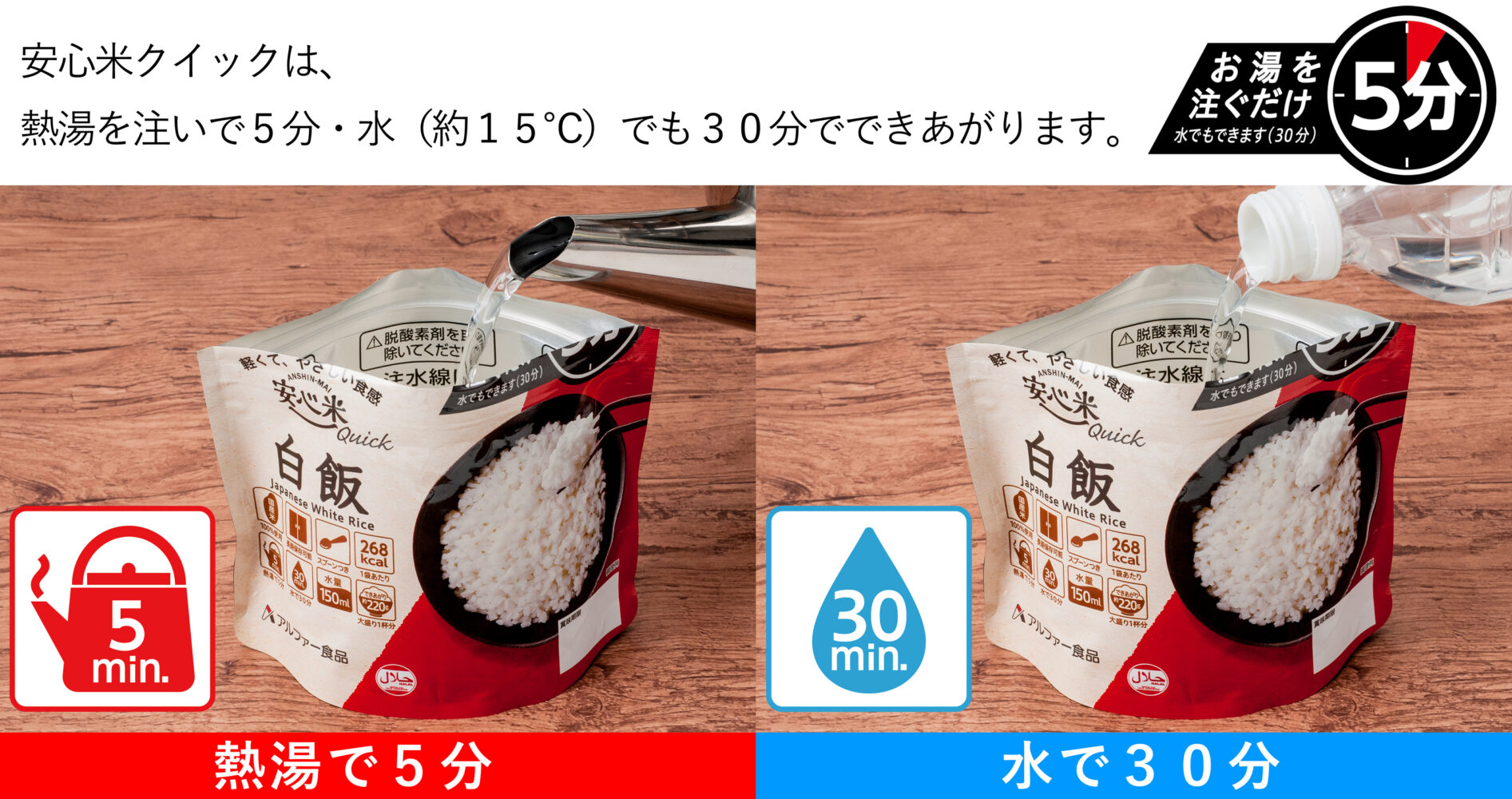 <Word Meaning>
*1 Shelf-stable Food: type of food safe to store/keep at room temperature in a sealed container.
*2 Specific food allergens: Japan has 28 ingredients identified as allergens under the Food Sanitation Act. It includes the 7 specific allergens (shrimp, crab, wheat, buckwheat, egg, milk, peanut), which manufacturers must label on their products.
*3 Alpha rice: cooked rice heated in water, then rapidly dried. In English, it is called pregelatinized starch rice or cooked dry rice.
---
We have a network of Japanese companies keen to expand into the Halal market in Malaysia & Indonesia.
If you are interested in connecting with sustainable technology companies in Japan, simply JOIN the network from below. We will match the right one for you!