1st LaLaport mall in Southeast Asia opens at KL, Malaysia
Mitsui Fudosan will open the world's largest LaLaport shopping centre in Kuala Lumpur, Malaysia, on 20 January.
The second overseas outlet, Mitsui Shopping Park LaLaport Bukit Bintang City Centre (BBCC), will be in Kuala Lumpur's redevelopment area, with about 400 stores opening across 82,600 sq metres floor area. This marks its second LaLaport outlet in overseas, following LaLaport Shanghai Jinqiao in China (the world's largest shopping mall by floor space) that opened in April.
With a network of retail outlets originating from Japan, the mall will also house well-known Japanese brands such as NITORI, Nojima and JONETZ by DON DON DONKI. In addition, Star Child, a nursery that incorporates Japanese-style childcare and education, will open for the first time in Malaysia.
Discover what's inside to enrich your visit
You can enjoy a whole experience beyond the traditional shopping experience of buying goods or services. A line-up of popular establishments from Malaysia, Japan, Korea and many other countries.
Japanese restaurants debut in Malaysia
Apart from bringing in famous Japanese eateries into Malaysia for the first time, some of the stores will also appear in a new format.
Food areas with a great variety of cuisines
It offers many food areas that you can enjoy to meet your various needs. You can get takeaway foods at Depachika Marche (LG1) or even eat there at its Cafeteria. Meanwhile, Gourmet Street (GF) will allow shoppers to enjoy outdoor dining at its terrace seats, and the Garden Dining Food Court (L4) can fit a maximum of 1,4000 people with a kid space for children.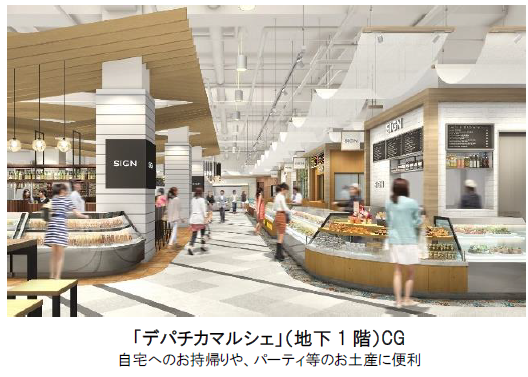 Japan's leading concert hall "Zepp Kuala Lumpur"
Zepp is a leading music hall in Japan with top-class standards in Asia.
Urban development of Bukit Bintang City Centre (BBCC)
The BBCC project is a 78,500 sqm large-scale city development that includes retail, housing, serviced flats, offices and hotels in central Kuala Lumpur.
The project aims to create a new lifestyle by integrating multiple functions: work, home, play, and relaxation.
Location
Bukit Bintang City Centre, No2, Jalan Hang Tuah, 55100 Kuala Lumpur, Malaysia
Access
The mall is directly connected with Hang Tuah Station, so you can go there via Monorail and LRT. It is also a 5-minute walk from the Merdeka Station via MRT Sungai Buloh-Kajang Line.
Related Article:
Nitori opens in Malaysia & Singapore for Southeast Asia entry
---
We have a network of Japanese companies keen to expand into the Halal market in Malaysia & Indonesia.
If you are interested in connecting with sustainable technology companies in Japan, simply JOIN the network from below. We will match the right one for you!