Halal, Plant-based, Ready-to-eat 'Ajina Curry' by 1-Michelin star Kappo restaurant, EITO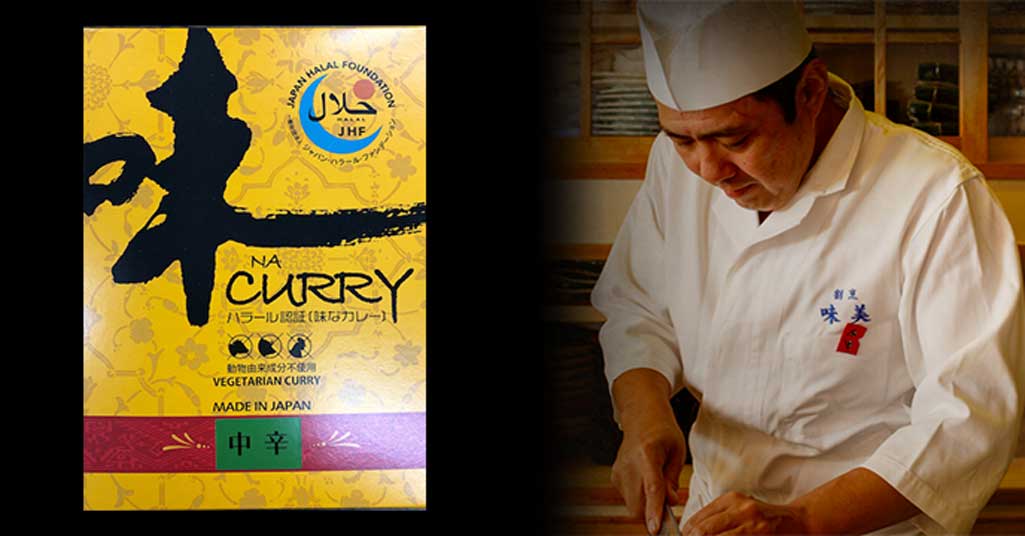 A one-Michelin starred Kappo*1 restaurant has created a retort curry with absolutely NO animal-based ingredients, certified Halal by the Japan Halal Foundation (JHF)*2. Find out about the features of this range and how it was born, from the representative of EITO Inc., Goji Kawaharabata.
I am the owner of Kappo Ajimi [割烹味美], a Japanese restaurant in Nakasu, Fukuoka.
Alongside serving Japanese cuisine in my restaurant, we also develop food products, one of which is the Halal-certified Ajina Curry [味なカレー].
It all started with a commission from a nursing home, which wanted us to prepare meals that even the elderly could enjoy.
While devising the menu, we decided to base it on the concept of 'food everyone, from children to the elderly, would want to eat every day'.
Many of the daily dishes served at Kappo restaurants are rather exclusive— the kind of food you may eat once in a while. That is why we wanted to create a product more simple, yet people would not get tired of eating every day.
The first thing that came to mind was CURRY. Curry is considered one of the national dishes in Japan, loved by men and women of all ages. And the idea of a Kappo restaurant developing curry seemed fun, so that's how we began making one.
The first order of business was to not use 'animal fats/oil'. Although animal fats/oil add extra flavour, they can cause heartburn among the elderly if eaten every day.
We initially planned to use Halal slaughtered beef or chicken, but we chose not to, so even vegetarians could enjoy it.
By harnessing the years of know-how, skills and experience in the Kappo industry, using carefully selected ingredients with great effort and time, we strived to create delicious curries free of animal-based ingredients.
The broth we use is from kelp, shiitake mushrooms, local vegetables, aromatic spices and honey. Over time, we made additional subtle changes to make it easier on the stomach, less burp-inducing and more suitable even for people on a diet.
After a series of such creative efforts, Ajina Curry was finally born.
While only medium-spicy curry was available at first, the range now includes mild and hot-spicy curries too.
As a chef, I have always had a great desire to have as many people as possible enjoy the food I prepare. As for this curry range, we are flexible about its handling. Not only do we sell it as our own product, but we also wholesale to restaurants as a commercial-use item. If requested, we can change the packaging to make as an OEM product and such.
Plus, we are moving forward with a plan to open a physical shop next year.
FOOD is an essential part of life. As someone who is involved in food, I believe that I have a responsibility to produce honest, meticulous and scrumptious food.
I will continue my research and efforts to make better and tastier food.
Do have a taste of my delicious and healthy curries! And I would love to hear what you think of the taste and if you have any ideas or suggestions for improvement.
< Company Profile >
Company name: EITO Inc.
Head office: 1F Dai-2-Kiyotake Bldg., 4-1-10 Nakasu, Hakata Ward, Fukuoka 810-0801
Business outline: Restaurant management, food product production and sales
Official HP: EITO
Online shop: Kappo Ajimi
*1 Kappo cuisine (割烹料理; Kappo-Ryori): this is a type of Japanese fine dining with multi-course meal that is left entirely up to the chef. Kappo restaurants mostly have counter or table seating where you can watch the chef (the "itamae") cooks.
*2 Japan Halal Foundation (JHF): an international-level Japanese certification body with mutual recognition with JAKIM (Malaysia) and MUIS (Singapore)


We have a network of Japanese companies keen to expand into the Halal market in Malaysia & Indonesia.
If you are interested in connecting with sustainable technology companies in Japan, simply JOIN the network from below. We will match the right one for you!