You too can make cute-pretty fruit sandwich
Japanese fruits sandwich is a dessert sandwich.
Decorative cross-sections (such as a flower shape) are the key to this. Here are some tips on how to make it.
A fruit sandwich (or fruit sando in Japanese) is a Japanese creative twist of the Western food. It uses fruits instead of lettuce or ham alike, and whipped cream instead of butter or mayonnaise.
In Japan, "Flower Fruit Sandwich" has become viral on social media for its lovely-cute appearance.
You can find fruit sandwiches, such as "Ichigo Sando" (strawberry sandwich) in convenience stores (konbini), sandwich shops and fruit parlours.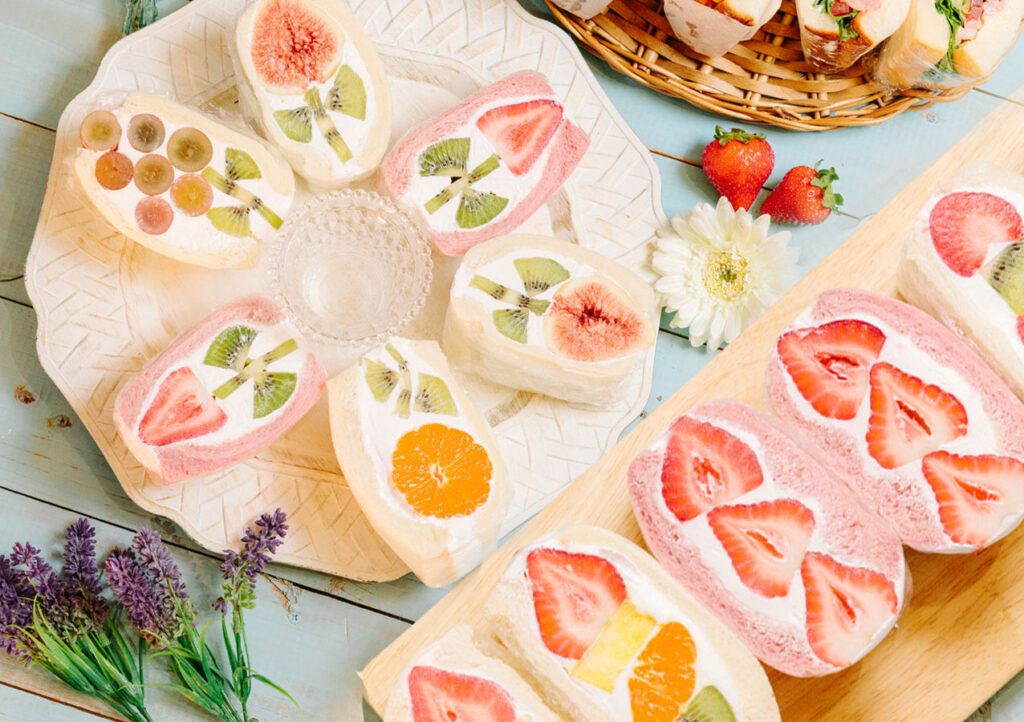 Fruit Sandwich Recipe
Ingredient:
White bread  2 slices
Fruits  (of your liking)
Whipping/Fresh cream
Sugar
Whisk whipping/fresh cream with sugar (to form whipped cream)
Spread ➀ on one side of a slice of bread
Arrange fruits on top of ➁
Fill in any gaps between the fruits with the whipped cream. Then, place the other slice of bread on top of it
Wrap the sandwich tightly with plastic wrap. Mark the cutting direction
Put it in the refrigerator to allow it to set its shape
With a knife, cut it diagonally *DO NOT take off the plastic wrap when cutting
Once completed, eat them as soon as possible while it still fresh.
---
Tips to Make Pretty Cross-section
・Fruits
Until you get used to it, try to use fruit with less moisture! Like strawberries or bananas.
Pat the fruit dry thoroughly with some paper towels (kitchen tissue paper).
・Whipped Cream
The cream should fill in the gaps between the fruits to give a beautiful finish.
Keep an extra 1cm or so from the edge of the bread to prevent the cream from spilling over when you sandwich it.
Some recipes add mascarpone cheese to the cream.
・Order of Fruit Placing
The beauty of the cross-section depends on how you place/arrange the fruits. Place them as you picture the finished result.
・How to Make a Clean Cut
Let it cool in the refrigerator for at least an hour before cutting. In some shops, they leave it for three hours or more.
Use a warm knife by pouring boiling water over it. Slice by sliding the blade back and forth in large motion to prevent it from falling apart.
---
Recipe Reference Video:
---
We have a network of Japanese companies keen to expand into the Halal market in Malaysia & Indonesia.
If you are interested in connecting with sustainable technology companies in Japan, simply JOIN the network from below. We will match the right one for you!