Malaysia Airlines and Japan Airlines expand codeshare flights
From 14 August 2022, Japan Airlines (JAL) and Malaysia Airlines (MAS) will expand their codeshare operations on the Haneda-Kuala Lumpur route operated by MAS.
JAL and MAS have joint operations on the Japan-Malaysia route since July 2020. Passengers from Malaysia, ASEAN, Australasia, and South Asia flying with MAS to Haneda can now connect to Japanese destinations (Osaka, Fukuoka, Nagoya, Sapporo, Okinawa, etc.), as well as international destinations within North America.
By expanding its domestic and international network via Haneda, JAL plans to meet the high demand for transit between Southeast Asia and North America while improving accessibility to-and-from major cities in Japan.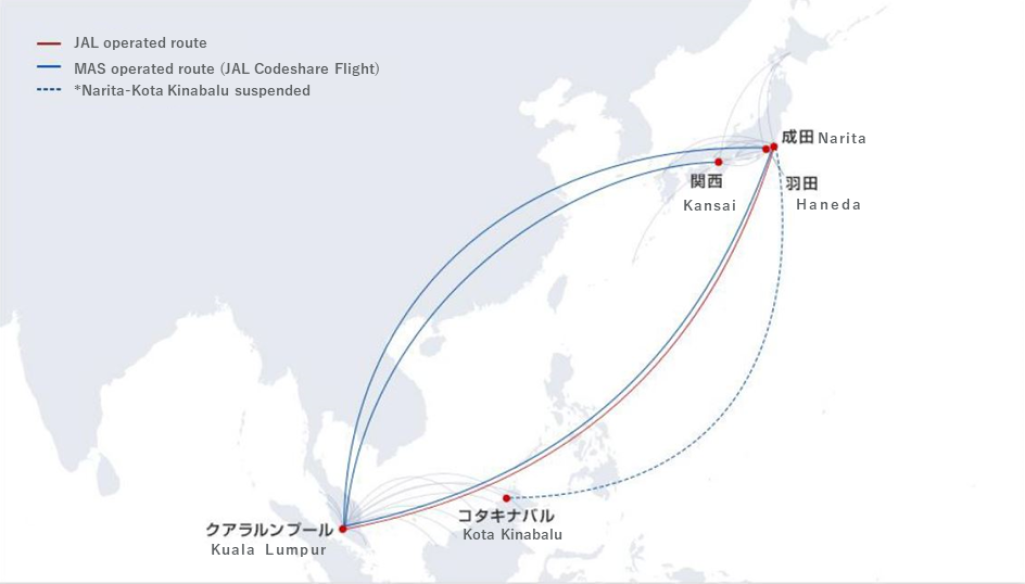 After performing kiosk check-in or Web Check-In on JAL or MAS' websites, customers departing from Haneda to Kuala Lumpur can drop off their baggage five hours before departure. In addition, this service is already available in Kuala Lumpur.
MAS Operated Flights
Currently on sale
Code-share start date: 14 August 2022 (Sunday)
Eligible routes:
| Flight Name | Route | Schedule | Operating Day |
| --- | --- | --- | --- |
| MH37/JL7097 | Haneda-Kuala Lumpur | 0:25-6:15 | Monday/Thursday |
| MH36/JL7096 | Kuala Lumpur-Haneda | 14:45-22:35 | Wednesday/Sunday |
*Flight schedules are subject to change. Please check the websites of both companies for the latest schedules.
Related Article:
Malaysia Airlines new Kuala Lumpur-Tokyo direct flights start this August


We have a network of Japanese companies keen to expand into the Halal market in Malaysia & Indonesia.
If you are interested in connecting with sustainable technology companies in Japan, simply JOIN the network from below. We will match the right one for you!