Free halal certification for more Muslim-friendly shops-offered by Japan Muslim Access
What troubles Muslims in Japan: lack of places to eat and pray. To solve this issue, Japan Muslim Access (JMA) provides free Halal certification to restaurants and other establishments, as well as promoting prayer facilities to be established.
We spoke to Sandha Saleem, the representative director, about his organization's history and activities.
Why Offer Free Halal Certification
I moved to Japan 35 years ago and became a Japanese citizen. I am originally from Pakistan. Compared to my early days in Japan, awareness of Muslims and Halal has somewhat expanded but is still not enough.
One of the challenges for Muslims living in Japan is food and prayer. In Japan, only a few restaurants serve Halal food. So eating out is not always easy. When you are out and about with no prayer facilities nearby, sometimes you have to pray in some corner of a car park. Although Japan has more mosques now, we need more places to pray beside mosques because Muslims pray five times a day.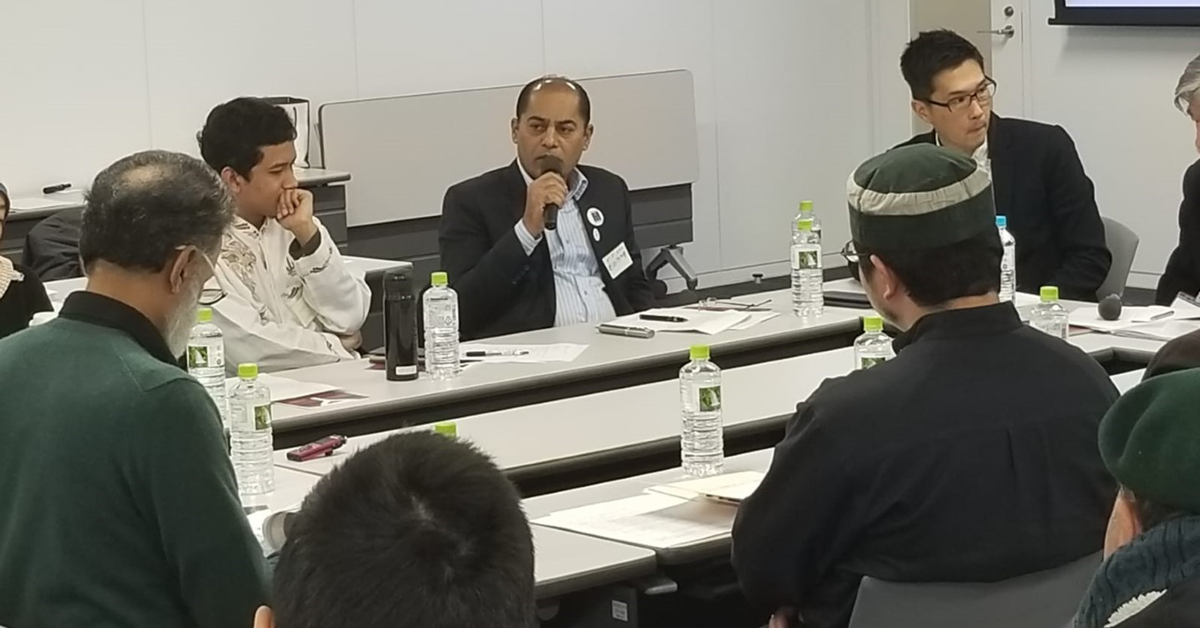 I believe the cost of Halal certification is one of the reasons why halal food is not increasing.
We often hear from restaurants: "I want to get Halal certification to attract Muslims to my restaurant, but I'm hesitant because the cost is high". I can fully understand why small restaurants and others worry about how much profit they can make while paying such a high cost.
I came up with the idea of issuing free Halal certification to increase locations where Muslims can eat comfortably, thus founding Japan Muslim Access in March 2017. We started issuing free Halal certificates to restaurants, hotels, convenience stores and other facilities close to our daily lives.
We may ask the client to pay for transport and labour expenses in the case of long-distance travels, but we still issue the certificate totally free of charge. As for food manufacturers, we do charge a low fee because of the costs involved in the audit.
When issuing a Halal certificate, we often request people to set up a prayer space. As long as they prepared a place, we would provide them free prayer mats, hijabs for the women and Qibla signs. Our aim is to increase prayer places for Muslims, so we always try to avoid putting a financial burden on the establishments.
If you are interested in your restaurant, accommodation or factory certified as Halal, why not apply for Halal certification?
Good deeds lead to God's blessing. Making Japan a more Muslim-friendly place to live and gaining God's blessings are my rewards.
Cases of Japan Muslim Access Certification
Let's look at some of the companies we have certified in the past.
Nakahora Farm (Iwate Prefecture)
Nakahora Farm has a shop in Matsuya Ginza, Tokyo. We issued certification for dozens of their products, including milk, yoghurt, pudding, ice cream and soft-serve.
Bongo Bazar (Saitama Prefecture)
For the large Halal supermarket, "Bongo Bazar", we issued Halal certificates for the imported meats. We also acted as their coordinator.
Food Lab (Fukuoka Prefecture)
Food Lab is a company processing Halal beef. We have issued certification for their "Halal Beef Minute Steak", "Halal Beef Dice Steak", and "Halal Beef Thinly Sliced Yakiniku". More products are coming soon.
Hayashi Seimen (Aichi Prefecture)
Hayashi Seimen is a factory specialising in manufacturing ramen noodles. We issued certification for their ramen noodle and soup set. It is a frozen product, so it can be stored for a long time.
Making Japan a Comfortable Place for Muslims
We are grateful that people are interested in Halal and want to get Halal certification. That is why Japan Muslim Access offers consulting and Halal seminars free of charge, apart from the Halal certificate issuance.
In 2019, we held a seminar on Halal and Muslim support for Tokyo Olympic officials. Unfortunately, the Tokyo Olympics had to give up accepting spectators from overseas. But we hope people who attended the seminar will expand the circle of accommodating Muslims.
Once many Muslims visit Japan after the pandemic ends, we wish to continue issuing Halal certificates and spreading Halal knowledge, so that Muslim tourists won't have any problems eating or praying.
<Company Profile>
Company name: Japan Muslim Access (JMA)
Location: 384 Komagata, Misato-shi, Saitama-ken 341-0008
Services: Halal certification for restaurants, accommodation, factories, etc., Halal consulting, Various Halal advice, Halal seminars
Official HP: Japan Muslim Access (JMA)
---
We have a network of Japanese companies keen to expand into the Halal market in Malaysia & Indonesia.
If you are interested in connecting with sustainable technology companies in Japan, simply JOIN the network from below. We will match the right one for you!