Halal vending machines to make Japan more foreigner-friendly
Apart from selling Halal food, iWorks is also involved in foreign personnel placement and the sale of Japanese language learning videos. Find out how the company set up the first Halal food vending machine in the Kanto region and their vision for the future.
The parent company of iWorks is Oasis Cooperative, which supports the recruitment of foreign technical interns and specified skilled workers. We are a part of the cooperative, with myself serving on the board of directors.
Throughout the cooperative's work, which has supported about 1,500 trainees in total, I became really aware of how essential it is to create a better environment for foreigners living in Japan. That is why I founded iWorks in 2018, to improve the environment for foreigners as a whole business.
Many of the trainees welcomed by the cooperative are Indonesian. When we ask them about their problems, the first thing that comes up is food. We sometimes support them with shopping by checking the ingredients label and so on to see if the food is Halal or not, and it took quite the effort to get such foods. They also often ask us how to get Halal food.
That's why iWorks decided to start the business by selling Halal food. The cooperative visits the trainee homes at least once a month to conduct in-person talks. During these visits, we brought Halal foods to sell to those who requested them, thus paving the start of this business.
With many foreigners living in Japan seeking Halal food, including trainees supported by the cooperative, we opened our own e-commerce site to sell the products more widely. We also have our own shop on the e-commerce mall Tsuku2. Tsuku2 has an efficient give-back system connecting buyers as well as sellers. We decided to join because we agree with its principle of mutual assistance between businesses.
Just as we were looking into opening more shops to give better accessibility for shoppers, the Covid-19 outbreak escalated. "Could we do a 'contactless shop' to prevent infection?". That's when the idea of selling Halal food using vending machines popped into our minds. We installed the first vending machine at a Japanese language school.
Aside from the easy availability of Halal food, it was surprising that the students loved the format of buying from a vending machine. This was because they had little experience buying things from vending machines, as they could not be sure which ones were Halal.
After further discussions, we would like to increase the variety of Halal foods we handle and expand the set-up locations throughout the country.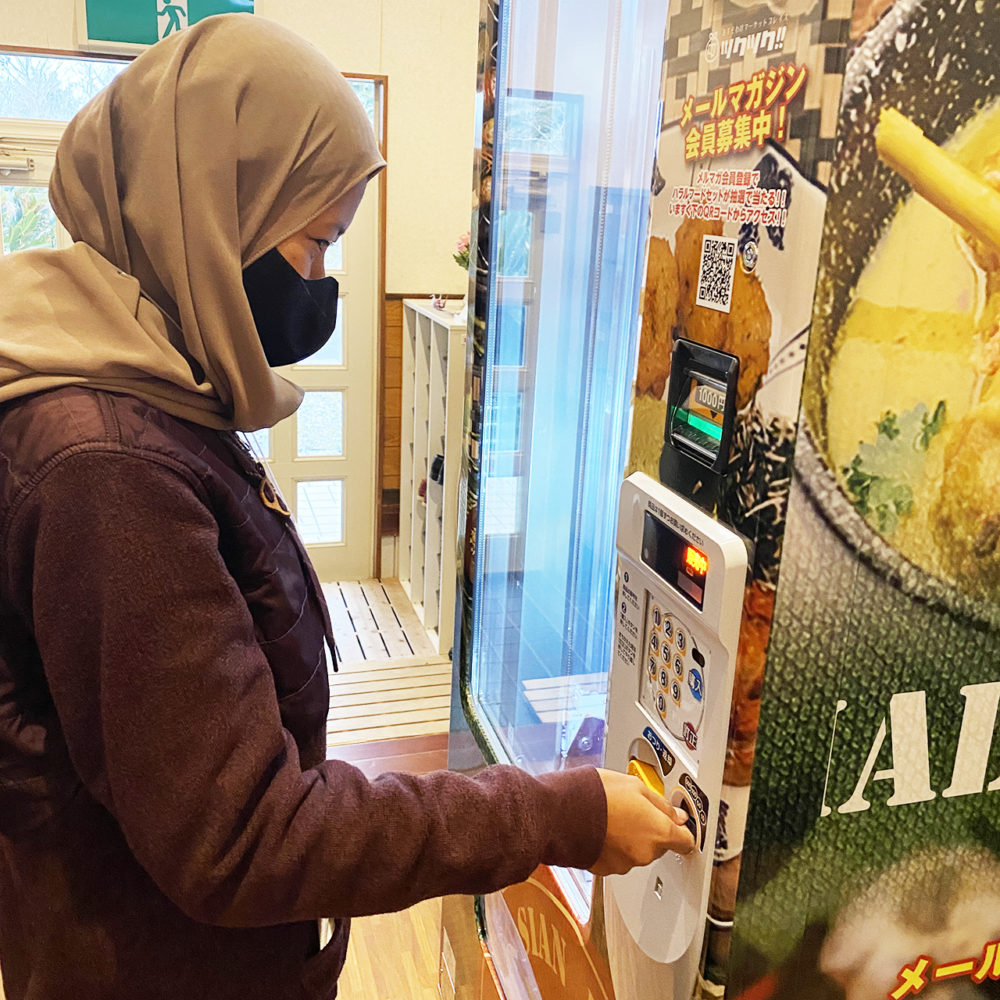 We are currently approached by companies that have many foreign employees that want to increase their hire rate by installing Halal vending machines as an employee benefit.
For many companies actively hiring international staff, we highly encourage you to install Halal vending machines to help you firmly win their hearts and stomachs.
I want many foreigners, including Muslims, to come to Japan either for work or fun. And if possible, I want them to live in Japan for a long time.
To achieve this, we would first like to create an environment easier for Muslims to live in, including making Halal food more accessible.
<Company Profile>
Company name: iWorks Co., Ltd.
Head office: 4F Shinwa Building, 19-13, Shinmachi, Chuo-ku, Chiba-shi, Chiba 260-0028
Business outline: Halal food sales, Distribution of Japanese language teaching materials for foreigners, Foreign staff recruitment, etc.
Official online shop: ASIAN CHIBA (Eng.)
ASIAN CHIBA in Tsuku2 (E-commerce mall)
Related Article:
Halal food vending machine in Chiba, To go nationwide
---
We have a network of Japanese companies keen to expand into the Halal market in Malaysia & Indonesia.
If you are interested in connecting with sustainable technology companies in Japan, simply JOIN the network from below. We will match the right one for you!