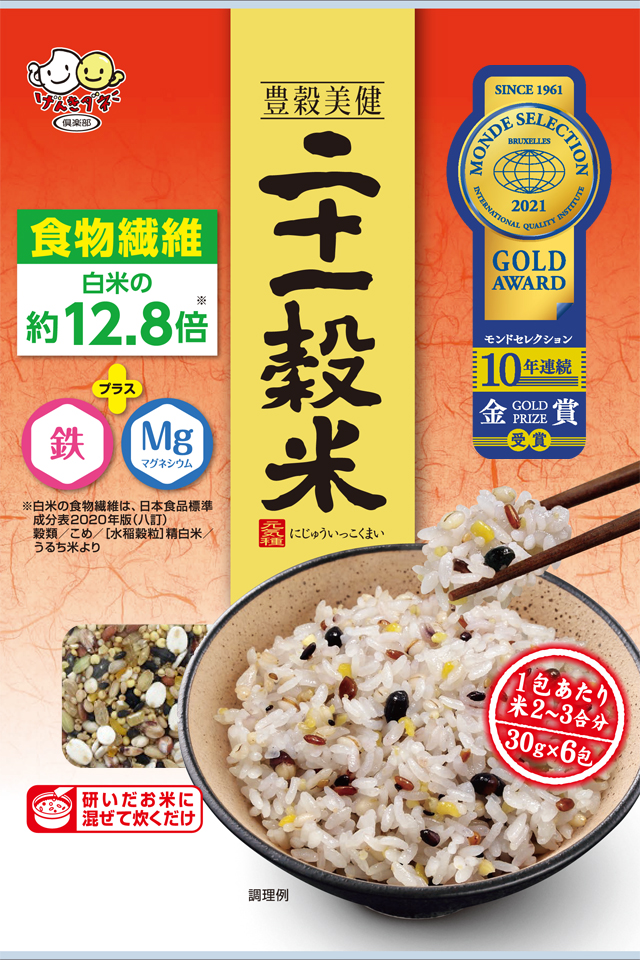 Name
21 Multi Grains
Category
Food
Description
A well-balanced blend of 21 carefully selected grain rice for that depth of flavour!
Contains 12.8 times more dietary fibre than white rice with high level of nutrients, such as calcium and iron. This multigrain rice has flavourful whole black soybeans and red beans; a nice mochi-like texture with aromatic sesame.

You can add this easily to your daily diet, providing the basic nutrients (vitamins, minerals, dietary fibre, etc.)for your body. You won't get tired of it even eaten everyday!
It is in an easy-to-use stick type. Just cook 2-3 cups of regular rice with one packet of it.

This long-selling product won consecutive gold awards from Monde Selection, an international quality evaluation organisation based in Brussels, Belgium.
Halal certification
Obtained.
Certifying body: NAHA (Nippon Asia Halal Association)
Validity period: 11 August 2022
Ingredients
rolled barley, glutinous brown rice, hulless barley, glutinous millet, black soybeans (non-GM), soy beans (non-GM), corn (non-GM), sprouted brown rice, glutinous foxtail millet, red rice, red beans, amaranthus, quinoa, black sesame, black rice, white sesame, green skin brown rice, adlay, barnyard millet, glutinous barley, red sorghum
Best before
–
Preferred target audience(s)
Malaysia, Indonesia, Japan (Muslims in Japan, regardless of nationality), Thailand, Hong Kong, Singapore, Vietnam, Taiwan
Preferred social media
Facebook, Instagram, Twitter, YouTube, TikTok, LINE
Standard sales price
JPY 513
※Please note that for international shipping, customs or import duties may be charged once the parcel reaches its destination country. These charges must be paid by the recipient (applicant) of the parcels.
※As the products provided are samples, they will be delivered to the destination country at a special sample price, and not standard sales price. Hence, any customs duties charged will be based on the sample price.