Pure wood quake-resistant low-cost building, traditional Japanese method
This beautiful wooden earthquake-proof building mix traditional and modern techniques used in shrine/temple construction. To encourage more use of wooden buildings, AQURAHOME will use a less costly, traditional building method that all builders in Japan can use.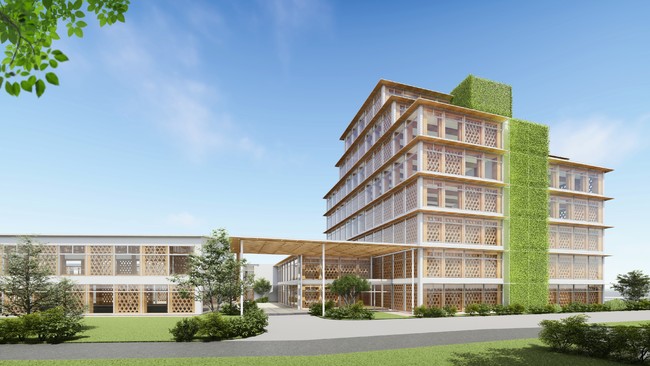 In light of environmental aspects, there is a growing trend of using wood in construction. Many projects using wood are also underway for commercial buildings in the city centre. But only a few construction companies can build them as they use a hybrid construction method (e.g. steel frame for structure and cladding with wooden panels or steel/concrete constructions). They are also expensive and have a long way to go before penetrating the general construction market.
Yet, AQURAHOME constructed this 8-storey wooden building using traditional construction methods and techniques with widely available materials without involving too much specialized technology or materials. Builders across Japan can build at 2/3 of the cost of a conventional wooden building. Construction will be handled by local builders, contributing to improving general building techniques.
The building is a new office building for Acura Home, due to complete in 2024. It will be a prototype for future wooden non-residential construction aiming to revive the wooden cityscape more widely in the future.
■Space to fully embrace traditional Japanese master craftsmanship & the charm of wood
The building will be designed by Masahiro Inayama (professor at the University of Tokyo, one of Japan's top experts in wood structure research), Masamitsu Nozawa (creator of beautiful buildings with Kumiko), and Masahiro & Mao Harada (known for their dynamic architecture with wood). Together, they will create a facility where visitors can experience the full spectrum of wooden construction possibilities.
*Kumiko is a traditional Japanese woodworking technique of assembling wood into geometric patterns without any nails.
This is Japan's first purely wooden building with an earthquake-resistant structure. The earthquake resistance relies only on the wood structure instead of any seismic isolators. Here is the unveiled interior of the wooden structure, which uses the traditional Japanese master craftsmanship of Kumiko, making this kind of structure a first in the world.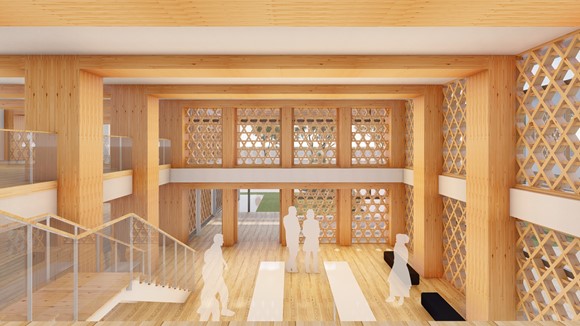 We have a network of Japanese companies keen to expand into the Halal market in Malaysia & Indonesia.
If you are interested in connecting with sustainable technology companies in Japan, simply JOIN the network from below. We will match the right one for you!