Be Comfortable! AkillFeel Halal Hotel Amenity Now On Sale
A halal-certified hotel amenity that is Muslim-friendly, AKILLFEEL is now available to travellers from all around the world.
AkillFeel products are free from pig derivatives and alcohol to ensure they are safe for Muslims, who have to be careful with what they eat and what they use.
Today, the number of incoming overseas travellers is unlikely to recover for some time following the Covid-19 outbreak. However, depending on the state of the Tokyo 2020 Olympic Games, containment of the virus and vaccination, Muslims abroad could enjoy Japanese hotels more comfortably with AkillFeel.
Also, of course, for Muslims in Japan.
Japan ranked a low 32nd out of 34 countries in the "Muslim Friendly Countries" ranking. Muslim-friendly skin lotions and shower gels in hotels are required as part of hospitality.
The halal certification ensures that the food and ingredients is permitted by Islamic law (Shariah). Although facilities and foodstuffs that comply with the Shariah-standard are gradually increasing, halal certification of amenities is still rare.
According to the producer and distributor, gram nine, AkillFeel is gaining attention from hotels and other establishments as safe and gentle amenities with only natural ingredients, without alcohol or pig derivatives (prohibited in Islam).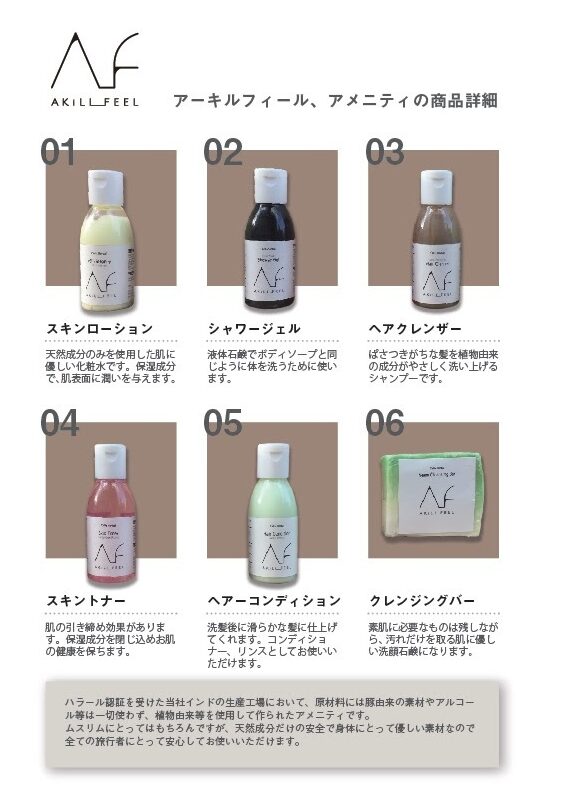 AkillFeel Product Range

01 Skin Lotion

02 Shower Gel

03 Hair Cleanser

04 Skin Toner

05 Hair Conditioner

06 Cleansing Bar
Aspiring to ensure a safe and secure experience in Japan for Muslim tourists, you could set yourself apart from others by introducing AkillFeel earlier as a benchmark for them to choose yours for staying or accommodation.
Groovy Japan introduces Japanese products and services for the Islamic market in English and Japanese.
Follow us on our social media and keep up-to-date with the latest news.