Demon Slayer: How fast is Rengoku?
Demon Slayer–Kimetsu no Yaiba–Mugen Train Arc aired on Japanese TV generated much buzz. A best-selling author even calculated Rengoku's speed?!
Demon Slayer or Kimetsu no Yaiba (in Japanese) is a Japanese manga turned animation series. It tells Tanjiro Kamado's journey to become a demon slayer after his family's death, and his younger sister Nezuko turned into a demon.
Demon Slayer–Kimetsu no Yaiba–The Movie: Mugen Train is its sequel film premiered on 16th October 2020 in Japan, topping the Japanese and international box office.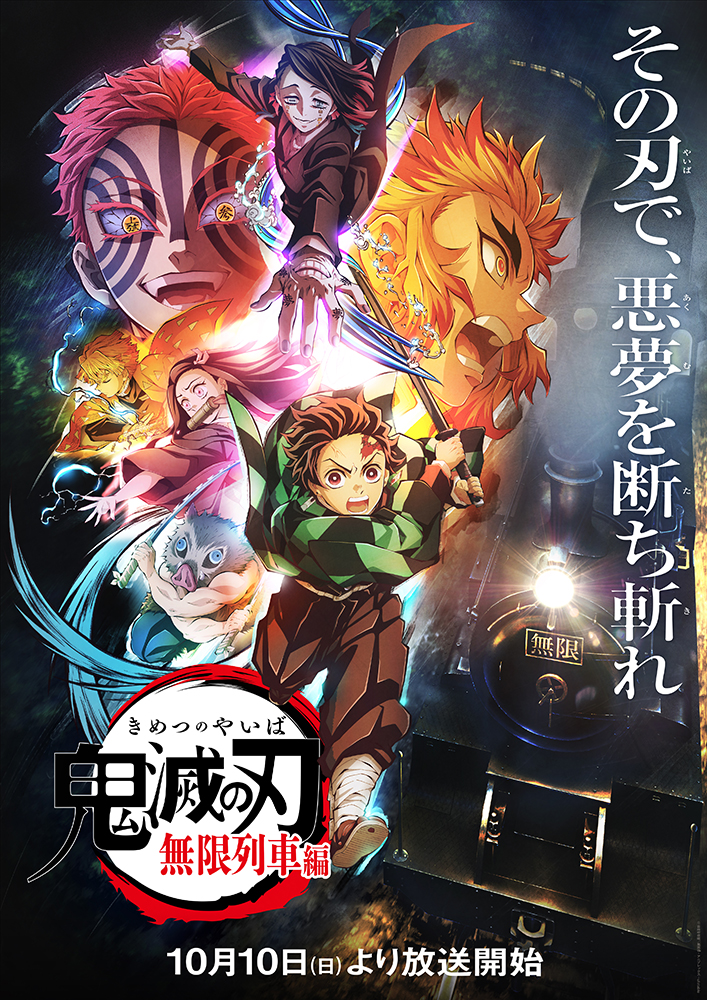 When the television version of the Mugen Train arc aired in Japan, it also unveiled the prequel of the film version for the first time the following week. It featured Flame Hashira Kyojuro Rengoku having a speed showdown with the Speed Demon "Slasher", who attacks people with its signature speed.
What makes you wonder here is their speed.
The author of the best-selling book "Kūsō Kagaku Dokuhon", which scientifically examines anime and special effects films, estimated Rengoku's running speed from descriptions in his works.
The author's estimation of the scene where Rengoku jumped off the train goes like so. *the numbers are all the author's estimation.
Assuming the height of the take-off and landing points are the same, Rengoku jumped off the train at a 59-degree angle and at 128 km/h speed. After 3.1 seconds, he should reach 47m altitude, then touch the ground 3.1 secs later.
From the surroundings, the train was estimated to be travelling at around 60 km/h. So Rengoku landing speed would be 127 km/h.
Based on the author's calculation of high school students' average vertical jump record, "the take-off speed is almost half the average speed of the 50 m run". Whoever can jump at 128 km/h can run twice that speed. That means Rengoku can run at least 256 km/h!
As such, Rengoku runs with "total concentration" at a 256 km/h speed…That's as fast as a bullet train!!
Meanwhile, the Speed Demon is estimated to have a speed of 100 km/h, about the same as the steam locomotive used at the time, shown in the animation.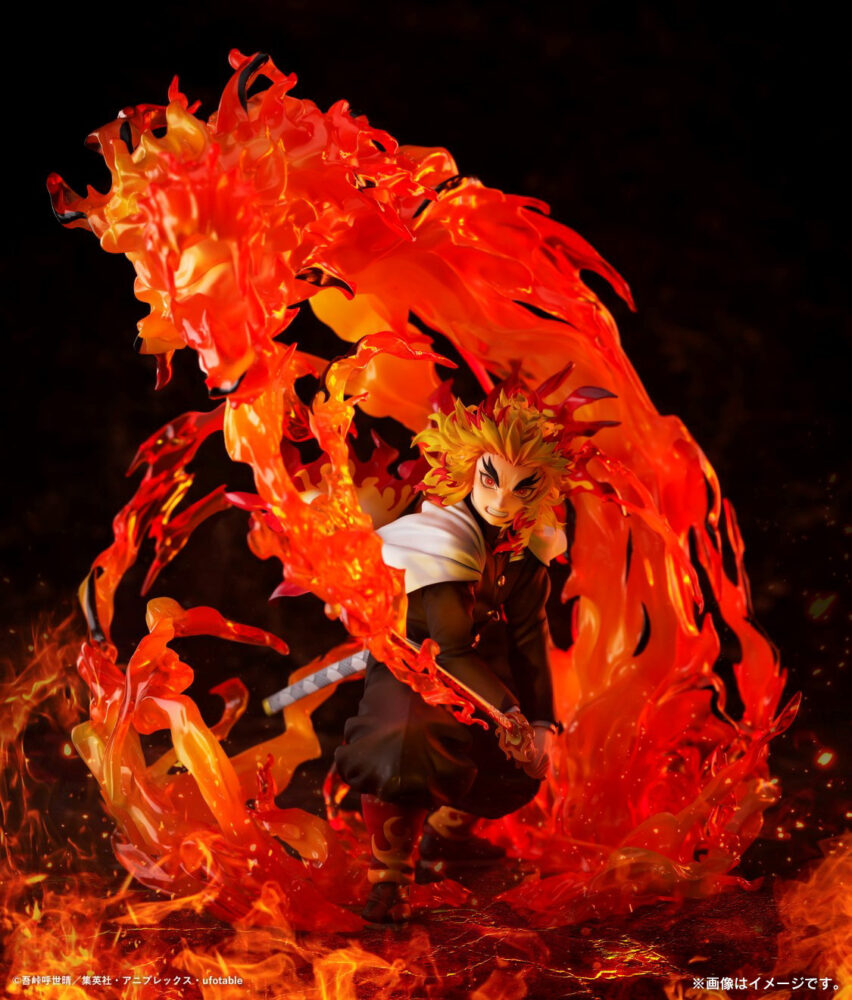 ANIPLEX+ has also released a 1/8 scale figure of Rengoku recreating his Flame Breathing form. If you're a fan of his, this is something you wouldn't want to miss. So cool!!
You can pre-order it now, but unfortunately the company only shipped within Japan. So overseas fans may have to wait for the overseas official release.
Kyojuro Rengoku-Flame Breathing Esoteric Art Ninth Form: Rengoku-1/8 Scale Figure
Specs: Painted ABS&PVC figure with stand included
Height: Approx. 255mm (including stand)
Pre-order period: 28 Nov. 2021 (Sun) 23:30 – 27 Feb. 2022 (Sun) 23:59
*the timing is Japan time and this figure is made-to-order.
Expected delivery: December 2022
*delivery period may subject to change.
Continuing from the Mugen Train arc, the second part of the anime season 2, "Demon Slayer: Kimetsu no Yaiba – Entertainment District Arc", will air in Japan from 5th December 2021.
What will happen next? Make sure to catch the characters in action yourself in the next season.
・ANIPLEX+ Official Online Website (Rengoku 1/8 Scale Figure)
https://www.aniplexplus.com/itemobSCgqeA.html
*overseas shipping not available
---
We have a network of Japanese companies keen to expand into the Halal market in Malaysia & Indonesia.
If you are interested in connecting with sustainable technology companies in Japan, simply JOIN the network from below. We will match the right one for you!