How I–a Malaysian–Found a Job in Japan? 1/2
Hello.
I'm Iman, Groovy Japan's Malaysian staff.
Here's a two-part story on how I, a Malaysian, became a part of GROOVY JAPAN.
The first part is about my time in Malaysia.
I grew up in a town called Batu Caves in Selangor, Malaysia.
It's famous for "Batu Caves" where there's a Hindu shrine dedicated to Lord Murugan. You can see a huge golden statue of Lord Murugan as you pass there. You won't miss it!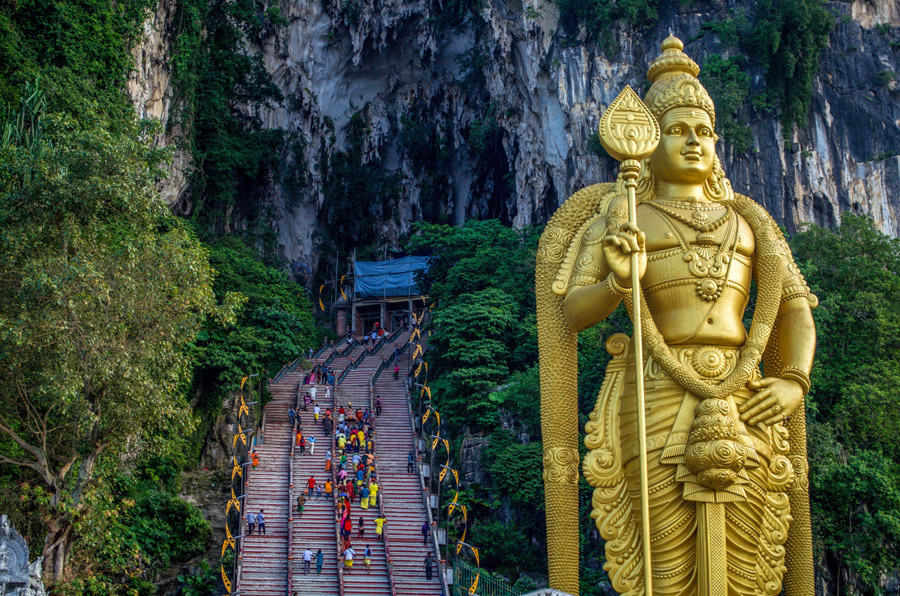 Ever since I was a child, "I want to study in Japan! I want to go to Japan!" was like my catchphrase.
In Malaysia, anime (Japanese animation) is shown regularly on television, and there's even a lot of Japanese restaurants. So, Japan felt quite close to me.
I'm an anime fan.
Most anime fans even in Malaysia refer Japanese animations as "anime". Other than that considered as "cartoons".
Many think that cartoons are for children, but I felt that "anime" is enjoyable for everyone regardless of age.
It made me completely fallen for its abundant genre and storylines.
From Card Captor Sakura, Digimon, Naruto, Ranma 1/2, Lucky Star, The Melancholy of Haruhi Suzumiya… listing my favourites will be endless.
As I watched anime, I became interested in Japanese language and culture. And this is how I dreamt of studying in Japan.
After graduating from high school, I searched for study abroad programs to realize that dream.
There are many scholarship organizations or companies that offer such programs in Malaysia. For example, European countries like Germany or the UK, the Middle East like Turkey, including the US or Australia.
The Malaysian government dispatches students or trainees to Japan after the then PM Mahathir Mohamad initiated "Look East Policy".
The initiative sought to learn economic philosophies and successes of Japan and Korea for Malaysia's socio-economic development.
Through it, opportunities to study eastward greatly increased for young Malaysians.
Among these, abroad studies under the Public Service Department(JPA) and Majlis Amanah Rakyat(MARA) are common. MARA is a Malaysian government agency that provides study abroad programmes in the engineering, medicine, tourism or education fields to Japan and other countries (such as Germany, Australia, the USA, the UK).
With my brother's help, an overseas graduate under MARA programme, I applied for MARA's Japanese programme and safely passed.
Before going to Japan, I spent about 9 months studying Japanese at INTEC Education College, a Malaysian preparatory institution in Shah Alam.
I also learn basic knowledge of history, geography and other subjects required for the Examination for Japanese University Admission for International Students (EJU).
EJU is a test to evaluate international students' Japanese language skills and basic academic abilities needed for Japanese universities.
At the college, I could meet friends of similar interests, participated in events like sports day and camps. We also had an exchange gathering with high school and university students from Japan. It was fun conversing in Japanese with them, showing them Malaysian culture through traditional arts and such.
At the time, there was a Bon Festival held in Shah Alam. It's an annual event conducted by the Japanese living in Malaysia during the Obon period.
Booths were selling Japanese food like Takoyaki (octopus balls) and a large stage placed at the venue centre.
The Japanese drum (wadaiko) performance was amazing!