How I–a Malaysian–Found a Job in Japan? 2/2
Hello.
I'm Iman, Groovy Japan's Malaysian staff.
I have been talking about how I, a Malaysian, became a part of Groovy Japan in two parts.
→Click here for the previous article

In this part, I would like to share about my journey from studying, job searching in Japan until joining the GROOVY JAPAN project.
After arriving here, I spent a year learning Japanese and EJU subjects at JASSO Tokyo Japanese Language Education Center.
I passed the EJU test, enrolled in Daito Bunka University because I liked the campus vibe with my two other Malaysian friends.
Changing campus was also a part of its charms. I spent my first, second year at Higashimatsuyama Campus (Saitama), third and fourth year at Itabashi Campus (Tokyo).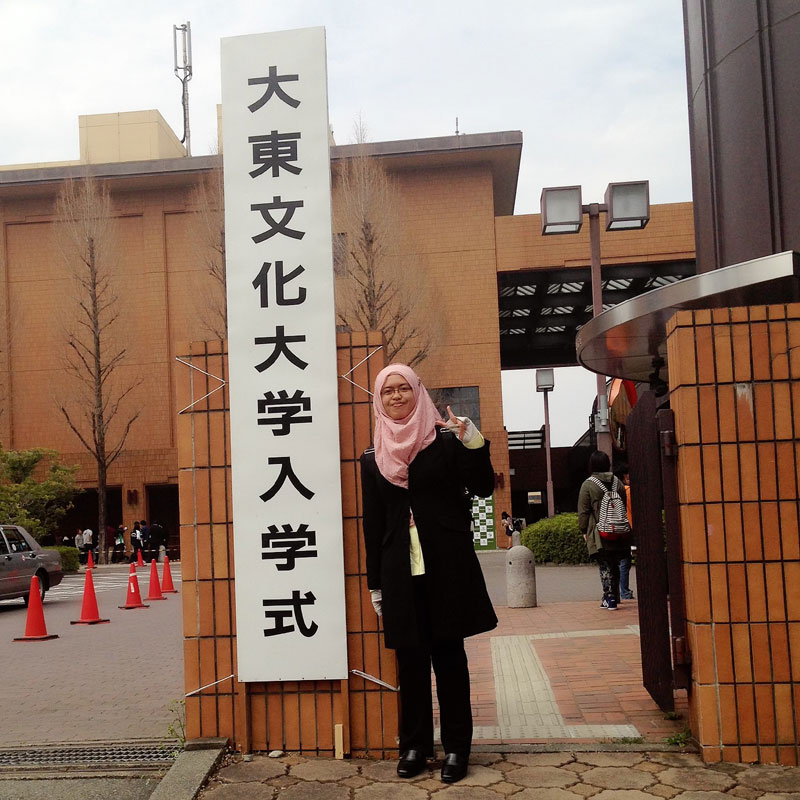 I majored in the Japanese Language in the Faculty of Foreign Languages. I learnt what kind of language is the Japanese language. Its foundation, history, shape etc. and specialized subjects such as Japanese classical literature.
I also took classes like foreign languages (e.g. Spanish) and Japanese traditional arts.
It was a wonderful time for me, getting new friends while experiencing Japanese culture.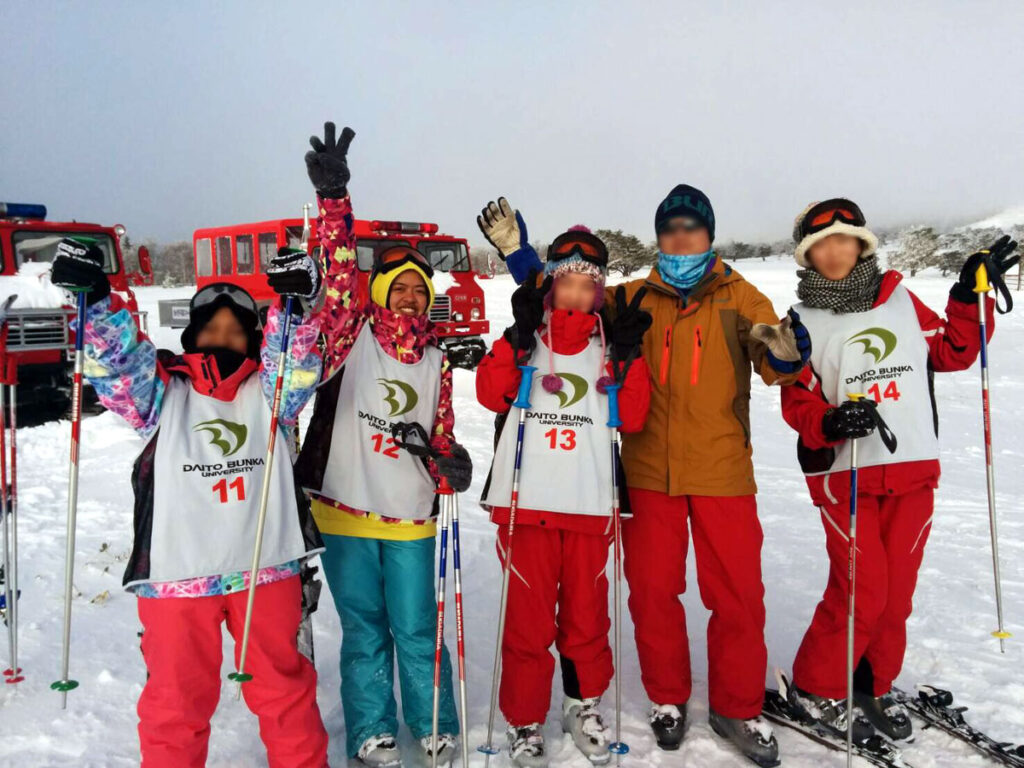 However, as a Muslim (Islam believer), I was concerned on praying five times a day and leading the halal way here (where Muslim is a minority).
Halal means permissible (an Arabic word) according to Islamic law. In terms of food, vegetables, fruits and some seafood are consumable. But, pork and alcohol (disinfectant excluded) are forbidden. Whereas, other meats have to be prepared by Islamic law.
Thankfully, the university prepared a prayer space for us. I was touched and very grateful for this.
Before I entered university, I learnt from my Malaysian seniors from the same programme on food. When ordering a menu with meat, you can ask "Niku nuki dekimasu ka? (肉抜きできますか)" = "Can you remove the meat?".
And ingredients to be careful of (e.g. emulsifiers, shortening, gelatine). Therefore, I would choose seafood, vegetable menus at the cafeteria and could buy halal ingredients to cook.
In my final year, I contemplated whether to return to Malaysia or get a job in Japan after graduation.
On the one hand, I wanted to go back home, but on the other hand, I wanted to stay here.
Thus, I began looking for a job in both!
I went to a career fair held by the Malaysian Students Association in Japan (MSAJ), a supported association by the Embassy of Malaysia in Japan.
It is an annual event, mainly participated by Japanese companies that have bases in Malaysia. Job offers are usually for branches in Malaysia, but some also offer to work in Japan.
One of the companies I applied to offer me a position at the Malaysian branch. Of course, I was ecstatic on the offer.
But once the thought of leaving Japan dawned on me, I felt down. I realized that I still wanted to experience the life, customs and culture in Japan.
That made up my mind on staying. I began anew on job searching in Japan!
During the six months after graduation, I went all out in finding a job.
I visited many career fairs for foreigners, but sometimes I reached the first interview or didn't even pass the mark for an interview.
It wasn't going well, so I slowly began preparing my return to Malaysia.
I felt blue because I could not find a job, then my friend introduced me to a company. Feeling that it might be my last chance, I applied immediately.
The company was "J-Line Corporation" which manages GROOVY JAPAN. I managed to secure a position there.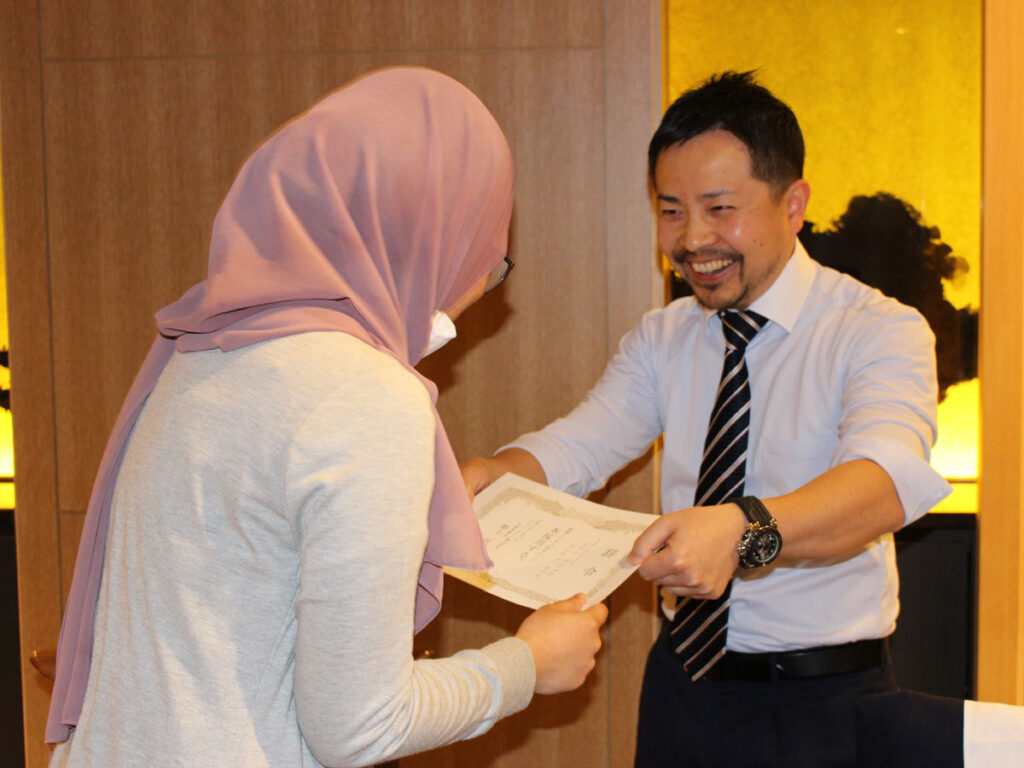 They took a liking to my love of anime, Japan, and that I could speak Japanese, English, Malay. I was delighted that what I love is the reason why I can stay in Japan.
From April 2020, I became a project member of Groovy Japan.
There are no problems in following my faith with superiors who care about my meals. If the meeting coincides with my prayers, they would also change the meeting time for me.
I would love to continue taking on the challenge of becoming a bridge between Japan and ASEAN countries, including my home country Malaysia!