No water supply: WOSH a sustainable hand wash
In midst of the pandemic, hand washing has become the new normal of our lives.
Japan has come out with a hand washing stand WOSH that can provide clean water without water supply.
Japan's high standards of public health are widely known around the world.
Tokyo (Tokyo-Yokohama area), the world's most populous metropolitan area, has a population of over 38 million people. Although there are hardly any rubbish bins in the city, you never see any rubbish around there—it's a well-known story that you can usually hear.
When you eat at restaurants, the waiter/waitress will almost always hand you an Oshibori (wet hand towel). This helps keep your hands and mouth clean when you eat.
And the famous washlet toilets! More on this in the next article.
Hand washing is the basis of all health.
Due to the Covid-19 pandemic, Japan is becoming more and more aware of public hygiene.
Everyone in Japan wants to keep things cleaner!
Businesses that focus on the new normal are also gaining attention in Japan.
WOTA CORP.'s recycling hand-washing device "WOSH", is a hand-washing stand that does not require water supply. It was selected as the best in Japan's GREAT PRODUCT 30 Award, given to new innovative products.
WOSH can be used by simply filling it with water and connecting it to a power source. With its unique technology, more than 98% of the water is recycled. Once refilled with 20 liters of water, users can wash hands over 500 times continuously. The water quality is safer than the drinking water standard set by the WHO. Its filter is also hygienic and easy to replace.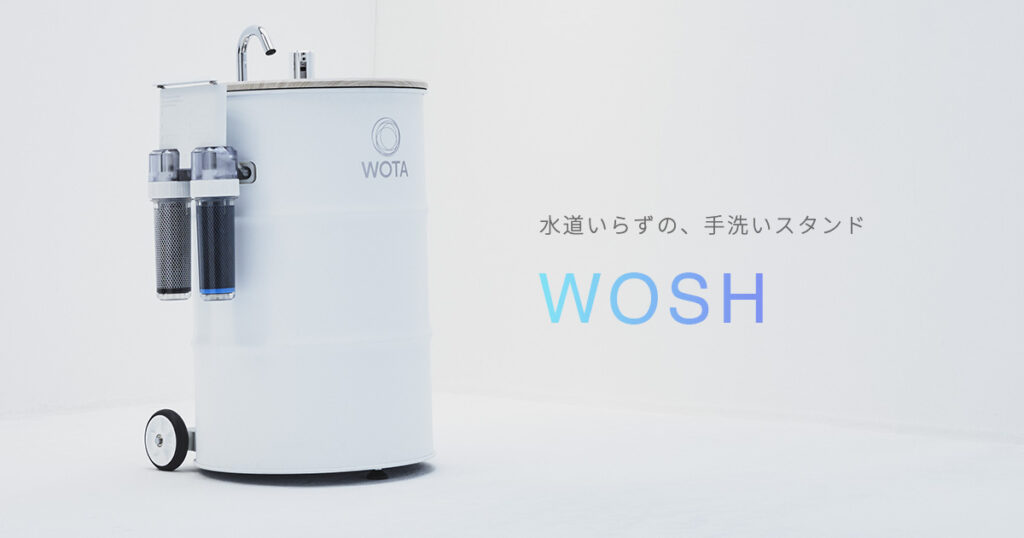 WOSH uses three filters consisting of activated carbon and RO membranes with deep ultraviolet rays and chlorine agents to remove viruses and impurities. Equipped with the Micro Loop Engine (MLE), which uses 9 sensors and AI to constantly monitors and controls water quality and the system. Thus, it allows immediate maintenance and trouble detection.
Best of all, it no longer needs to be connected to a water supply. This gives you access to clean water in various places where hand washing is needed.
What's more—WOSH can clean your smartphone. Smartphones are now indispensable in our daily lives, with us touching their screens hundreds of times a day. Studies have shown that they are 10 times dirtier than toilet seats!
WOSH has a pocket for smartphone, which can remove more than 99.9% of viruses by deep ultraviolet rays.
WOSH started delivering a limited quantity of 600 units last November, with a five-year contract of JPY20,000 per month. Various media outlets in Japan have taken a close eye on this product because hand washing is in the spotlight due to the pandemic. Not to mention that it also recycles and uses water in line with the Sustainable Development Goals (SDGs).
---
Groovy Japan introduces Japanese products and services for the Islamic market in English and Japanese. Follow us on our social media and keep up-to-date with the latest news.
Follow @Salam_GJ