Long standing MISO shop in the city of Osaka
Introducing one of Osaka's oldest miso store, Daigen-Miso. We sat down with the 7th generation president, Anzai Yoshiyuki.
What is the story of this long-establised urban miso shop?
Digging deep into possibilities of MISO. As an urban miso store, we want to offer what we can
Do you have miso in your kitchen? Miso is an iconic condiment of Japanese food culture. It is readily available in Japanese supermarkets and convenience stores. But unfortunately, its quality and taste are not always the same.
Miso made traditionally is becoming less and less common. Despite this, Daigen-Miso (founded in 1823) continues to preserve the traditional flavours of miso. While undertaking various activities to enhance its cultural value.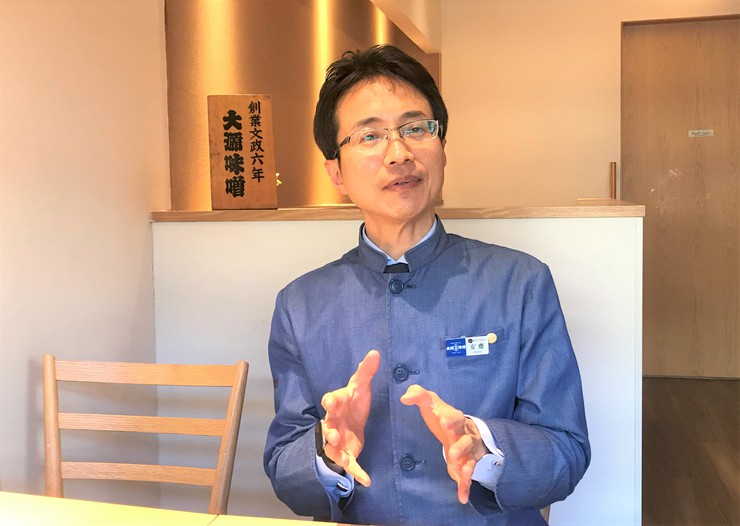 Carrying a legacy can be daunting! "I was arrogant", recalls his 30s
Now 55 years old, Anzai talks to us with a calm tone. It is his 25th year at Daigen-Miso and his 13th year as president. He has a unique background: he studied architectural engineering at university and worked in real estate, designing and managing flats. How did such a man end up joining the miso business? Well, it's fairly simple. Because he married the daughter of Daigen-Miso.
"Back then, my wife's grandfather was the president. He was a very kind man and left all the management to me. I knew nothing about management, but there were many things I wanted to improve. Changing product packaging, reorganising staff, revising work rules. We had no morning briefings or meetings, so in a good sense, we were like a family, a relaxed company."
Due to its long history, the company has regular customers. Looking back on it now, it seemed like the company had become complacent. But he was just too serious-inflexible about his work and would sometimes yell at his employees. Anzai recalls that he was arrogant in his 30s-early 40s. The feeling of having to shoulder the weight of a long-established business may have driven him to spin out of control.
Divorce was a big turning point. To a more attentive leader
It was at the age of 43 that Anzai reflected on his inexperience as a manager. He began to interact with leaders from different industries. The catalyst was his divorce. When our journalists hesitated to touch on this delicate topic, Anzai said with a smile, "It's all right. It's just a story now". It seems that human beings become more mellow with age, just like miso.
"I thought I had to leave the company because I was divorcing the founder's daughter. But my predecessor and mother-in-law told me, 'Divorce is not a problem, but the company will be in trouble without you.' This was when I started to attend seminars and lectures. I was inspired by what I heard from those who achieved success".
A few years ago, he used to think alone about new products and business ventures, but now he works with his staff to brainstorm ideas. In October, the MISO Café on their head office's first floor started a miso-making class. It is becoming a regular monthly event. "From now on, we want to hold cooking classes and use the café as a rental space, so we can promote the cultural value of miso".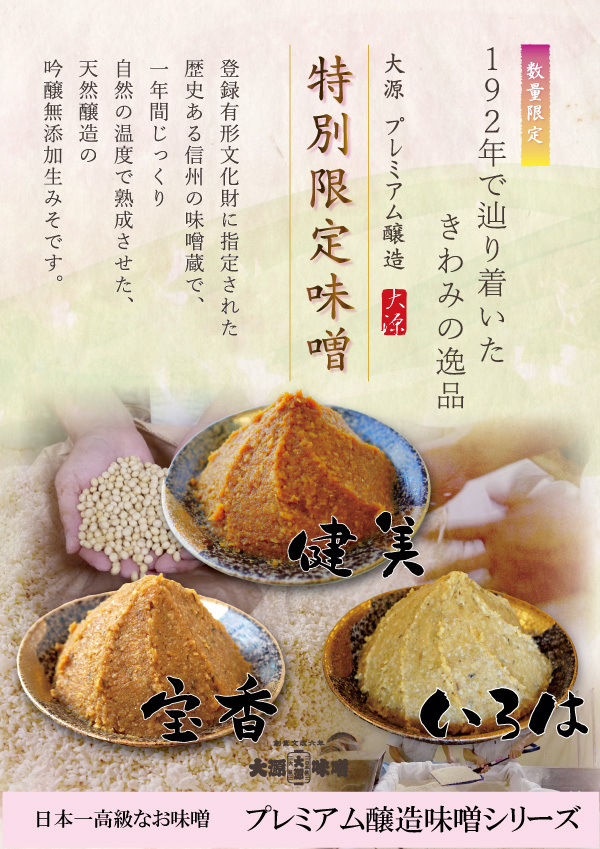 A miso shop without a warehouse. What only we can do
Daigen-Miso is the oldest miso store in Osaka. In the Taisho era (1912-1926), they steadily expanded their business by exporting their products abroad and began making soy sauce as well. But today, production is outsourced to other companies' warehouses around Japan. This was because the Pacific War left everything burnt to ashes. In 1950, they restarted in its present location, but with its own identity: "a miso store without a warehouse".
"Of course, we wanted to produce our own miso. But you need a lot of space and money for equipment to make miso. I thought hard about it, and one day I realised: 'There is no other miso store in the city like this. So let's do what we can as an urban miso store'. That's how I changed my mind".
They work with over a dozen miso manufacturers, from Sendai in the north to Kagoshima in the south. Selecting the best items from manufacturers who specialise in traditional miso making. While specifying ingredients usage and its blending ratio.
One of the products born out of their quest to set themselves apart from the rest is the "Premium Brewed Miso" series. It's a limited-quantity series they launched five years ago and make only once a year. Made from selected organic soybeans, rice and sea salt, the naturally brewed, additive-free miso ferments over time in a historic miso brewery in Shinshu. Once you taste it, you may even be moved by the taste of "real miso".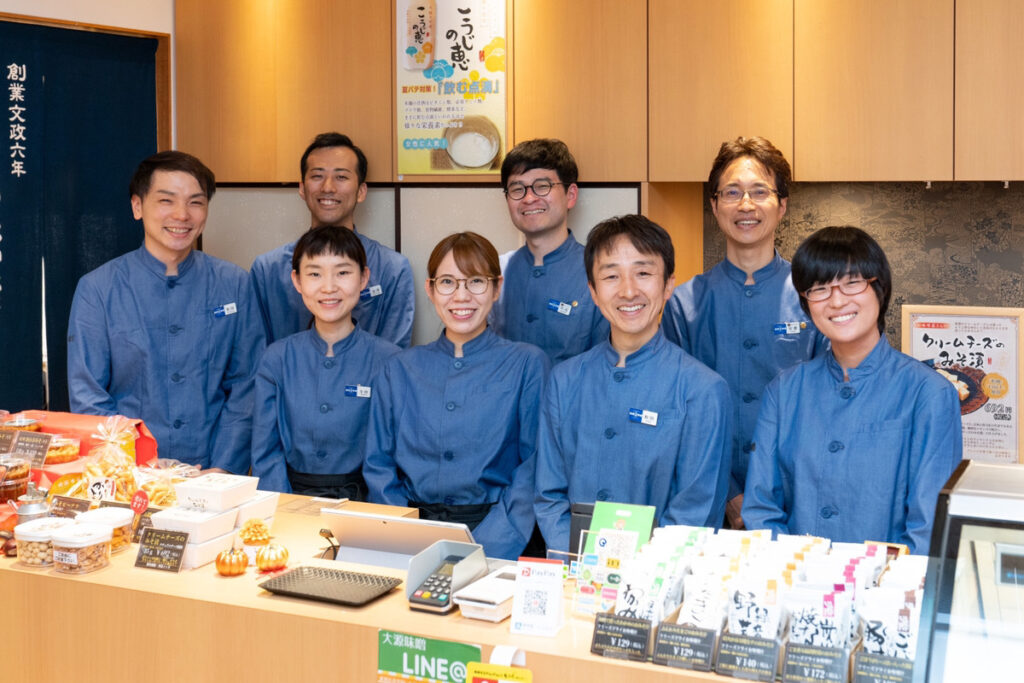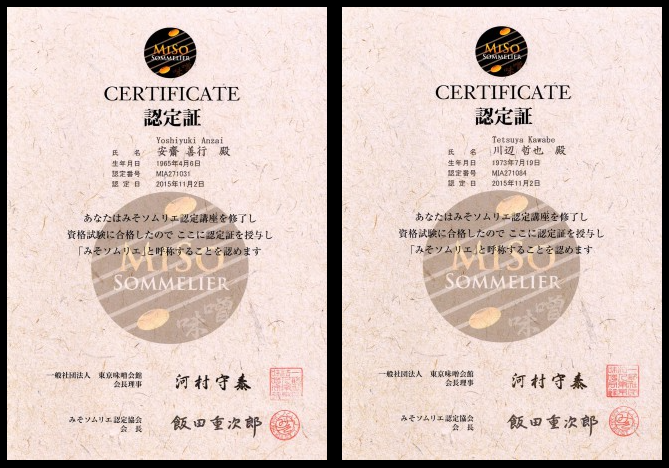 Taking the best of in-person sales to the web. With an eye on overseas expansion
Daigen-Miso has five "Miso Sommeliers", including Anzai, who are experts in all aspects of miso. As a company selling in person and by measure, knowledge is vital to answer customers' questions properly.
But with the Covid-19 pandemic, they are planning to further develop their online shop beyond in-person sales.
"We're thinking of uploading videos on YouTube to show what each product has to offer and how it's used. We want people to be able to see what we do in our shops through the web."
They also have their eyes on expanding overseas. Since Japanese food was registered as a UNESCO Intangible Cultural Heritage in 2013, there has been a surge in Japanese restaurants across the globe. He sees a business opportunity there.
"We will focus on Asia first. We're looking at opening our own shops. But firstly, we want to develop our BtoB business, such as restaurants and hotels, where our miso can be used.
Upon entering the Asian market, we also plan to offer alcohol-free products for Halal compliance."

Promote miso's nutrition and benefits. I want to widen miso's potential.
There are proverbs associated with miso, such as "miso is a seven-coloured wonder remedy (みそは七色の妙薬)" or "miso soup removes poison in the morning (みそ汁は朝の毒消し)". Showing that people in the past knew first-hand the health benefits of miso.
In fact, scientific research has shown that miso made traditionally contains high levels of polyphenols (antioxidants) and that its bacterial activity is also very active. Anzai hopes to increase its cultural value by making more people aware of its nutrients and benefits.
"Do you know what SDGs are? SDGs are the 17 goals set out at the 2015 UN summit for the 193 UN countries to achieve in the 15 years between 2016-2030. I believe that miso will play a major role in helping to achieve some of them, such as 'End Poverty', 'Zero Hunger' and 'Health and Wellbeing for All'."
Don't underestimate it as a mere seasoning. Anzai sees infinite possibilities in miso. He will continue to challenge himself to give shape to his endless ideas.
・Daigen-Miso Official Website (ENG)
・Daigen-Miso Official YouTube
---
Groovy Japan introduces Japanese products and services for the Islamic market in English and Japanese.
Follow us on our social media and keep up-to-date with the latest news.

Follow @Salam_GJ