Power up by salt water, Japan's portable hydro generator
Typhoons, earthquakes, tsunamis, volcanic eruptions—Japan is a country of many natural disasters. And it has a wide range of goods and services to prepare for them.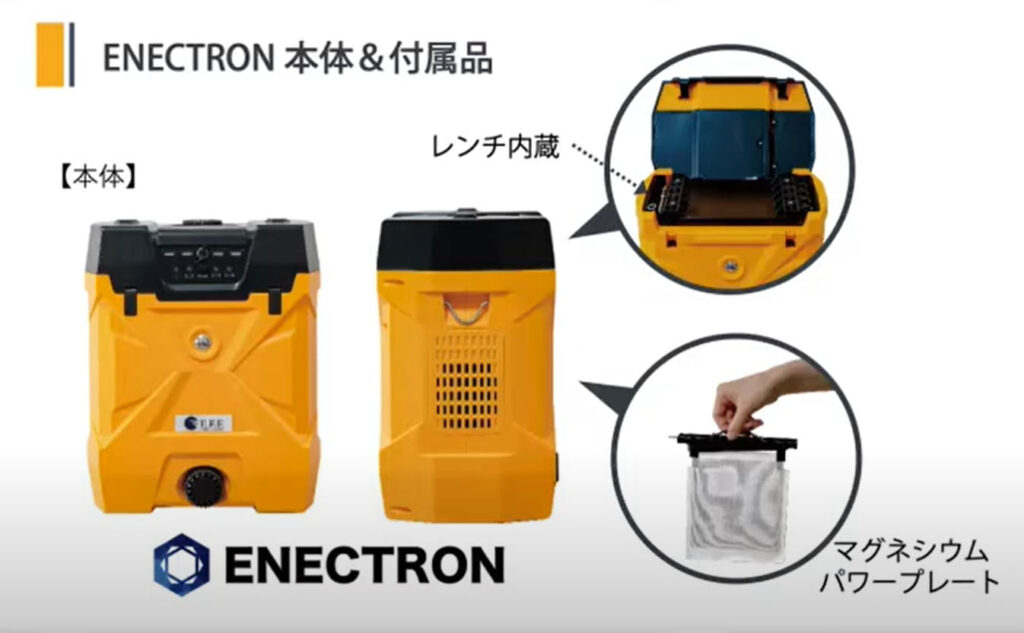 The box you see here is a water power generator that generates electricity using only brine (high concentration salt in water).
E.F.E has been developing water power generators for nearly 20 years.
Unlike the usual alkaline or nickel batteries, hydroelectricity involves the chemical reaction of water with non-polluting substances found in nature to produce electricity.
The latest model from E.F.E., ENECTRON, uses 2.5 litres of brine (9% recommended concentration) and its original, interchangeable magnesium power plates. It can charge up to 800 smartphones, which is now an indispensable part of our daily lives. It can also support electronic appliances of power up to 50W.
In theory, seawater, urine, or even soy sauce can generate electricity.
The unit weighs about 6 kg, and after filling with brine, it weighs about 8 kg. So it is easy to carry around, and thanks to its ultra-low noise level when generating electricity, it is also suitable for nighttime use.
With 4 USB ports and 1 DC 12V output port. No toxic fumes or hazardous substances will come out during the generating process.
The ENECTRON retail price in Japan is about JPY 318,000 (≈USD 2763).
Hydroelectricity is still relatively less known, yet it is considered one of the next generations of power generating technology that will develop further in the coming years.
---
We have a network of Japanese companies keen to expand into the Halal market in Malaysia & Indonesia.
If you are interested in connecting with sustainable technology companies in Japan, simply JOIN the network from below. We will match the right one for you!