Certified halal, high-quality, diverse prawn & seafood delicacies, FGROW JAPAN
Dealing in sushi ingredients and other fresh seafood goods in Kagawa Prefecture, FGROW JAPAN Co., Ltd. runs a seafood processing and side dish manufacturing business, obtaining Halal certification in 2022.
Discover from CEO Hiroaki Senda about their strengths and future prospects.
Established in 2001, this company has been processing and marketing seafood products for the domestic market.
Our speciality is producing small lots of varied products. We develop tailor-made products according to customer requests. Gradually, sales have grown as we pay close attention to our original way of seasoning them.
Keeping on track with the globalisation of our business, we changed our name from "Yabu Suisan" to "FGROW JAPAN" on 1 March 2023. This new name reflects our commitment to FOCUS on providing reassurance and happiness in FOOD and the FUTURE as we develop and GROW.
Our range is diverse and varied. We offer sushi ingredients such as seasoned natural fresh prawns and scallops, pressed sushi (oshizushi), gunkan sushi, makizushi (Japanese sushi rolls), onigiri ingredients, ingredients for Japanese-style mixed rice (maze gohan) using local specialities from different regions and so on.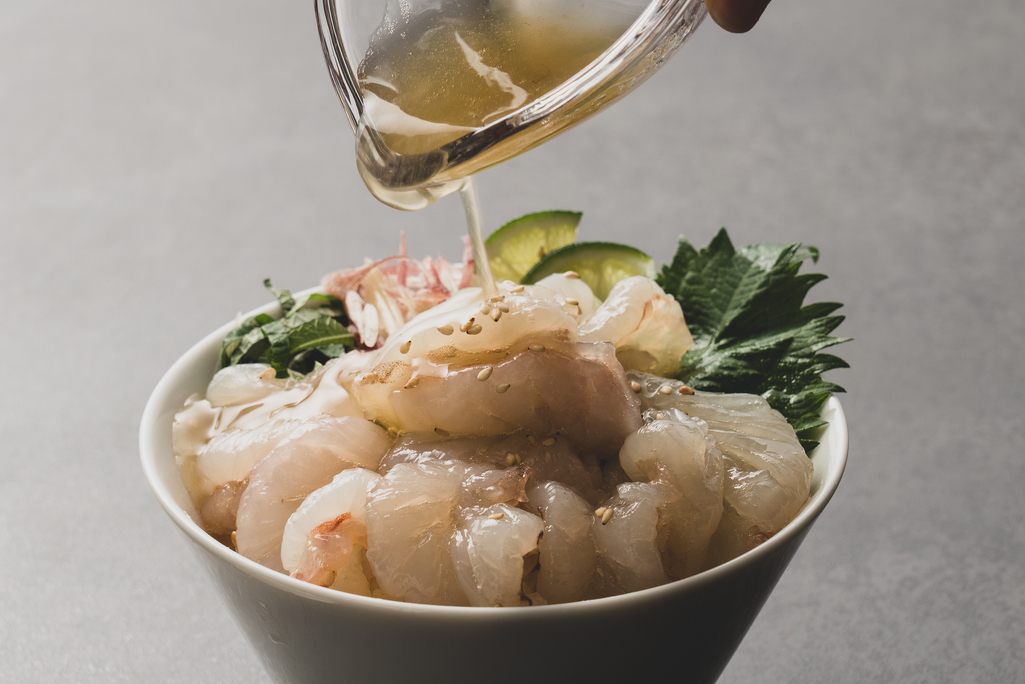 Among them, we're very good at processing prawns, shipping 600,000 per month. Although our core is B2B (business to business) sales to mass retailers or restaurants, we also manage the EBINOYA brand, which sells prawn dishes B2C (business to customers) online.
Most prawn e-tailers usually deliver prawns as ingredients directly from the place of origin. EBINOYA, on the other hand, presents new ways of eating prawns by harnessing the processing know-how we have honed over the years. For example, by making steaks from our flagship product, EBINOYA's Prawns (peeled prawns), or the rare extra-large marbled prawns, which are said to comprise less than 1% of the total haul.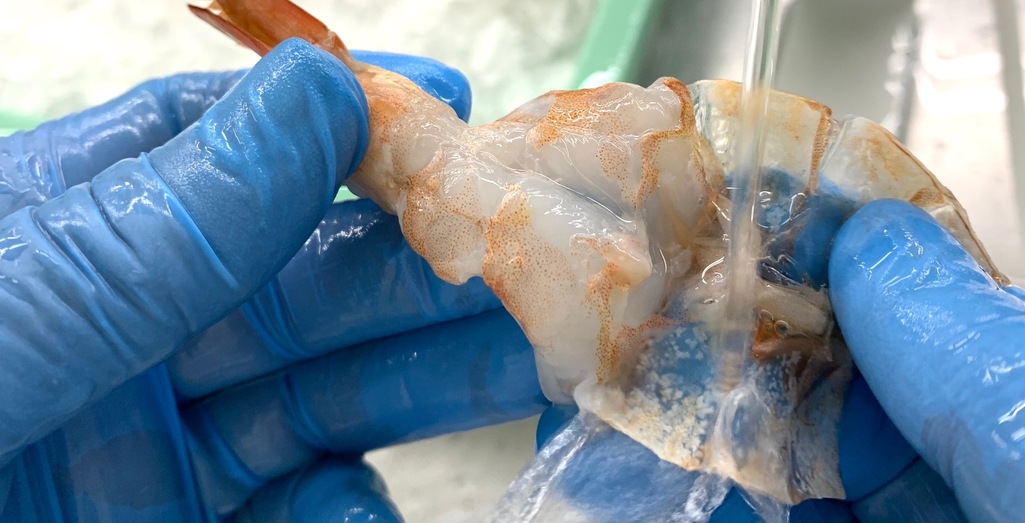 We actively engage in SDG initiatives. The entire company uses renewable energy to achieve carbon neutrality. We managed to reduce CO2 emissions by 245 tonnes per year.
The shells and heads of prawns, which typically end up disposed of, are instead put to good use in producing our prawn oil and broth. This helps in reducing food loss as well.
For consumers' reassurance, the company also focuses on the food defence field– such as preventing contamination (the inclusion of foreign or unintentional materials) –obtaining Halal certification and the JFS-B*1 certificate of conformity.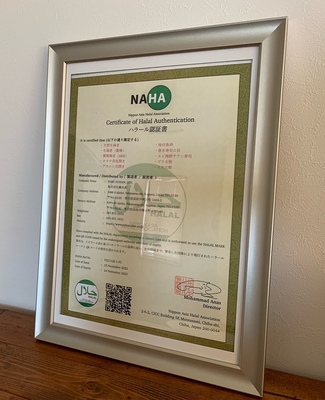 Of all the things that led us to obtain Halal certification, we felt that becoming a globally competitive company was vital to protect the business and our jobs in the long term.
As a good source of protein, seafood is soaring in price across the globe. Demands are expected to keep growing as healthier eating habits become more common and wealthy consumers tend to indulge in such foods.
Japanese marine goods are exported abroad at high prices as raw materials. More and more companies involved in these exports are being taken over by foreign capital. With foreign-owned factories tend to pay higher wages, we worry that seafood factories for domestic demand will not be able to retain jobs.
To protect future employment and keep the business going in the long term, exploring overseas markets is becoming a necessity.
We thought that developing products for Muslims, who are 1/4 of the world's population, would be a great way to utilise our expertise in product development.
We started to develop Halal seasonings and the like to ensure that our high-quality processed seafood products can be enjoyed with peace of mind, leading us to acquire Halal certification.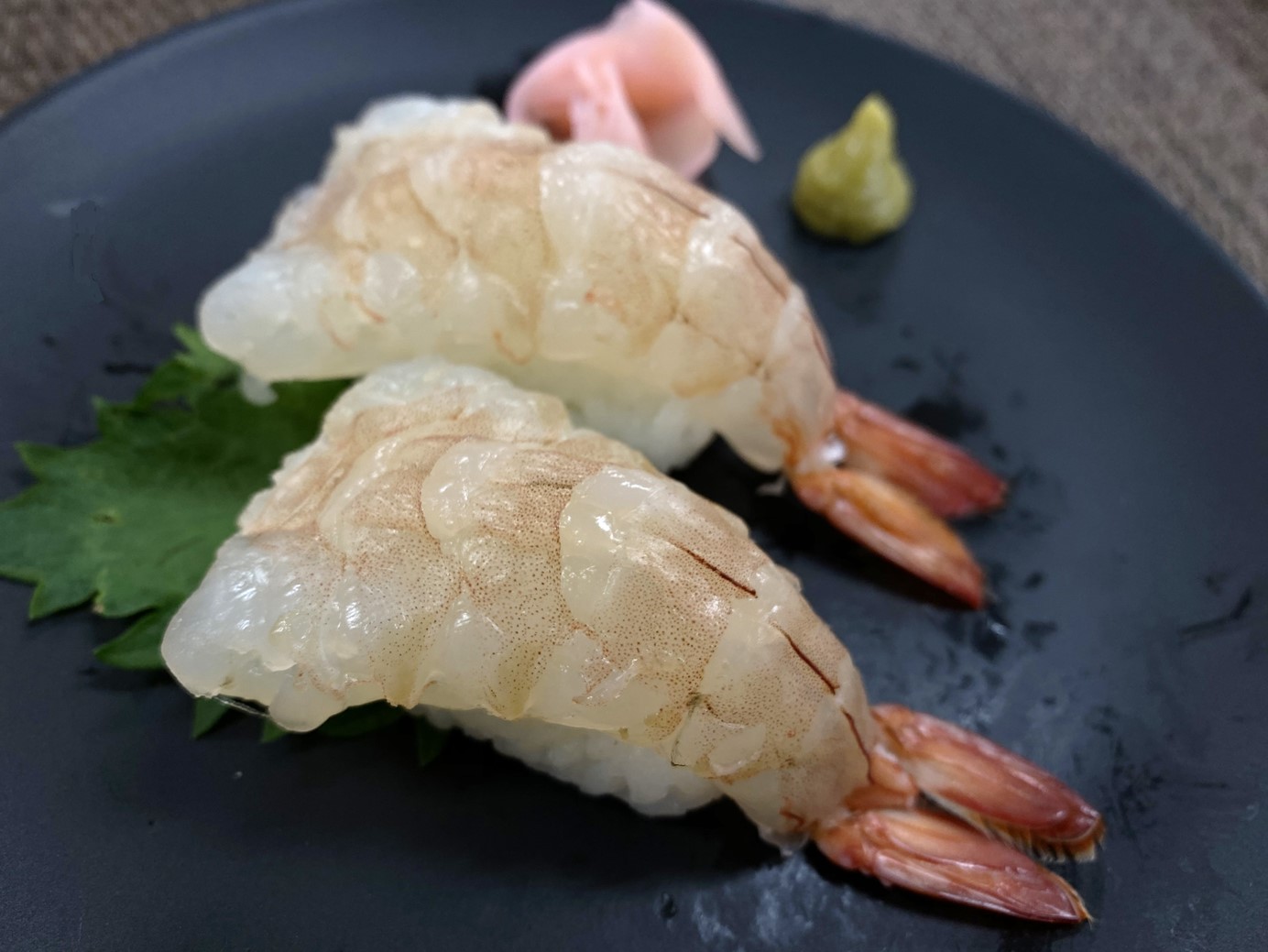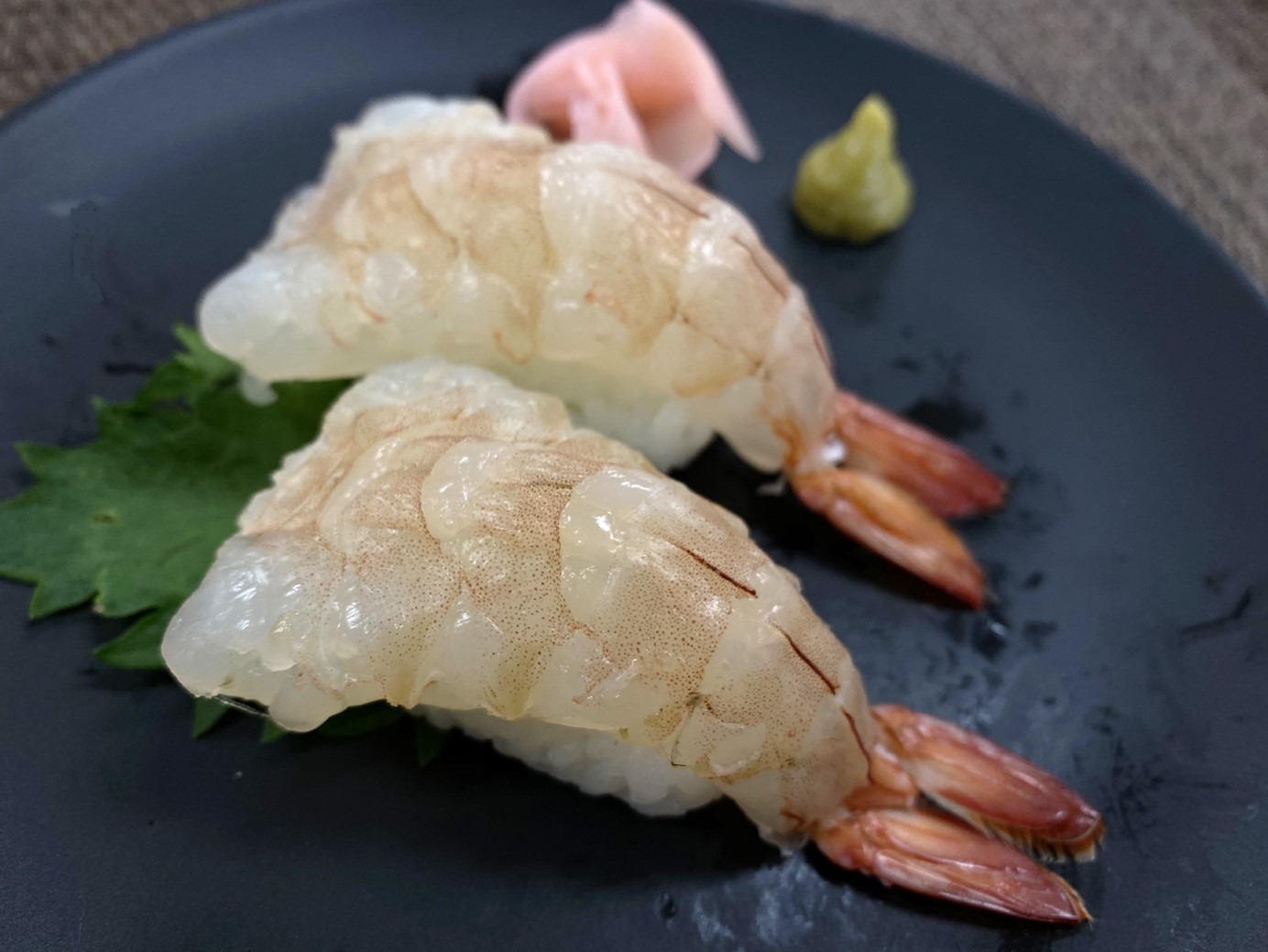 Getting the certification was not so difficult to prepare, even though we had to invest in some equipment, like refrigerators.
But as we went about replacing seasonings, we were very surprised at the amount of animal-derived raw materials contained in them. Now that we know how to make delicious food even without animal-derived ingredients, we continue to be creative and inventive in developing the products.
We already have business enquiries from other countries, such as Malaysia, Indonesia and Singapore.
By localising the seasoning well, we hope to create products that the locals will enjoy.
Out of them, fish roe was one of the first Halal products we developed due to the highly acclaimed Japanese flavouring.
We have also made a Halal frozen chirashizushi, which you can eat just by defrosting it. We are looking to wholesale it to school cafeterias and the like, so that Muslim international students can be assured while enjoying Japanese food.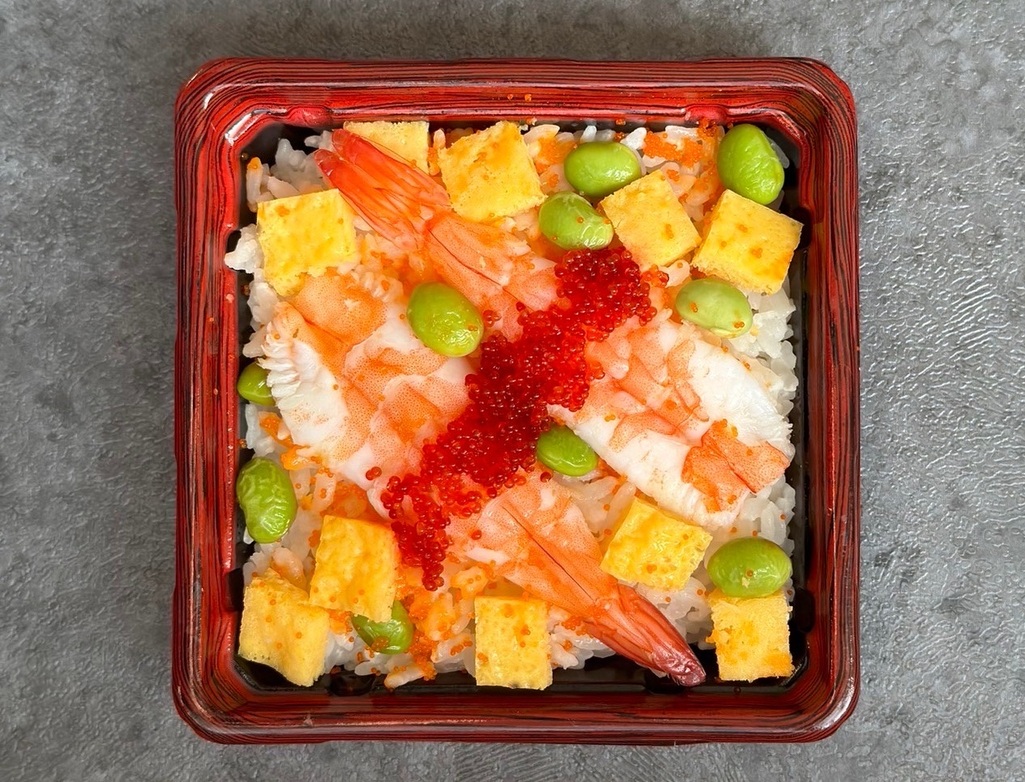 One of the products we are earnestly working on is the Everyone's Easy Japanese Food Kit.
Japanese cuisine boasts a wide variety of fish dishes. But fish dishes paired with vegetables need skilled cooking techniques to cook them well, as cooking time differs for each ingredient.
This is why, together with a vegetable supplier, we have co-developed a kit for anyone to cook Japanese food in a short time without making mistakes. We process the vegetables to a tenderness matching the cooking time of the fish and include seasoning sauce in the kit.
This means that part-time staff with no cooking experience or even households can easily reproduce the taste of a professional chef's cooking. For example, buri daikon (simmered yellowtail with Japanese radish), which requires tedious prep work such as removing the odour, can be completed in just five minutes.
Moving forward, we would like to expand the line-up of our Japanese food kits and turn them into a whole series.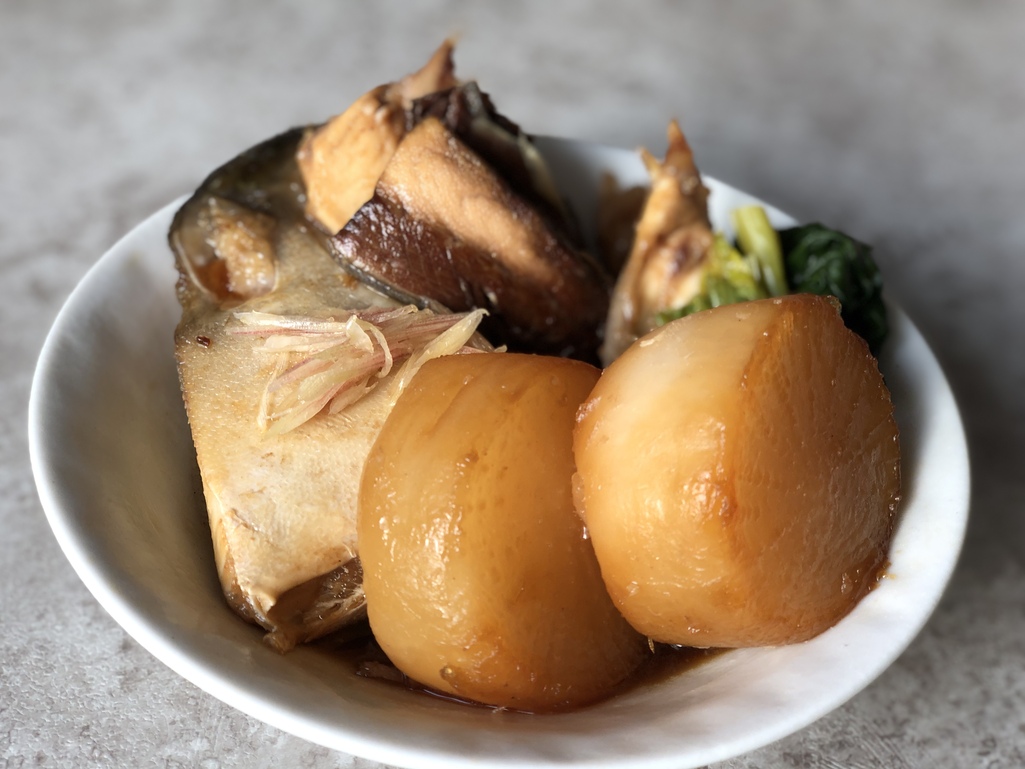 We are determined to develop products for people overseas as well without overlooking or compromising the deliciousness of Japanese food. Delivering Halal, tasty and high-quality products to many Muslims, we will continue putting our utmost effort into bringing you the best.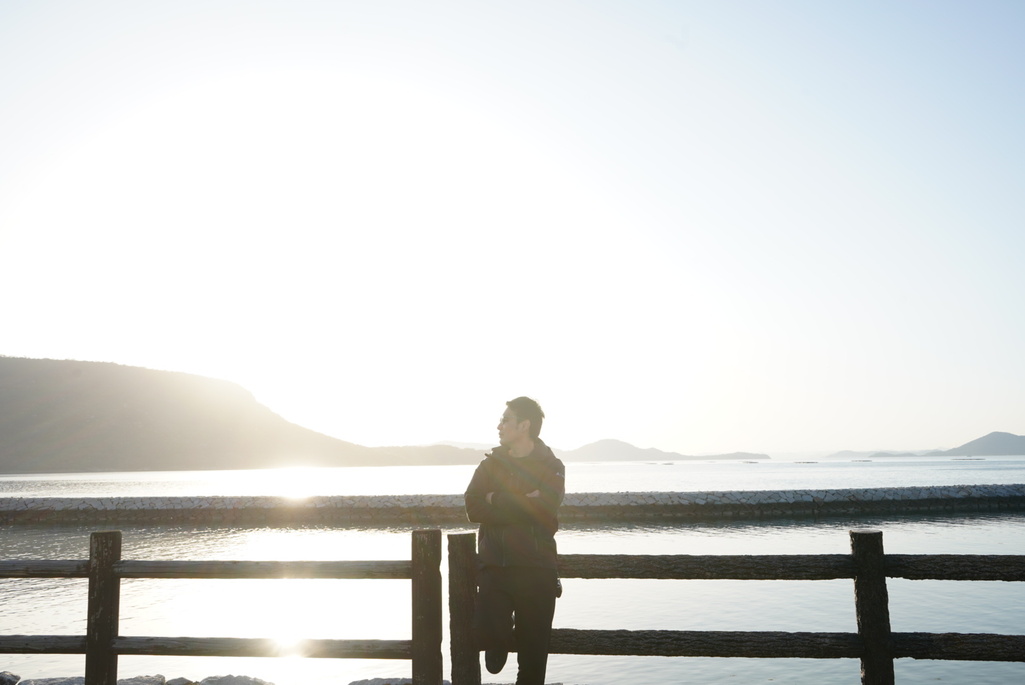 < Business Profile>
Company name: FGROW JAPAN Co., Ltd.
Head office: 6393-45 Ajicho, Takamatsu City, Kagawa 761-0130
Business outline: Food manufacturing, food sales mainly seafood goods
Official HP (Eng): FGROW JAPAN Co., Ltd.
Online shop: EBINOYA
*1 JFS-B Standard is a food safety management standard developed by Japan Food Safety Management Association (JFSM). Intended to assist organizations to improve their manufacturing of safe food products.


We have a network of Japanese companies keen to expand into the Halal market in Malaysia & Indonesia.
If you are interested in connecting with sustainable technology companies in Japan, simply JOIN the network from below. We will match the right one for you!