8th Halal Market Fair Report
The 8th Halal Market Fair was held at Tokyo Big Sight for 3 days from 21 April 2021. Here's a look at some of the fascinating products and services for Muslims that the Salam Groovy Japan team encountered at the fair.
The Halal Market Fair is the largest B-to-B event in Japan, focusing on Muslim inbound and exports to the Islamic nations. This year's event was a part of the Premium Food Show 2021, a collection of foods and ingredients to meet diverse dietary needs.
On that day, events related to the foodservice and catering industry simultaneously held at Tokyo Big Sight. The total turnout for all the events combined was 26,457 visitors over the 3 days. A broad range of visitors could be seen, including many buyers and professionals from the food industry.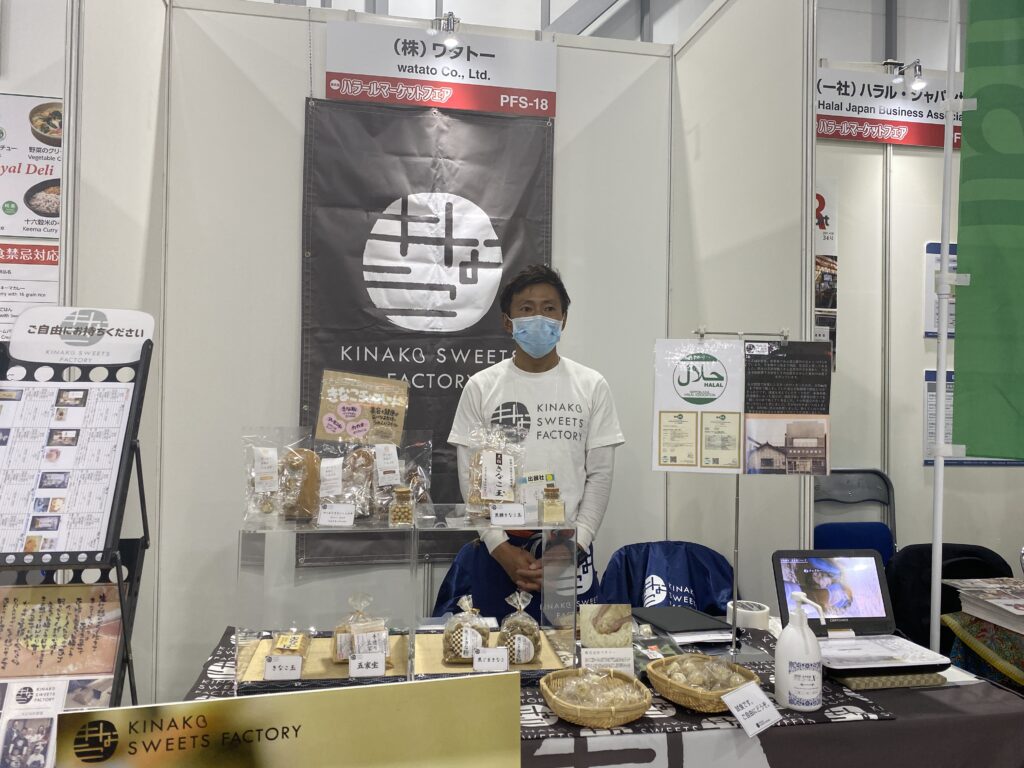 The first thing that caught our sight at the Halal Market Fair was a cute "Kinako" logo. KINAKO SWEETS FACTORY is a long-established Japanese sweets [wagashi] shop, founded in 1921. It is one of the few makers who offer the traditional confectionery "Gokabou*"; they specialise in kinako [roasted soy flour]. We felt the burning passion of the representative, Watanabe, when he talked about "Taking KINAKO to the World!".
*Gokabou: one of the traditional Japanese sweets, made and sold mainly in Saitama prefecture
We tasted their kinako chocolate, a modern take on the traditional confectionery "Gokabou". A refined taste, with a subtle sweetness of chocolate and kinako flavour. Very delicious!
KINAKO SWEETS FACTORY's halal-certified traditional Japanese sweets are a must for Muslims with a sweet tooth. We left the booth feeling reluctant as we hope to hear more of them.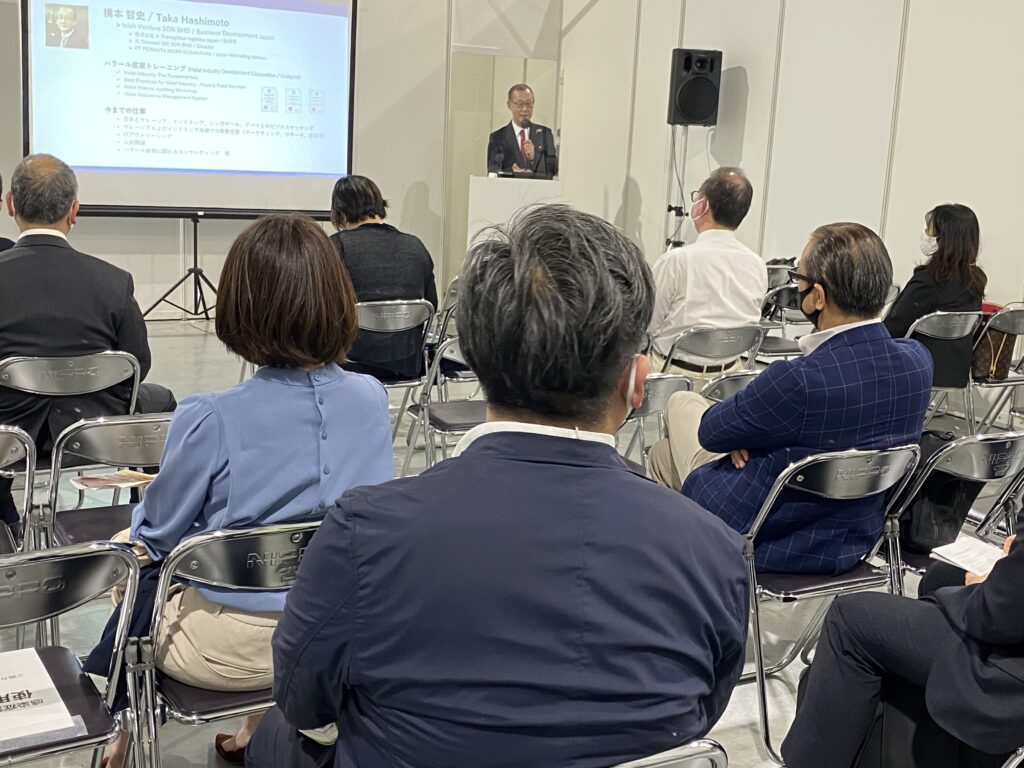 Let's head to the seminar room on the floor. Hashimoto, a Groovy Japan's expert columnist, spoke about "Malaysian Halal Products for Global Needs", a programme organised by the Malaysian Embassy.
"Halal products are not just for Muslim consumers!" was the stirring subtopic.
However, Hashimoto pointed out that "Halal certification is an excellent regulation because it has clear standards for hygiene and quality control besides religious requirements". "It's an industry that will draw more attention in the future as it can target all kinds of people, including Muslims". His words renewed our sense of the future for halal products, and we returned to the exhibition hall.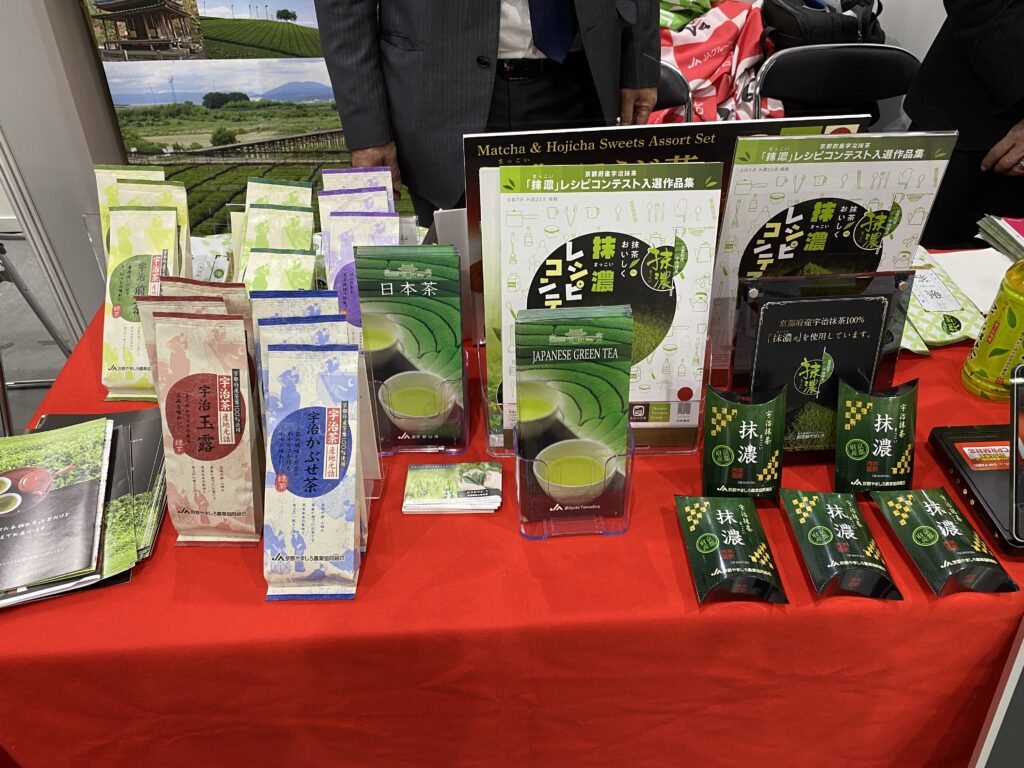 At JA Kyoto Yamashiro's booth, they offered "Makkoi (抹濃)", a powdered tea made from high-quality tea leaves from Yamashiro in Kyoto Prefecture, the home of Uji tea. Makkoi (抹濃) is an original brand of JA Kyoto Yamashiro.
Sweets made with matcha are very popular with overseas consumers. But the Makkoi (抹濃) recipes that were open to the public also included some unexpected dishes such as soups and pasta, showing the vast potential of matcha. The tea we sampled was fragrant and full of umami. It was a lovely treat.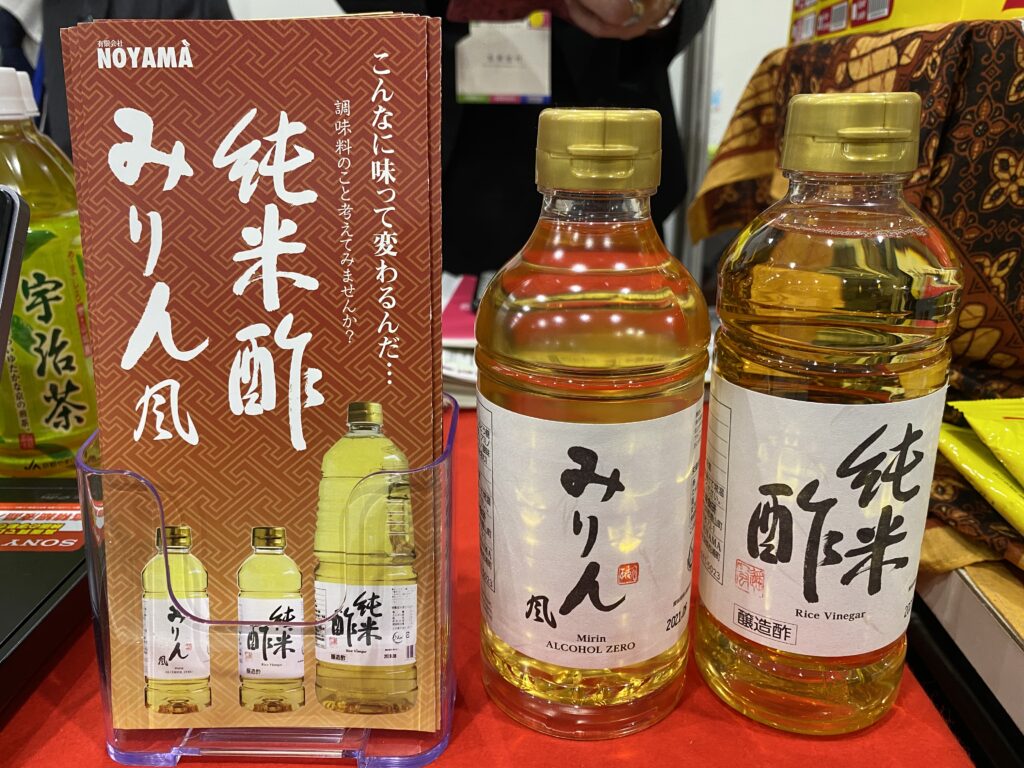 NOYAMA is a company based in Fushimi, Kyoto. Bottles of pure rice vinegar and mirin-style products lined up. Vinegar and mirin are both indispensable seasonings in Japanese cooking. But, they are not usable in Muslim meals as alcohol usually included.
NOYAMA's pure rice vinegar is made only from rice. Many sushi restaurants use this vinegar which shows that it is not only safe but also delicious. "Mirin" is essential in Japanese cooking to add flavour and visual appeal. Therefore, it's nice to know that they are halal and usable in cooking for Muslims.
UMAIYA from Gifu Prefecture is a long-established company dating back to 1877, producing and selling ayu fish processed products and tsukudani*1 side dishes. Their booth featured halal-certified products such as grilled ayu fish with salt, Japanese-style braised chicken and salmon chan-chan yaki*2. These dishes are halal-certified, come in small portions with traditional Japanese flavours such as miso and soy sauce. They are an attractive way to give Muslims a taste of Japan.
*1 Tsukudani: small seafood, meat or seaweed simmered in soy sauce and mirin. It goes well with rice as a side dish.
*2 Chan-chan yaki: a dish of stir-fried and steamed fish and vegetables seasoned with miso. It is a local delicacy in the fishing villages of Hokkaido.

Curetex Corporation opened its halal-certified central kitchen in Amakusa, Kumamoto. They exhibited halal food products produced for hotels and restaurants. We were overwhelmed by the wide variety, including authentic Malay dishes, popular among fans of ethnic cuisine. How convenient it is that authentic dishes can easily prepare by warming them with hot water.
Royal Co., Ltd. showed a series of photos of mouth-watering bento [packed lunches]. They applied their expertise in providing in-flight meals for events and school canteens where Muslims also attend. We were amazed to hear that all of these delectable and well-presented meals are frozen bento. If you can preserve Japanese cuisine (e.g. Spanish mackerel with teriyaki or whitefish with yuzu bean paste), the possibilities of using that method are endless.

Halal dried noodles by Toa Food Industrial—had a wide range like ramen, somen*1 and Japanese soba noodles. Halal mentsuyu*2 comes in an easy-to-use small size.
*1 Somen: very thin noodles made of wheat flour.
*2 Mentsuyu: a popular dipping sauce/soup base used in Japanese cuisine.
Various products exhibited, such as halal Wagyu beef, tempeh (fermented soybean food), Indonesian instant noodles, etc. The Malaysian booth had many Malaysian food products such as frozen foods and fruits.
Everyone we spoke to exuded confidence in their products and enthusiasm to deliver great products to Muslims. We would love to thank all the representatives who kindly agreed to be interviewed during their valuable negotiation time.


We have a network of Japanese companies keen to expand into the Halal market in Malaysia & Indonesia.
If you are interested in connecting with sustainable technology companies in Japan, simply JOIN the network from below. We will match the right one for you!