Fog expert, From spraying to disinfection and landscaping
Infinitely expanding the possibilities of fog—a leading fog company
"Fog Engineers". The term represents H. IKEUCHI & CO., LTD., a specialist manufacturer of spray nozzles for atomizing liquids.
The fog produced by their high-precision and highly innovative products finds its way into more industries and manufacturing processes than we can imagine. Under the corporate philosophy of 'contributing to society with fog', we spoke to Shiro Nakai about how they keep exploring the possibilities of fog.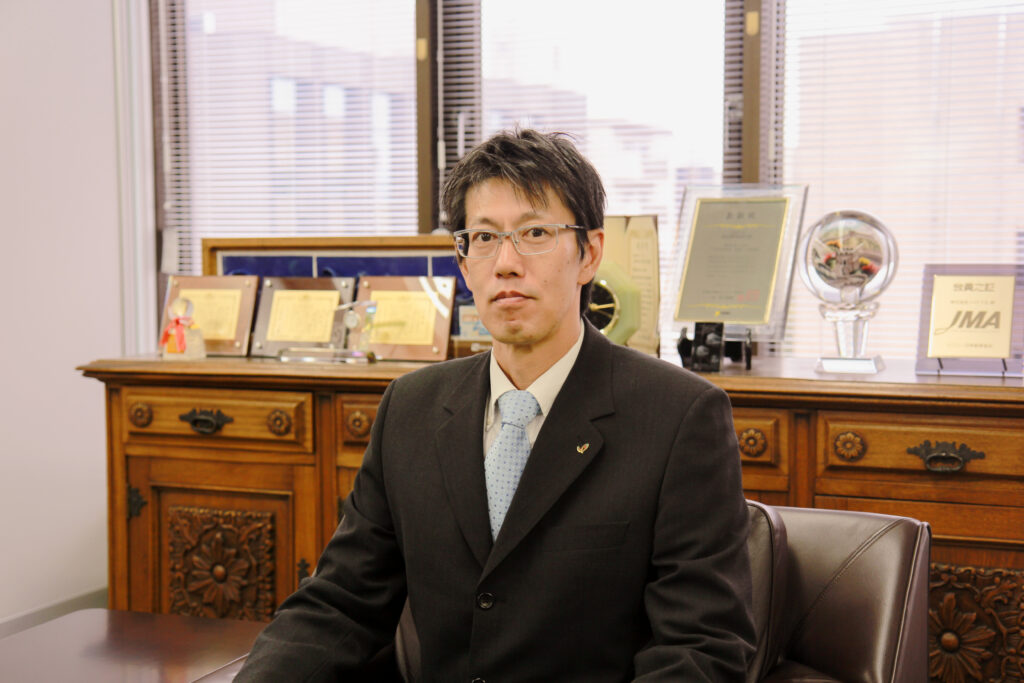 Fog business potential paved by non-wetting fog
IKEUCHI started in 1954 as a trading house for textile machinery. Later, they turned their focus to ceramic materials. In 1961, they developed the world's first ceramic spray nozzles, which marked their debut as a nozzle manufacturer. They created over 42,000 different nozzles to date. Especially the "Dry Fog" nozzle developed in 1979 has been the driving force for the company's determination to explore various industrial fields.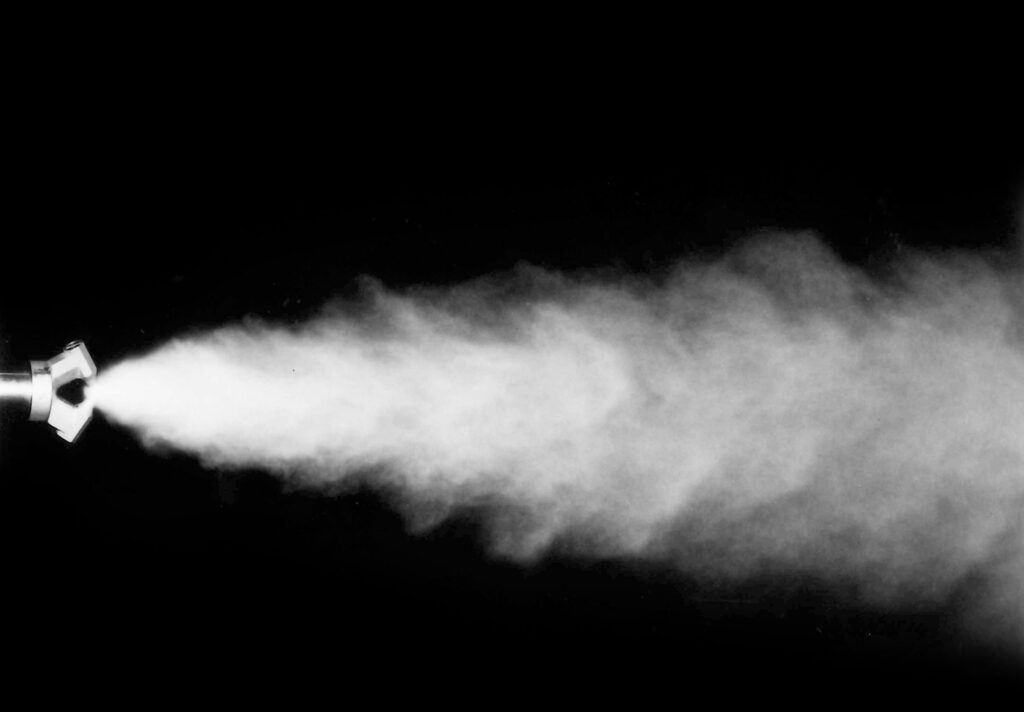 The thickness of hair is roughly 50-100 μm (one micrometer = 1/1000 mm). Our Dry Fog has a mean droplet diameter of 10μm or less, so fine that they do not feel wet when touched. For example, in electronics factories, the equipment can malfunction or products become defective even with the slightest exposure to moisture. Our technology is used in such areas where it must not get wet.
In 2005, they invented a nozzle that generates a fog with a mean droplet diameter of 10-30 μm fog (Semi-Dry Fog®). Combining innovative ideas with advanced technology developed over many years, they will keep creating new fog types.
This and that is the job of the fog. Amazed by its activity scope
IKEUCHI's fog is incredibly hardworking. The work can roughly be classified into the following categories: application, spraying, cleaning, descaling, cooling, air conditioning, humidification, dust suppression, disinfection and moisture control.
Application is for surface treatment of steel plates, metal molds, and other objects, and for greasing and seasoning. Spraying is for pest control in paddy fields, tea plantations and orchards, and for disaster prevention in chemical plants, and for etching in electronics. Cleaning is for automating manufacturing processes of machinery parts, car bodies, tableware and bottles, for road construction, for flue gas treatment, and for preventing ozone depletion. Humidification is for preventing static electricity and improving work environments in semiconductor and LCD manufacturing, and for other industries including plastics, printings, textiles, and mushroom cultivation.
It's just astonishing how broad the scope of fog applications is.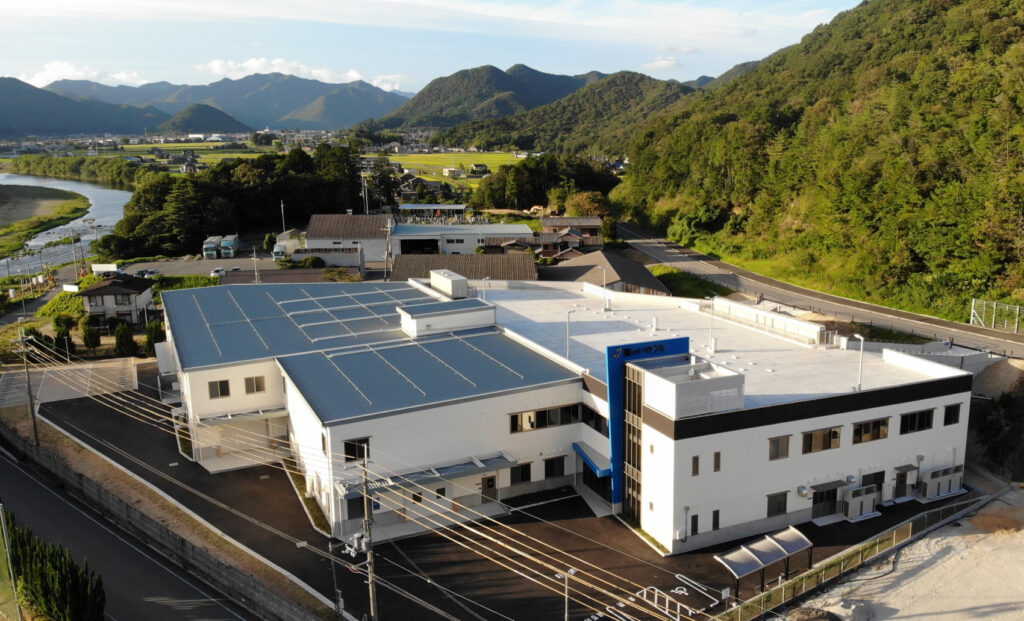 I believe more can be done, especially in the field of disinfection. Even before the Covid-19 pandemic, we had been carrying out research and development to meet disinfection needs. The first one was developed in 1993 to combat MRSA (methicillin-resistant Staphylococcus aureus) in hospitals. When the SARS (severe acute respiratory syndrome) broke out, an improved version was produced.
As a company striving to contribute to society with fog, they have also taken action against the novel coronavirus.
Novel coronavirus outbreak prompts new disinfection style
Due to the Covid-19 pandemic, IKEUCHI developed a new style of disinfection. In a nutshell, the "Dry Fog Stand" disinfectant spray unit allows easier disinfection of larger spaces.
A classic form of this is the very old-fashioned wiping method. It involves wiping desks, chairs, doors and hand-held items directly with alcohol to disinfect the room. This takes a great deal of time and effort, even more so when the chemical is not sufficiently effective to wipe away viruses.
On the other hand, Dry Fog Stand sprays a disinfectant in fog form throughout the room, enabling the user to disinfect large spaces in a short time with little effort. The spray is applied without direct contact, so viruses won't be accidentally transmitted to other parts of the room.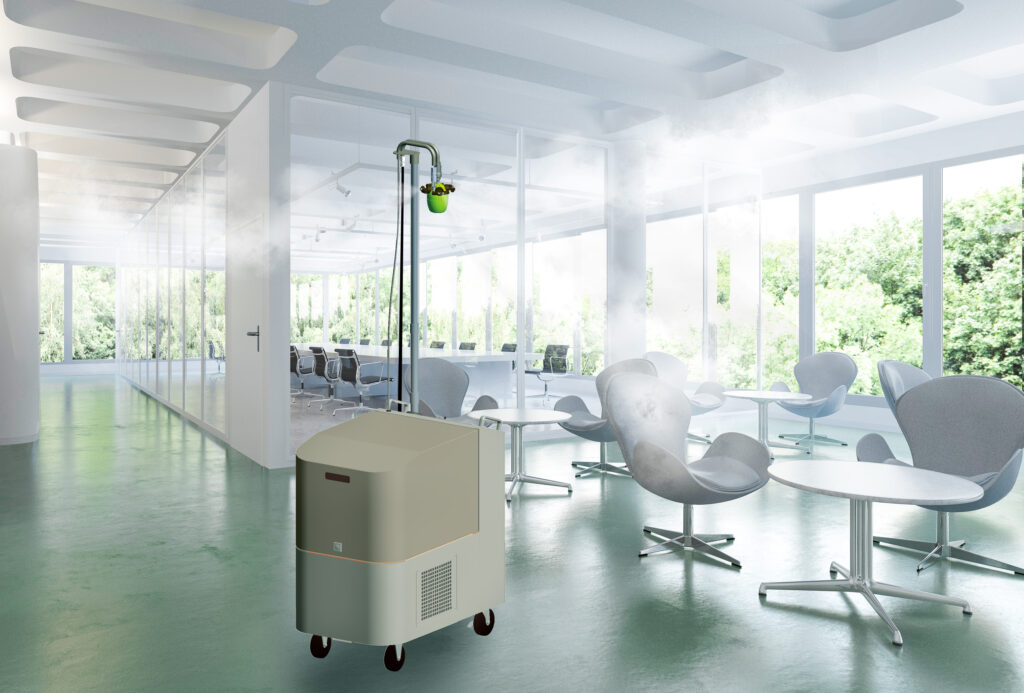 This product is in explosive demand in North America, Europe and other regions with significant Covid-19 impact. In Japan, we intend to promote it to factories, companies, as well as restaurants.
The spread of Covid-19 could be seen as an opportunity for IKEUCHI to explore a "B to C" business style, a style they hardly ever engaged in. As a matter of fact, there are 3 Dry Fog Stands at Goshoji Temple, the 78th temple of the 88 temples of Shikoku.
Fog also designs environments. The challenge in infinitely expanding the possibilities of fog continues
A totally different field from disinfection, yet another version of the "B to C" style is the "LYOHM System® (cool fog system)". This system, using Semi-Dry Fog® with a droplet diameter of 10-30 μm, creates magical landscapes by combining the fog with sound and images. And also, exerts cooling and sprinkling effects with heat vaporization when the fog evaporates.
So far, it is being used in Yuushien (Matsue City, Shimane), one of the largest pond garden in the San-in region; the Taiko-en (Osaka City), the former residence of Denzaburo Fujita, one of the leading figures in the Kansai economy; the Hotel Chinzanso Tokyo since October last year.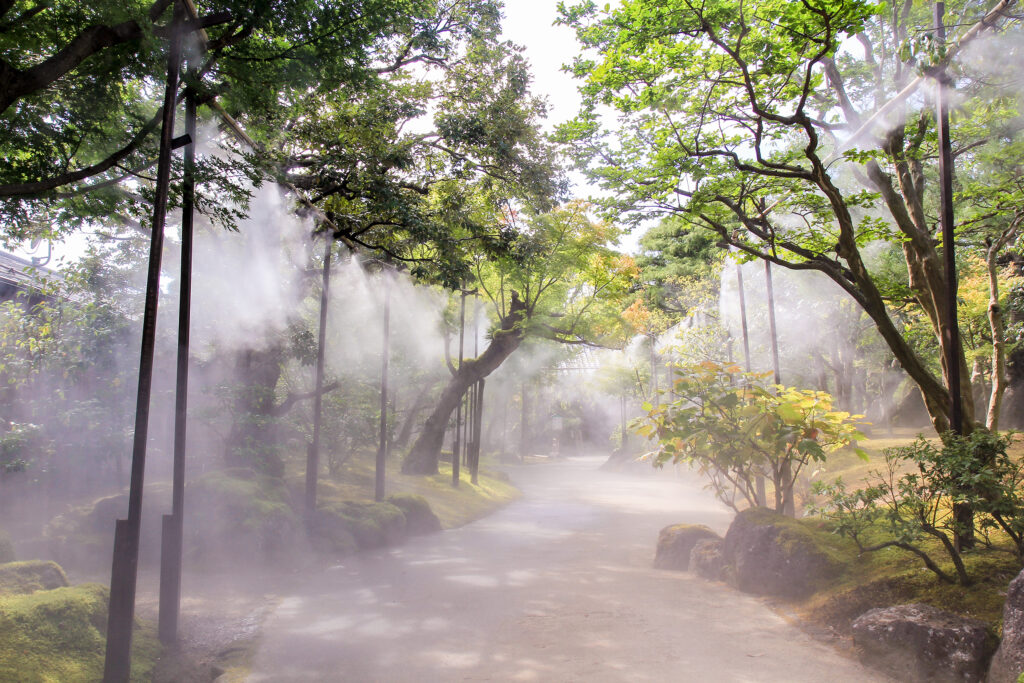 At the Hotel Chinzanso Tokyo, we use the latest nozzles to create a sea of clouds. I think that scenography could also be a new field for our service in terms of pleasing the ordinary customers. If you look at each individual field, some firms excel in each. However, I believe there are only a few fog all-rounders like us. We wish to continue broadening the scope of fog's activities with flexible minds.
"Taking the Path Less Traveled" is what IKEUCHI stands for. In what scenes will we encounter IKEUCHI's fog in the future? The challenge in infinitely expanding the possibilities of fog is highly anticipated.
・H. IKEUCHI & CO., LTD. Official HP (ENG)
---
Groovy Japan introduces Japanese products and services for the Islamic market in English and Japanese. Follow us on our social media and keep up-to-date with the latest news.
Follow @Salam_GJ