Studio Ghibli films now as Japanese kanzashi hairpin
Wargo presents a new range of kanzashi (hairpin) inspired by Studio Ghibli's timeless masterpieces "Kiki's Delivery Service" and "Spirited Away". Available from 20th August 2021.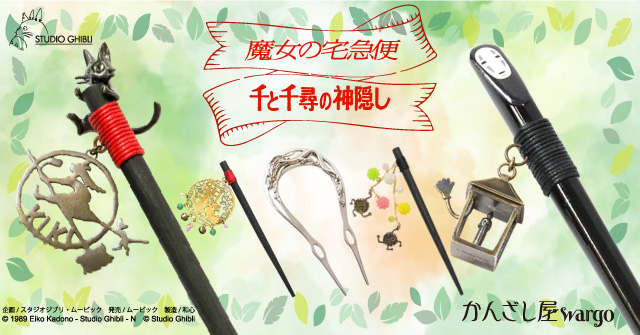 Wargo, run by Wagokoro Co., Ltd., is a store specializing in handmade kanzashi. Kanzashi are decorative hair ornaments used in traditional Japanese hairstyles, such as long hairpins, barrettes, fabric flowers and fabric hair ties.
With its attention to detail and designs reflecting scenes from Studio Ghibli's popular animated films, its kanzashi would be a neat addition to your Ghibli collection.
■ Kiki's Delivery Service: Jiji & Lily Kanzashi 
An openwork design of the adorable, innocent Jiji and Lily nestled on their usual fence, true to the world of Ghibli.

■ Kiki's Delivery Service: Gütiokipänjä Bakery & Jiji Kanzashi
Designed as an openwork ornament with the same sign that Kiki and Tombo mounted in their attic.

■ Spirited Away: Soot Sprites Dining Kanzashi
A kanzashi with a motif of soot sprites (susuwatari) and kompeito (Japanese sugar candy). Its design captures the scene of soot sprites swarming around the kompeito that Rin gave them.

■ Spirited Away: No-Face & Cantera Night Trail Kanzashi
A kanzashi featuring No-Face and the Cantera lamp that lit the path at night. It shows the scene with the Cantera lamp accompanying Chihiro and No-Face on their way to Zeniba's house.

■ Spirited Away: Kohaku River Spirit Kanzashi
The futamata-kanzashi depicts Nigihayami Kohakunushi, the original form of Haku. Based on the scene where Haku swims in the night sky with Chihiro.

They are now on sale at The Ichi shopping site. Overseas shipping is also available.
https://www.wargo.jp/products/collaboration/


We have a network of Japanese companies keen to expand into the Halal market in Malaysia & Indonesia.
If you are interested in connecting with sustainable technology companies in Japan, simply JOIN the network from below. We will match the right one for you!