Muslim experience flying JAL with in-flight Muslim Meal
Hello, it's Muslimah staff Iman here!
Today, I want to share my Japan Airlines (JAL) MUSLIM MEAL experience with you.
I went to Malaysia during the Obon holidays. Obon is a traditional Japanese holiday to commemorate their ancestors that falls on 13th to 15th August, so many companies in Japan close during this period. As Japan and Malaysia travel restrictions have also eased up, I finally took the chance to visit my family in Malaysia.
Why I chose JAL?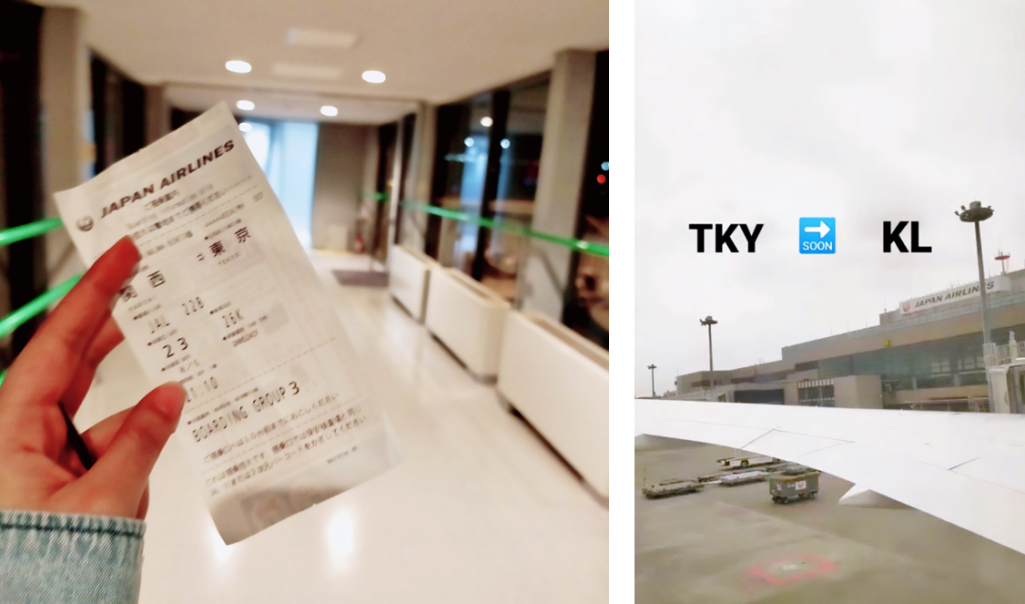 Before the pandemic, I mostly use AirAsia or Malaysia Airlines (MAS). But ever since the pandemic, sadly, AirAsia has ceased its Japan operations at the moment. In my flight search, I found direct flights to Malaysia from Tokyo by MAS, JAL and ANA (All Nippon Airways).
I compared all of them and JAL was slightly cheaper than the other two. I know transit flights are way cheaper, but I felt uneasy about transit in a different country because you have to consider that country's Covid-19 restrictions too. For a peace of mind, I opted for a direct flight.
Of course, another reason why I chose JAL was because it also offers Muslim Meal in its flight. Btw, I flew Economy class.
Is the Muslim Meal halal?
In its special in-flight meal options, which are meals you can add-on/order upon your booking purchase, JAL also offers meals for passengers with religious dietary needs like Muslims or Hindus. For international flights by companies like JAL, MAS, etc., meals are already included in the ticket pricing, so you do not need to pay extra.
How to Order via JAL Website
Visit JAL website to book or modify your flight
On the Booking Details screen, click "Service Selection (Seat, Meal)" button
Click "Request special meal" button on the Booking Details screen
Select your desired meal from the pulldown menu, then click "Continue" to proceed
The in-flight meal selected will be shown in the Flight Information on the Booking Details screen
For Muslims, you just need to choose "Muslim Meal" in step 4. If you want to order after you've booked your flight, you may follow the same steps as above through "Manage Bookings" on JAL website.
If you do not choose any particular meal type, you will not receive the Muslim Meal. Therefore, BE SURE to add "Muslim Meal" as your meal option when you are booking.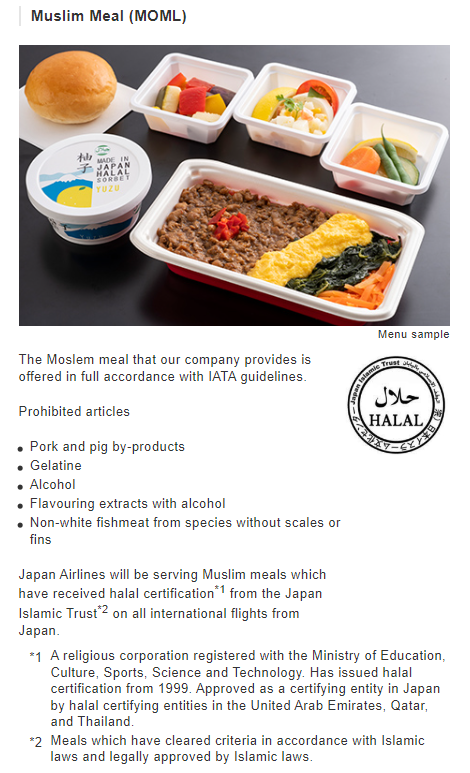 You can rest assured as the whole production of its Muslim Meals are certified Halal by Japan Islamic Trust (JIT)*1, including ingredients, production factory, and dishware. For more info about its Muslim Meal policy, please refer to JAL official website.
What my Muslim Meal was like?
Since the flight from Tokyo to Kuala Lumpur took about 7 hours, I received 1 heavy meal and 1 light snack. Just like any other in-flight meals for international flights, JAL Muslim Meal (heavy meal) consists of 1 main dish, 3 side dishes, 1 butter roll + margerine, 1 dessert and 1 mineral water.
In my flight, I had Spicy Chicken Rice as the main dish, with different side dishes: boiled vegetables, cheese tomato lemon salad and marinated vegetables with apple cider vinegar.
The Spicy Chicken Rice wasn't super spicy or anything; it had more of a spices filled kick into it rather than lots of chillies. Smelled nice, full of flavour and delicious! I think the taste will fit a lot of people from Southeast Asia or South Asia.
Out of the 3 side dishes, I'm not familiar with the vinegar-marinated vegetables but it was not bad. All side dishes were lightly seasoned, which helped balance the overall flavours of the whole meal. They worked pretty well with each other when eaten together. If you eat the side dishes by themselves, you may find the taste to be bland.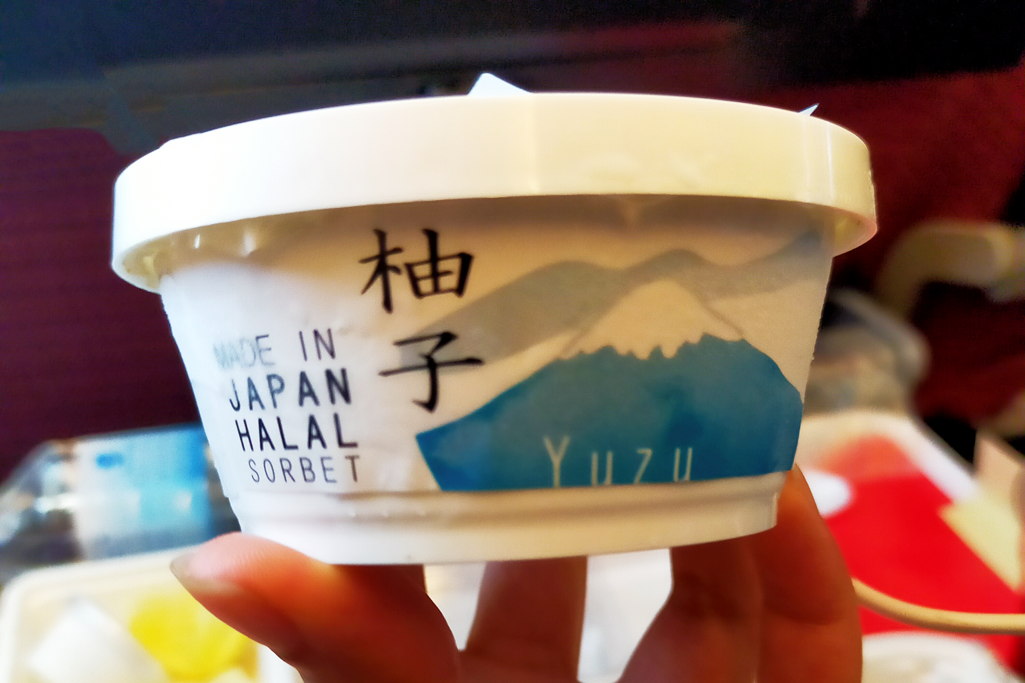 For dessert, there was Yuzu Sorbet. This is a Halal-certified frozen ice cream, certified by the Nippon Asia Halal Association (NAHA)*2. I love sour foods, so this sorbet was like a cherry on top for me. It had a lemon-like sour taste with a nice mix of sweetness—so good that I want to buy it!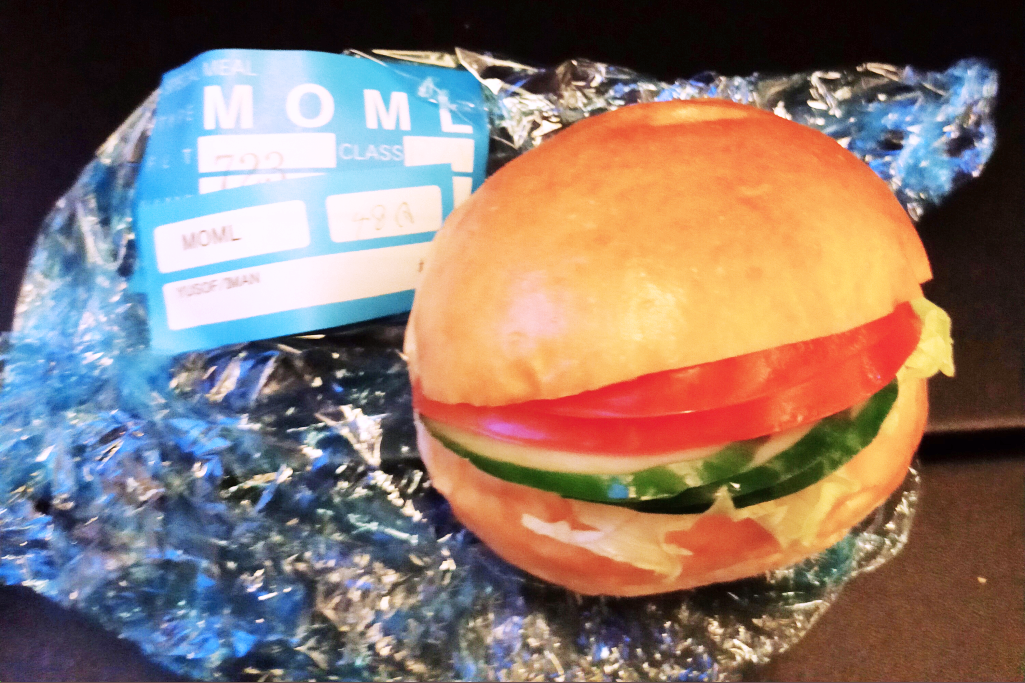 This was a light snack, a vegetable sandwich made of lettuce, tomatoes and cucumber. Since it was like super late night, the meal wasn't overwhelming. It stayed true to the word "LIGHT" snack. It may not taste much, but it was good enough to keep your stomach happy and cleanse your palate a bit. Definitely felt healthy, though (lol).
This was an overall great experience!
Before departing, I had zero expectations on the food because I've heard stories about not-so-great Muslim Meal experience by some other flight carrier. But I was amazed by the quality of this Muslim Meal. I could tell the flight carrier have taken great effort in the taste of the meal.
Other than JAL, alhamdulillah, another Japanese flight carrier ANA also offers Halal-certified Muslim Meal in its special meal options. It's great that now we (Muslims) have more flight options with Muslim-friendly services to visit Japan!
*1 JIT: a Japanese Islamic body accredited and recognized by EIAC, Malaysia's JAKIM, the Central Islamic Council of Thailand and the Halal standard Institute of Thailand , Ministry of health Qatar and The Saudi Food and Drug Authority (SFDA) Kingdom of Saudi Arabia.
*2 NAHA: a Japanese halal organisation with mutual accreditation with Malaysia's JAKIM.
---
■ Muslim Meal (MOML) by JAL
Available routes
International flights departing from Japan (Haneda/Narita Airports)
Halal certification
Certified by Japan Islamic Trust
Where to book/order
・JAL website
・Phone (JAL Reservation & Information for English speakers): 0570-025-121 / 03-6733-3062, Business hours: 8AM – 7PM (daily)
Order deadline
・Via JAL website
at least 25 hours before flight departure
・By phone
at least 24 hours before flight departure
*Certain menu are subject to change
*In-flight meals (Muslim Meal & standard meals) on international flights departing from Kuala Lumpur are Halal-certified by JAKIM. Visit JAL website for details.
*In-flight meals (Muslim Meal & standard meals) on international flights departing from Jakarta are prepared according to Islamic food laws. Visit JAL website for details.
Also See:
JAL starts serving Halal-certified "Yuzu Sorbet"
Muslim-friendly airports with prayer room in Japan
How to find halal food & items by ingredients in Japan


We have a network of Japanese companies keen to expand into the Halal market in Malaysia & Indonesia.
If you are interested in connecting with sustainable technology companies in Japan, simply JOIN the network from below. We will match the right one for you!