Quick Muslim-friendly guide for your Hokkaido trip
One of the best places to visit for its picturesque view, wondrous nature and seafood paradise is the Hokkaido Prefecture. Don't know where to go, what to eat and what you should do? Here's a simple guide for all Muslim travellers, especially the first-timers.
Where To Visit
Hokkaido is located in the northernmost part of Japan and is the second-largest island after Honshu. Although many may know Hokkaido more as a winter wonderland, the region also boasts beautiful nature views with various flowers blossoming throughout the year.
Here are some suggestions on where to go for each season, Muslim-friendly food and hotel, with a few tips to help you through your trip.
Spring: Goryokaku Tower
Hakodate lies its symbol—Goryokaku Tower.
Goryokaku is Japan's first western-style star-shaped castle fort, designated as a special historical site. You can enjoy a panoramic view of this castle fort, Hakodate city, Mt. Hakodate and the beautiful Yokotsu Mountain Range from the 107m-tall Goryokaku Tower.
View the beauty of all four seasons at its Goryokaku Park. In spring, someiyoshino cherry trees planted in the Taisho era (1912-1926) are in full bloom, while illumination lights up in winter.
◆Goryokaku Tower
Address: Goryokaku Tower Corporation 43-9 Goryokaku-cho, Hakodate, Hokkaido 040-0001
Open hrs: 9:00am – 6:00pm
Admission fee: JPY900 (Adult)/ JPY680 (Junior high & high school student)/ JPY450 (Elementary school student)
Summer: Farm Tomita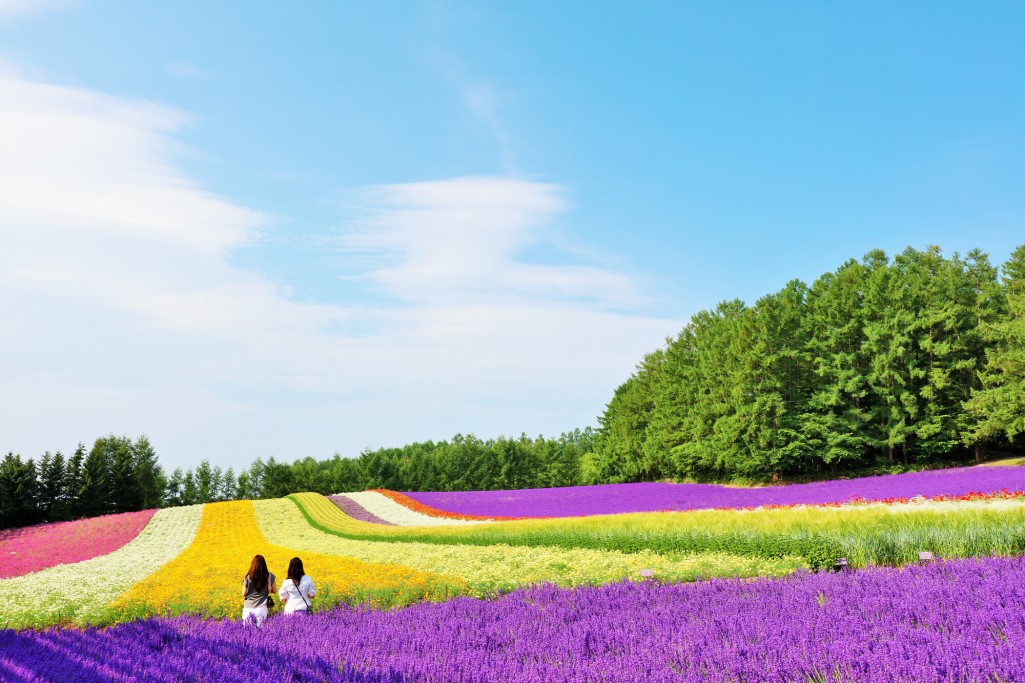 When it comes to Hokkaido sightseeing, Furano is the place to be. When people say Furano, lavender is the key.
Having said that, you cannot resist visiting Farm Tomita, a popular spot for its lavender fields. Lavender transforms into its beautiful purple colour from July to August, which is the summertime in Hokkaido. Of course, there are also other flowers, such as white baby's breath and red poppies, including herbs. While you're here, why not try the lavender soft-serve ice cream for JPY300?!
The park also covers a fairly large area, so it can be less crowded. I'd recommend riding the Furano-Biei Norokko-go train on the JR Furano Line, as the park is only a 7-min walk from Lavender Farm Station. BUT do remember that this train is only available in summer
◆ Farm Tomita
Address: Kisen Kita 15-go, Nakafurano-cho, Sorachi-gun, Hokkaido 071-0704
Open hrs: 8:30am – 5:00pm (times may vary depending on the facility and the season)
Admission fee: Free
Autumn: Hakodate MOMI-G Festa (autumn leaves festival)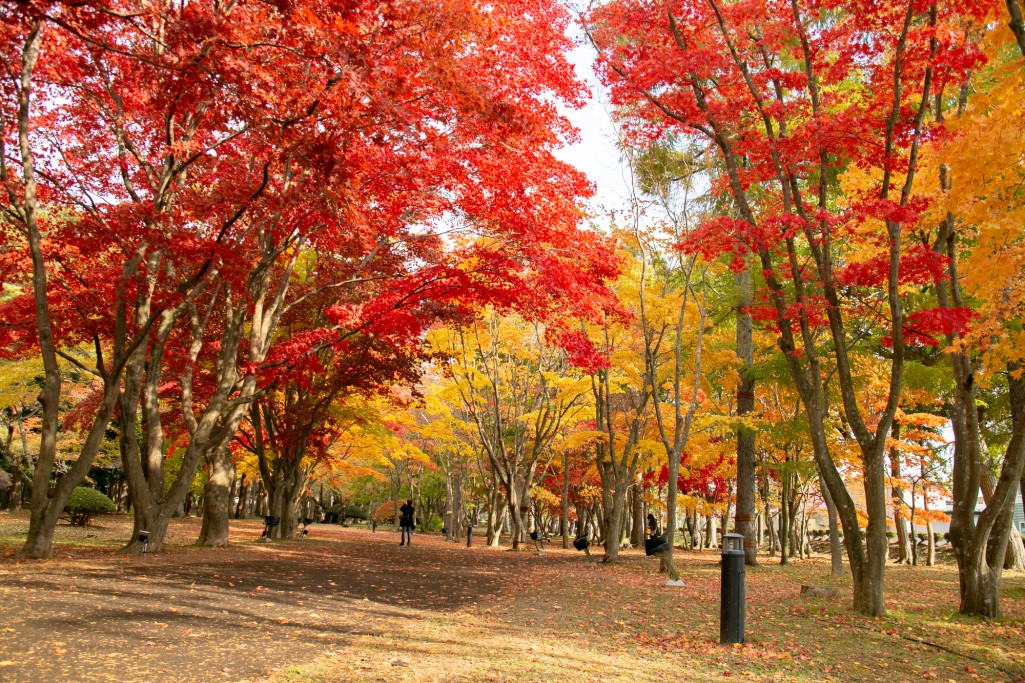 A well-known autumn event in Hakodate, where you can enjoy the scenic autumn foliage at Kosetsuen (within Miharashi Park). Kosetsuen is home to a Shoin-style*1 pavilion and a pure Japanese-style garden, the only government-designated cultural garden in Hokkaido.
It is usually held between late October and mid-November. At night, the 100m-long maple tree path is illuminated, so magical that you'll lose track of time…
◆Hakodate MOMI-G Festa
Address: 56 Miharashi-cho, Hakodate
Date: Late October – Mid-November *check Travel Hakodate official website for details
Admission fee: Free
Illumination: 4:00pm – 9:00pm
*1 Shoin-zukuri: a type of Japanese residential architecture used in military mansions, temple guest halls, etc., originating in the Muromachi period (1336-1573).
Winter: Sapporo Snow Festival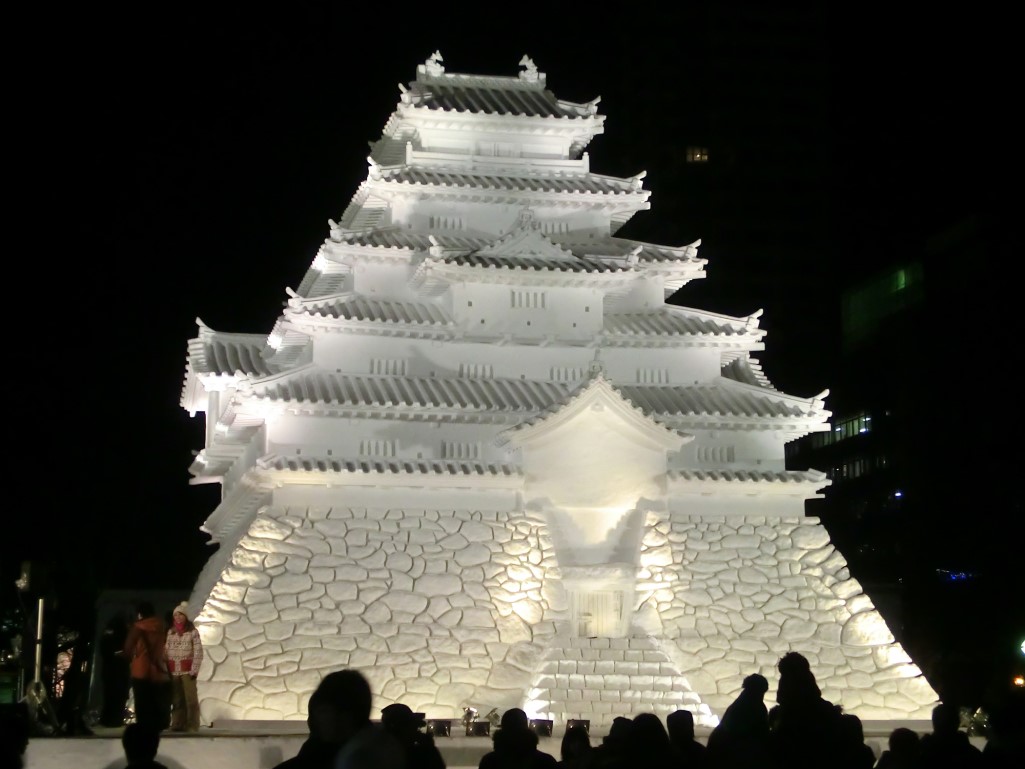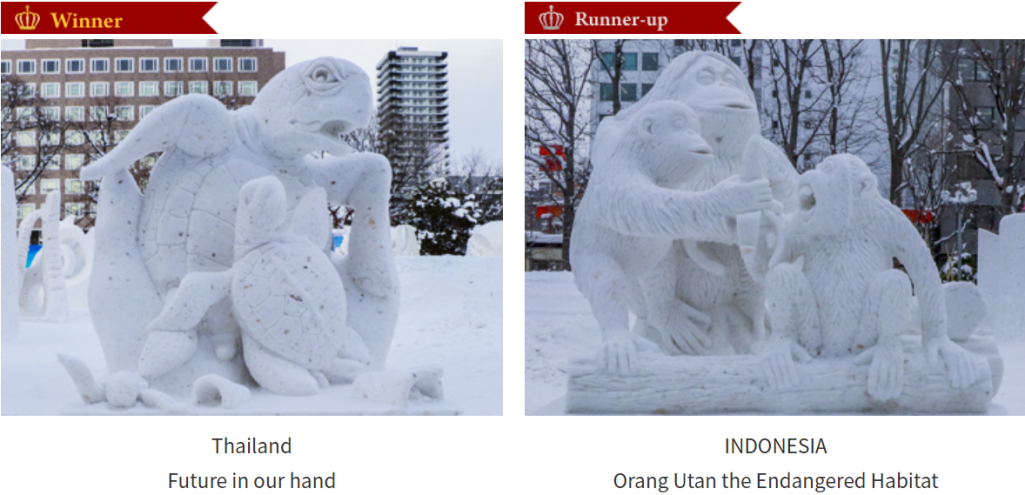 This may be pretty obvious, but this event cannot be left out when talking about Hokkaido. It is a major winter event at Odori Park. Enjoy spectacular snow and ice sculptures of all sizes, including giant ones, stretching across the 1.5km Odori site. In fact, the festival holds the International Snow Sculpture Contest, which people from various countries can join.
It also has a ice sculpting contest and ice show at the Susukino site. Don't forget to try snow rafting and slides at the Tsudomu site too!
◆Sapporo Snow Festival
Date: Every year on February for 7 days *check Sapporo Snow Festival official website for details
Access: 37 min. to reach Sapporo via the high-speed "Rapid Airport" train from New Chitose Airport
Where To Eat
Hidden seafood gem in the historic Nijo Market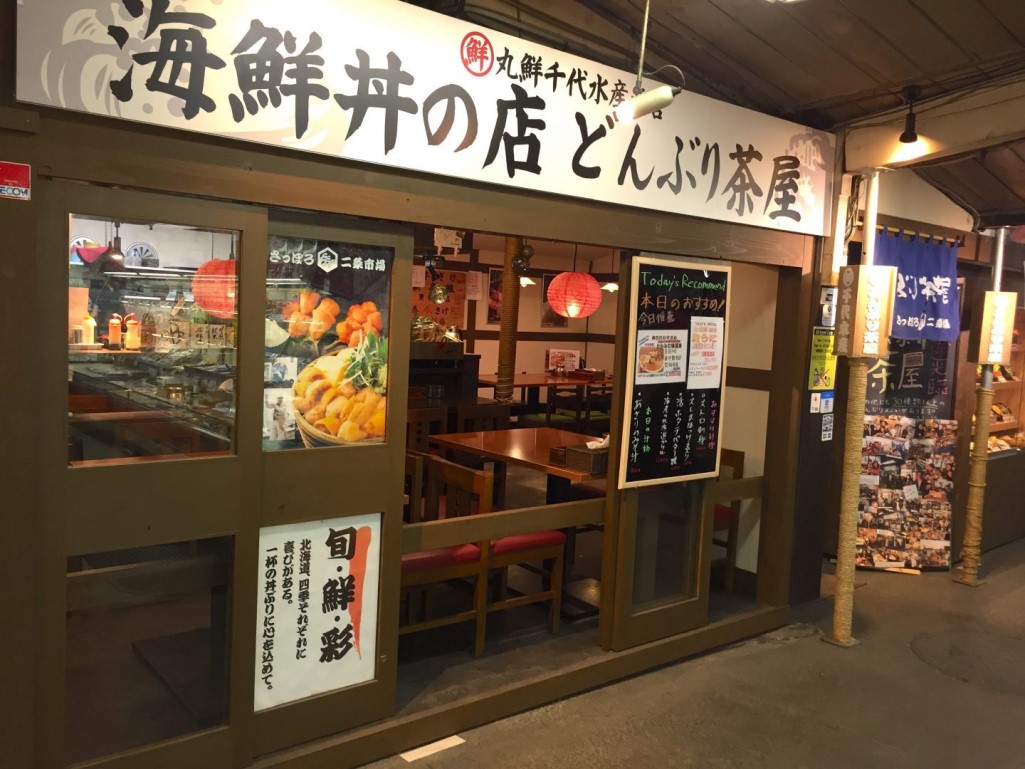 Donburi Chaya Sapporo Nijo Market (Source: Welcome Hokkaido)
Nijo Fish Market is said to have developed in the early Meiji Period (1868 – 1912), offering fresh seafood from all over Hokkaido at the best prices. Originated from that Nijo Fish Market, relish seafood dishes in season in a fisherman's cottage-like setting at Donburi Chaya Sapporo Nijo Market!
It serves various Muslim-friendly menus. And it even has grilled menus such as "Grilled Atka mackerel" and "Grilled cut Chicken Steak" for those who are not good with raw seafood. The restaurant uses halal-certified meat (chicken, lamb, etc.) for dishes other than seafood.
Donburi Chaya has two more Muslim-friendly stores in Hokkaido: Otaru Sakaimachi Street (incl. prayer space) and New Chitose Airport.
◆Donburi Chaya Sapporo Nijo Market
Address: New Nijo Market Store, 7, Higashi 1-chome, Minami 3-jo, Chuo-ku, Sapporo
Open hrs: 7:30am – 5:00pm(L.O. 4:30pm)
Popular Hokkaido's flagship ramen
Since 1957, Houryu is a ramen restaurant famous among the locals. A 5-minute walk from Susukino Station, head over to its Ramen Houryu Flagship Store to try the delicious Muslim-friendly Sapporo ramen.
The restaurant uses separate tableware and cookware for Muslim customers, marked with green stickers. Besides Miso Ramen, its Genghis Khan Ramen is a must-try! Don't confuse this with the Mongolian Emperor, 'Genghis Khan' here refer to the thin-sliced grilled mutton, commonly eaten in Hokkaido. Bonus news: it has halal gyoza—this is pretty hard to find in Japan.
◆Ramen Houryu Flagship Store
Address: Nishi 3-chome, Minami 6-jo, Chuo-ku, Sapporo
Open hrs: 11:00am-1:00pm (Mon, Wed-Sat) / 11:00am-11:00pm (Sun) / 11:00am-12:00am (National Holiday)
Where To Stay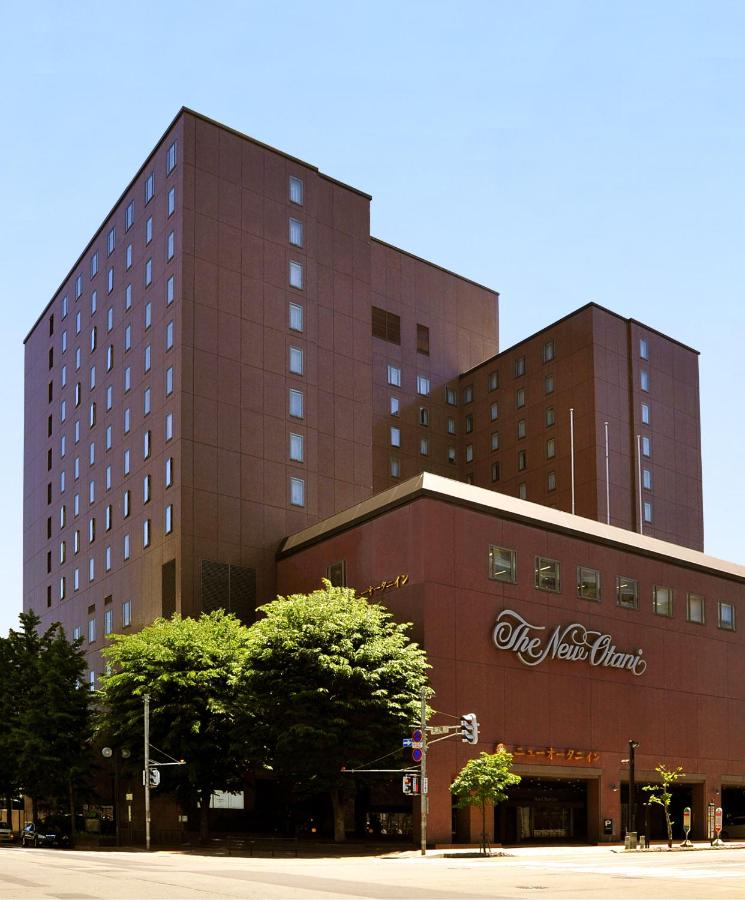 An 8-minute walk from JR Sapporo Station and a 5-minute walk from Odori Park, the 4-star hotel New Otani Inn Sapporo provides Muslim-friendly cuisine. Make sure to request the Muslim meals upon booking or at least 3 days before check-in.
You can even ask for prayer mats, a qibla compass and the Holy Al-Quran during your stay.
The rooms have an electric kettle, refrigerator and toiletries, including free Wi-Fi.
◆New Otani Inn Sapporo
Address: Kita 2-jo Nishi 1-chome 1-1, Chuo-ku, Sapporo-shi, Hokkaido
Quick Tip for Muslim Travellers
Hokkaido is packed with its own sets of railway and subway lines, especially in the urban area. You can consider getting a transportation pass like Hokkaido Rail Pass that gives you unlimited JR train (except shinkansen) rides and most JR Hokkaido buses.
But if you're going to smaller towns, travelling by bus or car would be the better option since most of them may not have direct train access.
Similar to a railway pass, Hokkaido also has bus passes, such as Hokkaido Budget Bus Pass (for highway buses and some local buses). This pass covers more widespread destinations, such as Hakodate in the south, Nayoro in the north, Monbetsu and Kushiro in the east, and major airports. If you want to rent a car, do make sure to get an international driver's permit in your home country before coming to Japan.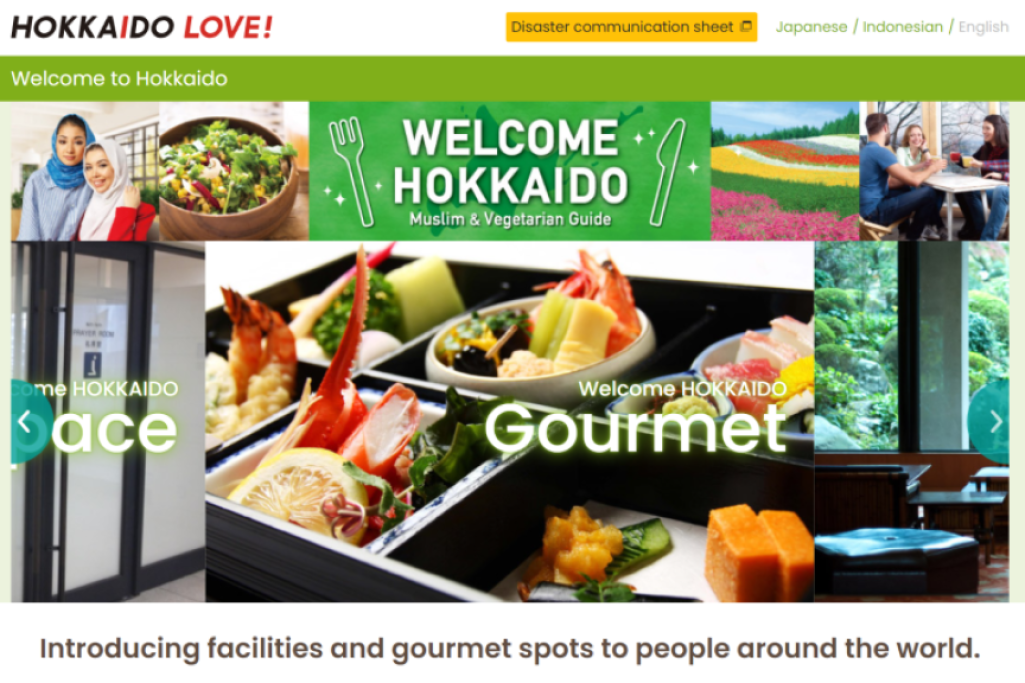 Nowadays, you can easily find Muslim-friendly eateries and food in Hokkaido. Check out Welcome HOKKAIDO (available in Japanese/Indonesian/English) to find food, prayer space and accommodation that cater to Muslim travellers.
And here's an extra tip from me—make a memo of Japanese phrases. For example, write down the name of your destinations, train lines, or address on your phone or paper to ask the locals. You can put useful words or pictograms to double-check your food, such as 豚 (buta=pig) and "Does this have meat in it?" (これはお肉入っていますか= kore wa o-niku haitteimasu ka).
Not everyone in Japan can speak English, so this may save you from that language barrier. Using a translator app may also be helpful in your trip. Another thing is to have some cash on you as there are still some stores in Japan that only accept cash.
---
These are just some of my suggestions on what Hokkaido have in store for each season. It is a worthwhile place to visit all season. But to make your trip more comfortable, be sure to check the weather and your transportation mode before your visit.
Hence, LET'S plan ahead for your next Japan trip once the pandemic situation is over!
Also see:
Hokkaido's halal food & prayer room portal adds new info
Halal-certified famous Hokkaido sweets going overseas


We have a network of Japanese companies keen to expand into the Halal market in Malaysia & Indonesia.
If you are interested in connecting with sustainable technology companies in Japan, simply JOIN the network from below. We will match the right one for you!