Donate Now to Muslims in Need, Why We Crowdfunding
Salam and hello!
This is Iman, Salam Groovy Japan Muslim staff.
We at Salam Groovy Japan is currently collecting donations by crowdfunding on LaunchGood to help Muslims living in Japan who are in financial distress. I shared with you why we wanted to start this crowdfunding project.
Today, we will look at why Salam Groovy Japan chose LaunchGood.
When we thought of doing crowdfunding, platforms such as IndieGoGo, Kickstarter or Campfire (Japan) came first across my mind. As I don't use crowdfunding platforms, even when in Malaysia, I didn't know much about other platform types.
I wondered if there were crowdfunding platforms catered especially for Muslims. And that's where doctor Google came in.
To my surprise, there were Muslim-oriented crowdfunding platforms as I searched the web. Out of all that I found, LaunchGood caught my attention.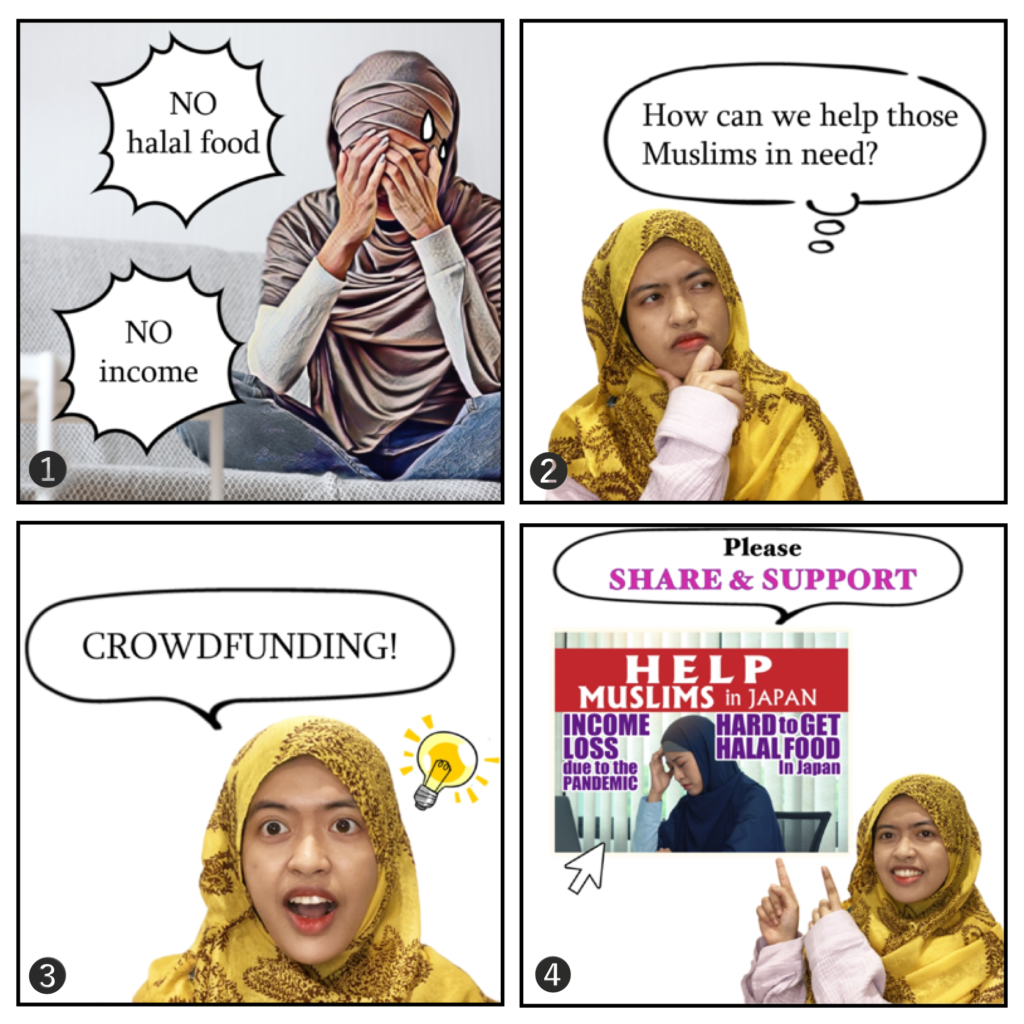 LaunchGood is a Muslim dedicated crowdfunding platform, which can be used and accessed worldwide. Although the platform is based in America, it has many campaigns from all over the world.
It also has campaigns where you can give Zakat, which is verified seriously by its Zakat experts. As a Muslim, I feel very reassured.
*Zakat (almsgiving) is an Islamic finance term. The individual must donate a certain proportion of wealth each year to those in need. Only people who meet the requirements can receive Zakat.
In fact, the platform has received awards: Islamic Economy Award, Small & Medium Enterprises (SME) and American Muslim Consumer Conference (AMCC), Entrepreneur Showcase. Pretty trustworthy, right?!
With having limited job options, the Covid-19 pandemic has reduced those options almost to zero for the Muslim students. Many of them are having unprecedented financial distress. Our campaign is to help Muslims in Japan with such financial difficulties, especially Muslim students who came from overseas, by donating Halal Food and Daily Essentials.
■ How You Can Help
You can donate by accessing our crowdfunding page. Select one of the Giving Levels or click the SUPPORT button at the page's banner. Once you click it, you can pay with your credit card.
*Only VISA, Master Card, Discover credit cards can be used.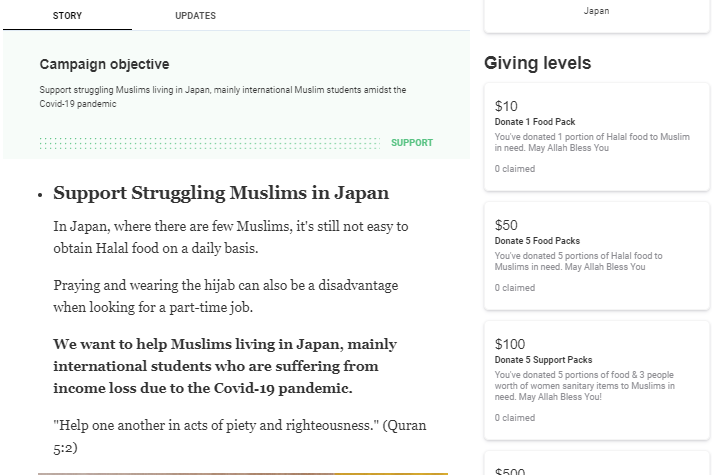 Our goal is to collect USD 10,000, and we are very far from reaching it. We need your help to bring back the smiles of those impoverished young Muslims.
Kindly SHARE this project with your friends and families. Your generous donations can make a difference!
Barakallahu Fiik, May Allah Bless You
■ Help Support Struggling Students & Other Muslims in Japan
Related Article:
Wish to Aid Needy Muslims in Japan in COVID times
---
Salam Groovy Japan introduces Japanese products and services for the Islamic market in English and Japanese. Follow us on our social media and keep up-to-date with the latest news.
Follow @Salam_GJ