Mosque at factory, Strong ties of Matsuyama Kozai-Indonesia
MATSUYAMA KOZAI, a business processing and selling steel, welcoming Indonesian technical trainees since 1997.
We spoke to President Kougou, fondly called "Dad" by the trainees, about his struggles when starting the business and his bond with the trainees.
Entrepreneurship at 18, What's behind the name MATSUYAMA
MATSUYAMA KOZAI is a company founded in 1965. My grandfather and father used the name "MATSUYAMA" when running the company. The business ended up closing when I was very young, and life was difficult after that. It was then that this vision came up "Starting a business to revive our trade name". At the age of 18, I started my own company. With the company name MATSUYAMA KOZAI, I could revive my long-cherished dream of bringing back the business name.
In the early days of this business, we only sold steel materials. I started the steel business only because there were no steel shops nearby. It was a difficult time because of our lack of capital and knowledge. But I persevered through all because I wanted to protect the trade name that I had just revived.
My business approach was "Buy steel materials in Tokyo, then sell them to distant customers". By taking that time-consuming sales approach that others didn't like, we could avoid competitors in our trading area.
From 1988, the business expanded to include steel processing, leading to the current business model.
Bond with Indonesia
MATSUYAMA KOZAI has a strong relationship with Indonesia.
We welcomed over 100 Indonesian technical trainees working at MATSUYAMA KOZAI over the years. Currently, we have 25 Indonesians in the company: 21 technical trainees and 4 permanent employees.
We began accepting Indonesian technical trainees in 1997. Before we were ready for this, we consulted with Chiba Prefectural Office, which introduced us to an organization that dispatches trainees. In 2012, the company earned the Special Award for Best Practices in Foreign Technical Internship Program, honouring companies engaged actively in excellent and exemplary technical training.
In 2013, we established a local subsidiary in Medan, Sumatra, Indonesia, called CV. MATSUYAMA INDONESIA. Our business partnership involves producing CAD data in Indonesia then processing that data at MATSUYAMA KOZAI.
Indonesian people are bright, honest and gentle.
In 2011, the Great East Japan Earthquake severely damaged our head office in Iioka (Asahi, Chiba) with tsunami. At that time, an Indonesian who used to work with us as a technical intern contacted me from his home country. "Otou-san (Dad), are you OK?" said him.
I think of the technical trainees as my own children, and they even call me "Dad". Even after they finished their training period and returned to their home countries, I'm so touched they still kept in touch with me.
After the 2011 disaster settled down, I visited Indonesia for the first time to see how they are doing now. At that time, the former technical trainees who used to work at MATSUYAMA KOZAI gathered from across Indonesia to give me a big welcome—I was overjoyed. I feel our bonds have become much tighter.
A Mosque on Factory Site
There were hardly any difficulties in accepting Muslim trainees. If I had to point out one, it would be the food. When ordering lunchboxes for employees or eating out with the trainees, we have to pay attention to whether the food is Halal or not. Language differences can also be a little tricky sometimes, but it is not really a negative thing.
What I felt sorry for, on the contrary, was that we could not arrange a place to pray when we first accepted trainees.
One day, one of the trainees asked me, "Can we buy a prefab*1". I refused because I thought it would not be right for them to have their precious prayers in a prefab bought from somewhere else. So we decided, if we are to have a prayer space—Let's Build A Splendid Mosque Ourselves.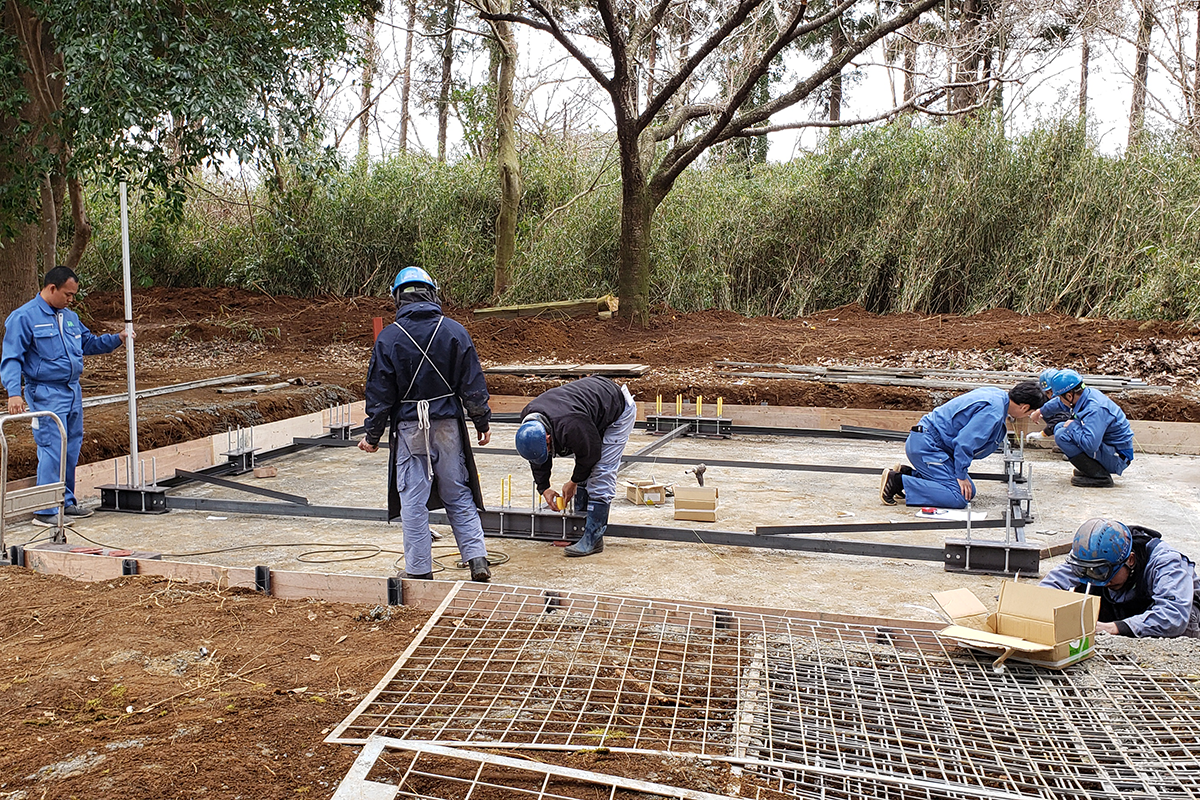 I came up with the construction location and mosque design plan, then the trainees built it entirely by themselves. For the building materials, we used high-grade materials from Nippon Steel. When I saw the completed Mosque in the Forest, I can remember feeling relieved, as if a weight had been lifted from my chest.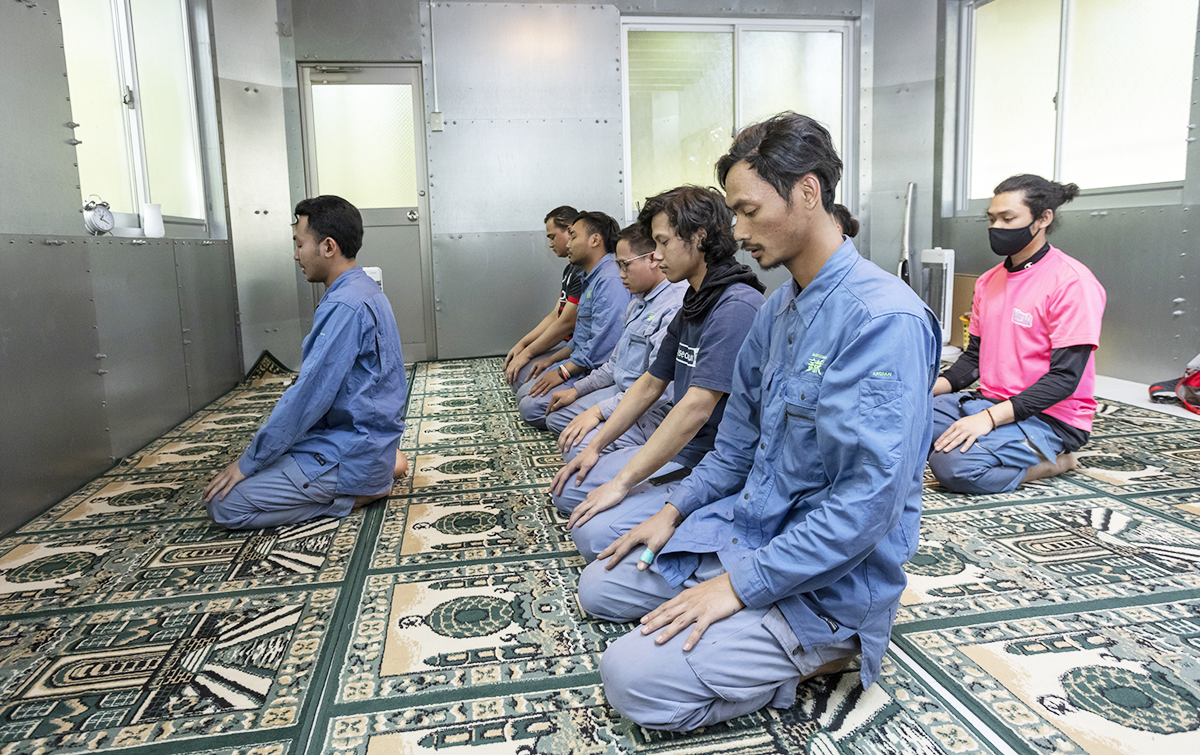 Future Plans for MATSUYAMA KOZAI
I believe it is my prime duty to pass on the revived MATSUYAMA trade name from generation to generation.
Although the Covid-19 pandemic temporarily prevented the entry of technical trainees from Indonesia, I'm not too worried about this, as time will solve this problem. We hope to continue our friendly relations with the Indonesian technical trainees from their siblings to their children for many years to come.
<Company Profile>
Company name: Matsuyama Kozai
Head office: 1767 Iioka, Asahi, Chiba 289-2705, Japan
Business outline: General steel products, Secondary product sales, Primary/Secondary steel processing, Design and Manufacture of frames for solar power panels
Official website: Matsuyama Kozai
Word Meaning:
*1 Prefab or Prefabricated Building: a building or unit manufactured using prefabrication. Prefabrication is a method that creates the building structure in a factory, then assembles the completed structures onsite (the place the building will be located).
---
We have a network of Japanese companies keen to expand into the Halal market in Malaysia & Indonesia.
If you are interested in connecting with sustainable technology companies in Japan, simply JOIN the network from below. We will match the right one for you!