Halal cosmetics made-in-Japan to bridge ties with Muslims
Mitchan's Halal-certified Made-in-Japan Lip Balm. This cute balm really delivers the goods! With its eye-catching Japanese-style design, it contains over 99.5% natural ingredients. More than 7 organic ingredients are used to keep your lips glossy and moisturised.
In our interview with Ms. Morohashi, the head of Mitchan Halal Cosme, we hear the story behind the birth of this product and what lies ahead.
I feel this strong desire to help people in need. When I visited Muslim-majority countries, I could deeply relate to how Muslims consider helping the poor as their duty. I was also impressed by the teachings of Islamic law: always keep clean and only give others the good things that are suitable for one's own consumption.
Japan has a small Muslim population and hardly any Halal cosmetics. That is why I launched Mitchan Halal Cosme to bridge the gap between the Muslim population and Japan. Our objective is to develop cosmetics that are certified Halal and made in Japan.
Skin surfaces can crack and cause pain when skin and limbs become dry, which is unhealthy. I decided to make our first product line a lip balm, as I myself have experienced dry cracking in the past, with my lips hurting the most.
Mitchan Halal Cosme offers two lip balms. Formulated with more than 7 organic, all-natural moisturising ingredients that keep your lips healthy. Our cosmetics use natural ingredients. So, they are perfect not only for Muslim women but even for all family members, from babies to the elderly. As the company strives to use what is only good for the body, our products are highly safe–gentle on the skin and highly moisturising. You can use it on your lips, hair, nails, knees, heels, and other dry areas.
Mitchan lip balm (pearl white) is 100% all-natural containing vitamin E, also functions as a lip pack. Mitchan Lip Balm (Pearl Pink) is famous for its sweet strawberry-chocolate fragrance with a light touch of colour.
Both products are Halal-certified, and everyone can use them safely. During this lengthy mask-wearing lifestyle, you can moisturise your lips while enjoying their gentle fragrance. We would be thrilled if people bought our products as gifts for Ramadan or any other occasion.
For people who have sought refuge in Japan from Afghanistan, the culture and language here are totally different from their home country. They experience immense stress living in this unfamiliar environment. Hence, we have donated 100 Mitchan lip balms, hoping to at least provide some little comfort to them.
At this moment, I can only provide short term aid like donations…I want to help people in need sustainably improve their standard of living.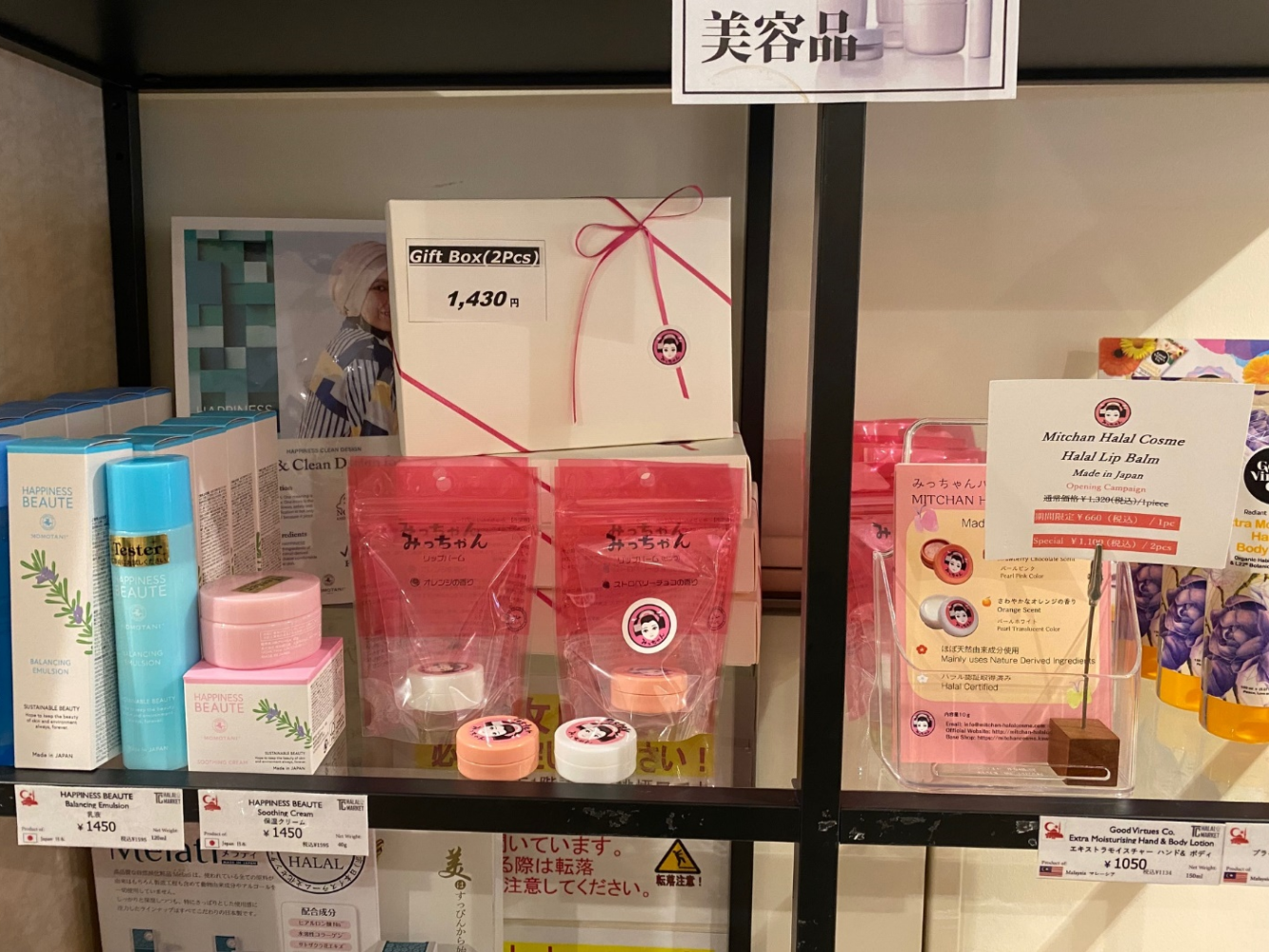 For this future dream to come true, the first step is to concentrate on spreading the goodness of Mitchan to more people and delivering our products to their doorsteps.
We also receive requests from our valued customers to make hand creams with high moisturising properties. Because we are a small business, it takes time to make such products, but hopefully, we can fulfil their requests in the near future.
<Company Profile>
Company name: Mitchan Halal Cosme
Business outline: Distributing halal cosmetics
Official HP: Mitchan Halal Cosme
Online store:
・Mitchan Halal Cosme
・Shopee Malaysia
・Shopee Singapore


We have a network of Japanese companies keen to expand into the Halal market in Malaysia & Indonesia.
If you are interested in connecting with sustainable technology companies in Japan, simply JOIN the network from below. We will match the right one for you!