Halal-certified beauty line to debut by Japan's cosmetics veteran
Momotani Juntenkan, with a history of 136 years, will release 3 products in its "HAPPINESS BEAUTE" with its original formula "HBP Complex" (which improves the skin foundation). The product range will further expand in the future.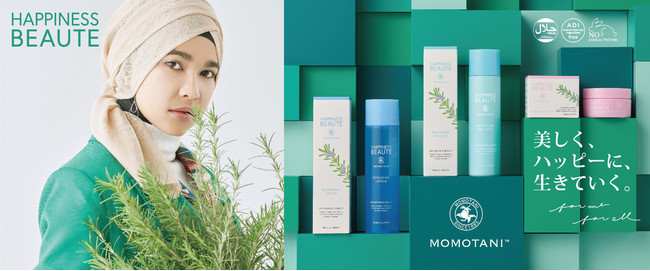 The company's Okayama plant acquired a halal certificate in 2020, thus carrying out strict inspections from ingredients intake to manufacturing and shipping.
They have a meticulous quality control system established to ensure that Muslims can use their products with confidence.
Momotani–a global brand of Momotani Juntenkan Group engaging in halal compliance–brings you "HAPPINESS BEAUTE" starting from May.
"HAPPINESS BEAUTE" is a beauty series that is usable by a wide variety of users.
Not only it is halal-certified, but it is also FREE from animal-derived ingredients and CRUELTY-FREE. It is a clean beauty series that is safe to use by everyone with assurance.
The "HAPPINESS BEAUTE" series consists of 3 products: REFRESHING LOTION, BALANCE EMULSION and SOOTHING CREAM, which contain HBP Complex.
It is a formula developed by Momotani Juntenkan to improve the skin foundation.
"SUSTAINABLE BEAUTY for the Earth, for me, for all".
With this slogan, it expected that the range would have more halal-certified beauty products.
---
Groovy Japan introduces Japanese products and services for the Islamic market in English and Japanese.
Follow us on our social media and keep up-to-date with the latest news.