Muslim Influencers Wanted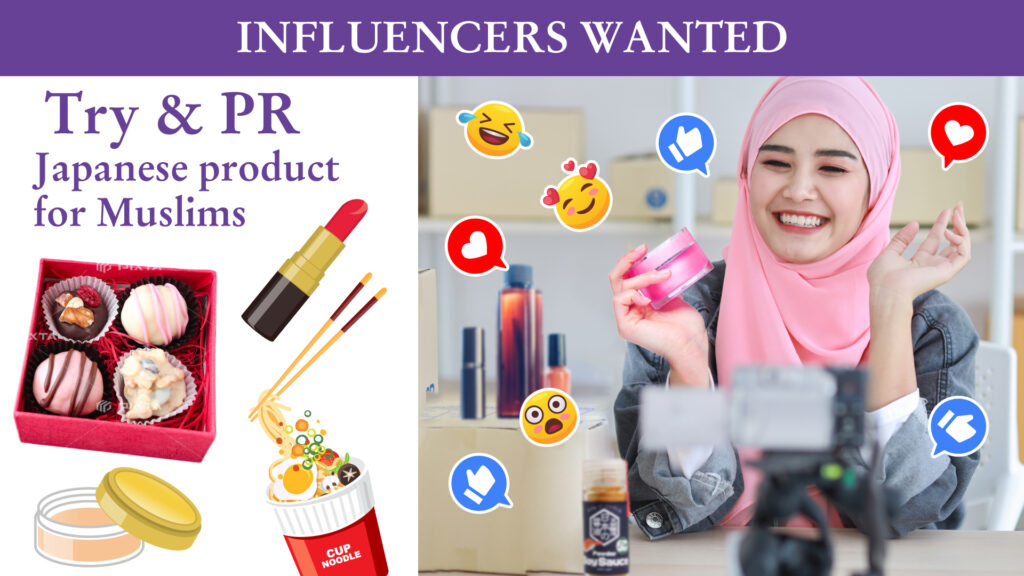 Salam Groovy Japan is looking for influencers, micro-influencers–with over 10,000 followers–interested in sharing content on your social media.
We will send you samples of the best Japanese products for Muslims to enjoy. You will actually try them out and they may also be a great addition to your social media content.
※Samples of the most suitable products will be sent to you according to your area of expertise, country/region and language.
※Please note that samples are limited, so we may not be able to deliver to every applicant.
Micro-influencer Requirements
Who Can Apply?
・Must be a Muslim
・Have more than 10,000 followers
・Have experience in posting product sample reviews in the past
・Open to online discussions via Zoom (in English, Malay or Japanese)

How To Apply?
Click the APPLY button on this page.
Product Sample List
001. TOMO Chocolats Café Genshin
002. Shojin Cosme Eyeshadow 01
003. Shojin Cosme Lipstick 04
004. Shojin Cosme Cheek Colour (Blush) 01
005. Takex Clean 77
006. Takex Clean Extra
007. Halal Skincare "Momohime" Trial Set
008. Sky Hot Cleansing R
009. Concentrate Serum R
010. Ramen Honolu Spicy Ramen
011. Muslim-friendly Japanese Soy Sauce Powder
001. TOMO Chocolats Café Genshin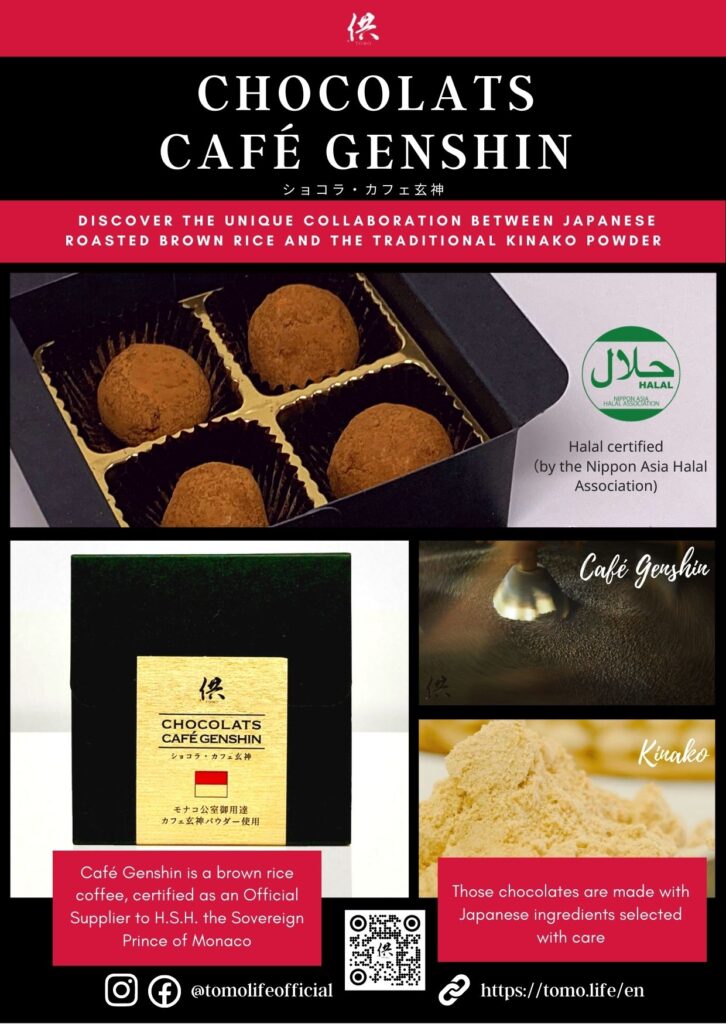 Name
TOMO Chocolats Café Genshin
Category
Food
Description
Chocolat Café Genshin is milk chocolate coated with Japanese kinako (soybean flour) dough. Sprinkled with fragrant Café Genshin powder (organic brown rice coffee, official supplier of the Sovereign Prince of Monaco).
All ingredients are from Japan and carefully selected, with brown sugar from Hateruma Island in Okinawa and Okinawan sea salt "Nuchi-Masu". A new sensation of chocolate delight with an irresistible soft-chewy texture.
Halal certification
Obtained.
Certifying body: NAHA (Nippon Asia Halal Association)
Validity period: 30 June 2022
Ingredients
Chocolate (vegetable oil and fat, sugar, whole milk powder, cocoa, lactose, cocoa paste) (made in Japan), kinako, sugar syrup, brown sugar (from Okinawa Prefecture), almonds, cocoa beans, buttermilk powder, roasted brown rice powder (made in Japan), salt/emulsifier, flavouring, (also contains soy, almonds and milk ingredients).
Best before
21 December 2021
Preferred target audience(s)
Malaysia, Indonesia, Japan (Muslims living in Japan, regardless of nationality), Singapore
Preferred social media
Facebook, Instagram
002. Shojin Cosme Eyeshadow 01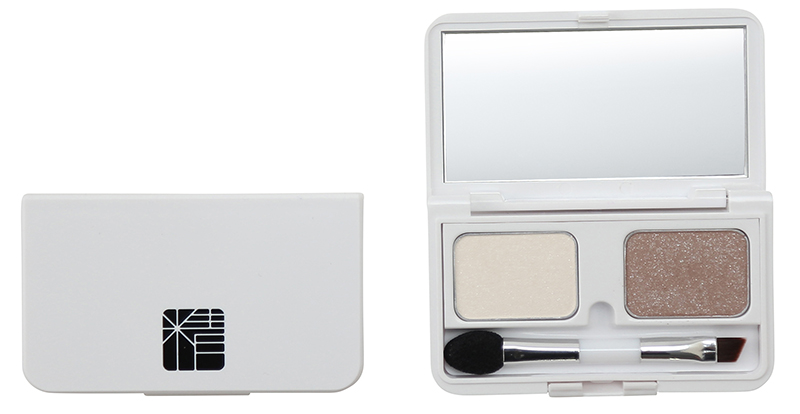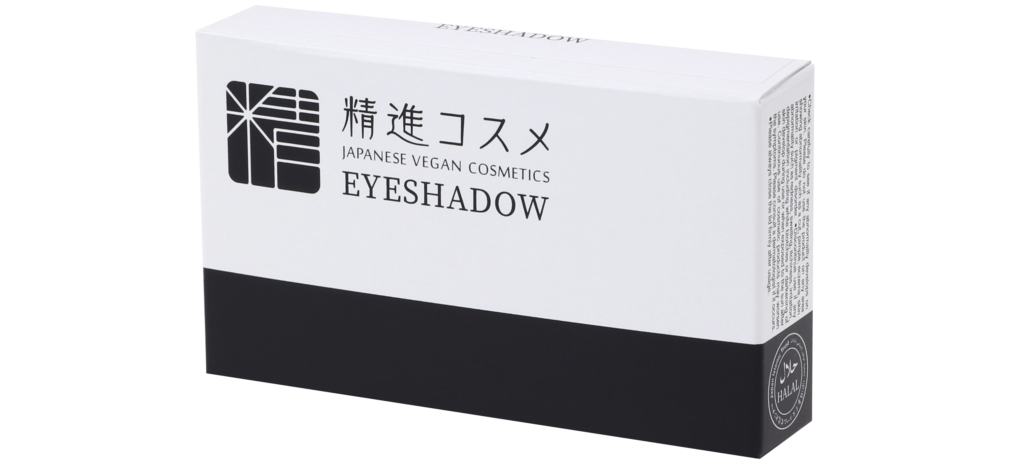 Name
Shojin Cosme  Eyeshadow  01
Category
Cosmetics
Description
2-colour eyeshadow palette with rich colours to enhance and illuminate your eyes.
Easy to make a beautiful gradation.
Shades that suit all skin tones.
*100% Halal
*100% Vegan
*Silicon-free
*Paraben-free
*Fragrance-free
Halal certification
Obtained.
Certifying body: The Halal Certification Committee of Japan Islamic Trust
Validity period: 6 September 2021
Ingredients
Talc, Mica, Titanium Dioxide, Mineral Oil, CI 77499, CI 77491, CI 77492, Phenoxyethanol, Aluminum Hydroxide, Sesamum Indicum (Sesame) Seed Oil, Oryza Sativa (Rice) Bran Oil, Camellia Sinensis Seed Oil, Citrus Junos Peel Oil, Tin Oxide, Triethylhexanoin, Ethylhexyl Palmitate
Preferred target audience(s)
Japan (Muslims living in Japan, regardless of nationality)
Preferred social media
Instagram
003. Shojin Cosme Lipstick 04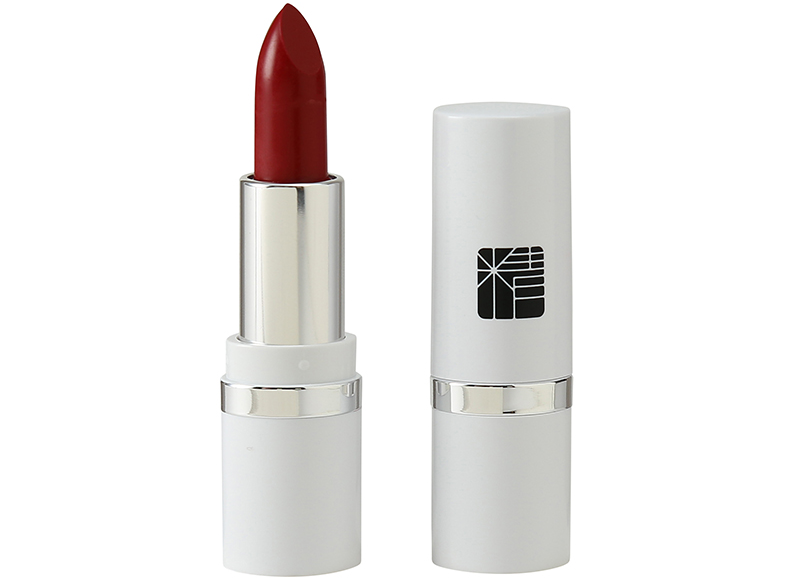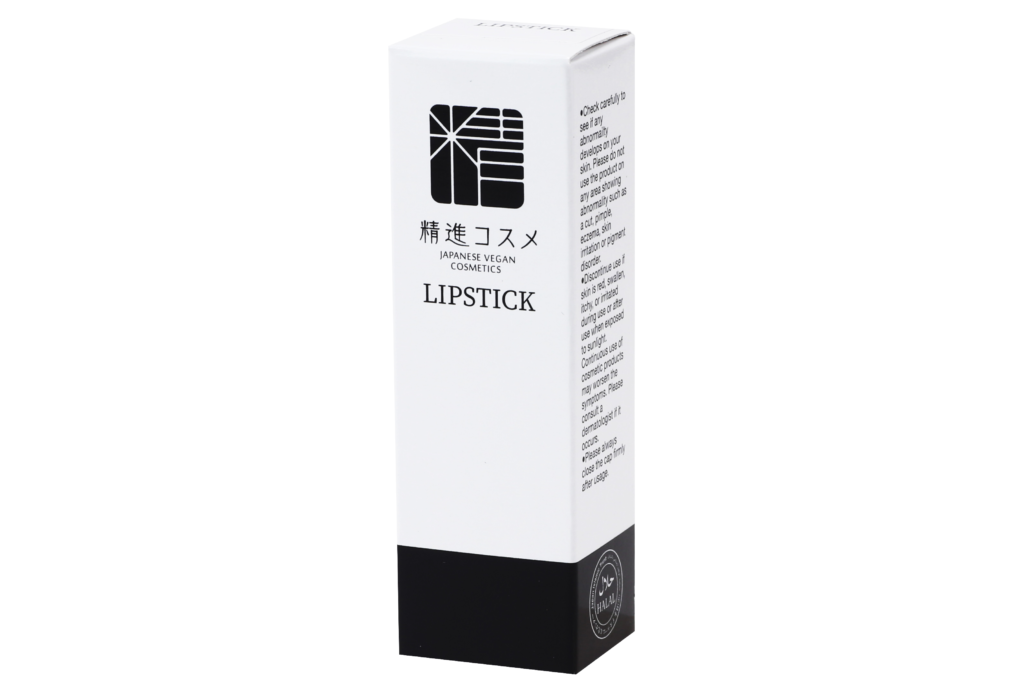 Name
Shojin Cosme  Lipstick  04
Category
Cosmetics
Description
Natural and silky colouration.
Gently fits on lips and has an excellent colour-lasting effect.
*100% Halal
*100% Vegan
*Silicon-free
*Paraben-free
*Fragrance-free
Halal certification
Obtained.
Certifying body: The Halal Certification Committee of Japan Islamic Trust
Validity period: 6 September 2021
Ingredients
Diisostearyl Malate, Macadamia Seed Oil/Hydrogenated Macadamia Seed Oil Esters, Mineral Oil, Synthetic Japan Wax, Polybutene, Ceresin, Copernicia Cerifera (Carnauba) Wax, CI 15850:1, Euphorbia Cerifera (Candelilla) Wax, Microcrystalline Wax, Sesamum Indicum (Sesame) Seed Oil, Oryza Sativa (Rice) Bran Oil, Camellia Sinensis Seed Oil, Citrus Junos Peel Oil, CI 15850, Phenoxyethanol, Paraffin, CI 77499, Tocopherol
Preferred target audience(s)
Japan (Muslims living in Japan, regardless of nationality)
Preferred social media
Instagram
004. Shojin Cosme Cheek Colour(Blush) 01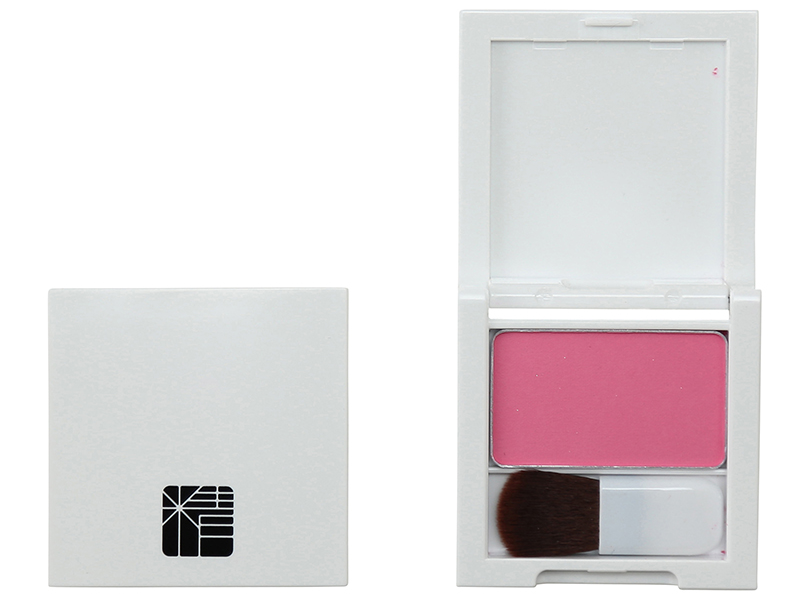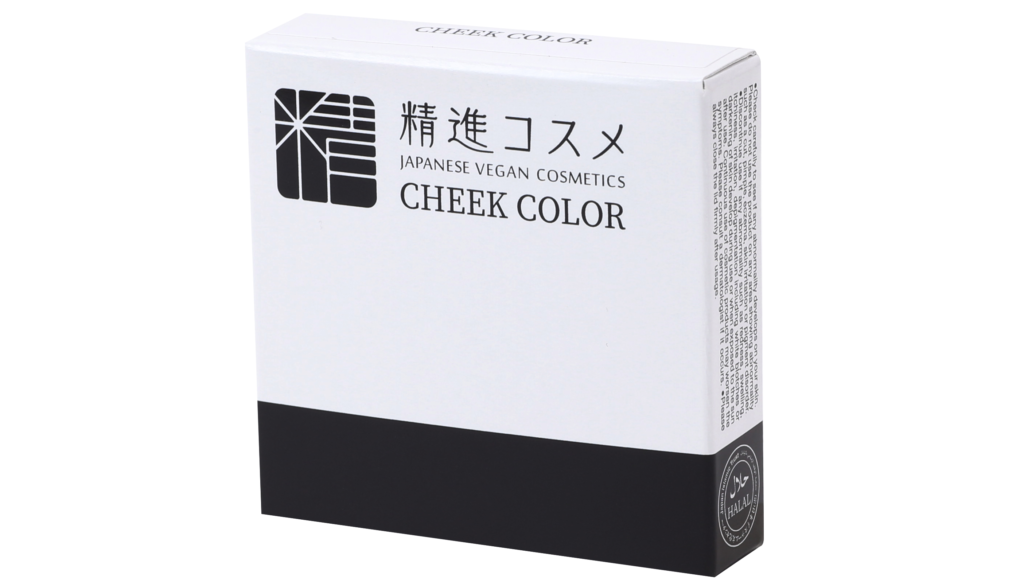 Name
Shojin Cosme Cheek Colour (Blush)  01
Category
Cosmetics
Description
Natural colouration to illuminate your complexion.
Fits gently and naturally to your skin giving you a radiant, healthy glow and lasts all day long.
*100% Halal
*100% Vegan
*Silicon-free
*Paraben-free
*Fragrance-free
Halal certification
Obtained.
Certifying body: The Halal Certification Committee of Japan Islamic Trust
Validity period: 6 September 2021
Ingredients
Talc, Mica, Mineral Oil, Titanium Dioxide, CI 15850:1, Sesamum Indicum (Sesame) Seed Oil, Oryza Sativa (Rice) Bran Oil, Camellia Sinensis Seed Oil, Phenoxyethanol, CI 77492, Aluminum Hydroxide, Triethylhexanoin, Ethylhexyl Palmitate, Citrus Junos Peel Oil, CI 77491, Rosin
Preferred target audience(s)
Japan (Muslims living in Japan, regardless of nationality)
Preferred social media
Instagram
005. Takex Clean 77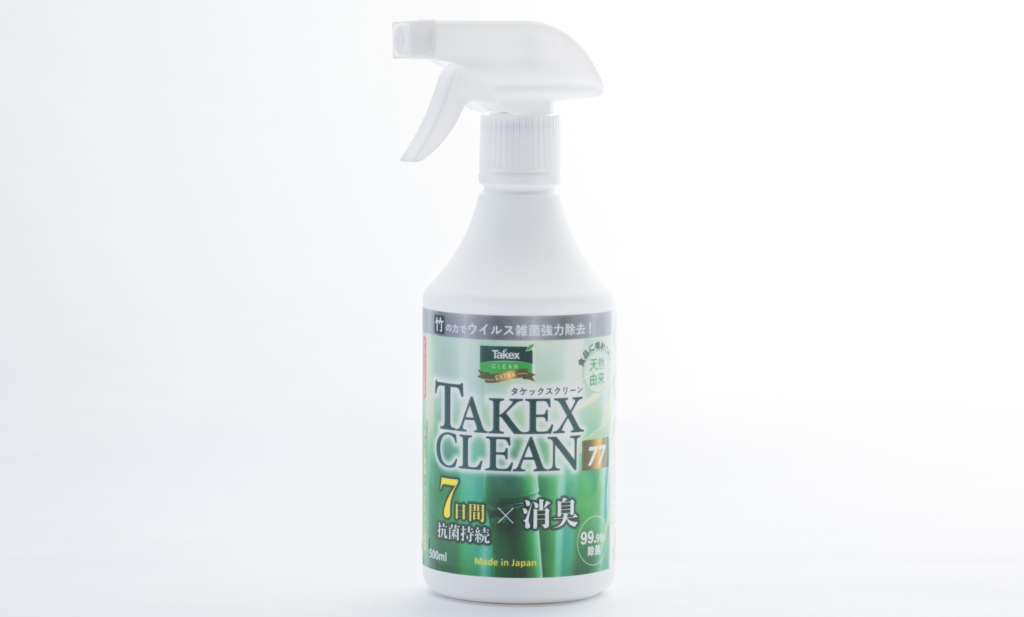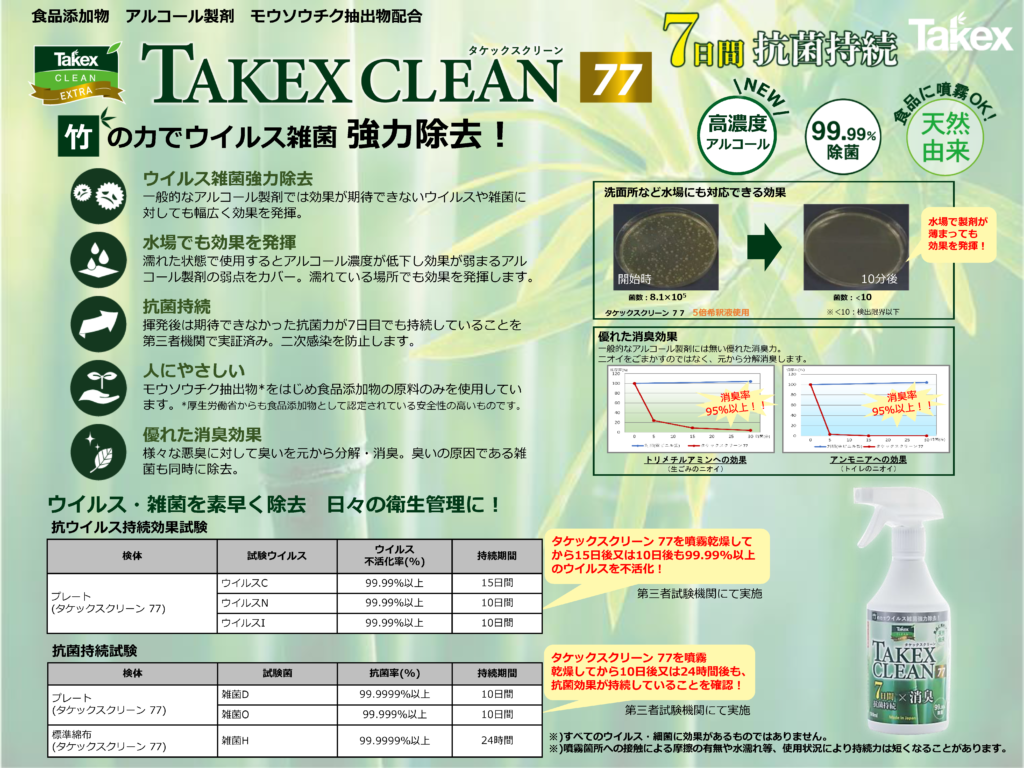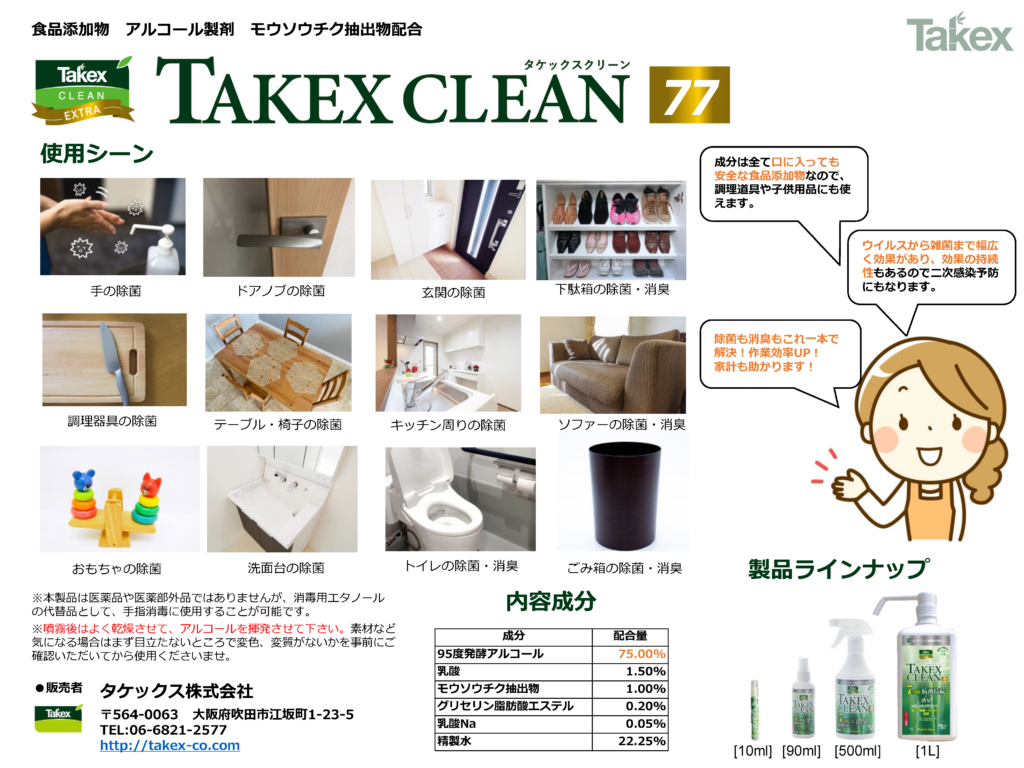 | | |
| --- | --- |
| Name | Takex Clean 77 |
| Category | Hygiene products |
| Description | Certified as a food additive in Japan, Alcohol Sanitizer, Contains Bamboo Extract. Confirmed lasting antibacterial effect for 7 days. Remove germs effectively with the power of bamboo. Takex Clean 77 covers the existing weakness. It is effective even in wet conditions. All the ingredients used, including bamboo extract, are certified as raw materials for food additives in Japan and can be sprayed directly onto food contact surfaces. The effect of bamboo extract decomposes and deodorizes various odours from the source. |
| Halal certification | Not yet obtained |
| Ingredients | 95% Ethanol (denatured), Bamboo Extract, Polyglycerol esters of fatty acids, Lactic acid, Sodium lactate, Purified Water |
| Preferred target audience(s) | Malaysia, Indonesia, Japan (Muslims living in Japan, regardless of nationality) |
| Preferred social media | Facebook, Instagram, Twitter |
006. Takex Clean Extra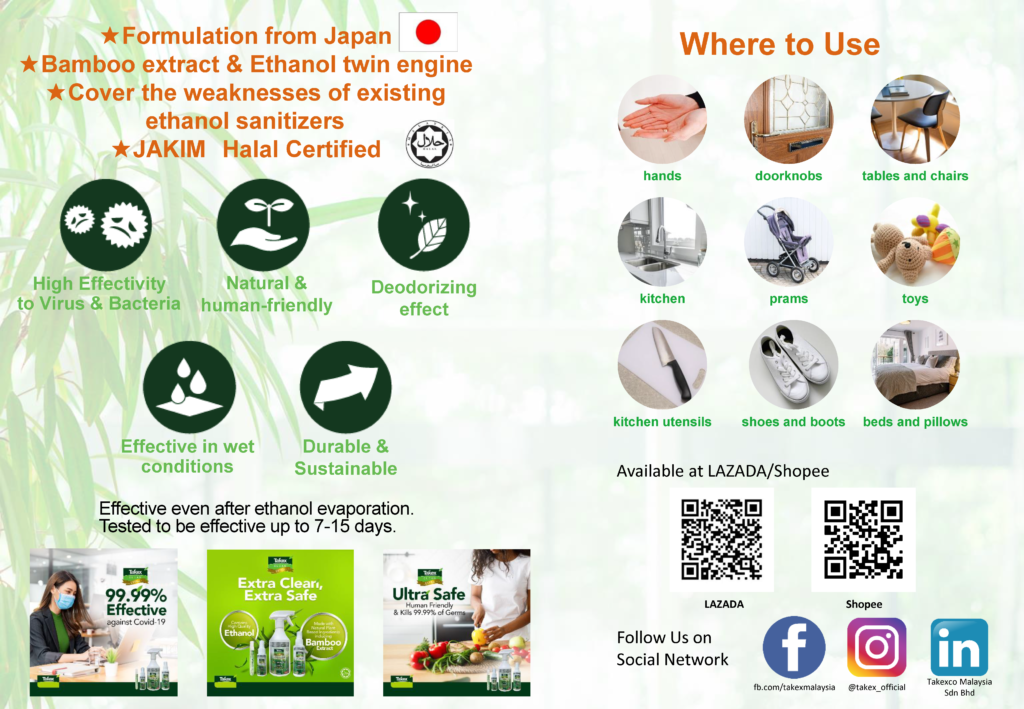 Name
Takex Clean Extra
Category
Hygiene products
Description
Ethanol Sanitizer, Contains Bamboo Extract. Formulation from Japan. JAKIM halal certified. Confirmed lasting antibacterial and antiviral effects for 7 days. Remove germs effectively with the power of bamboo. Takex Clean Extra covers the existing weakness of ethanol sanitiser. It is effective even in wet conditions. All the ingredients used, including bamboo extract, are food-grade and can be sprayed directly onto the food contact surface. The effect of bamboo extract decomposes and deodorizes various odours from the source.
Halal certification
Obtained.
Certifying body: JAKIM
Validity period: 15 June 2022
Ingredient
Ethanol, Purified Water, Lactic Acid, Bamboo Extract, Glycerol Esters of Fatty Acids, Sodium Lactate
Preferred target audience(s)
Malaysia, Indonesia
Preferred social media
Facebook, Instagram
007. Halal Skincare "Momohime" Trial Set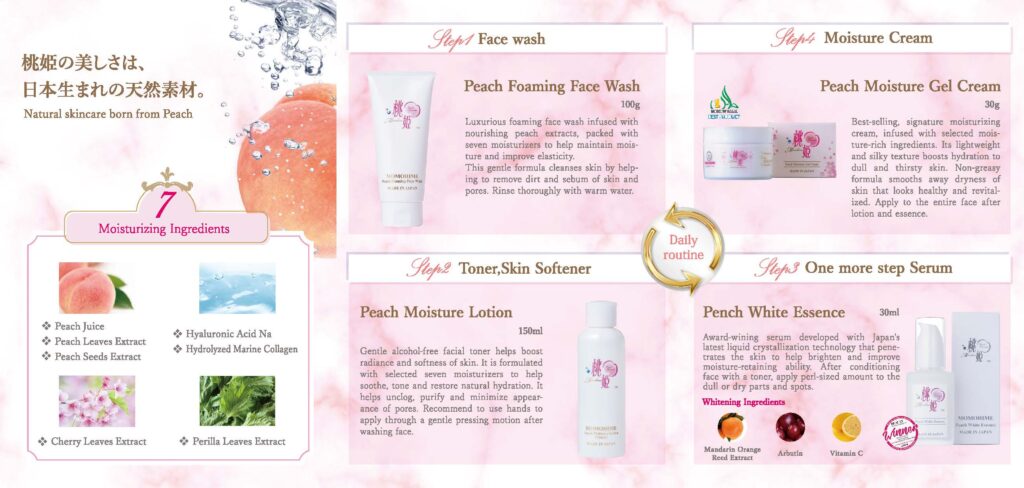 Name
Halal Skincare "Momohime" Trial Set
Category
Cosmetics
Description
Momohime Face Wash mini 30g, Momohime Lotion (Toner) 40mL, and signature Momohime Peach Gel Cream 30g are in one set. Good to start with this basic set at a discounted price. The lotion mask is complementary.
Halal certification
Obtained.
Certifying body: The Halal Certification Committee of Japan Islamic Trust
Validity period: 30 September 2022
Ingredients
<Peach Foaming Face Wash>

WATER,POTASSIUM MYRISTATE,POTASSIUM LAURATE,POTASSIUM STEARATE,BUTYLENE GLYCOL,GLYCERIN,POTASSIUM PALMITATE,FRAGRANCE,BEHENYL ALCOHOL,DISODIUM PHOSPHATE,TOCOPHEROL,SODIUM HYALURONATE,PRUNUS PERSICA (PEACH) JUICE,PRUNUS YEDOENSIS LEAF EXTRACT,PRUNUS PERSICA (PEACH) LEAF EXTRACT,HYDROLYZED COLLAGEN,PERILLA OCYMOIDES LEAF EXTRACT,PRUNUS PERSICA (PEACH) KERNEL EXTRACT

<Peach Moisture Lotion>

WATER,BUTYLENE GLYCOL,GLYCERIN,PENTYLENE GLYCOL,PHENOXYETHANOL,SODIUM CITRATE,POLYGLYCERYL-5 LAURATE,DIPOTASSIUM GLYCYRRHIZATE,GLYCOSYL TREHALOSE,SODIUM DILAURAMIDOGLUTAMIDE LYSINE,HYDROGENATED STARCH HYDROLYSATE,CITRIC ACID,TETRASODIUM EDTA,SODIUM HYALURONATE,FRAGRANCE,PRUNUS PERSICA (PEACH) JUICE,PRUNUS YEDOENSIS LEAF EXTRACT,PRUNUS PERSICA (PEACH) LEAF EXTRACT,HYDROLYZED COLLAGEN,PERILLA OCYMOIDES LEAF EXTRACT,PRUNUS PERSICA (PEACH) KERNEL EXTRACT

<Peach Moisture Gel Cream>

WATER,BUTYLENE GLYCOL,GLYCERIN,SQUALANE,PENTYLENE GLYCOL,SORBITAN STEARATE,POLYGLYCERYL-5 OLEATE,CARBOMER,PHENOXYETHANOL,GLYCOSYL TREHALOSE,POTASSIUM HYDROXIDE,HYDROGENATED STARCH HYDROLYSATE,SUCROSE COCOATE,DIPOTASSIUM GLYCYRRHIZATE,SODIUM DILAURAMIDOGLUTAMIDE LYSINE,TETRASODIUM EDTA,XANTHAN GUM,SODIUM HYALURONATE,FRAGRANCE,PRUNUS PERSICA (PEACH) JUICE,PRUNUS YEDOENSIS LEAF EXTRACT,PRUNUS PERSICA (PEACH) LEAF EXTRACT,HYDROLYZED COLLAGEN,PERILLA OCYMOIDES LEAF EXTRACT,PRUNUS PERSICA (PEACH) KERNEL EXTRACT
Preferred target audience(s)
Malaysia, Indonesia, Japan (Muslims living in Japan, regardless of nationality), United Arab Emirates, Thailand, Brunei, Australia
Preferred social media
Facebook, Instagram, YouTube
008. Sky Hot Cleansing R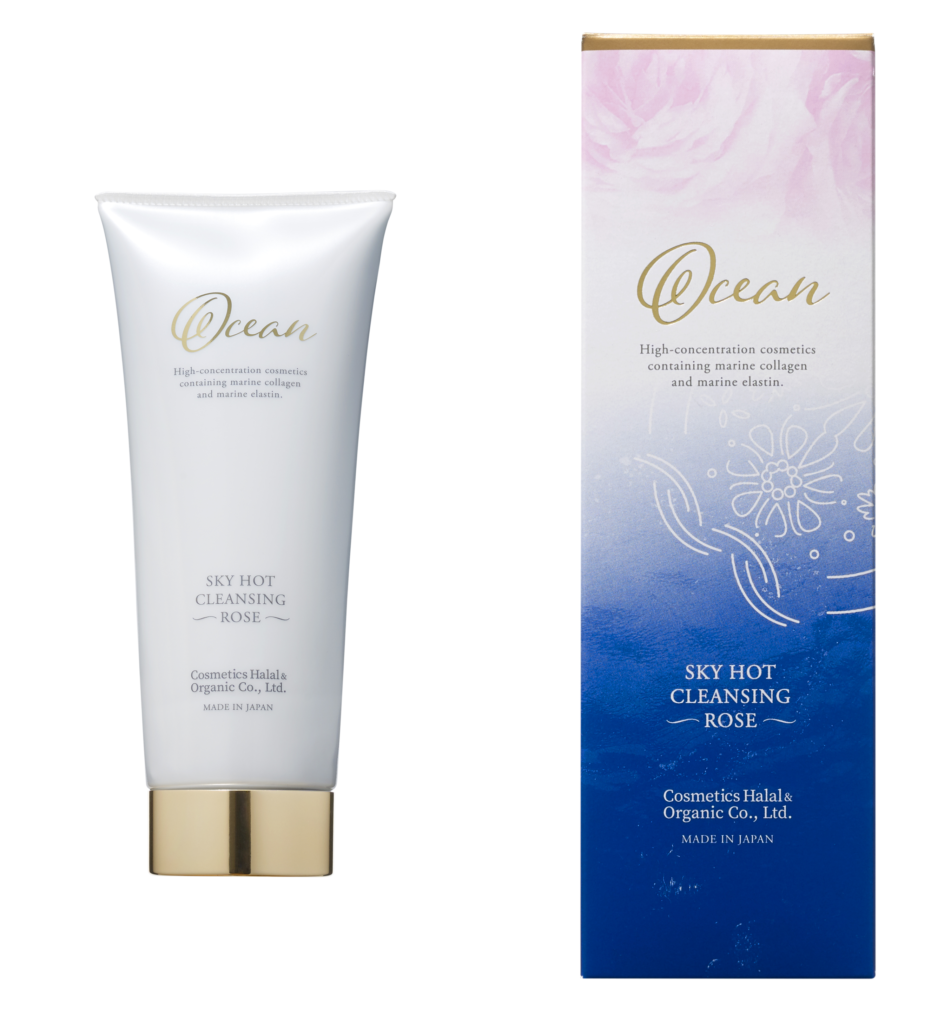 Name
Sky Hot Cleansing R
Category
Cosmetics
Description
Ocean series contains plenty of marine collagen and marine elastin. Sky Hot Cleansing R is able to warm the skin and soften it as the gel provides a deep cleanse of the pores as you gently massage the skin. There's no need for double cleansing, moisturizing the skin while preventing excess stress. There are few premium hot cleansing gels with luxury on the market.
Halal certification
Obtained.
Certifying body: NAHA (Nippon Asia Halal Association)
Validity period: 10 September 2022
Ingredients
Glycerin/peg-7Glyceryl Cocoate/Polyglyceryl-10 Myristate/Isopentyldiol/PENTYLENE GLYCOL/TRIETHYLHEXANOIN/Glyceryl Behenate/Eicosadioate/GLYCERYL BEHENATE/POLYGLYCERYL-6 OCTASTEARATE/Hydroxyethyl Acrylate/SodiumAcryloyldimethyl Taurate Copolymer/Water/Squalane/Polysorbate 60/Hydrolyzed Elastin/Hydrolyzed Collagen/1,2-Hexanediol/Phenoxyethanol/fragrance
Preferred target audience(s)
Malaysia, Indonesia
Preferred social media
Facebook, Instagram, YouTube, TikTok
009. Concentrate Serum R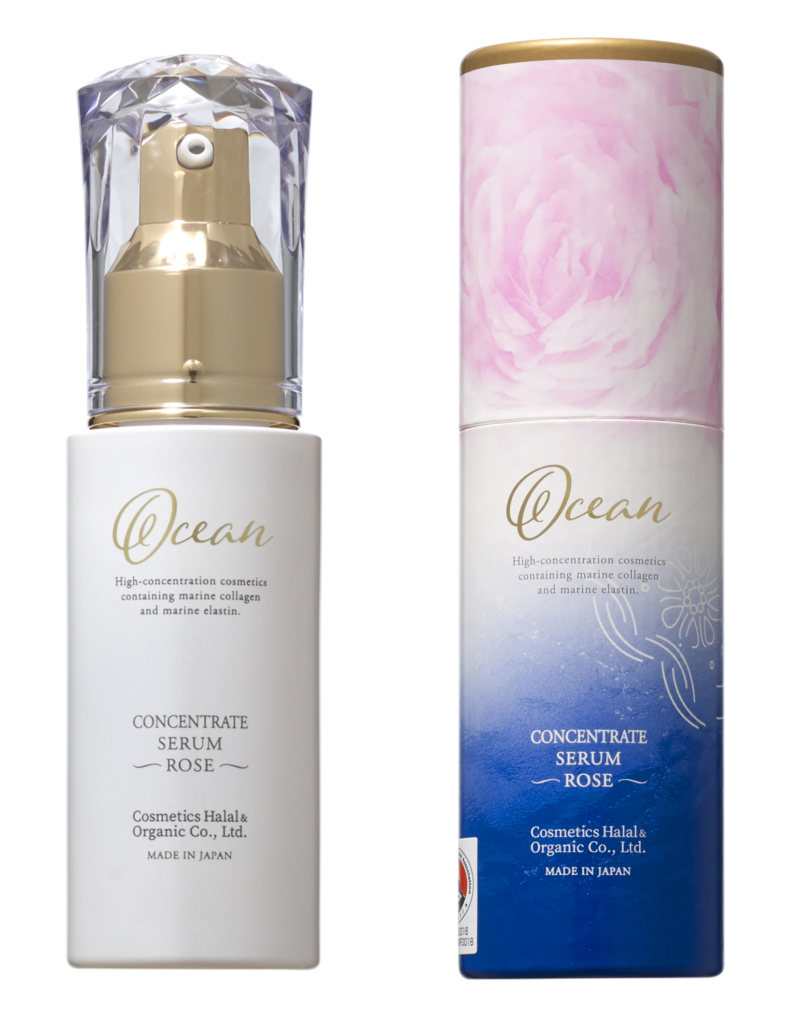 Name
Concentrate Serum R
Category
Cosmetics
Description
Ocean series contains plenty of marine collagen and marine elastin.
They are able to use for those who are worried about wrinkles, age spots, sagging, and dullness of the skin due to age, dryness, and UV rays. By using this beauty essence, which contains plenty of marine collagen and marine elastin in high concentration, it leads to clear and springy skin.
Halal certification
Obtained.
Certifying body: NAHA
Validity period: 10 September 2022
Ingredients
Water/Glycerin/1,2-Hexanediol/Pentylene Glycol/HydrolyzedElastin/Hydrolyzed Collagen/Polyacrylate Crosspolymer-11/Hydroxyproline/Dipotassium Glycyrrhizate/t-Butyl Alcohol/Phenoxyethanol/fragrance
Preferred target audience(s)
Malaysia, Indonesia
Preferred social media
Facebook, Instagram, YouTube, TikTok
010. Ramen Honolu Spicy Ramen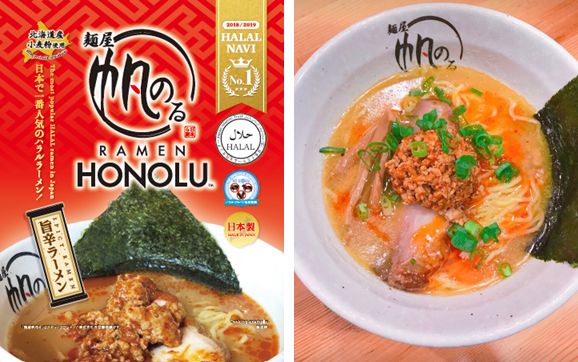 Name
Ramen Honolu Spicy Ramen
Category
Food
Description
Noodles are made from 100% Hokkaido wheat flour. They use natural kansui (lye water) and no eggs, giving them the consistency of fresh noodles.
It is a halal-certified spicy ramen with halal meat and no alcohol.
Halal certification
Obtained.
Certifying body: The Halal Certification Committee of Japan Islamic Trust
Validity period: 18 July 2022
Ingredients
Soup: salt (made in Japan), sugar, powdered soy sauce, chili pepper, kimchi powder seasoning, onion powder, clam extract powder, sesame oil, garlic powder, flavor oil,
Peppercorn, yeast extract, green onion powder, ginger powder, kelp powder /
Modified starch, seasonings (amino acids, etc.), thickening polysaccharides, silicon dioxide, caramel pigments, acidulants, antioxidants (V.E), (some of which include wheat, soybeans, and sesame)
Noodles: wheat flour (domestic production), horse bell starch, salt, kansui
Best before
18 July 2022
Preferred target audience(s)
Malaysia, Indonesia, Japan (Muslims living in Japan, regardless of nationality)
Preferred social media
Facebook, Instagram, Twitter, YouTube, TikTok
011. Muslim-friendly Japanese Soy Sauce Powder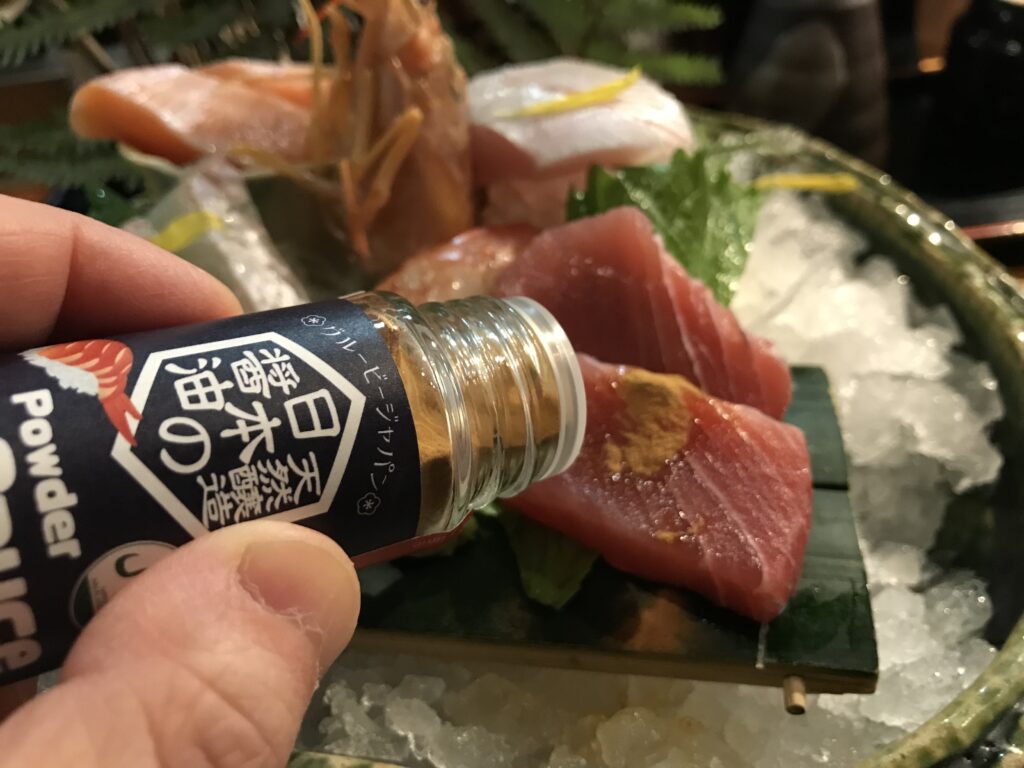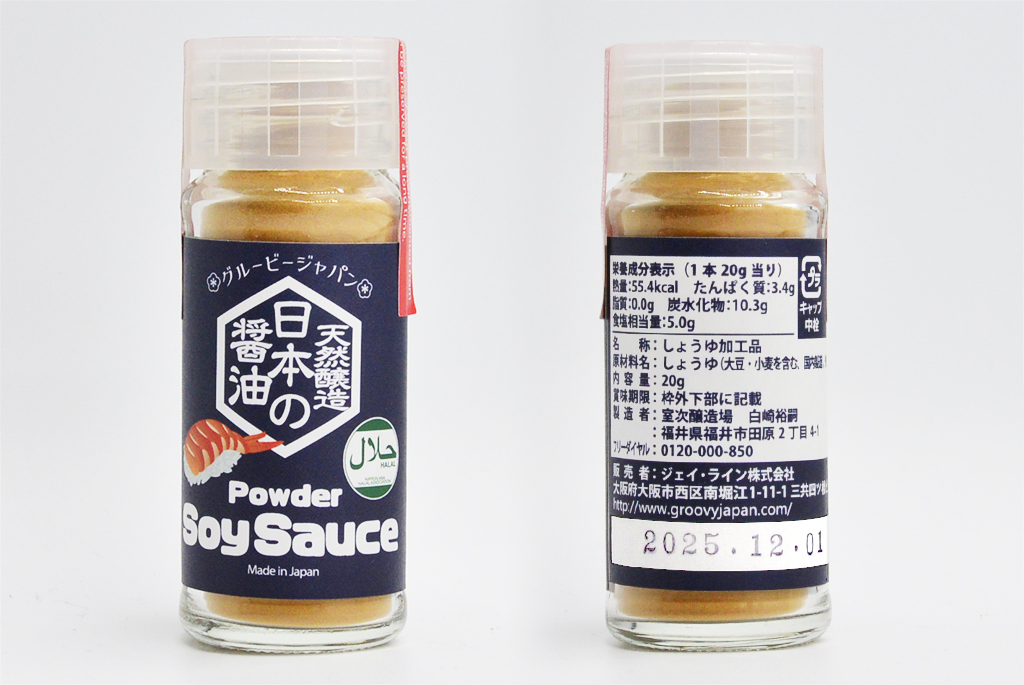 Name
Muslim-friendly Japanese Soy Sauce Powder
Category
Food
Description
A powder type of traditional whole Japanese soy sauce that has been crafted since the Muromachi period (1573).
The powdering gives it 5x more UMAMI and RICHNESS!
Use it for sushi, sashimi, tofu and many other dishes where you use soy sauce.
Light and portable.
You can use it as your own personal soy sauce, keeping things hygienic.
Halal certification
Obtained.
Certifying body: NAHA (Nippon Asia Halal Association)
Validity period: 27 February 2023
Ingredients
Nutrition Facts (per 20g bottle)
Calories: 55.4kcal
Protein: 3.4g
Fat: 0.0g
Carbohydrate: 10.3g
Salt Equivalent: 5.0g
Ingredient: Soy sauce (contain soybeans and wheat, made in Japan), tapioca
Contents: 20g
Best before
1 December 2025
Preferred target audience(s)
Japan
Preferred social media
Facebook, Instagram, Twitter, LINE, YouTube