3D billboards to a POP culture! Osaka, Dubai & Beyond
Dinosaur heads popping out of walls, big hands holding large sushi, giant pufferfish and octopus dangling over arcades— You can now see them in every corner of the city: 3D billboards. With their realistic and sometimes exaggerated look, they are very eye-catching and make an effective advertisement.
We chat about the appeal of this art with Masahide Nakamura of Pop Koubou (ポップ工芸). A self-taught artist whose work now can be seen right here in Osaka's Minami district and even abroad.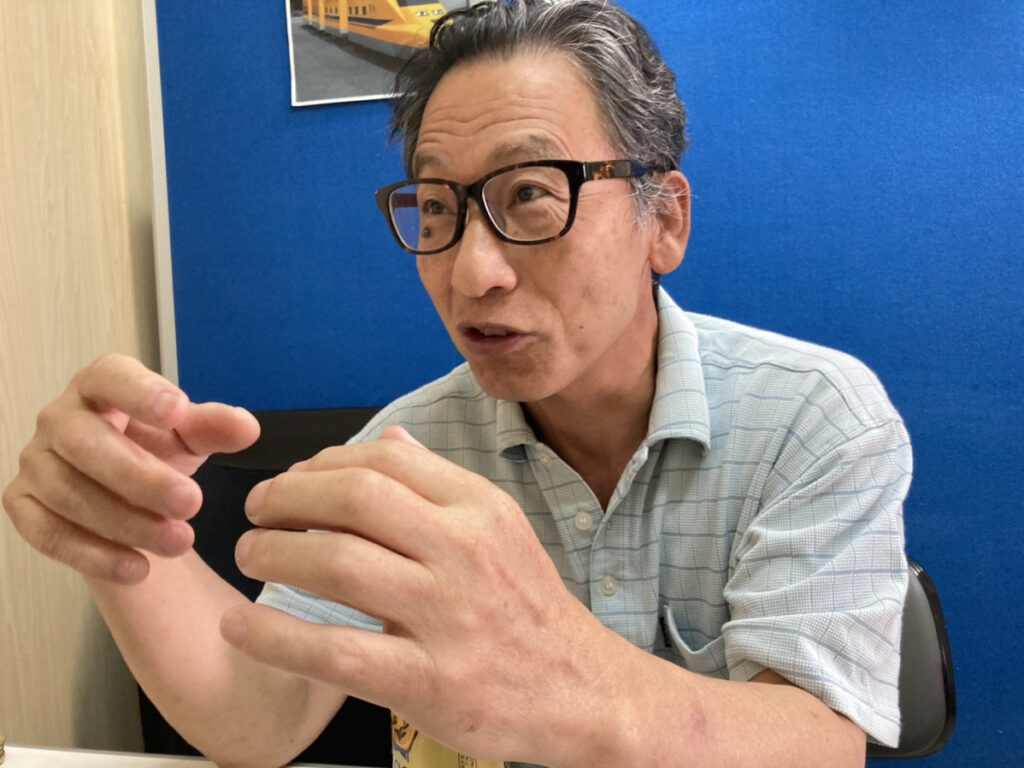 Billboard maker began from a garage. Kinryu Ramen's dragon was the turning point
Started making billboards (signboards) in 1986. Although Masahide had been making regular 2D signboards in a small garage in Moriguchi, it was 1997 when the first turning point came. Out of the blue, a contact from work asked him to make a 3D modelling billboard. That was the giant dragon on the signboard of Kinryu Ramen in Dotonbori.
The request was: "I want you to make a dragon. But nothing scary, because children will see it". Of course, I had no expertise, not even a clue on what materials to use. When I asked the painter about FRP (fibre-reinforced plastic), they said it would work. So I made a mould out of styrofoam, but it melted with the resin in solvents.
I used wire mesh for the mould, but I didn't want to simply hang it on the wall. So I made the dragon twirling through the wall. It took 2 months, but I found it amusing somewhere in the process.
Giant mammoth wins 'TV Champion'!
For the next 10 years, he continued to make mostly 2D billboards. Making one or two 3D billboards a year on commission, based on original drawings and sketches provided. But thinking he'd lose track of both, he decided to concentrate on 3D billboards. A few years later, an unexpected opportunity arose.
I was invited by a TV station to participate in a show called 'TV Champion'. It was an episode on the Styrofoam King Championship. At that time, I learnt that there was a resin that wouldn't melt styrofoam, so I used styrofoam to make all my moulds. Even when I went to the supplier, I got no response. So colouring was done solely by airbrush. I had a lot of trial and error in my own way, including using a hot wire to cut the styrofoam.
On TV, the bigger it is, the more it stands out. To make the judges gaze up, I built a 4-metre giant mammoth, including a base.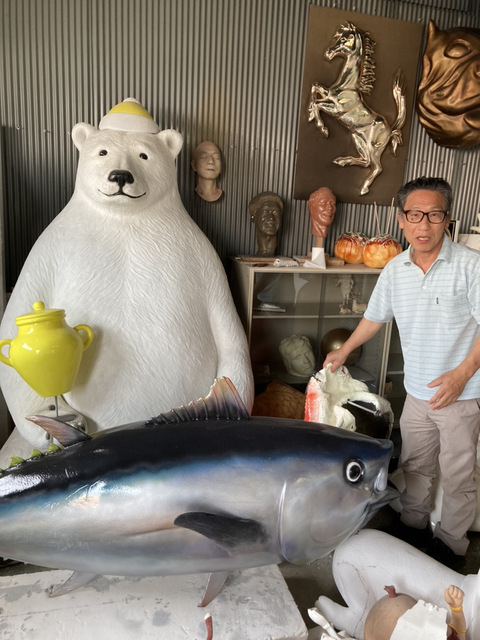 To stand out is the key. With a playful spirit to build approachability
True to his word, he won. This led to a surge of enquiries but didn't actually turn into commissions. Nevertheless, he commented that he learned a lot from observing other makers' methods on the show. And he now consistently produces all sorts of 3D works, not only signboards but also figures, monuments and creative furniture.
We have more than 10 of our creations in Dotonbori. Until recently— many tourists visited Dotonbori from Sakai street—I often saw them stopping to take photos in front of the 3D billboards.
For Genrokuzushi, the first design was merely 10 pieces of sushi on a plate, but we changed it to a hand holding 1 sushi. For Genrokuzushi, the first design was just 10 pieces of sushi on a plate, but we changed it to a hand holding 1 sushi. As Dotonbori is a busy place, we wanted to make it stand out. We also made the eyes movable.

A signboard should first be noticeable. If you add a little playfulness to it, you can make it more Osaka-like. Kinryu's dragon also has big-round eyes, so it's not scary and looks easy to approach.

I initially focused on the form. But when I coloured it, it became more realistic. Nowadays, I think the form counts for about 40%.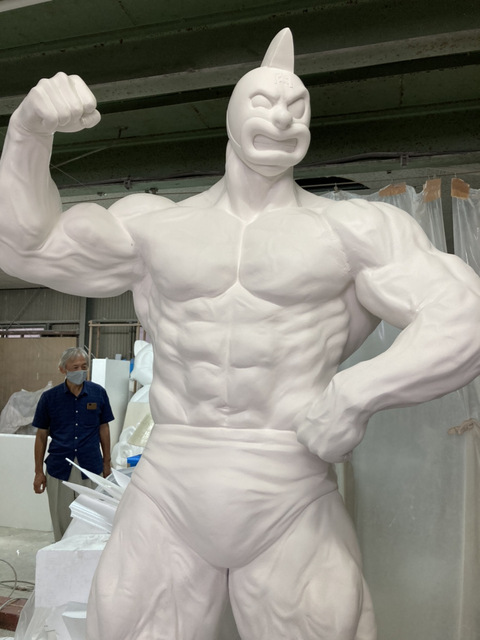 Spreading the joy of creating with free sculpting classes
So far, they made 1000 workpieces. Pop Koubou's 3D billboards can also be seen in Dubai, Thailand and China. They have also made giant statues of heroes and Godzilla to promote Hollywood films throughout the country.
It's like ice sculpting as you see the way a large piece of styrofoam is carved off with a blade. His workshop is always open to the public. He also gives free sculpting classes for people to experience the fun and charm of creating.
The first class started out for young vendors. Around the time I started the initiative, no one could teach. So I figured people who could teach, should teach what they can. Afterwards, children's associations approached us, and now we teach in groups for those interested.

I also liked arts and crafts when I was a child, but I wouldn't say that people who studied at art college are necessarily better. I think that people who like to make plastic models could learn to do it rather quickly.
3D billboards are an art everyone can connect with
He founded his billboard business feeling fed up with being an office worker who clocked in and clocked out on the hour. As he started out, his lifestyle of half working and half travelling continues.
"I'd really like to retire," reveals President Nakamura calmly, yet he takes great pride in what he accomplished.
'I believe 3D modelled billboards are a form of art, as both technique and creativity can move hearts. The finished works are not complex or complicated; anyone from babies to grandmothers can recognise them at a glance. I do feel that I am the one who made this culture.
I would love to decorate Dotonbori with our billboards.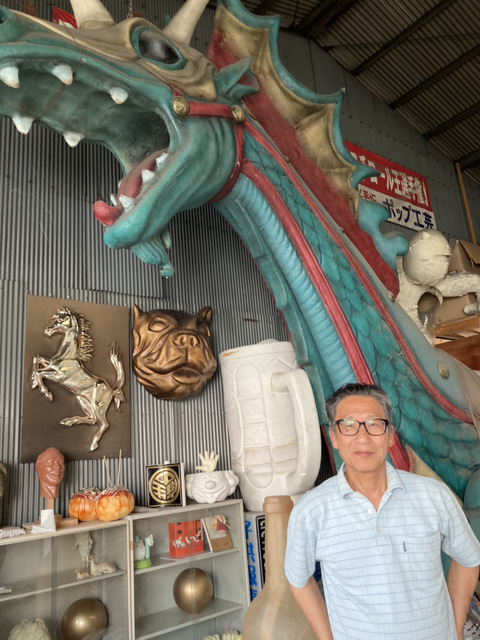 ・Pop Koubou (ポップ工芸) Official Site
---
Groovy Japan introduces Japanese products and services for the Islamic market in English and Japanese. Follow us on our social media and keep up-to-date with the latest news.
Follow @Salam_GJ