New Halal-certified Chocolate with Japan Organic Brown Rice
Now on sale: "Chocolats Café Genshin" made with glutinous kinako (roasted soybean flour) pastry and brown rice coffee "Café Genshin".
Café Genshin is the only Japanese coffee certified as an official supplier by H.S.H., the Sovereign Prince of Monaco.
It was developed and released by TOMO (JAT Inc.), a lifestyle brand introducing Japanese offering culture.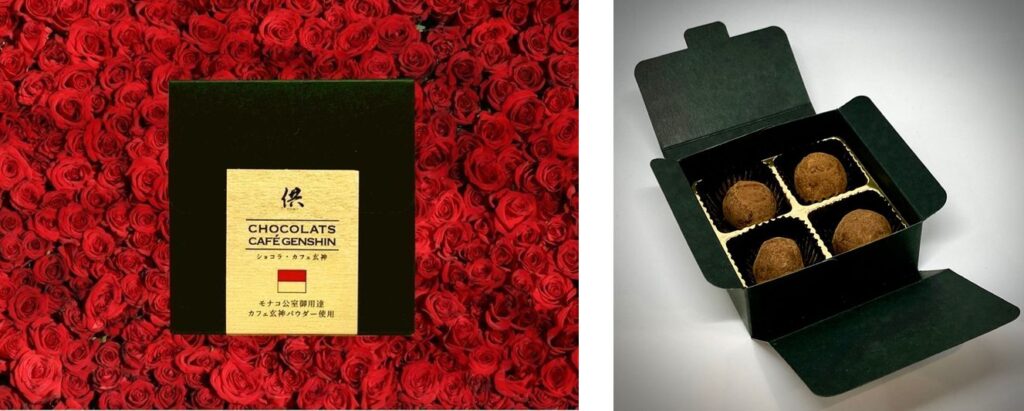 ■A new take on the traditional Japanese kinako sweets
"Chocolats Café Genshin" is chocolate enrobed in Japanese kinako (soybean flour) pastry mixed with buttermilk caramel and sprinkled with Café Genshin (roasted organic brown rice) powder.

Its manufacturer WATATO is a manufacturer and wholesaler of kinako sweets, now in its 100th year of business.
It was certified as halal by the NPO Nippon Asia Halal Association.

■Officially appointed by the Sovereign Prince of Monaco
Café Genshin is a caffeine-free organic brown rice coffee made from Japanese organic brown rice, carefully roasted to perfection with a coffee roaster.
■Particular care for domestic ingredients
It uses Japan-sourced soybean flour (non-GMO), Japanese syrup (mizuame), buttermilk powder, Okinawan sea salt "Nuchi-Masu", and brown sugar of Hateruma Island, Okinawa.
---
We have a network of Japanese companies keen to expand into the Halal market in Malaysia & Indonesia.
If you are interested in connecting with sustainable technology companies in Japan, simply JOIN the network from below. We will match the right one for you!