Support Muslim-friendly restaurant! Give back to society for ¥10 daily
DOYAKAI, an operator of a restaurant search website with halal options, released an app with coupons usable at all of its shops listed.
Proceeds will distribute to the shops listed.
DOYAKAI's "Japanese Heart" launched in March 2020. It is Japan's first comprehensive restaurant search site for food minorities: halal, allergy, etc. It plans to expand 1,200 restaurants nationwide by 2025.
The site features news articles on the shop by publicists and directors of the halal industry.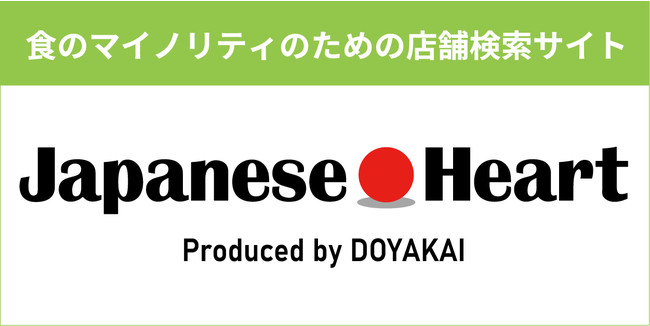 Restaurants that accommodate people with food restrictions: halal, vegan and more, also affected by the Covid-19 pandemic. To support restaurants in this tough time, Japanese Heart is now offering an exclusive app with coupons.
It is a web application that you can contribute to society for JPY10 a day on the concept of SDGs and food loss reduction.
Users choose a paid plan on the app. The coupons are usable at all shops listed on the app. A month-long coupon costs JPY330, and long-term plans also available.
The coupons are universal, with no usage limit during their validity, so the more you use the coupon at restaurants, the more you save.
A portion of the proceeds will go back to the shops listed on the app.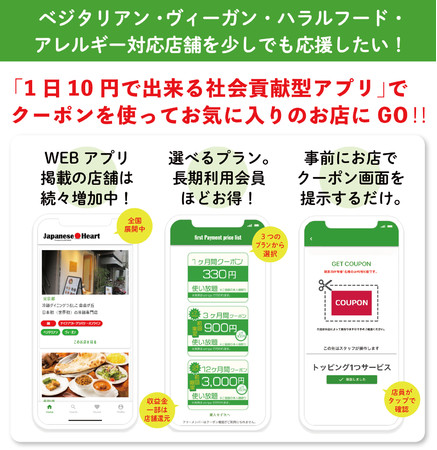 "Japanese Heart" Web App [URL]→ https://app.japanese-heart.com/
By helping restaurants with halal options and more to stay in business, we can support Muslims and others' (with food restrictions) lives.
And it may even help you find your favourite restaurant.
---
We have a network of Japanese companies keen to expand into the Halal market in Malaysia & Indonesia.
If you are interested in connecting with sustainable technology companies in Japan, simply JOIN the network from below. We will match the right one for you!