Muslim Tourism in Hida Takayama and Beyond
From 6 April, Hida Takayama Food Barrier-free Association was established to promote food made accessible to all (barrier-free food) with halal, kosher and allergy-friendly.
Hida Takayama is known as a Muslim-friendly region—What does it have in mind for the future?
Shimizu, the chairman of Hida Takayama Food Barrier-free Association, is the 4th generation of a food wholesaler in Takayama in northern Gifu Prefecture: Shimizu Yayoido.
Last year, Groovy Japan gifted 100 servings of Halal Hida beef to Muslims through the Japan Da'awah Centre for their Iftar (meal after the daily Ramadan fast at sunset).
The Halal Hida beef was actually purchased from Shimizu Yayoido.
---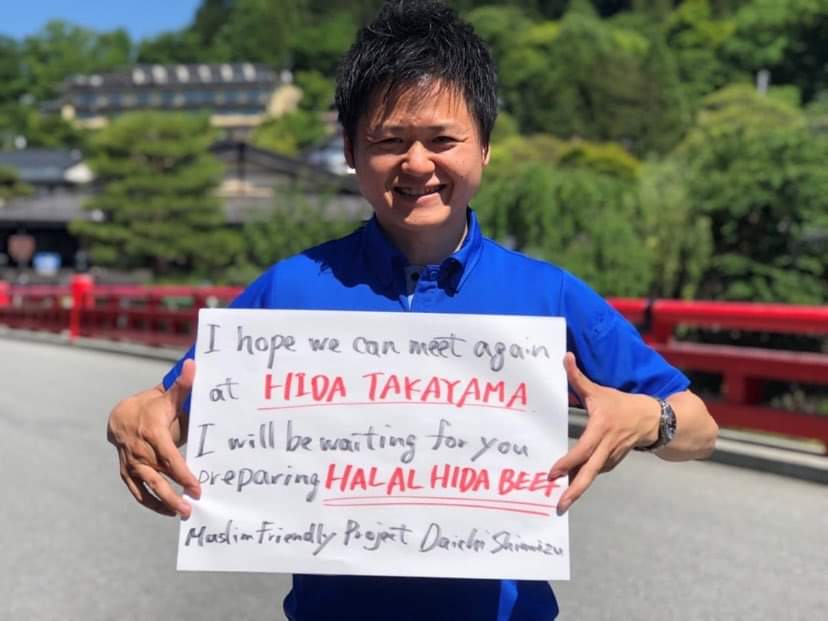 Hello! I'm Shimizu of Shimizu Yayoido.
We sell foodstuffs and confectionery ingredients to supermarkets, hotels and inns in Takayama; thanks to the support we received, we reached our 100th anniversary in 2016.
Hida Takayama, A Tourist Destination
Our base—Takayama City, is a tourist spot where you can enjoy skiing and hot springs (onsen) with its ancient townscape of the jokamachi* (castle town). The local delicacies such as Hida beef and Takayama ramen are also famous.
*jokamachi (castle town): a term used to refer to the unique town structure throughout Japan that emerged around castles.
Takayama City, proclaimed as an international tourist destination in 1986, has been receiving many visitors of different nationalities and religions. Hida Takayama's official tourism website is available in more than 10 languages. There's even a section in its city hall called "Hida Takayama Promotion Strategy Dept, Overseas Strategy Unit". The local authorities also are making earnest efforts to encourage tourism.
History of Muslim-friendly Town: Hida Takayama
Hida Takayama Food Barrier-free Association has a precursor body, "Hida Takayama Muslim Friendly Project", which I initiated in 2014.
Our main activities are developing halal menus in restaurants and setting up prayer spaces. We have also provided various products in the city that meet Islamic precepts, such as miso without preservative alcohol. Bringing "Muslim Friendly Town Hida Takayama" to the forefront of our operations.
I first became interested in encouraging tourism among Muslims when I heard from an acquaintance living in Kyoto that halal was gaining attention in Kyoto. Then, I attended a seminar about halal.
I was very impressed by that seminar and began to think that Takayama should be a Muslim-friendly town so Muslims can come and visit.
It was right at the time when Takayama City began to focus on attracting tourists from Southeast Asia. Takayama's prime industry is tourism, but it struggled to attract visitors in winter. As it's a very snowy area, not many travellers in Japan come here in winter.
With the idea of drawing in foreigners who wish to see snow, Takayama City took advantage of its snowy trait, started attracting tourism, mainly from Southeast Asian countries.
In light of such authorities initiatives, we launched the "Hida Takayama Muslim Friendly Project" as a trigger to promote tourism in Takayama City. We're working to make it more enjoyable for Muslims.
Our early efforts to make Takayama a Muslim-friendly town increased the number of Southeast Asian tourists. Thus, it became a "thriving tourist destination year-round", as we longed for. Muslim tourists continue to rise each year. Before the Covid-19 pandemic, it had around 40,000 visitors per year from Indonesia, Malaysia and Singapore alone.
Beyond Attracting Muslim Tourism
Takayama City succeeded in building up its profile as a 'Muslim Friendly Tourist Destination'. However, Muslims are not the only foreign tourists to Takayama. Besides Halal, some of them also have specific dietary concerns.
2019 Takayama City Tourist Figures by Country
Taiwan approx. 104.000, China approx. 62.000, Thailand approx. 53.000, Hong Kong approx. 48.000, USA approx. 35.000, Spain approx. 35.000, UK approx. 23.000, France approx. 21.000, Singapore approx. 18.000, Malaysia approx. 17.000, Israel approx. 13.000, Indonesia approx. 12.000 South Korea approx. 11.000, etc.
(Ref.) Takayama City International Tourist Lodging Statistics for 2019
What catches our eyes is that about 13,000 of the tourists are from Israel. The annual Israeli tourists to Japan are about 44,000, so about 30% travel to Hida Takayama.
Why it has many Israeli tourists? It's because Chiune Sugihara, a native of Gifu Prefecture, issued the "Visas for Life" to Jews during WWII. Many Jews who know about Chiune Sugihara's achievements visit Gifu.
To welcome Jewish tourists, we must be ready to provide kosher meals, which comply with the Jewish precepts.
The tourists are also those with food requirements, including vegans and allergies, not just for religious reasons such as Halal or Kosher.
Following its precedent, Hida Takayama Food Barrier-free Association has been actively supporting Halal, Kosher, Allergies and Veganism. To create a town where EVERYONE can enjoy their food.
Activities of Hida Takayama Food Barrier-free Association
Hereafter, the association will carry out three activities: "Allergy support", "Overseas business expansion", and "Inbound".
Allergy Support
We begin with surveying local restaurants and accommodation facilities to find out how they cater for food allergies. Based on the results, we will inform local people and tourists about the food allergy policy in each restaurant and establishment.
Overseas Business Expansion
We will spread our excellent food products made accessible to all (barrier-free food products) to overseas markets. In particular, we will strive to develop halal- and kosher-certified products to expand our overseas reach.
For halal-certified products, we're exploring the opening of channels in Malaysia and Singapore through domestic partners. For kosher-certified products, we are planning to start by opening channels in Israel.
Inbound
The impact of the worldwide spread of Covid-19 leaves Takayama, and the rest of the world, with no prospect of recovery in the foreseeable future.
But given the high vaccination rate, I believe that Israel will lift its ban on international travel at a relatively early stage. When that happens, I hope to extend our hospitality with kosher-certified products. And of course, we will continue to support Muslim-friendly.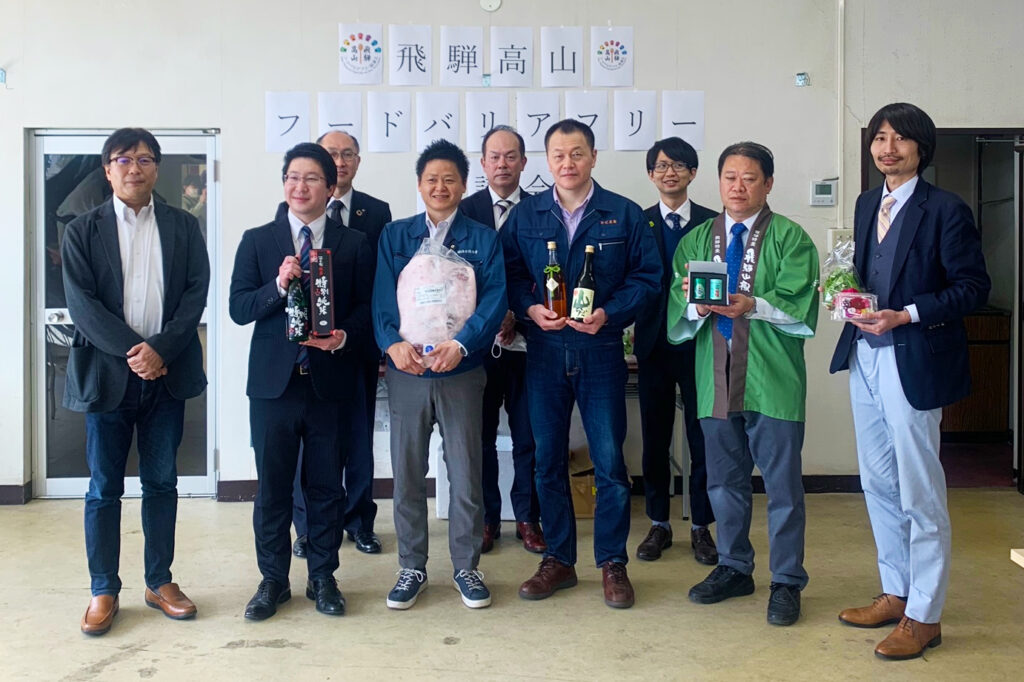 Hida Takayama Food Barrier-free Association
https://www.facebook.com/htfba
Chairman: Shimizu Yayoido, Mr Shimizu
Vice Chairman: Funasaka Sake Brewery, Mr Arisu
Secretary: Ferme du Soleil, Mr Igarashi
Member: Hida Sansho/Kawashiri Shuzoujou/ JA Hida/ SARANI
Financial Institutions: Juroku Bank/Hida Shinyo Kumiai (credit association)/Takayama Shinkin Bank
Observer: Takayama City Hall, Hida Takayama Promotion Strategy Department, Overseas Strategy Section
---
Preparations are being made so people with food restrictions, such as Muslims and Jews, can enjoy tourism free of concern. Shimizu continues to take proactive action, including developing overseas markets for products stemming from his work.

In Hida Takayama, local companies are actively involved in regional revitalisation and product development. We felt that this is an ideal way in developing a town that is not only attractive as a tourist destination. But also as a whole region, including businesses.