Halal Ramen Honolu goes on sale at Malaysia's DONKI
Ramen Honolu—a halal ramen restaurant developed a shelf-stable product for export. It is now available in Don Quijote's first Malaysian outlet, JONETZ by DONDONKI LOT10 Store.
Despite the worldwide popularity of Japanese ramen, there aren't yet many halal restaurants, partly because of the limited availability of halal-certified ingredients such as soy sauce and noodles.
Ramen Honolu, run by Asset Frontier, is a famous halal ramen restaurant among Muslims. The halal restaurant uses all halal-certified ingredients, including noodles and soy sauce for its ramen.
That RAMEN HONOLU developed a product storable at room temperature (shelf-stable product) ready for export. You can find it at Don Quijote's Malaysian store "JONETZ by DONDONDONKI LOT10 Store".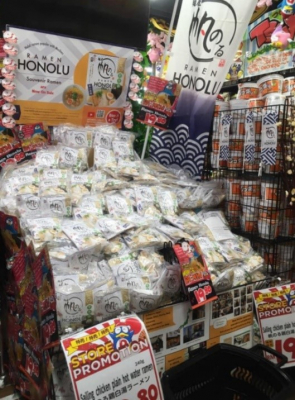 JONETZ by DON DON DONKI Lot10 is Don Quijote first store in Malaysia. With affordable prices on Japanese products, it also plans to increase halal-certified products to cater to the Muslim population, accounting for 60% of Malaysia's population. Ramen Honolu's halal ramen is ideally in tune with the concept. We could say they make a great pair.
Groovy Japan hopes that Japanese food like ramen will become more halal; Muslims could enjoy excellent halal Japanese food with peace of mind.
---
Groovy Japan introduces Japanese products and services for the Islamic market in English and Japanese.
Follow us on our social media and keep up-to-date with the latest news.