Halal Serum: For Beautiful Hair, Nourishing Your Scalp
Number Three Inc., a manufacturer of professional haircare products, launched a new scalp serum from its "Hue Care" lineup on 23 September 2020 (Wed). It is a lineup of hair care products that maintain beautiful, translucent colour finishes.
It caught the eyes of our Salam Groovy Japan's editorial team as all products under the Hue Care lineup including the serum, are halal-certified so Muslims can rest assured.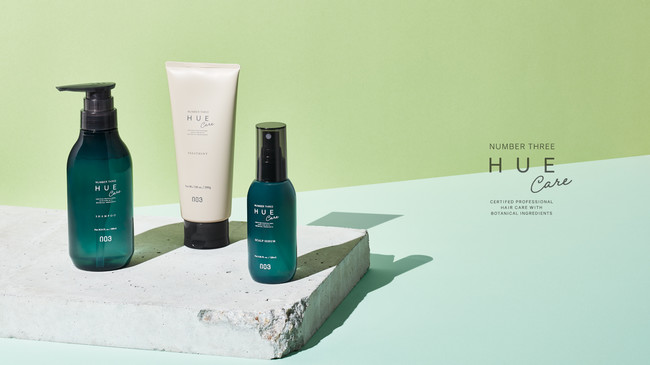 With a focus on hair stem cells, Number Three's hair care products deeply care about the natural beauty and ageing of hair. Based on years of hair research and their unique Vita-Melanin Mechanism, this product helps to regulate scalp environment while adding bounce and resilience from the hair root, bringing out the natural hair strength, leading to youthful and beautiful hair.
〇 3D moisturization with 4 types of hyaluronic acid
Supports beautiful hair by moisturizing the scalp
・Sodium hyaluronate crosspolymer-2 (moisturizing agent)
・Sodium hyaluronate (moisturizing agent)
・Sodium acetyl hyaluronate (moisturizing agent)
・Hydrolyzed sodium hyaluronate (moisturizing agent) 
〇 Alcohol free
No ethanol, which causes hair colour to fade.
〇 Contains botanical essence
Peony root extract (moisturizing agent), Scutellaria Baicalensis root extract (moisturizing agent), Panax Ginseng root extract (moisturizing agent)
It is a daily hair care series for healthy and beautiful hair based on the WELLBEING concept, enhances the colour and lustre of Hue Color series.
〇Hue Care lineup is an all Vegan/PeTA/HALAL certified products.
〇Hue Care products' containers are made up of plant-derived environmentally friendly material (bioplastic).
-Product Range-
● Number Three Hue Care Shampoo *refer photo
300ml/JPY3000, 660ml/JPY5000, refill 500ml/JPY3300
● Number Three Hue Care Treatment *refer photo
200g/JPY2200, 620g/JPY5200, refill 500g/JPY3800
● Number Three Hue Care Scalp Serum *refer photo
120ml/JPY5800
◎Exclusive products for hair salons (contract goods)


We have a network of Japanese companies keen to expand into the Halal market in Malaysia & Indonesia.
If you are interested in connecting with sustainable technology companies in Japan, simply JOIN the network from below. We will match the right one for you!