Soup, seasoning expert joins halal ramen market
An OEM manufacturer of liquid and powdered soup seasonings, Marui Shokuhin Mie Kojo, has over half a century of expertise creating flavours. Last year, its powder line obtained Halal certification.
Reinforcing its structure to provide Japanese ramen, udon, soba and other noodle seasonings for the rising popularity in Southeast Asia such as Malaysia and other Islamic markets.
We had the pleasure to speak with the Senior Managing Director, Noritaka Nishiyama, for a deeper insight into their evolution and future prospects in creating halal products. Director Nishiyama will take the position of representative director next year.
Entering its 55th year, Marui Shokuhin Mie Kojo started out as a seasoning manufacturer for school lunches and commercial use, with ramen soup and dashi packs as their flagship items.
About 10 years ago, the company developed a gluten-free soup at a client's request. In May 2021, they obtained halal certification from the Nippon Asia Halal Association (NAHA), moving into halal product development in full swing.
It was during the COVID-19 pandemic that they acquired the certification. Inbound demand from international tourists was non-existent. Many domestic businesses anticipating high demand for halal products/services suffered a setback.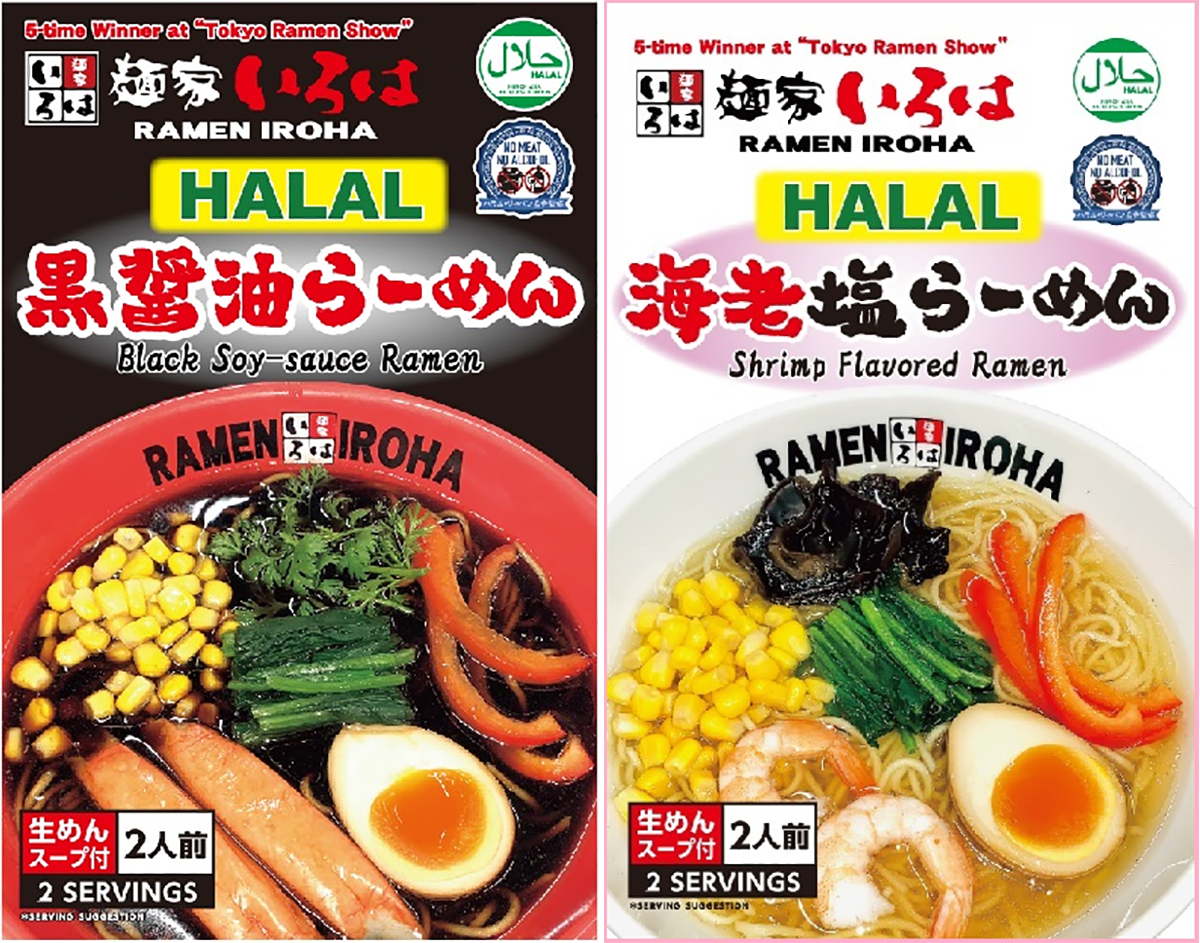 Nevertheless, Director Nishiyama believes it was a great opportunity for the company. This is because the top discount store, Don Quijote, is speeding up its expansion into Malaysia. Through Don Quijote's well-established channels, noodle manufacturers began producing Japanese-style ramen, which is very popular in Malaysia. As the Islamic market grew, Marui Shokuhin's expertise in halal seasonings (such as soup) attracted more requests for OEM production.
The company did have some experience, on a smaller scale, in producing condiments exclusively for Muslim prisoners. With the equipment available at the time (cauldrons, etc.), they could do it without any haram exposure, so obtaining halal certification itself was not a big hurdle. Instead, the increased OEM requests they received led to a sudden surge in developing new types of products. Maintaining a comprehensive management system to secure the halal nature of these products is now the company's current challenge.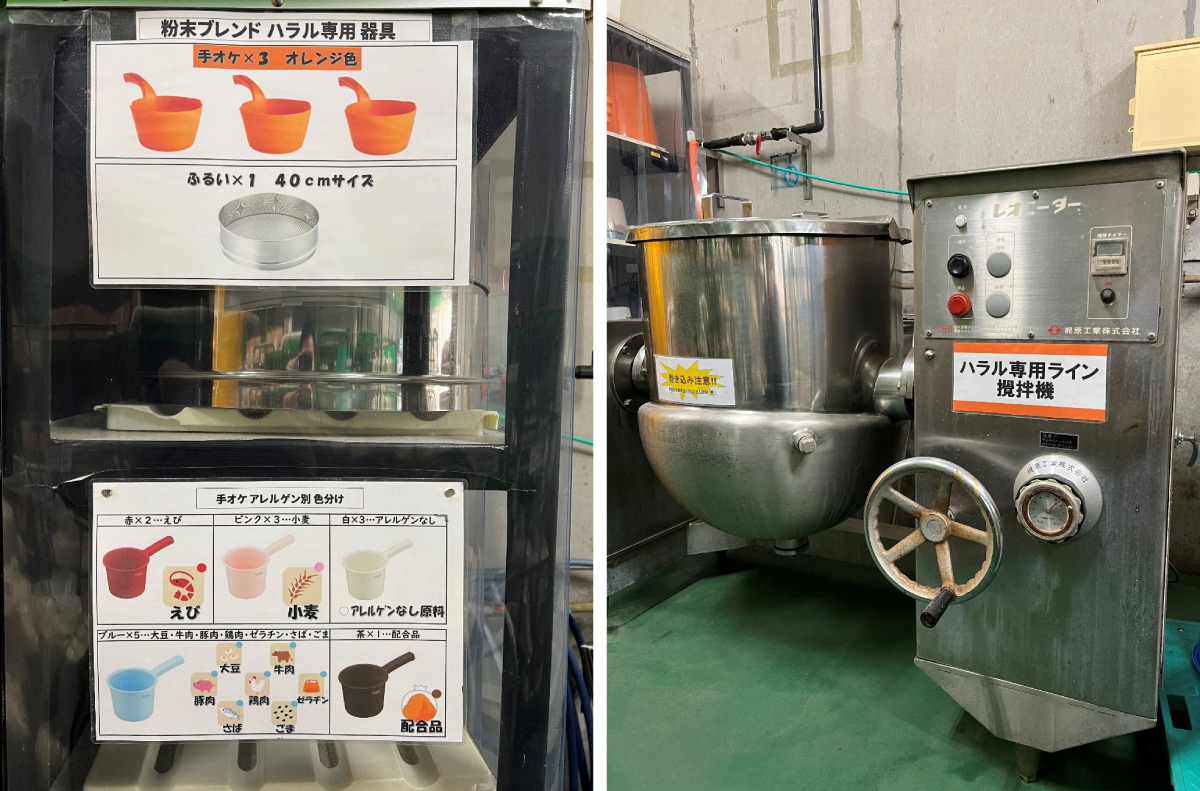 "We want to make sure Muslims can eat with comfort".
To achieve this, checking whether the primary and secondary ingredients are halal or not is crucial. This includes requiring the supplier to provide verification after confirming the halal-ness for each new raw material they used.
They have also implemented a system to prevent unintentional contamination by colour-coding everything throughout the process until the finished product, from cooking equipment, raw material storage space, trolleys for carrying raw materials, to cleaning tools. All are exclusively marked for halal production.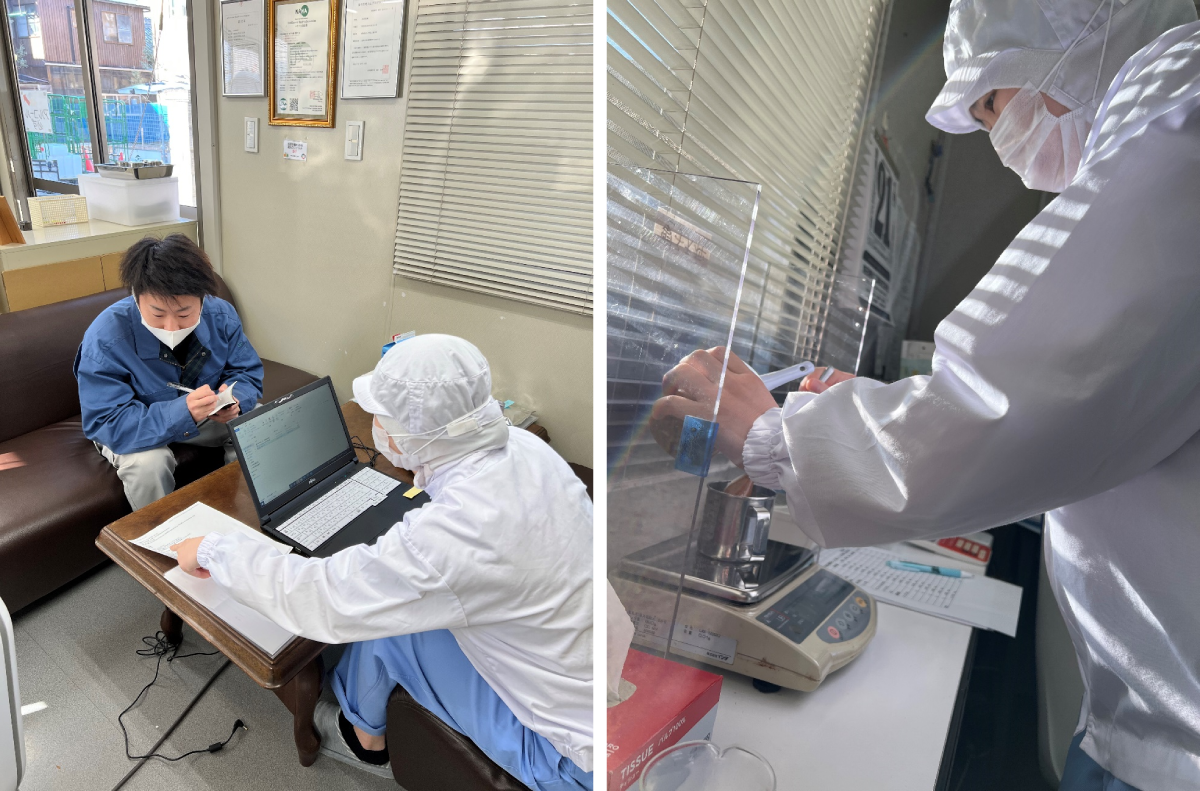 Seasonings are an irreplaceable element in the taste of many different dishes. Although seasonings are rarely mentioned by the public, seasoning manufacturers play a dominant role in the food industry.
What is so important for a seasoning manufacturer is how to give shape to the "flavour" that the clients (noodle manufacturers) imagined. This involves the product branding too. But most of all, as a halal product, there are restrictions on the ingredients that can be used.
According to Director Nishiyama, "Most of the ramen that Japanese companies expect to be a hit in Malaysia and other Southeast Asian markets is spicy and packed with flavour". " Maybe that is why many clients request a creamy soup similar to tonkotsu ramen in Japan".
Tonkotsu ramen uses pork to make the soup, which Muslims cannot eat since pigs are prohibited (haram) in Islam. So to create a flavourful creamy soup, the company uses porcini mushrooms to give it an aromatic smell and rice-malt for the creaminess. Ensuring there are no haram ingredients used. They also proposed a name for this: "Creamy Ramen".
"Originally, we never thought that our halal business would show results in just 1 or 2 years. This venture, together with our gluten-free and vegan operations, is part of our mid-term to long-term business plan for the next 5-10 years", said Director Nishiyama describing his vision of exporting to the Muslim world as a priority.
<Company Profile>
Company name: Marui Shokuhin Mie Factory (有限会社 丸井食品三重工場)
Head office: 457-34 Maenohetachō, Matsusaka, Mie 515-0045 Japan
Business outline: Manufacture & distribution of liquid/powder seasonings for commercial use, seasonings mainly individually packaged, soups and sauces
Official website: Marui Shokuhin Mie Factory
Related Article:
Ramen soup now halal, boosts entry into Islamic market
---
We have a network of Japanese companies keen to expand into the Halal market in Malaysia & Indonesia.
If you are interested in connecting with sustainable technology companies in Japan, simply JOIN the network from below. We will match the right one for you!