New Muslim-friendly service for self-quarantine
matsuri technologies "ichiji-kikoku.com (一時帰国.com)", a provider of self-quarantine facilities, has launched a new plan for Muslims. It comes with a "Food Pack" that can offer you halal foods.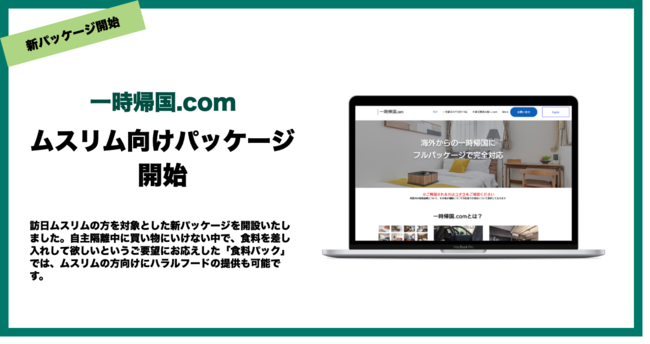 Currently, when you arrive in Japan from overseas, visitors cannot take public transport to go to self-quarantine facilities.
"ichiji-kikoku.com (一時帰国.com)" offers fully furnished short-term rental flats and other accommodation across Japan. It includes pick-up and drop-off services from Haneda, Narita and Kansai International Airports.
During quarantine, a difficult time to go shopping, the "Food Pack" is a Muslim-friendly and convenient service that allows you to secure halal food.
Please contact them via the contact form or by phone to use the plan.
一時帰国.com (ichiji-kikoku) https://www.ichiji-kikoku.sumyca.com/
---
Groovy Japan introduces Japanese products and services for the Islamic market in English and Japanese.
Follow us on our social media and keep up-to-date with the latest news.