Nijigen no Mori #2: Naruto X Boruto world come alive in Hyogo
Relive your childhood and train to become a Hokage at Naruto x Boruto theme park in Hyogo with life-size statues/models of your favourite characters, real-life Hokage Rock and more.
Continuing from the Godzilla theme park in part 1 of the Nijigen no Mori Series, this Part 2 will take you on an exciting adventure around NARUTO & BORUTO Shinobi-Zato. It is a theme park in Nijigen no Mori that brings the world-famous ninja anime world to life, where you can have fun with your friends and family.
Where exactly is NARUTO & BORUTO Shinobi-Zato
Similar to 'Godzilla Interception Operation Awaji–National Awaji-Island Institute of Godzilla Disaster–' (NIGOD) mentioned in Part 1, NARUTO & BORUTO Shinobi-Zato is also located inside the Nijigen no Mori area.
In the Guide Map below, NARUTO & BORUTO Shinobi-Zato is at ⑥ while NIGOD is at ⑤.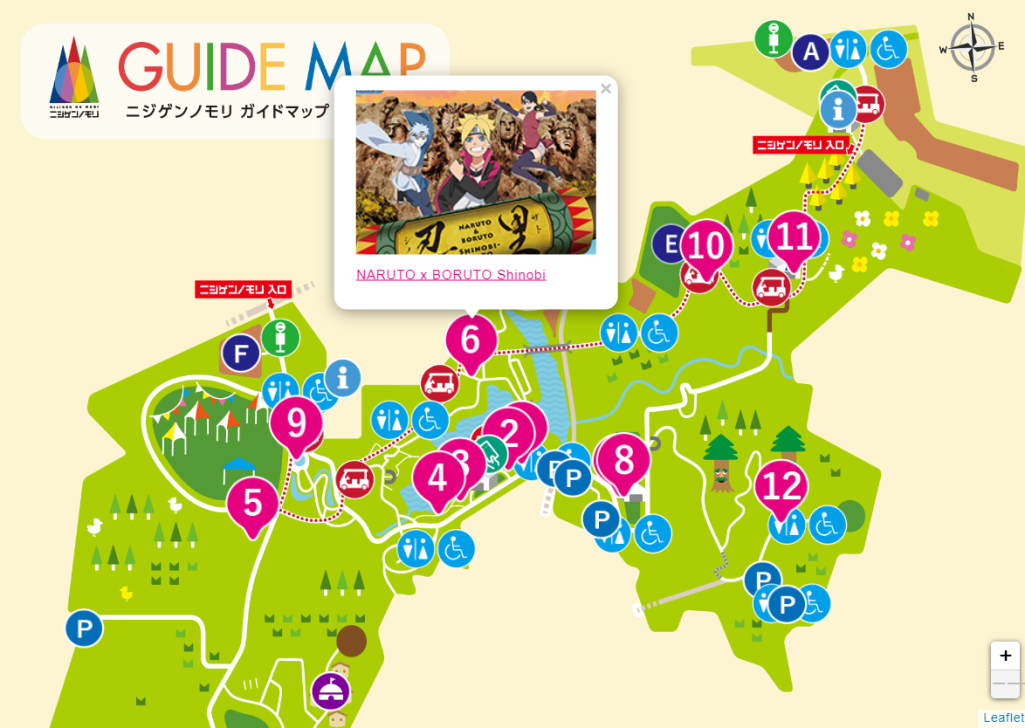 ◆ How to Get Here from NIGOD
The distance between the two parks looks far, but it's pretty close. It took me about 10 minutes walking to arrive at this theme park from NIGOD.
You won't even notice the distance, especially as you look around the beautiful scenery on the way to Shinobi-zato. While I was walking, that's how I stumbled upon the many adorable statues of Shin Chan, including Jiraiya (a character in Naruto). If you visit here when the flowers and trees are blossoming, the view would be even more gorgeous.
◆ How to Get Straight to Shinobi-zato
Once you arrive at Nijigen no Mori, we recommend the Nijigen no Mori's Tram-car service (refer to Part 1). It will bring you right in front of this attraction. If you are travelling by car, you may park at the closest parking lot: E parking lot.
Road to Be A Hokage: Ninja Mission
Entering the park, the Konoha team are lined up to welcome you. Pumping your spirits up with the anime OST blasting throughout the park.
Once you buy the ticket, you will receive two ninja scrolls: Ten-no-Maki (Scroll of Heaven) and Chi-no-Maki (Scroll of Earth). Both scrolls have an English guide. Along the path of both missions, you will see many life-size figures of the characters appearing in the anime.
◆ Ten no Maki (The Scroll of Heaven)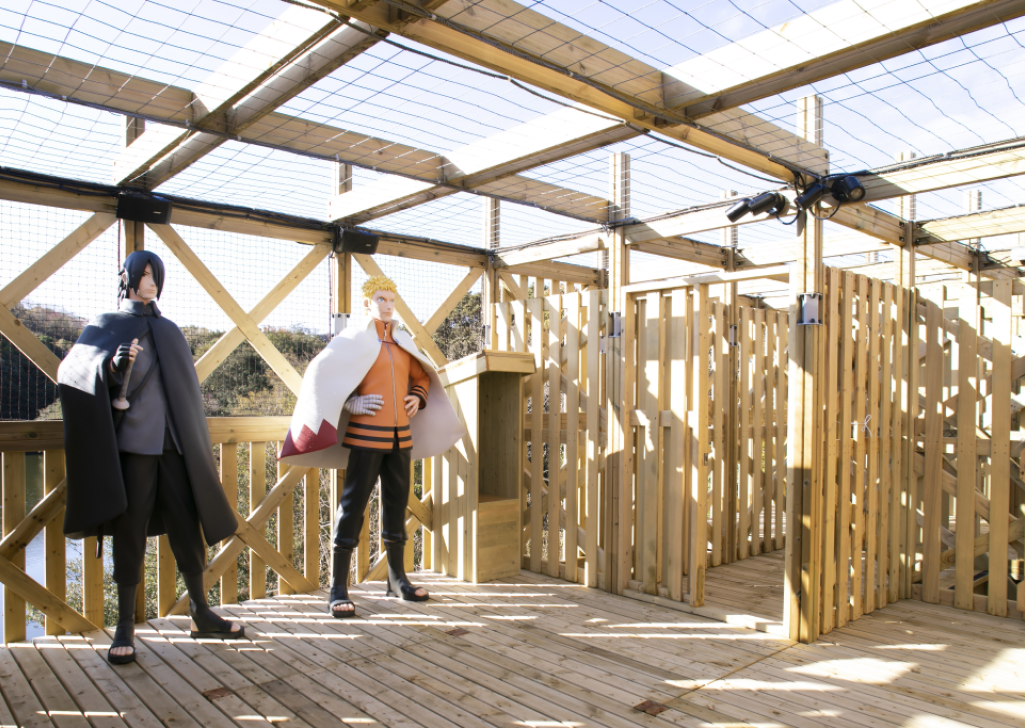 It is a three-storey 3D-maze at the 11m-high Hokage Rock. This Hokage Rock at the Shinobi-zato replicated the monumental rock-carving of past Hokages of the Konohamaru Village that appeared in the anime.
This 3D maze has two courses. Work your brain in the Uchiha Course (20 min) to solve its various puzzles. Work your body through the Uzumaki Course (20 min) with its physical obstacle course. You can get away through its "Give Up Exit" if you seem to cannot finish the course.
◆ Chi-no-Maki (Scroll of Earth)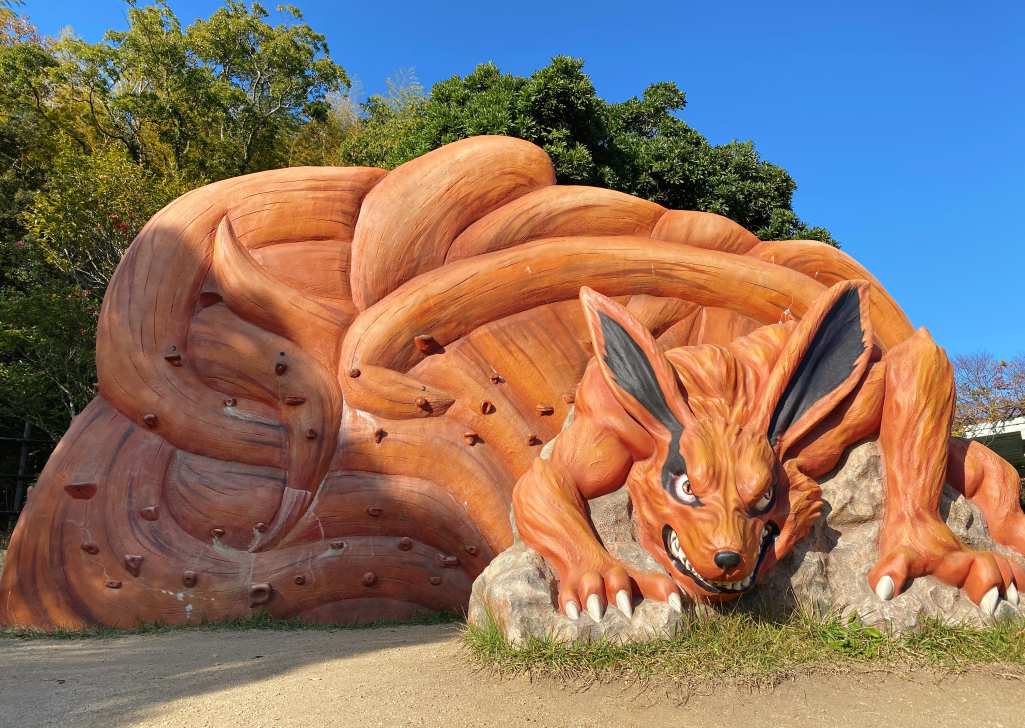 I only had time to try this mission. It is a riddle-solving activity where you must find clues to restore the missing seals. After clearing all the mysteries, you will get a touching surprise at the end. What will happen? Who will you see? Finish this to find out!
◆ Try Ninjutsu via AR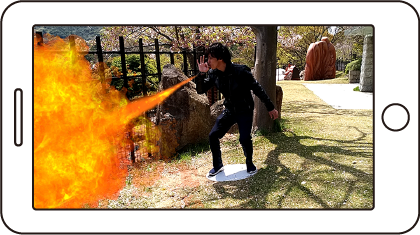 Here's a great chance to try ninjutsu (ninja techniques) yourself through the various Ninjutsu AR Spot located inside the Shinobi-zato with its official app. The Hokage wo Mezase (Aim for Hokage/火影を目指せ!) is a free smartphone app that allows you to take photos as if you're actually doing ninjutsu.
You can even display your face on the Hokage Rock if you master the 5 ninjutsu. Download the app from App Store/Google Play (link below).

Spectacular Transformation at Night
Of course, it won't be complete without souvenirs and Ramen Ichiraku, Naruto's favourite ramen restaurant. The souvenir shop is full of character goods, such as badges, t-shirts, keychains and Naruto's Hokage cape, including original designed shopping bags. The design may change according to the park's special events. Make sure to bring enough money!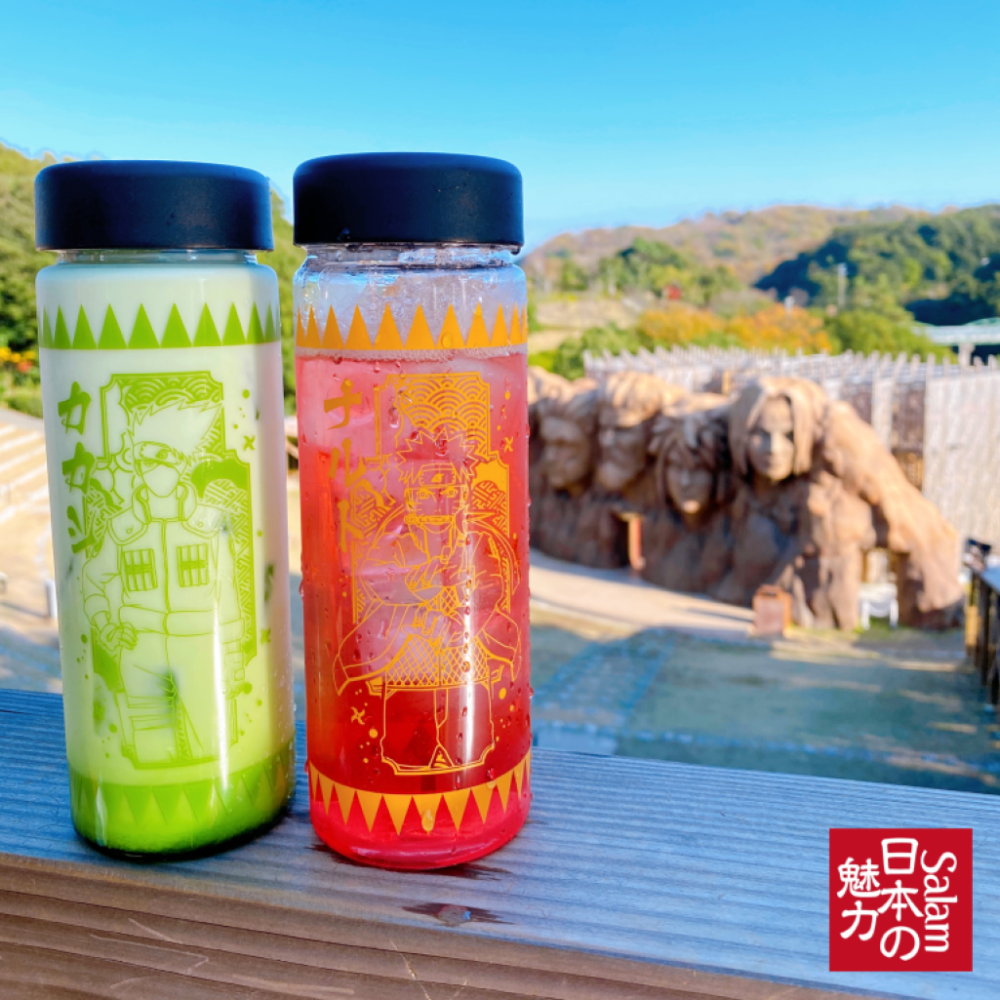 As a Muslim tourist, there's not much to eat at Ramen Ichiraku since the main menu is ramen (non-halal ones). So I only tried the red bean steamed bun and the special drinks. The special drink is served in an original design bottle, and you will get one free random character coaster.
There are other collaborative menus at Mori no Terrace (located near NIGOD, about 3-5 min. walk) with free character coaster included. But the food choices are limited for Muslims.
At night, the park changes vibe as the sky darkens, starting a projection mapping on the Hokage Rock. It has two different themes; each has two screening times.
・Hokage Rock Ninjutsu Festival: Starts on 7:30 pm & 8:30 pm
・Hokage Rock Night Illusion: 8:00 pm & 9:00 pm
Stay at Naruto-themed Room
At Nijigen no Mori glamping facility, GRAND CHARIOT Hokuto Nanaboshi 135°, you can stay the night at its NARUTO Room <Hokage Villa> to perfect your NARUTO world experience. It is a 70㎡ room for a maximum of 4 people.
Pricing starts from JPY50,518 per person. This includes accommodation, breakfast/dinner, 1 set of original anime designed amenities (yukata, pouch, foldable umbrella, face towel, candy). As a guest perk, this include standard tickets for 'NARUTO & BORUTO Shinobi-zato' and 'Godzilla Interception Operation Awaji–National Awaji-Island Institute of Godzilla Disaster–' according to the number of guests.
You may book from its official website. If you have food restrictions, please contact the facility before booking.
*Amenities and guest perk are subject to change.
*Rates vary depending on the season, e.g. before holidays, high season, etc. Please check its website for details.
Direct Bus to Nijigen no Mori

You can now easily get to Nijigen no Mori directly with these express buses, "Kakehashi NARUTO Osaka Gō" (from Osaka) & "Kakehashi NARUTO Kobe Gō" (from Kobe) operated by JR West. It features an original design of the original Team 7 in the anime NARUTO & BORUTO.
When I went here, I didn't get this original design bus. If you really want to ride this anime design bus, you may want to confirm with your ticketing provider upon purchase. In fact, there are also ticketing websites that sells the bus round trip tickets along with the entrance ticket.
NARUTO & BORUTO Shinobi-Zato
| Ticket Type | Adult | Children |
| --- | --- | --- |
| Set Ticket (Shinobi-zato Admission Ticket + Chi-no-Maki Gaiden Ticket) | JPY 4,800 | JPY 2,200 |
| Standard Ticket | JPY 3,300 | JPY 1,200 |
*Chi-no-Maki Gaiden is a live riddle-solving game that follows the Chi-no-Maki course to find the culprit behind the incident by cooperating with a ninja of the Konoha Village. it comes with a riddle-solving kit.
*Price includes tax.
*Children are eligible for elementary school students and younger (5-11 years old).
*Customers under elementary school age must be accompanied by a guardian.
*The attraction takes preventive measures against Covid-19, such as measuring temperatures, sanitisers available, and waiting areas have lines to maintain social distance. Please wear a mask when you visit there.
If you want to visit Nijigen no Mori, my tip is make this a 1-day trip. Since the place is in Awaji Island, it's pretty far away from other tourist destination in Kobe or Hyogo. Unless you're driving a car, it will be hard to go out of the area.
As an anime fan, this was so worth the visit. You can expect new designs when you visit as they do special events for the character's birthdays and such. It definitely brought back memories of the times I grew up watching the anime. For your next Japan Trip, why not cosplay as your favourite NARUTO x BORUTO characters when you visit here?!
Check out Nijigen no Mori #1 to learn more about Nijigen no Mori and tips for Muslim visitors.
・To book Naruto Room <Hokage Villa>:
https://awaji-grandchariot.com/room/711/
・To check "Kakehashi NARUTO Osaka Gō" bus timetable:
・To download "Hokage wo Mezase" app & more info on NARUTO & BORUTO Shinobi-zato:
https://nijigennomori.com/naruto_shinobizato/
Related Article:
Nijigen no Mori #1: Godzilla Invasion at Awaji Island
Enter Demon Slayer world! Special event recreates Mount Natagumo


We have a network of Japanese companies keen to expand into the Halal market in Malaysia & Indonesia.
If you are interested in connecting with sustainable technology companies in Japan, simply JOIN the network from below. We will match the right one for you!