What is Muslim Kakejiku? Japanese Hospitality via Traditional Crafts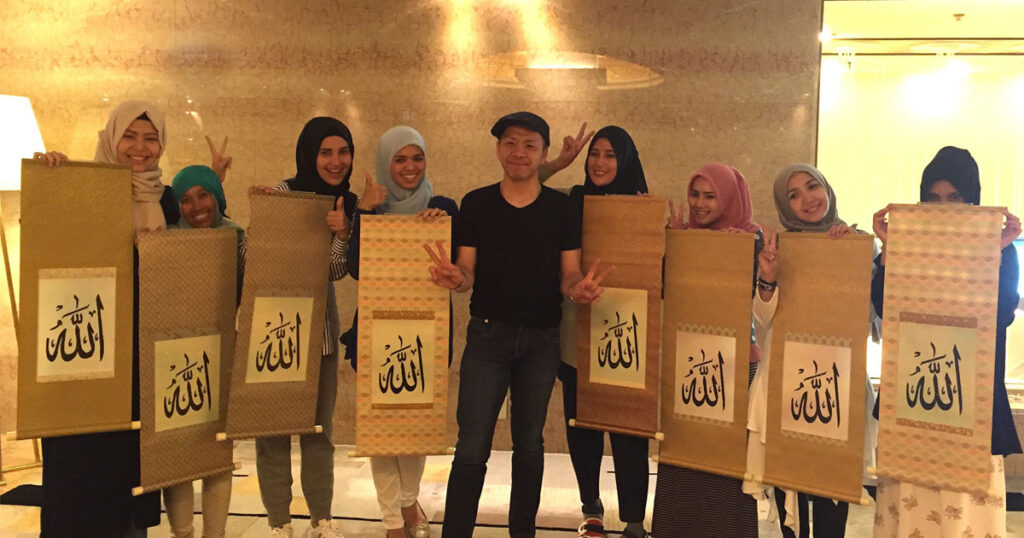 I'm Yuichi Nomura, managing director of Art Nomura, a manufacturer of kakejiku—Japanese hanging scrolls. (a deputy representative of Kansai Association of Business Promotion for Muslim)
We've been in business for 50 years and been working since 2010 to promote the intricate art of kakejiku (hanging scrolls)–a traditional Japanese craft–in Japan and abroad.
I would love to share some of the activities we are undertaking to promote the beauty of hanging scrolls among Muslims.
How an Exclusive Muslim Kakejiku "PRAYERM" was Born
A hanging scroll (kakejiku) is a work of calligraphy or painting, mounted with paper or fabric, displayed mainly in the alcove. The host uses it to welcome guests by presenting the most suitable piece according to seasons and occasions.
Guests moved by the host's hospitality through the hanging scroll without any direct words or plots. It's a tool for Japanese aesthetics, conveying a message of hospitality to others in a subtle Japanese fashion to warm their hearts.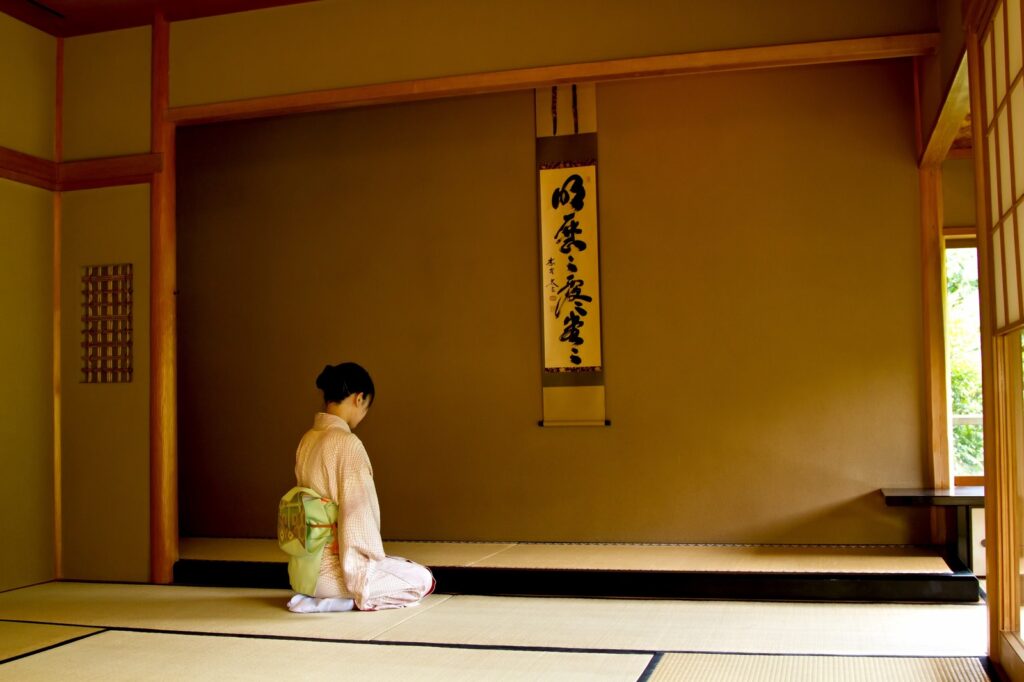 We continue working to share the beauty of hanging scrolls with people all over the world.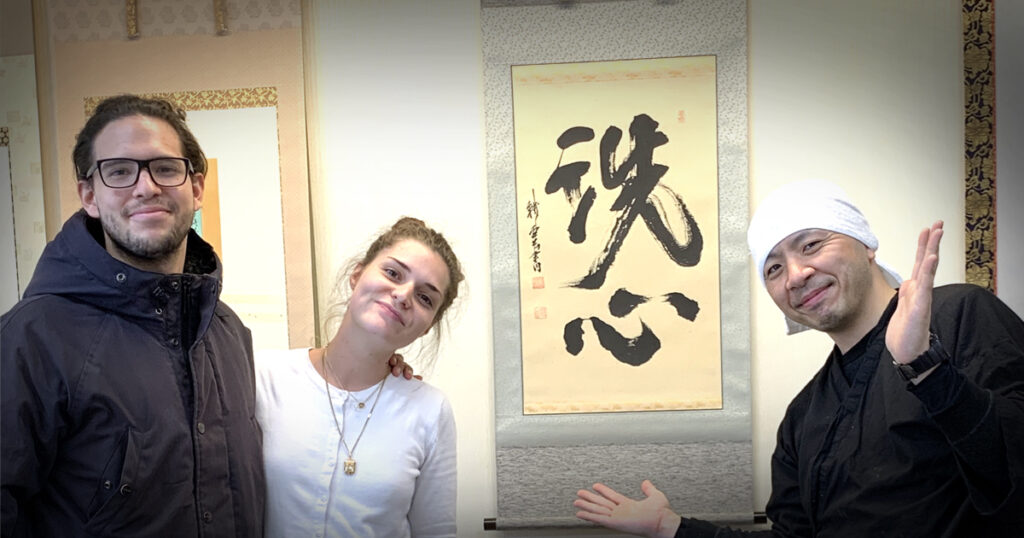 Having encountered Islamic art, we were attracted to the idea of offering Japanese hospitality to Muslims visiting Japan. Thus, we developed PRAYERM, a hanging scroll exclusively designed for Muslims.
PRAYERM Features
Given the prohibition of idolatry in Islam, Arabic calligraphy evolved as an art form to express the beautiful words of the Qur'an, the sacred book bearing the words of Allah (the one and only absolute God). It also incorporated into the decor of mosques alike.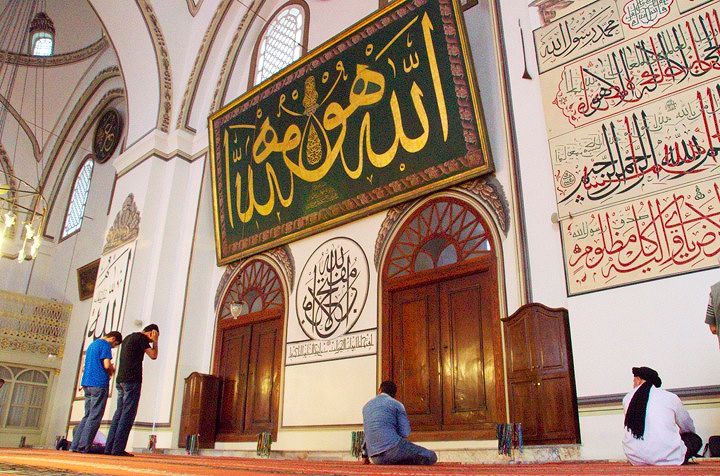 Arabic calligraphy is very close to the heart of Muslims; you will find some of the work on display in prayer rooms (musolla) abroad.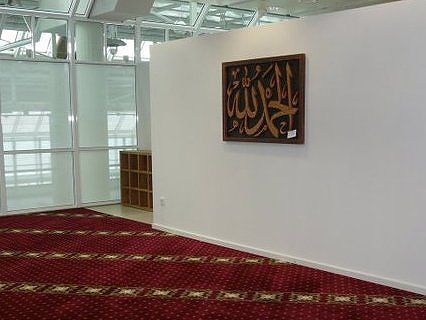 PRAYERM is an Arabic calligraphic work in a hanging scroll style. It intended to help Muslims feel closer to Allah, the One Absolute God, when praying in Japan's prayer spaces.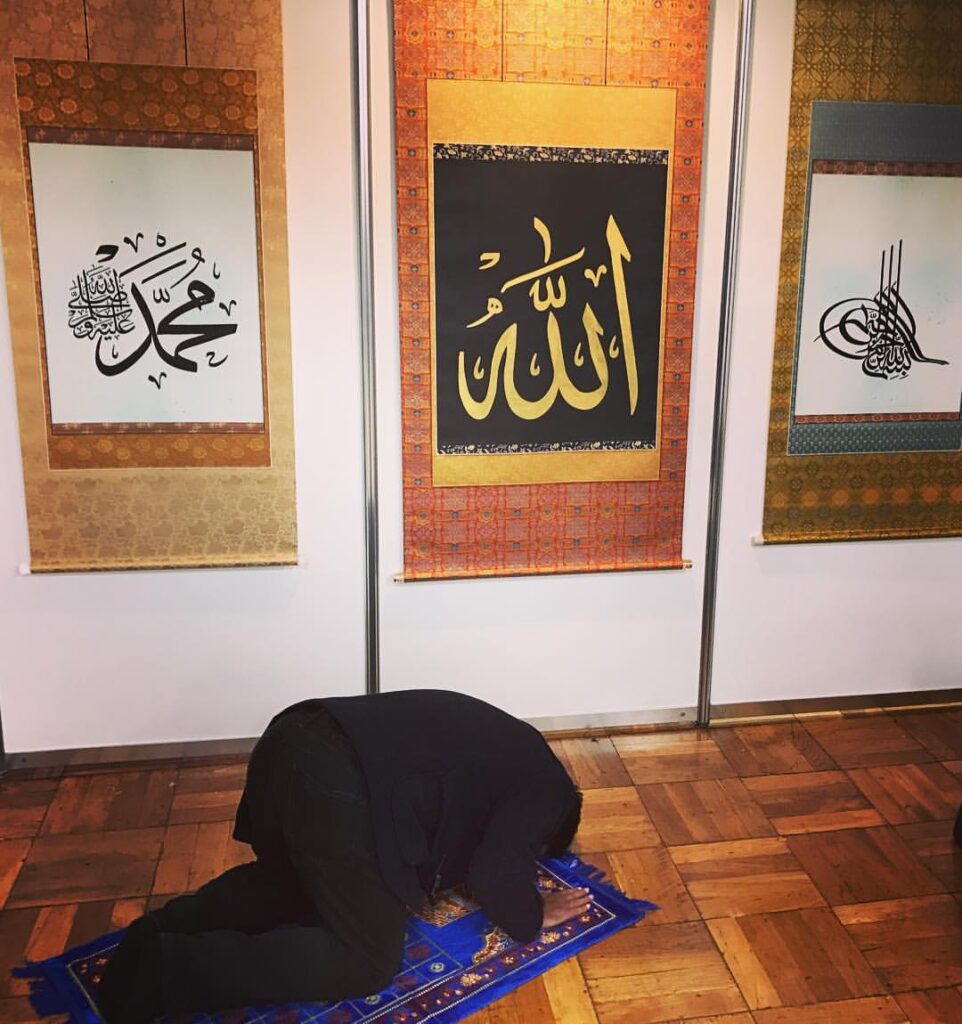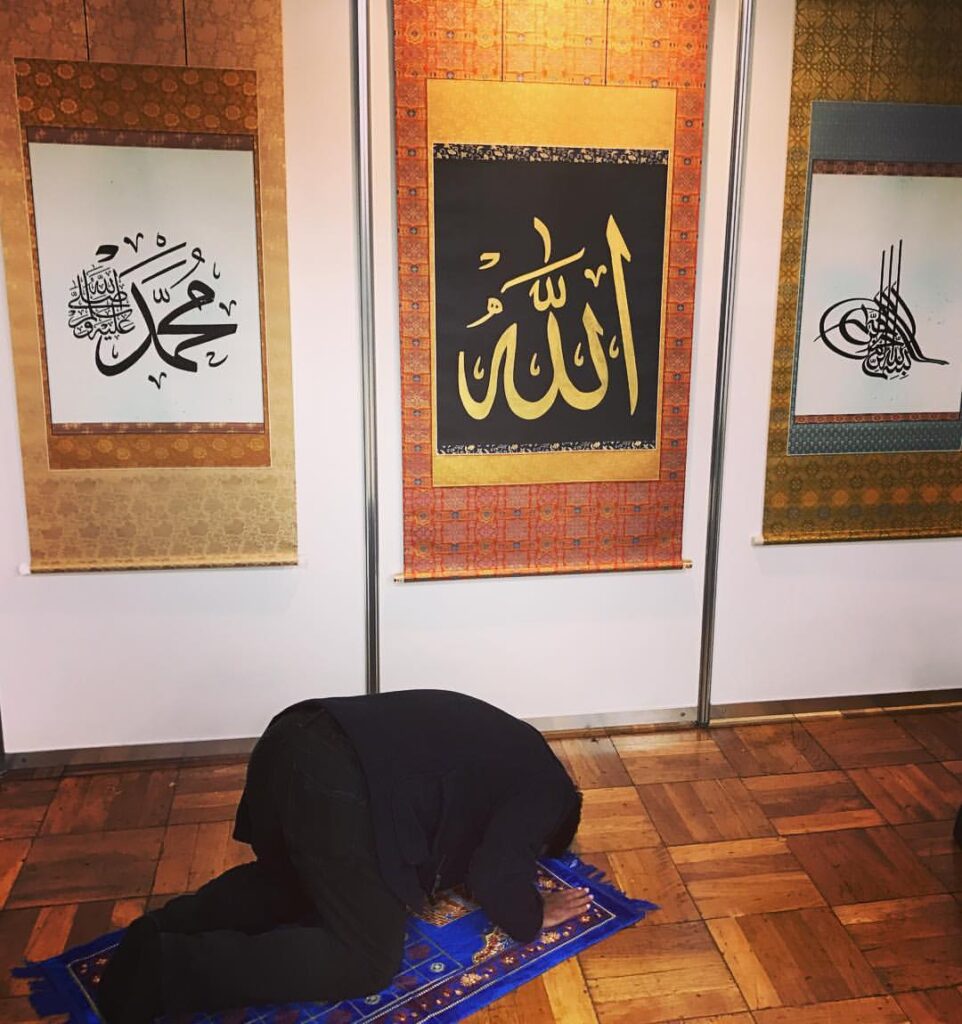 Here is a perfect example of hanging scrolls at hand, the art of displaying the most appropriate object for the person or setting, specifically for Muslims.
I hope that Muslims visiting Japan will feel Japanese hospitality through the hanging scroll and come to love Japan.
Our Installations in Prayer Spaces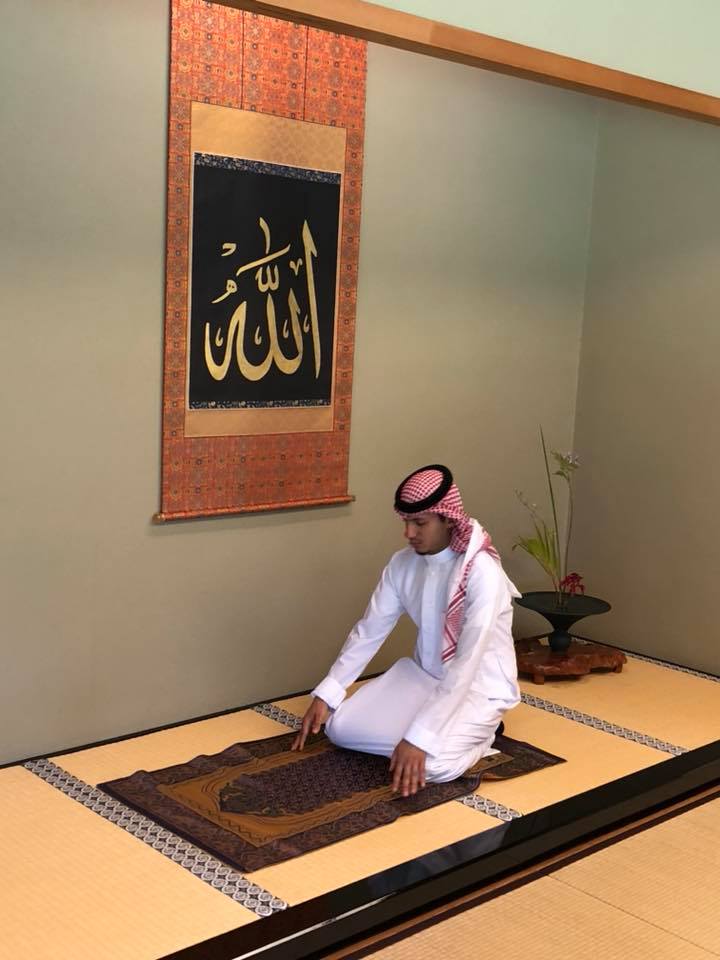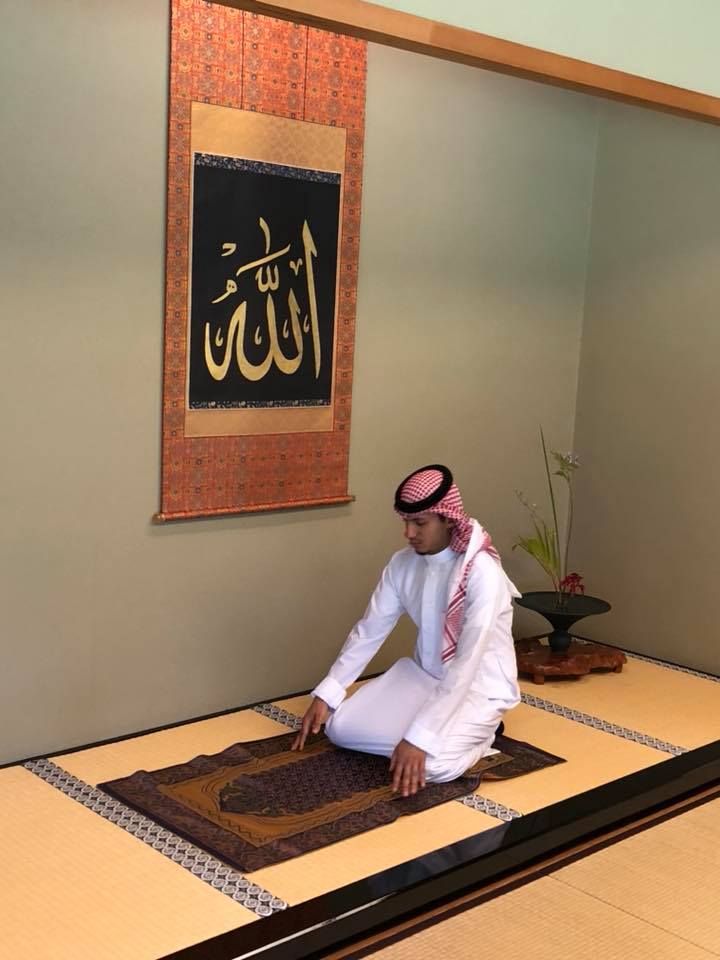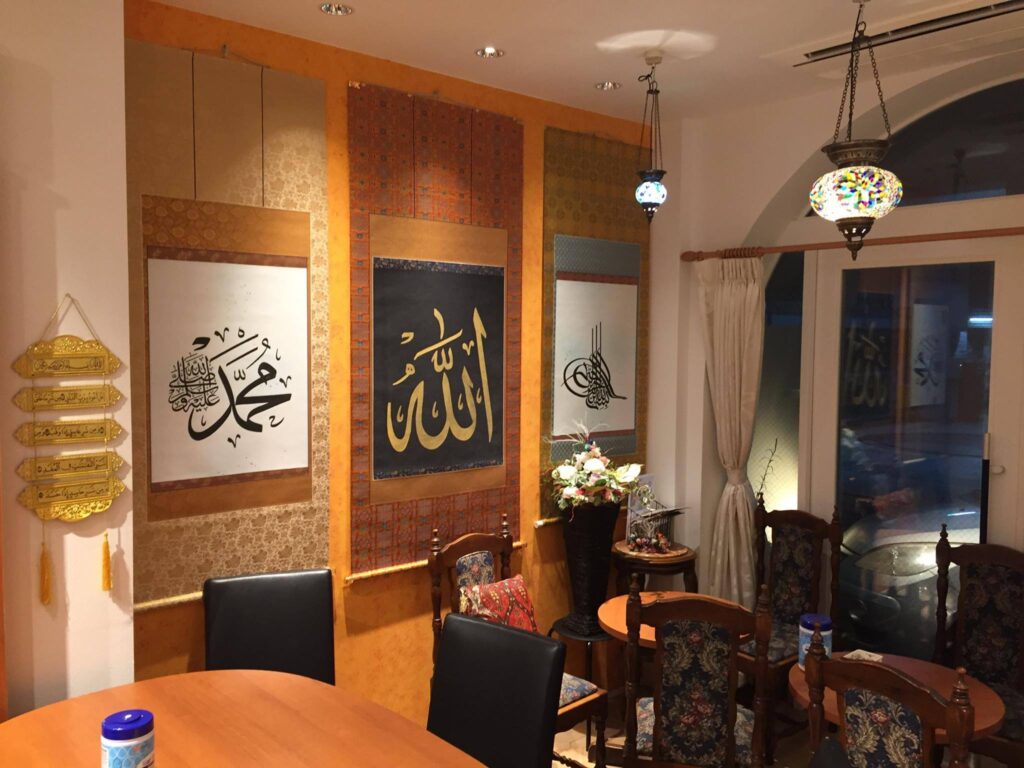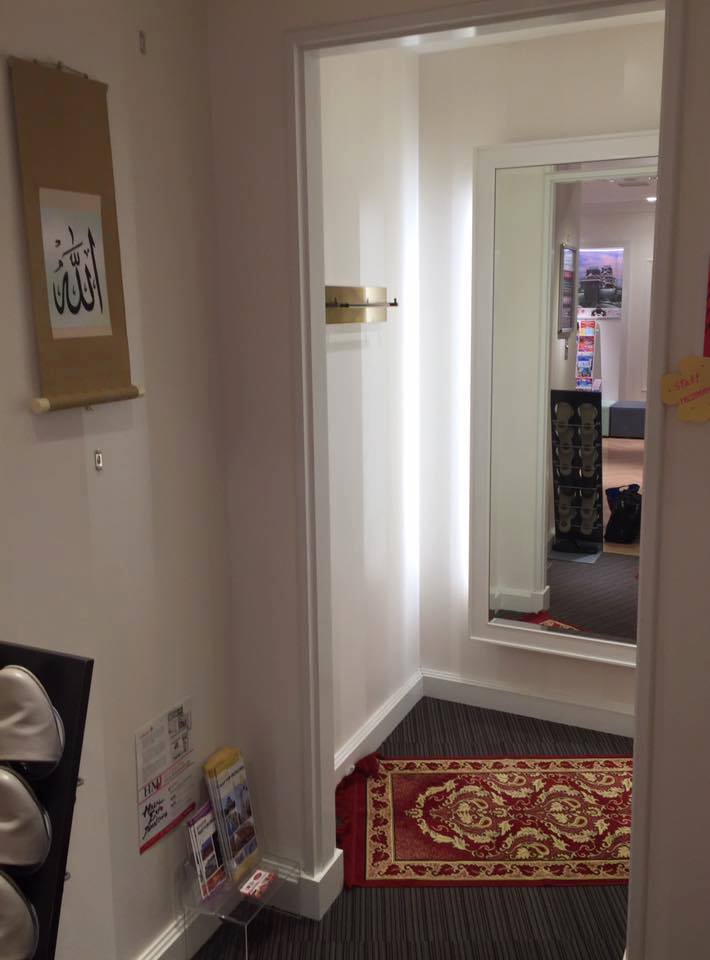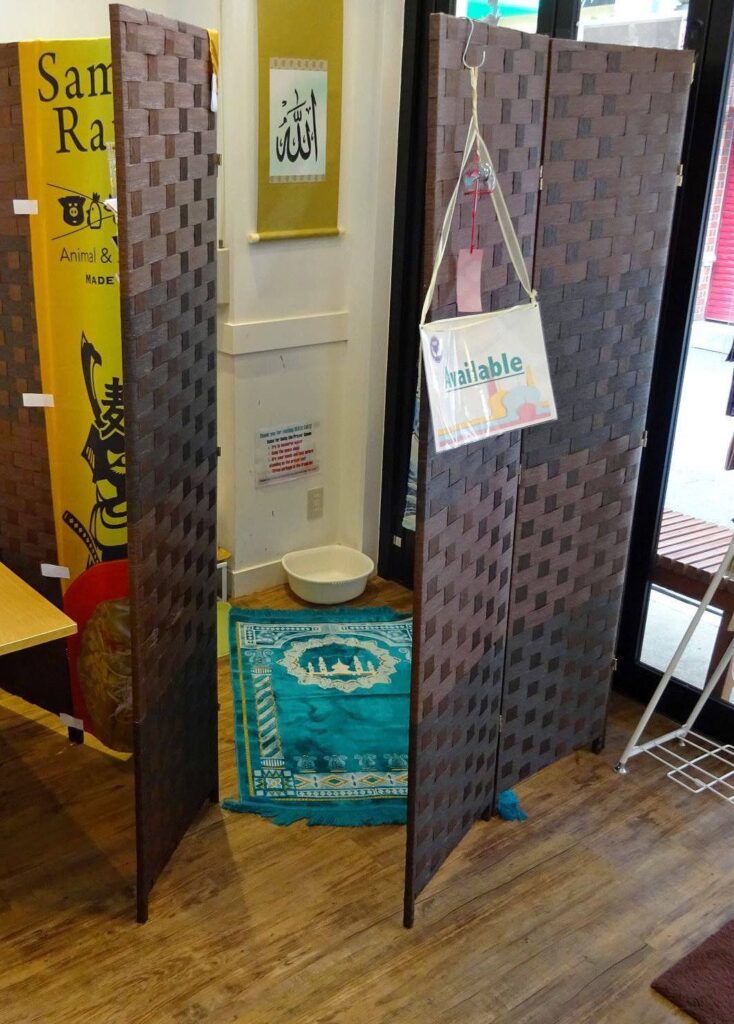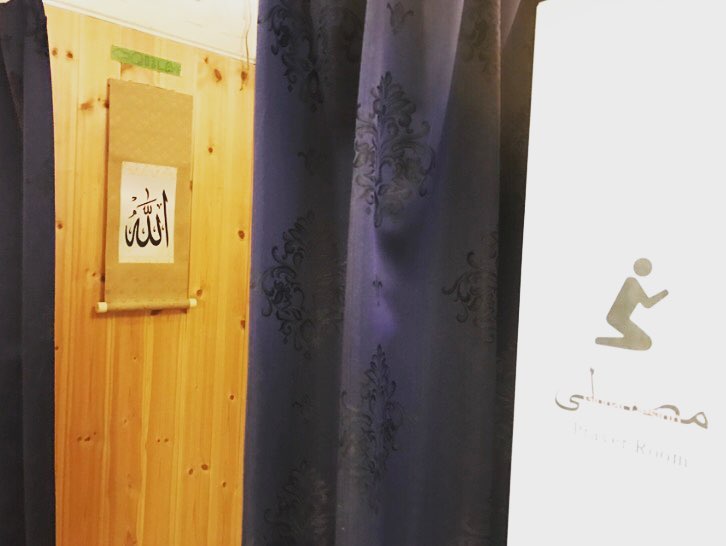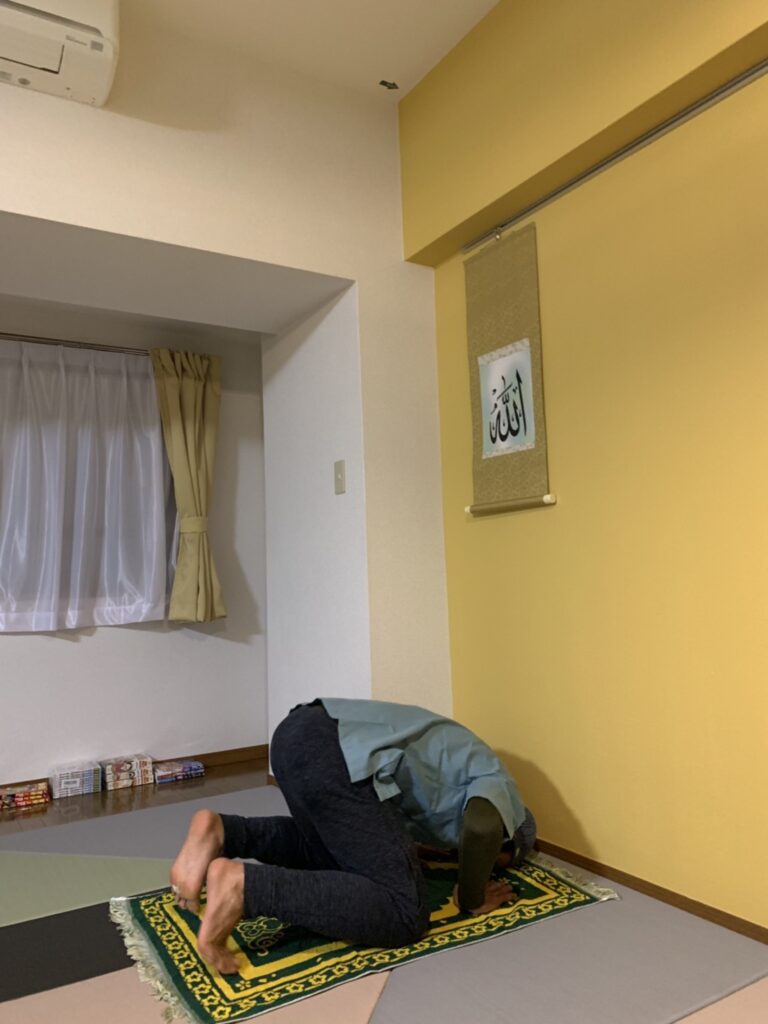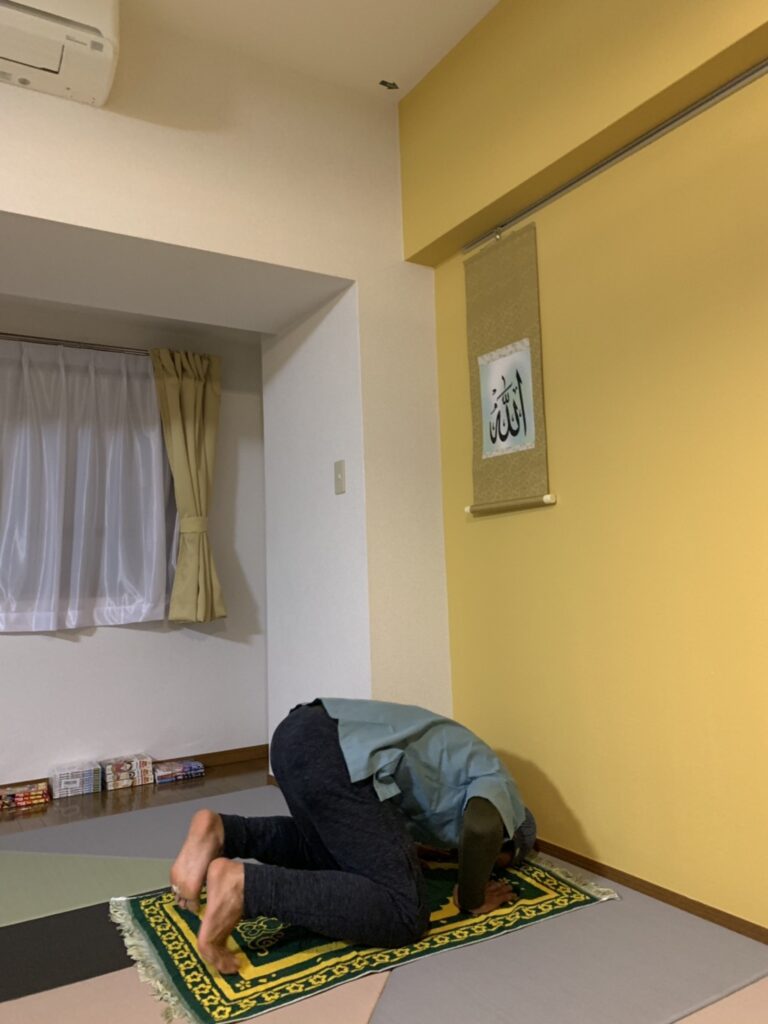 Souvenirs & Gifts
Hanging scrolls are very compact when rolled up, making them easy to carry around. They are popular as souvenirs and gifts.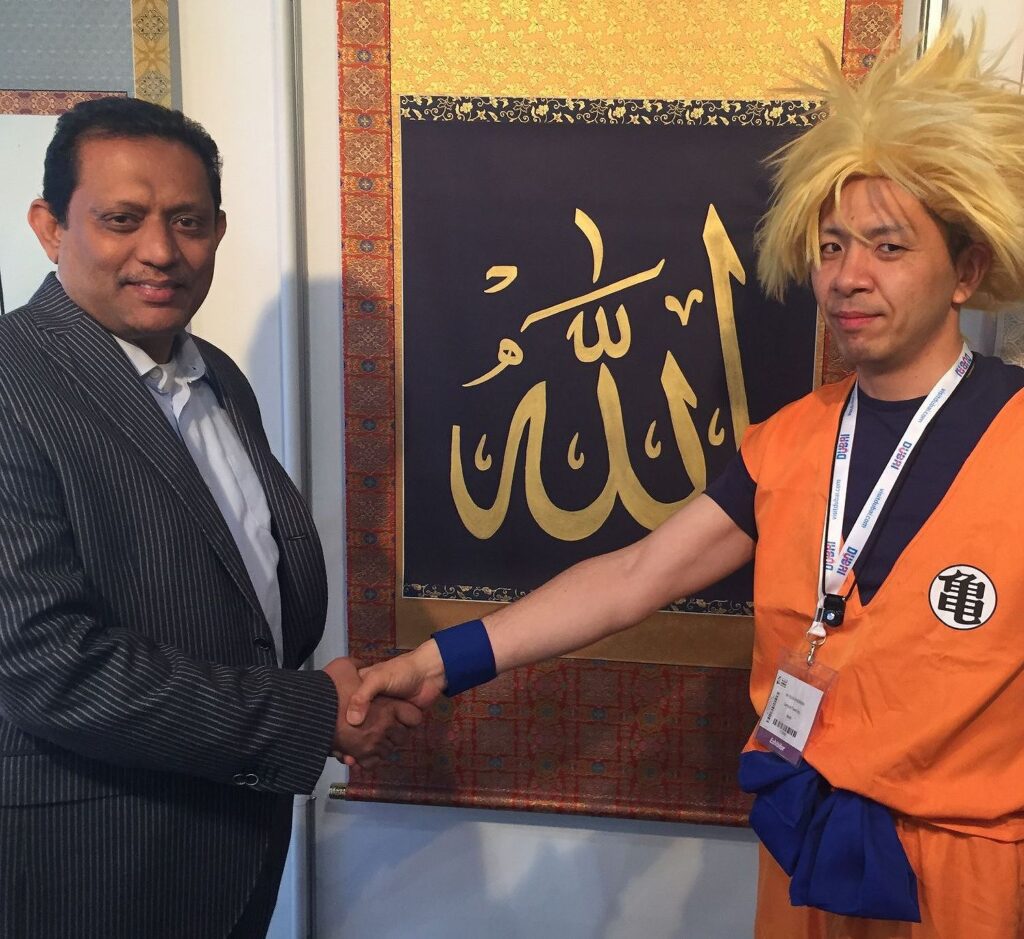 Additional Initiative
Besides PRAYERM, we also produce various hanging scrolls upon request to promote the beauty of hanging scrolls to Muslims.
Here is a hanging scroll for the entrance of Café Istanbul, a restaurant in Kobe that serves Turkish food.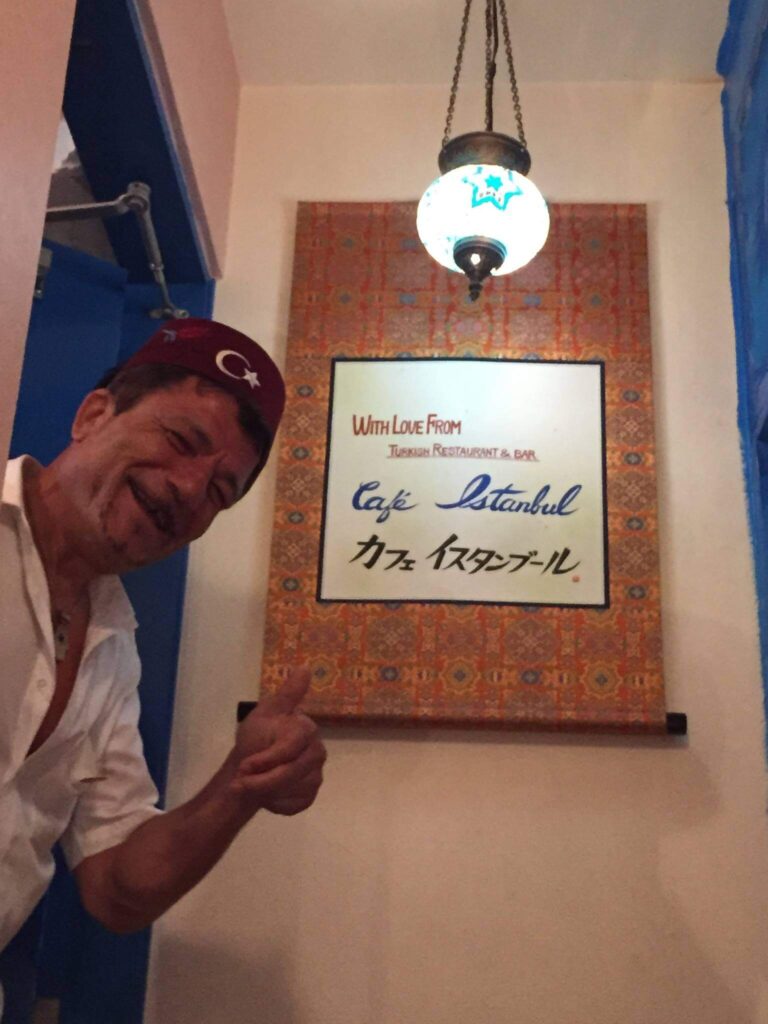 The Japan Dawah Center, a Muslim community centre in Osaka, commissioned us to create a hanging scroll with the words Muslims recite when they declare their faith in Japanese.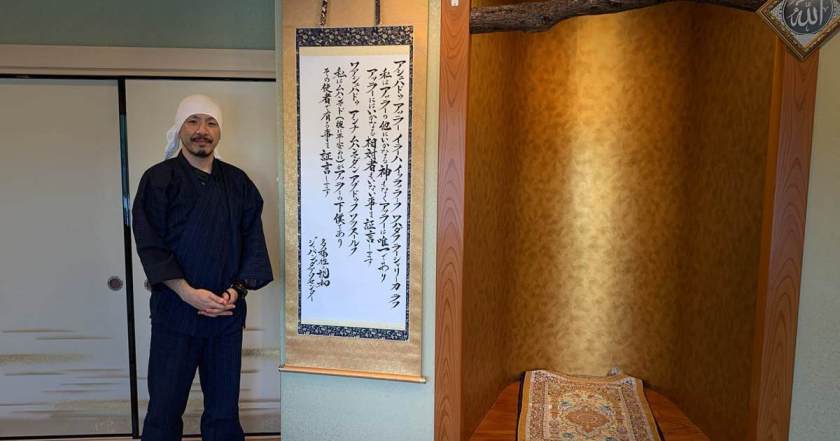 Going Forward
As of April 2021, the coronavirus is still rampant across the globe, but I sincerely hope that the situation will settle down. Thus, the days people can enjoy travelling would come again soon. In the meantime, we will keep working hard to ensure that Muslims can feel Japanese hospitality in Japan's prayer spaces.
Yuichi Nomura Managing Director of Art Nomura
/
Art Nomura
Born in 1981, residing in Kobe. I graduated from the Faculty of Economics at Kwansei Gakuin University. After working for a machine-tool trading company, I joined my family's business, a manufacturer of hanging scrolls. While engaged in introducing the beauty of Kakejiku (hanging scrolls) to the world, I encountered Islamic art. It deepened my connections with Muslims, acting as the deputy representative of the Kansai Association of Business Promotion for Muslim.
---
We have a network of Japanese companies keen to expand into the Halal market in Malaysia & Indonesia.
If you are interested in connecting with sustainable technology companies in Japan, simply JOIN the network from below. We will match the right one for you!