Halal Sambal Ramen: A novel spicy twist to the Japanese ramen
Renewing its Halal certification in 2022, the Sambal Ramen is back with a new design and sambal concoction that you can easily enjoy at the comfort of your home. Perfect for all ramen lovers, including spicy-loving foodies!
With a salt-flavoured broth, Sambal Ramen is a ramen product certified by Japan Muslim Association (JMA), containing authentic frozen raw noodles by Hayashi Noodle Factory Limited Partnership and sambal powder. All the noodles, soup and sambal seasonings used in this product are Halal-certified.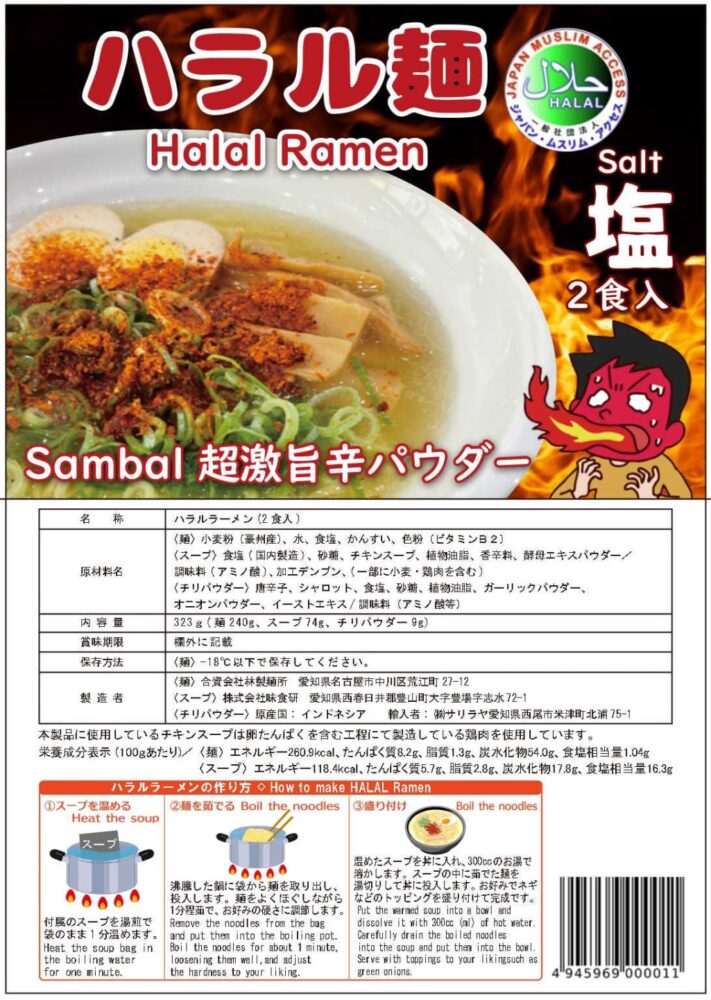 For those unfamiliar with sambal, sambal is a spicy chili paste/seasoning commonly found in Southeast Asia, made from a mixture of chilli peppers with various secondary ingredients like dried shrimp, shallot and palm sugar.
This Halal Sambal Ramen is available for purchase at the Fukui Online Store for 648 yen (about USD5). One pack contains 2 portions of ramen noodles, 2 soup packets and 2 spicy powder packets.
Simply boil the noodles to the heated soup and add the spicy powder once the ramen finished cooking. You can adjust the amount of powder to how much spicy you want the dish to be.
・Fukui Online Store
https://fukuitrading.stores.jp/?category_id=6169085354ddd86f5de543dc


We have a network of Japanese companies keen to expand into the Halal market in Malaysia & Indonesia.
If you are interested in connecting with sustainable technology companies in Japan, simply JOIN the network from below. We will match the right one for you!