Offer Halal Japanese Food: Hinomoto Shokusan Total Adherence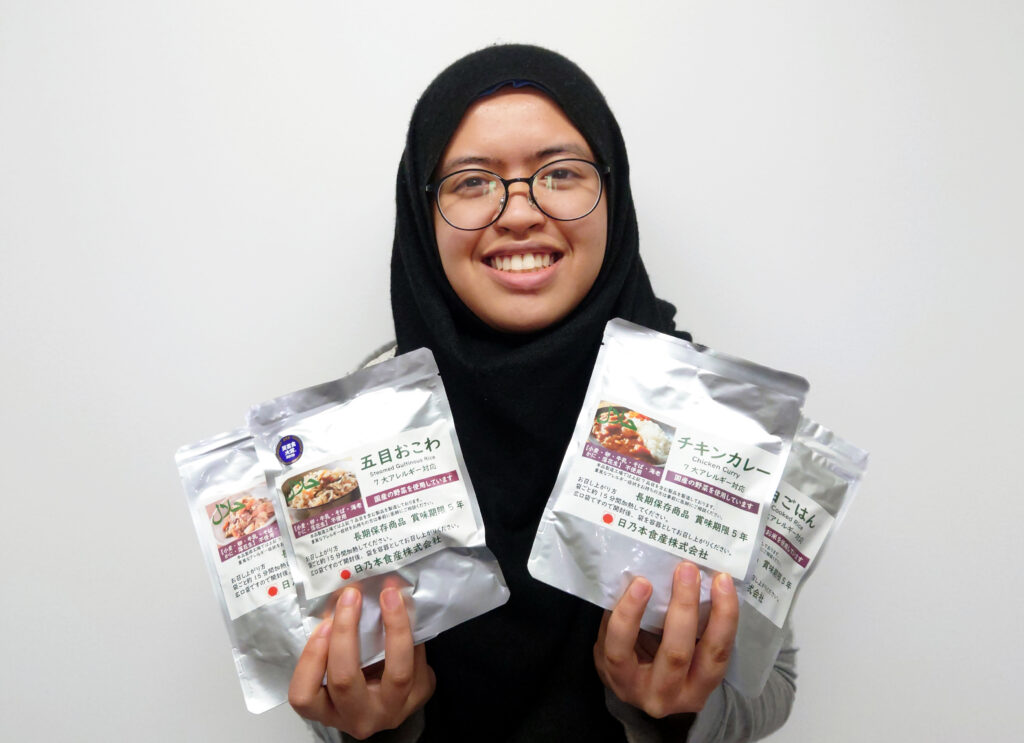 Providing Japanese delicacies that meet the stringent international Halal standard—Hinomoto Shokusan Co., Ltd. brings tastiness and reassurance to Muslims (who have dietary requirements), with "Japanese Food Made Accessible to All" at heart.
In the beginning, the company representative—Mino stated:
"I noticed that at international conferences and welcoming events held in Japan, Muslim meals often served separately. I always thought this is a problem when you look at it from international perspectives on diversity. And from the viewpoint of promoting mutual friendship by sharing a meal. "…As he went on talking about the company's halal initiatives.
In January 2017, Hinomoto Shokusan set up a halal central kitchen within Kobe Fruit & Flower Park. Its entrance displays a "Halal Policy" showing all 500-600 halal proven ingredients they have secured. They also obtained a new scheme called "Halal Central Kitchen Certificate". Having more than 150 certified items.
According to President Mino, "Although 1/4 of the world's population is Muslim, Japan has yet to fully cater for them. Since we're doing this business, we wanted to serve food good to the Japanese palate. And meet the international halal standards–like ESMA (*1) & GAC (*2) certificates–that are recognized even in rigorous, famous Middle Eastern Islamic countries".
*1 ESMA: Emirates Authority for standardization & Metrology
*2 GAC: Gulf Accreditation Center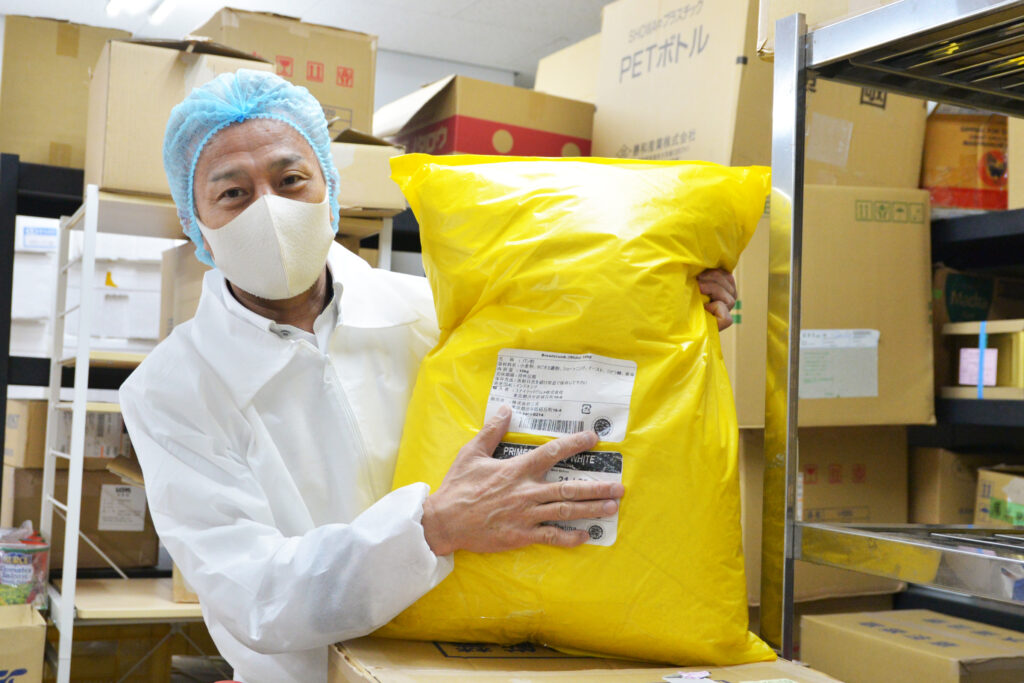 ■ Ensuring Halal Down to Its Ingredients
That is why Hinomoto Shokusan is committed to thorough halal compliance, even with its raw materials.
For instance, breadcrumbs [panko] may seem unrelated at a glance to porcine or liquor (two of the prime issues in Halal certification). However, breadcrumbs generally contain shortenings to make them light-flakier, and such shortening often contains pig derivatives. So, without a full product specification and manufacturing process chart, the product would fall into a grey area if it were to be sold as halal-certified.
In this case, Hinomoto Shokusan uses a halal-certified product from Indonesia that has proven only vegetable-based fats and oils are used in the shortening. Making sure they secure a thorough verification of halal.
There are also cases where amino acids in various seasonings can be problematic. Amino acids are from biodegradation, but you need to trace back to what microorganisms used to cultivate in that process. If it's agar, the coast is clear. BUT, if cultured with gelatine, there are chances it has pig-derivatives.
At Hinomoto Shokusan, every effort is taken to ensure that Muslims can eat at peace by rigorously checking everything down to the secondary, tertiary raw materials as above. Devoting themselves to provide Muslims with the utmost in "Food Omotenashi [hospitality]".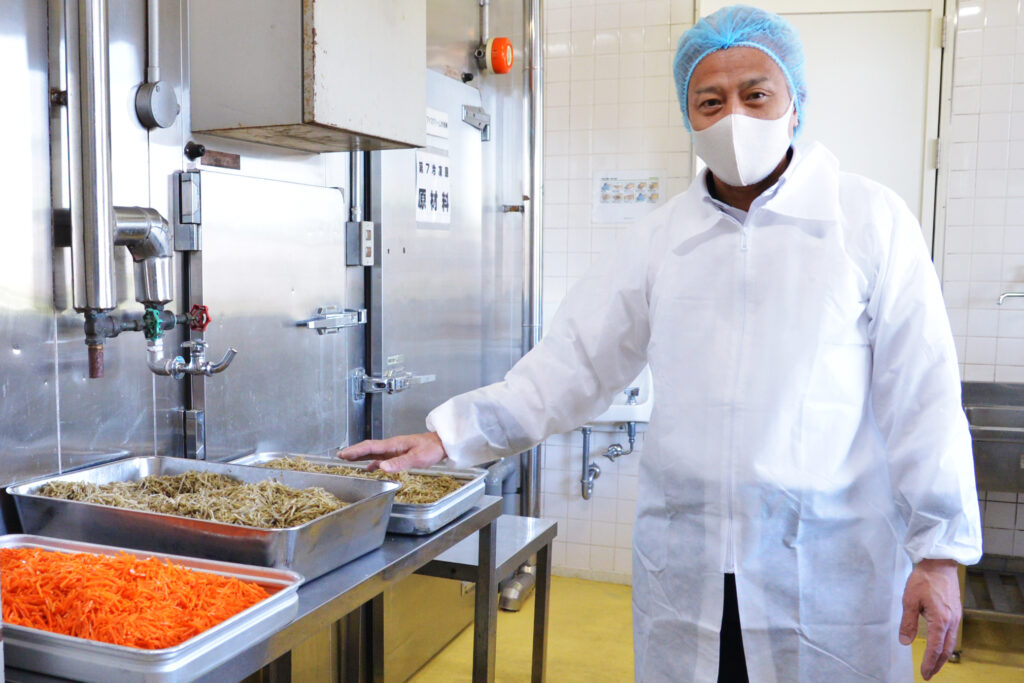 ■ Motive Behind Its Halal Efforts
Hinomoto Shokusan originally was a wholesaler of foodstuffs to hotels.
However, the hotel industry had its hands full with the recent challenge of accommodating allergies. But with the Tokyo Olympic Games, Paralympic Games and Osaka World Expo coming up, there is a further need to cater for religious dietary requirements. Yet, in reality, this is still quite challenging.
This led to President Mino starting the business with the notion:
"if our Halal products could be used to cater for religious dietary requirements, it could help to improve the efficiency and ease hotel operations."
To do so, they need to comply not only with JAKIM (Malaysia) accreditation but also with GAC and ESMA (Middle East) accreditations.
Let's take a look at the cooking area!
It would be lengthy to introduce all the facilities and equipment, so here are the highlights of its key features.
■ Kitchen
Steam-heated Oven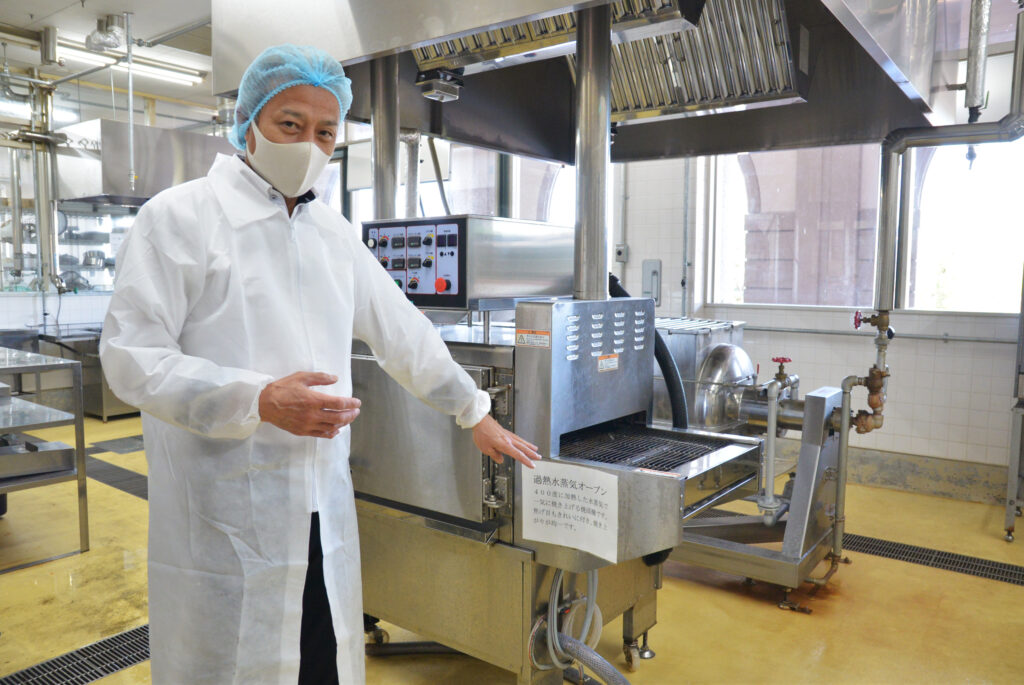 "We want to offer delicious food, but Halal"
To reach this ideal, they pay particular attention to the heating and freezing of dishes such as meat dishes (often the star of the meal).
The steam-heated oven uses steam/vapour heated to 400°C to cook the meat in one go. It produces a beautifully seared and evenly cooked surface.
The steam temperature is usually between 100-150°C. But with this oven, even low-priced imported chicken can be cooked as juicy as Japan's domestic chicken.
Interlocking Vacuum Packaging Machine (horizontal type)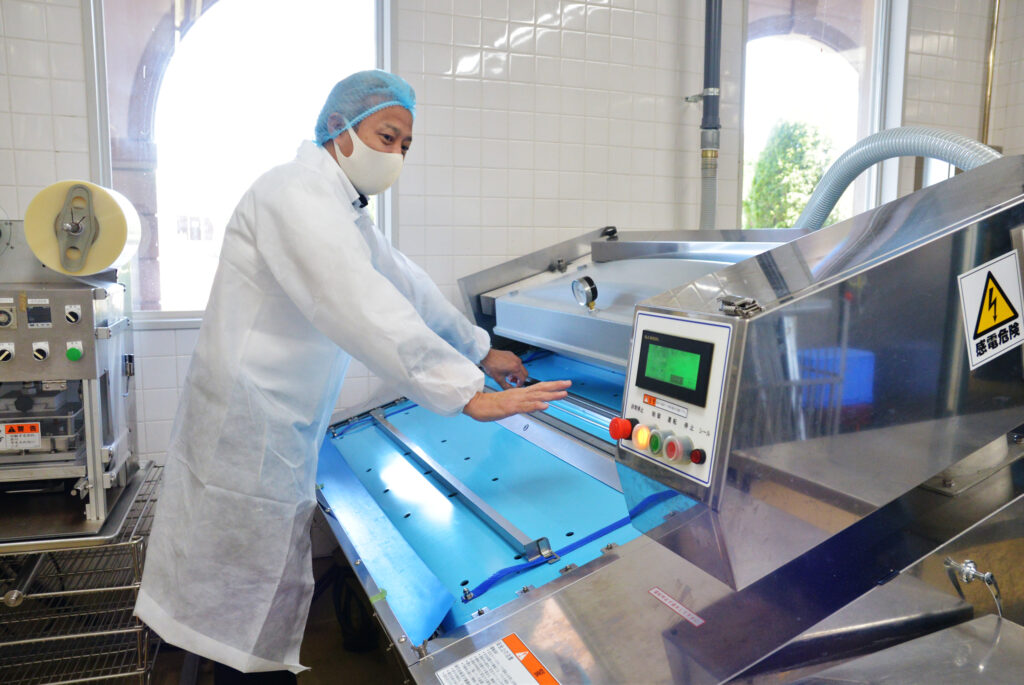 The interlocking vacuum packaging machine packs the food in vacuum bags.
When vacuum [decompression] applied, the pressure inside it drops, thus lowering the boiling point. It has a double nozzle and a low-heating function to prevent leakage, making it even capable to vacuum pack a high amount of liquid products.
You can usually find this kind of equipment involved in packaging items vertically. In such cases, each operation's efficiency decreases, so the lots [items] tend to be greater when undertaking OEM production.
Hinomoto Shokusan, on the other hand, uses a horizontal model that is more efficient per batch. Therefore, it can meet demands for small productions such as 100kg or 200kg.
Given the demand for accommodating Muslims in Japan, this could be a nifty solution for hotels and inns to distinguish themselves.
Proton Freezer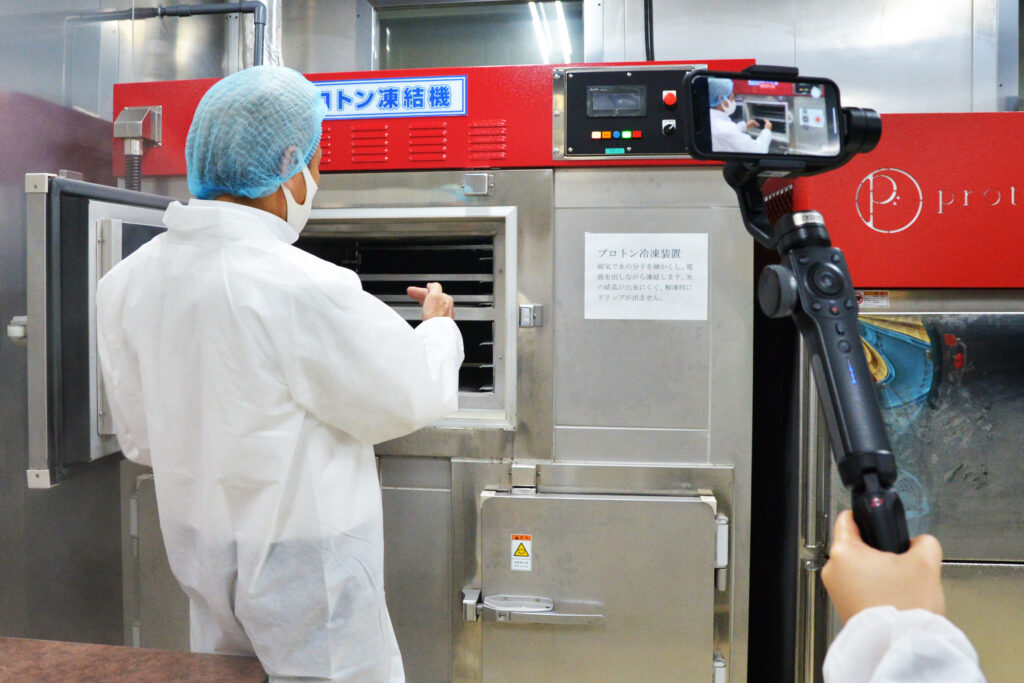 A proton freezer is an essential machine for providing delicious meat dishes.
It's like a combination of a microwave oven and a freezer. The foods are frozen as their molecules are vibrated by electromagnetic waves.
On this day, the temperature was set to -34°C. But the food wasn't frozen yet because the food molecules were still vibrating by the electromagnetic.
Once the temperature reaches -40°C, the electromagnetic waves stop, at which point the food is instantly frozen.
This prevents water crystals from forming and dripping when defrosting. As a result, it gives fried food and chicken steaks a distinct juiciness when they are thawed.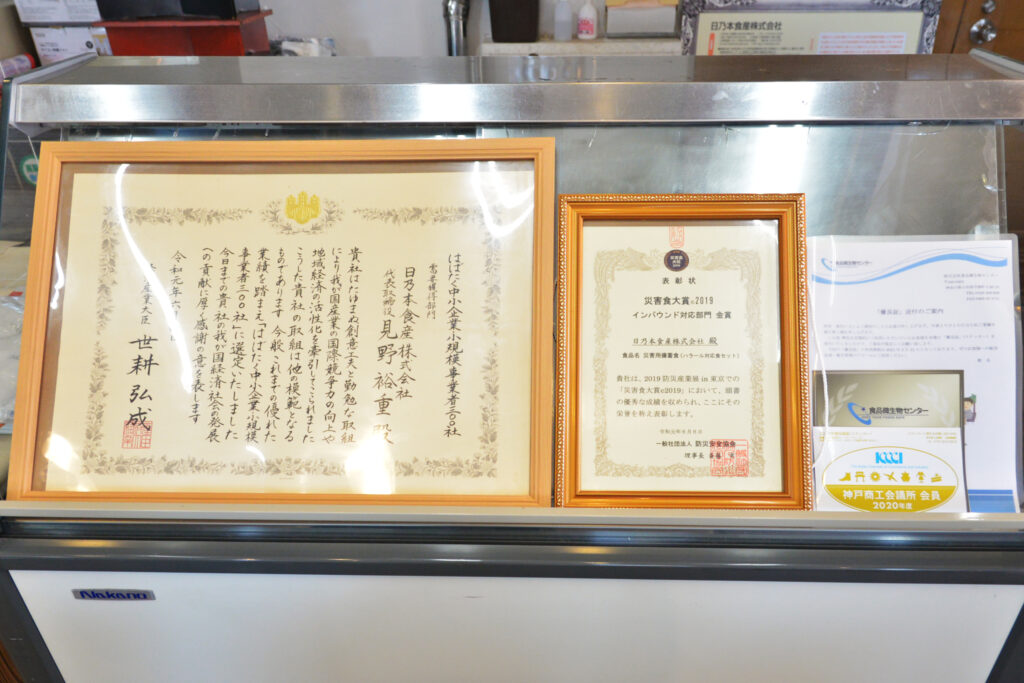 ■ Long-term Storable Emergency Food
Hinomoto Shokusan's emergency food (Halal food set) won the Gold Award in the inbound category of the Emergency Foods Award 2019 organized by the Disaster Prevention Safety Association.
A machine to verify emergency food storage
It's common to find a "5 years shelf life" product of long-term storable emergency food.
Hinomoto Shokusan tackles the basis for setting a 5-year shelf life from a scientific approach.
It's widely believed that food generally deteriorates at twice the rate for every 10 degrees above 20°C. By using this mechanism, they could verify the deterioration in a relatively short time.
It can be calculated as follows: 2 times at 30°C, 4 times at 40°C and 8 times at 50°C. Hinomoto Shokusan has carried out tests; in which the product has been stored at 50°C for one year. This means that they have the same test data as if the products were kept for 8 years. It is then multiplied by a safety factor of 0.7, which is the basis of stating "the 5-year shelf life is met".
Patented, original "non-fermented seasoning" is the secret behind the long shelf life & deliciousness
The secret of their products' long-term storage lies in the original seasonings they developed during their halal initiatives.
President Mino explained:
"When ready-made meals (e.g. emergency food) use fermented seasonings (e.g. soy sauce and mirin), many think the shelf life is only up to 3 years".
Therefore, when claiming a shelf life of over 3 years, theoretically, fermented seasonings can be assumed to be unfit for use.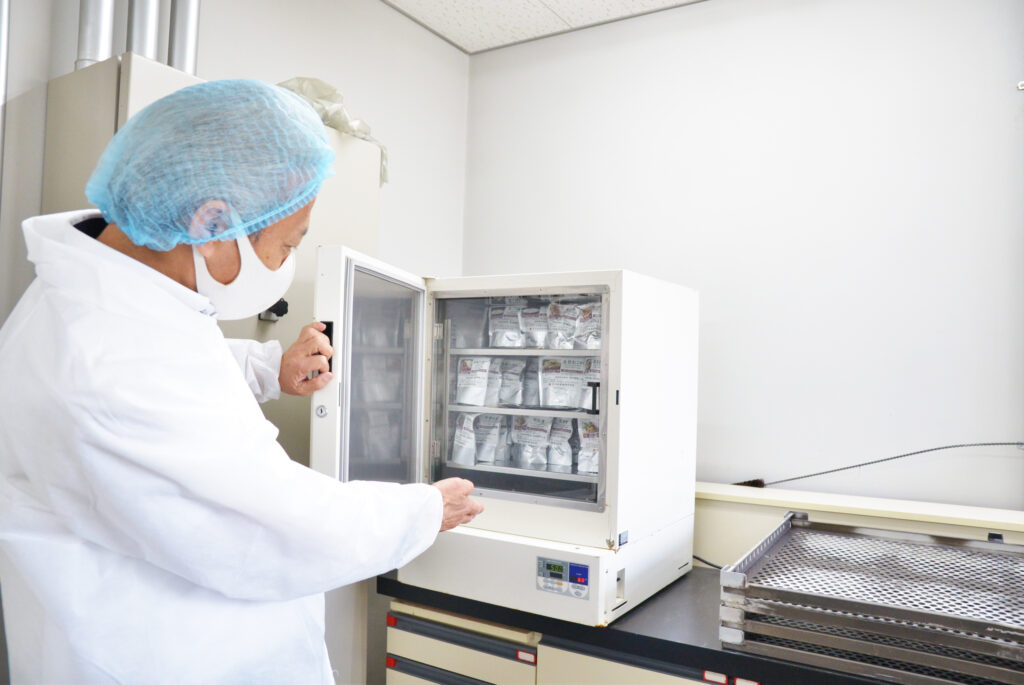 This has led Hinomoto Shokusan to develop and patent their own halal "non-fermented seasonings" of soy sauce and mirin. Using these in emergency foods allows them to be sold as products with a 5-year shelf life (supported by theory and evidence).
For example, halal mirin is made by chemically adding mirin's umami ingredients such as yeast extract, guanylic acid and succinic acid to Japanese syrup [mizuame]. Thus, it produces a "mirin-like seasoning".
Similarly, a "soy sauce-like seasoning" is also produced by chemically blending umami ingredients of soy sauce.
These non-fermented seasonings are like salt and sugar; they remain unchanged even after 5 years (just like sugar-salt).
Most emergency foods tend to lose their flavour as they approach the 5-year mark. So even if they are hygienically fine, they may be regarded to have lost their commercial value and are sometimes thrown out. However, Hinomoto Shokusan's emergency food sets itself apart in its flavour that you can hardly taste a difference between a freshly made product and a 5-year-old one.
Above has been the intro to their exclusive and unique cooking process, features, facilities and other aspects.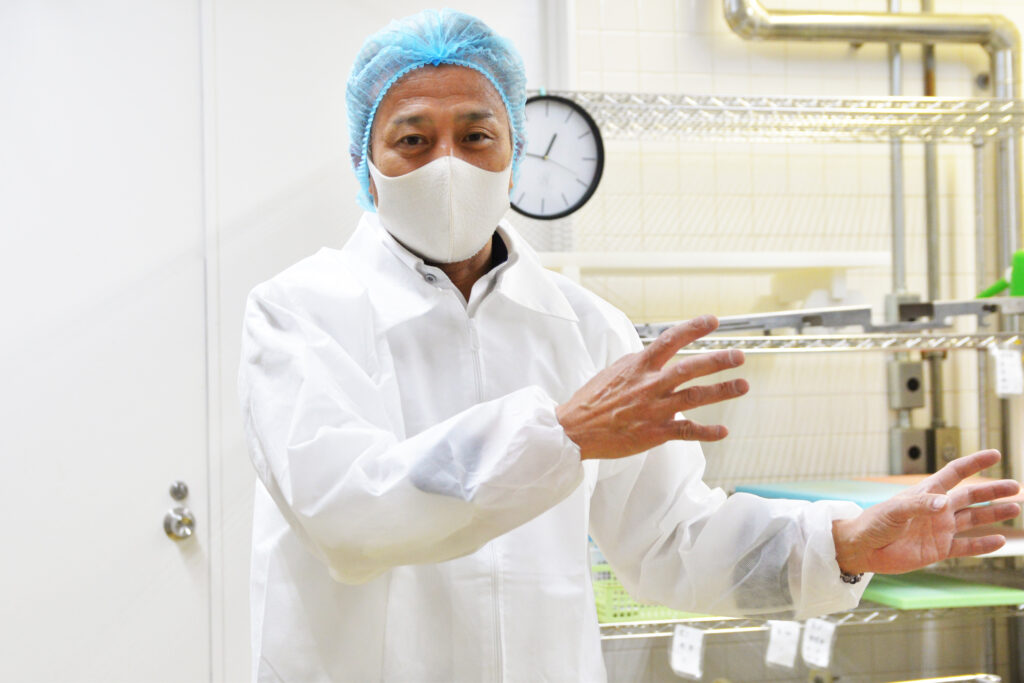 With the global outbreak of Covid-19, flights have been cancelled, hotels and inns have been deserted, putting a massive blow on Hinomoto Shokusan's business.
Yet, as President Mino added:
"Japanese food has been registered as an Intangible Cultural Heritage, making it widely known internationally. I want to make sure that even Muslims can enjoy delicious Japanese food safely."
His words on wishing to keep contributing to making Japanese food more accessible was memorable.
Footage of scenes that we couldn't fully show here is available on YouTube. Do watch it!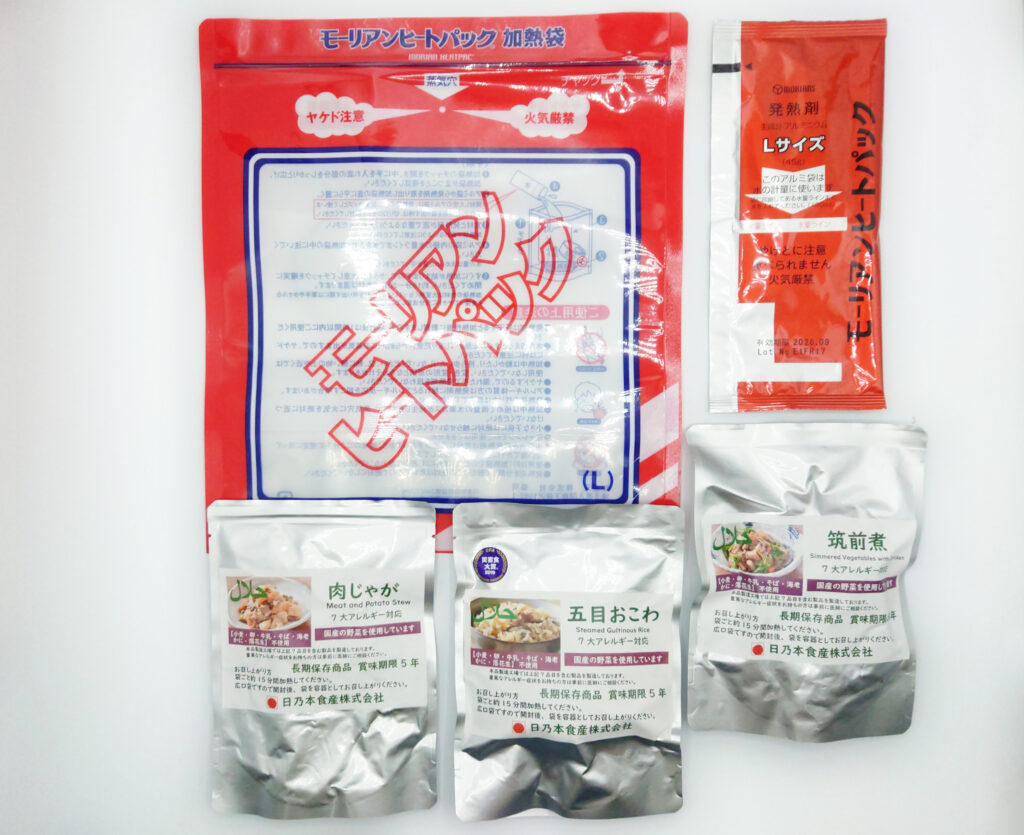 ■ To Muslims of The World:
Japan is an advanced country in preparing for natural disasters. It has among the leading hygiene standards and long-term food storage expertise in the world. Japanese food is registered as an intangible cultural heritage by UNESCO—delicious and healthy.
①Compliance to Stringent International Halal Standards
・JAKIM (Malaysia), MUI (Indonesia), MUIS (Singapore)
・Gulf Accreditation Center (GAC), Emirates Authority for standardization & Metrology (ESMA)
②Long shelf life of over 5 years
③Healthy Japanese foods
④Delicious
⑤Hygiene, sanitation guaranteed
Hinomoto Shokusan's emergency foods introduced in this article have the above 5 characteristics. Any government officials or private food businesses in Muslim countries who are interested, please contact Salam Groovy Japan. We can assist you in coordinating your business.
Contact us here


We have a network of Japanese companies keen to expand into the Halal market in Malaysia & Indonesia.
If you are interested in connecting with sustainable technology companies in Japan, simply JOIN the network from below. We will match the right one for you!