Ultra-fast freeze for fresh fish, next-gen fridge 'HybridICE'
Japan is one of the few countries worldwide that eat raw fish. Since long ago, they have exploited various methods of eating fish as fresh as possible such as fermentation, vinegar or salt, to keep the fish fresh.
Even before refrigeration technologies were in place, they had ways to regulate fish's preservation period for long-distance transport.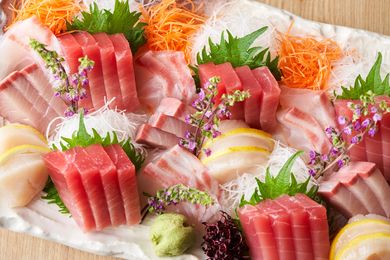 In the modern era, Japan has set up what could be the world's best cold chain and food hygiene control technology. It allows people to enjoy even fresher and tastier Japanese cuisine, such as sushi and sashimi.
The Japanese people have a keen spirit of exploring the world of eating fish raw.
Today we will take a look at BLANCTEC's HybridICE, which is a device said to be the first in the world to achieve the ultimate 'Ikejime' technique. Ikejime is a Japanese fish preparation method that paralyses fish and drains their blood. It is a more humane method of killing fish, maintaining the quality of its meat.
This revolutionary ice machine creates slurry at a -21°C temperature and salinity of 23.5%. It instantly freezes highly concentrated salt water (often considered an antifreeze). The thermal conductivity of HybridICE is 100 times higher than air blast freezers used in standard household refrigerators.
By adjusting the concentration of saltwater for ice making, HybridICE can also produce ice for different applications, from frozen to refrigerated temperatures.
The moment you catch fish, they will lose freshness due to the stress they experienced. If you do not remove the blood quickly, this will also reduce the fish freshness as their flesh will absorb the blood.
Until now, people transported the caught fish by quickly draining the blood and immersing them in ice water at 0°C.
In the case of HybridICE, which is -21°C and 23.5% salinity, live fish will freeze in just 15 seconds when put into its sludge. HybridICE quick freezing allows each fish cell to maintain its original shape, so the fish remains perfectly fresh as raw food even after defrosting.
If you use the HybridICE at -1°C and 1% salinity, you can prolong the freshness of the fish. Negative temperatures can reduce bacteria growth. And most fish do not freeze until -2°C. So -1°C is considered the best temperature for keeping fish fresh.
A 1% salinity is close to the fish's own salinity, making it less susceptible to osmotic pressure.
And we cannot forget the additional feature of HybridICE: it only uses salt and water. This means it is safer and less expensive. A truly revolutionary next-generation freezer!
Related Article:
Japan's sushi extra fresh! Deliver fish asleep


We have a network of Japanese companies keen to expand into the Halal market in Malaysia & Indonesia.
If you are interested in connecting with sustainable technology companies in Japan, simply JOIN the network from below. We will match the right one for you!