Review: Muslim-friendly Japanese food, Osechi Ryori
Salam and hello!
I recently had the chance to try Muslim-friendly osechi ryori by Hinomoto Shokusan. As I promised in my New Year blog, I want to share what this traditional food is like with all of you.
As you have read in my New Year's blog, Osechi Ryori (お節料理) is a traditional food that Japanese people eat every year during New Year. If you haven't read the blog yet, you can check it out from the Related Article section below.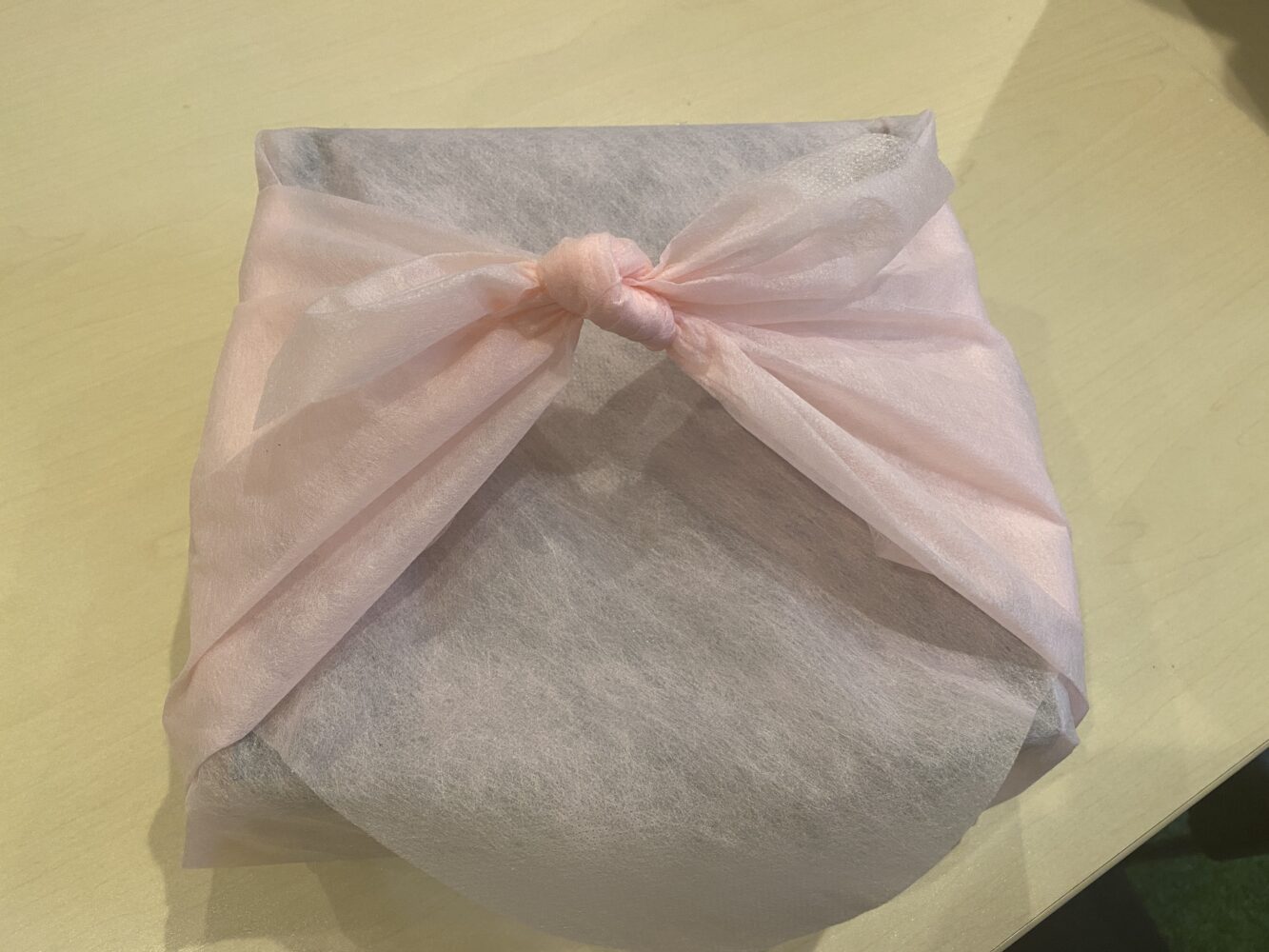 This Muslim-friendly Osechi Ryori is wrapped in a traditional Japanese way using a cloth. Just like the standard osechi ryori, the food comes in a classic, Japanese-style box. It made me geek out a bit because it looks exactly like those I saw in many anime (lol). The box definitely gives a more traditional vibe, very Japanese-like to me.
When you open it, you will find different traditional Japanese foods. Looks delish, right?! This osechi ryori is made at Hinomoto Shokusan's halal-certified central kitchen with halal ingredients. You can check out the kitchen in our interview with the CEO, including a video of the kitchen tour (link below).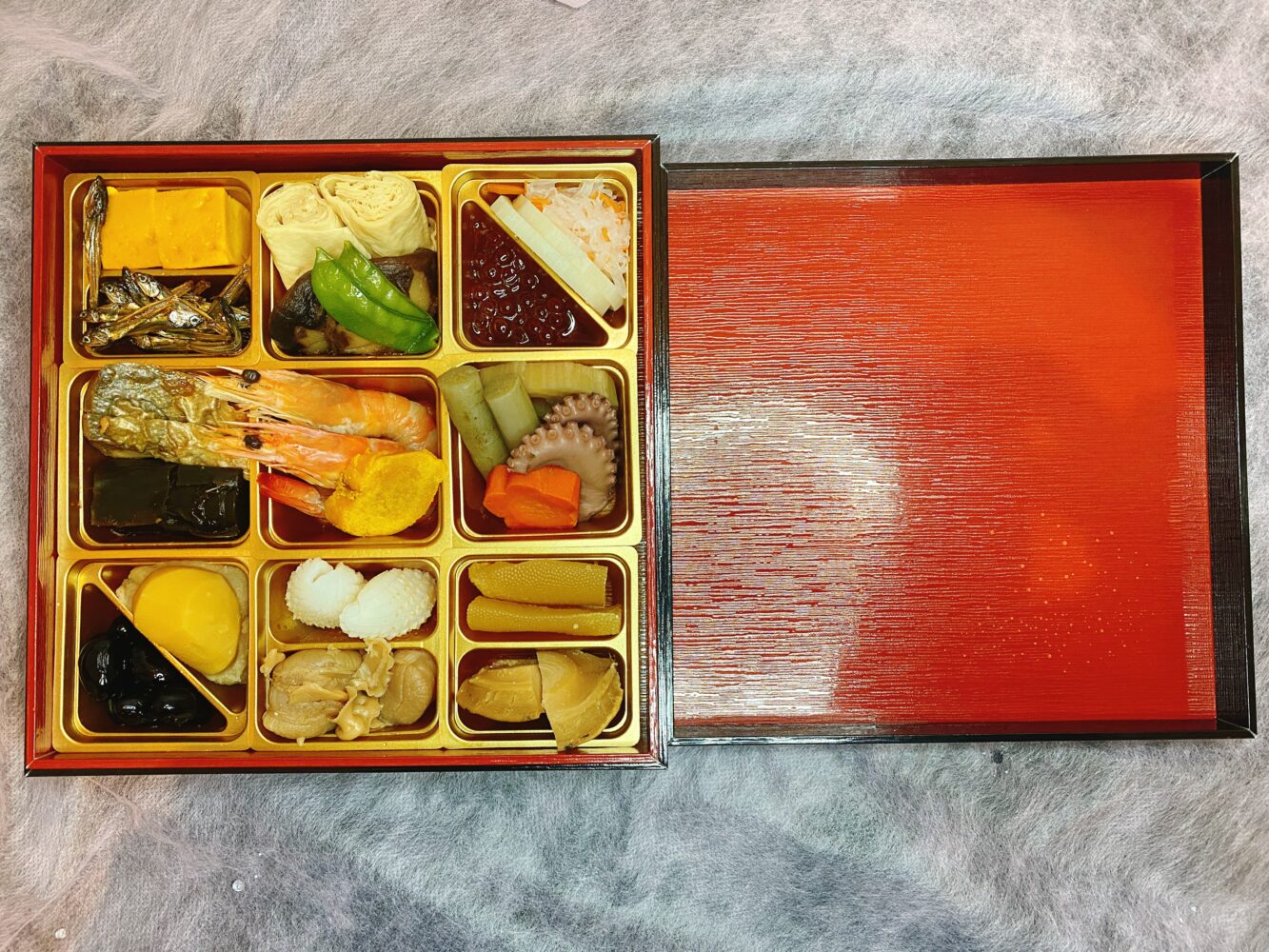 What kind of Japanese cuisines are included here?
Some of them are tamagoyaki (Japanese rolled omelette), tazukuri (roasted baby sardines coated in a sweet soy sauce glaze), tofu skin, Japanese-style pickles at the top row. Prawns, pounded burdock root (tataki gobo), grilled fish at the mid-row. Black beans, scallops, kuri kinton (candied chestnut and sweet potato) at the bottom row.
If you look at the bottom-right row in the picture, you can see 2 dishes: herring roe (kazunoko) and bamboo shoots. In Malaysia, most dishes with bamboo shoots are cut in smaller sizes. While the bamboo shoots here are big and feel firmer.
As for herring roe, this is my first time eating it. If you have never eaten this before like me, the texture may feel weird at first. It has tiny pulps on its surface, giving a sort of crunchy texture. When you eat it, those little bits just pop in your mouth—Very interesting sensation!
Although they look hard on the outside, they are easy to chew. I really liked their texture.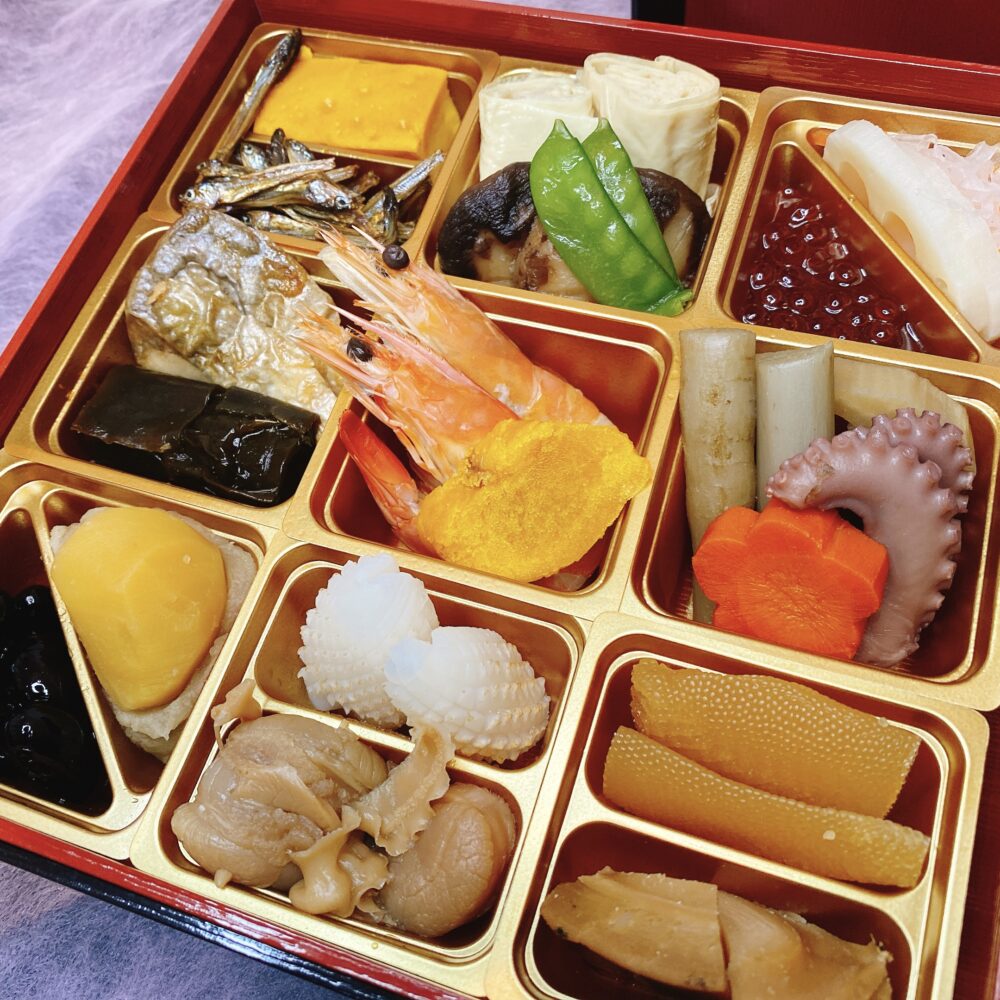 All the foods are well-cooked, well-seasoned and match each other really well. Savoury and flavourful! However, if you are the kind of person who needs at least some spiciness when you eat, you may find the flavours sort of weak. For that spicy kick, you can try eating with sambal*1, hot sauce or just plain ol' chillies. Nonetheless, I'm not exaggerating, IT…WAS…SO…DELICIOUS!!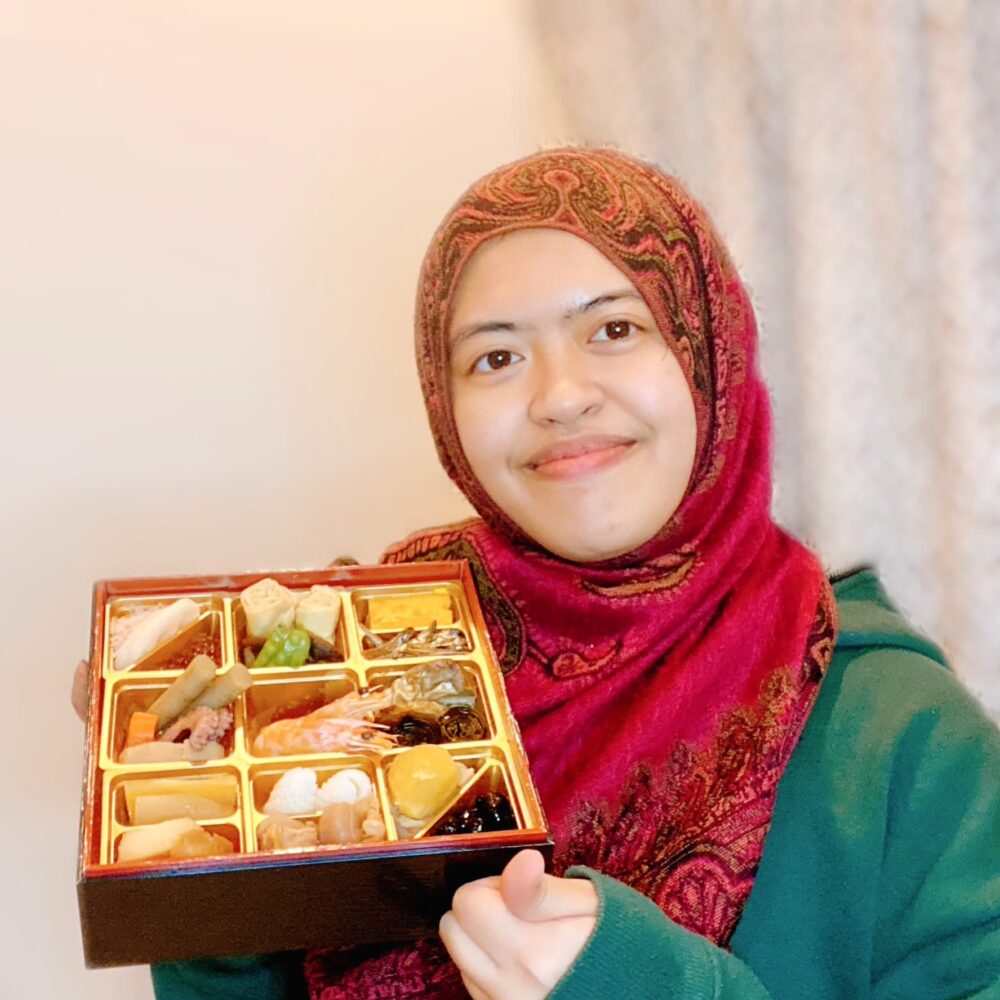 My favourite was the savoury tofu skin, juicy scallops and sweet kuri kinton. The best thing is I get to keep that Japanese-style box.
Personally, I would love to try this again. I think osechi ryori gives you a great chance to learn the less-known or unknown traditional Japanese foods. Do give it a try!
*1 Sambal: chilli pastes usually made from a variety of chilli peppers mixed with other ingredients such as shrimp paste, shallot, garlic, palm sugar and lime juice.
Related Article:
Things I find in Japan: New Year culture
Offer Halal Japanese Food: Hinomoto Shokusan Total Adherence
---
We have a network of Japanese companies keen to expand into the Halal market in Malaysia & Indonesia.
If you are interested in connecting with sustainable technology companies in Japan, simply JOIN the network from below. We will match the right one for you!