Less is More, Muslim guide to J-Beauty
Salam and hello!
J-Beauty is popular worldwide and full of innovative, high-quality products with a long history of using natural ingredients. With halal made-in-Japan beauty brands emerging in the market, let's dive deeper to see what is J-Beauty.
Did you know that the double cleansing method came from Japan? I became more familiar with J-Beauty or Japanese beauty after I came to Japan. Unlike the brands available overseas, some items sold in Japan can have pretty confusing terms.
And I have heard tourists, including Muslims, that weren't 100% sure how to use them since they don't exactly know what they are.
That's why I want to share with you what J-Beauty is all about, so you can check them out and add them to your beauty routine.
Simple, Effective, Focusing on Natural
J-Beauty is all about simplicity, meaning simple and minimal, incorporating the beauty methods long used by local women.
According to a 2018 GlobalData survey, 63% of consumers worldwide are more likely to purchase if products align well with their time and money constraints. This goes well with J-Beauty as it emphasizes the 'less is more' concept.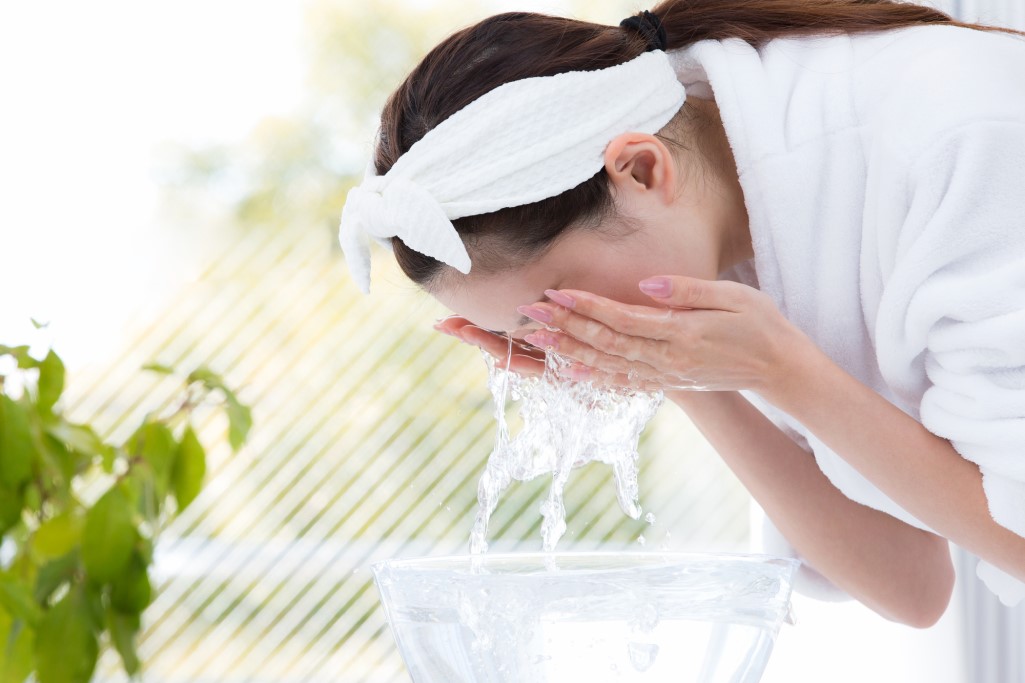 ◆ Simple routine
I also use Korean products in my routine. As a K-beauty fan, I've even tried the famous '10-step skincare routine' before learning more about J-Beauty. Compared to K-Beauty, J-Beauty involves way fewer steps in its routine.
Japanese skincare basic routines usually involve these 4 steps.
Double Cleansing (Oil + Water)
Hydrating Lotion or Essence
Serum
Moisturizer
It becomes 5 steps if you count sunscreen. Simple, right?! You can save your time even more with Japan having many multi-purpose products (e.g. 3-in-1 moisturizer).
◆Why double-cleansing
As I've said above, the double cleansing method is a common skincare practice in Japan, existing since the geisha era. As geishas use thick white-based makeup, they massaged moisturizing Camellia oil into their skin, rinse and wash away with a foaming cleanser. 
Why is it good for your skin?
It deep cleans your face by washing with an oil-based and water-based cleanser. In Japan, they call it 'W (double)-cleansing', washing dirt, excess sebum and makeup residue off your skin. This method helps prep your skin better to absorb the benefits of the products you're using in your routine.
◆ Particular care with ingredients
J-Beauty combines tradition with science-driven, high-tech formulas, just like the cleansing method. It cares a lot about what ingredients it uses in its products, ensuring the ingredients are of the best quality with high functionality.
The products mainly use naturally-derived ingredients, such as green tea and rice. Also, J-Beauty products tend to have fewer chemical additives.
Nourish & Protect are Keys to Glowing Skin
J-Beauty highly focuses on skin prevention care from an early age to get that clean, glowing skin. Japan also uses the 'mochi-hada' term (mochi skin), meaning very soft and plum skin like the Japanese dessert mochi. This involves a lot of HYDRATING and PROTECTING your skin.
Japan is really big on HYDRATION. This is different than moisturizing. Hydration involves a humectant ingredient (e.g. hyaluronic acid) to draw hydration [water] into the skin. Where as moisturization [oil] seals that hydration. You can easily find many Japanese products, especially in the toner category, that provide double-hydration for the skin.

Besides hydration, Japan abides by using sunscreen to PROTECT the skin. We all know that ultraviolet rays from the sun are harmful to the skin as they can cause skin cancer, ageing, dark spots and so on. UV rays have two types of rays: UVA and UVB rays.
・UVA rays: have longer wavelength that penetrate more deeply into your skin, causing skin ageing.
・UVB rays: have shorter wavelength that attacks mostly the top layer of the skin leading to sunburn and cause skin cancer.
That is where sunscreen comes in as it helps lower those UV-related risks. For most effective skin protection, you need an item that can block UVA and UVB rays. And Japanese sunscreens are popular overseas since most can block both rays.
Confusing Skincare Terms
As a Muslim, I'm already wrecking my brain trying to read the Japanese writing, then you add the unfamiliar English term on the Japanese packaging to that—more confusion!! Similar to overseas products, Japanese ones also use the words 'Toner/Serum/Ampoule/Moisturizer'. But there are other variations they use to refer to the same product, especially the toner category.
Here's a simple guide to go through those confusing terms.
◆ Toner: Lotion/Emulsion
Keshou-sui (化粧水) usually written as 'Lotion' in English on the packaging. Yes, that is the same word usually refer to that white cream you put on your body. Misleading, isn't it?! 'Lotion' has a similar watery texture as the Western toners.
Some brands also come out with Nyu-eki (乳液), which often call 'Emulsion' or 'Milk' in English. Nyu-eki is technically a creamy lotion that you supposed to use after Keshou-sui. You can find brands that include both Keshou-sui and Nyu-eki in its product line. In this case, it is intended to hydrate your skin with Keshou-sui, then prevent the skin from losing that water with Nyu-eki.
Nonetheless, both are meant to prevent water loss.

◆ Toner: Skin Conditioner/Skin Softener
Skin Conditioner (スキンコンディショナー) and Skin Softener are also part of the Japanese toner category. They give double-hydration to soften, hydrate, and prep the skin for more hydration.
Texture-wise—they are not exactly toner. But you can use them like the Western toners; often used between the cleansing and moisturizing steps in J-Beauty routine.
◆Serum: Biyou-eki (美容液)/Essence
Biyou-eki (美容液) roughly means 'beauty water'. Sometimes, brands spell it in Japanglish [Japanese English] as エッセンス (essence). Both are beauty serums, so you can use them as any regular serum or ampoule.
◆Moisturizer: Cream (クリーム)
To lock everything into your skin, you must end your beauty routine with a face cream (クリーム). Thankfully, Japan also calls it as 'Moisturizer' or 'Cream' in English like overseas brands. In Japanese, they often use the word, cream (クリーム).
Toners of some Japanese brands technically have different textures even though they call the product the same name. For example, Brand A and Brand B calls their toners as 'Lotion'. Brand A toner has a watery texture, while Brand B is more creamier. So, I recommend you use the beauty products in your routine based on the 'applying thinnest to thickest' rule.
FYI, the products listed on this section are not halal-certified. If you want to buy them, please check the ingredients before purchase.
Discover Halal Japanese Beauty
When we think of J-Beauty, brands like SK-II, Shiseido, DHC and the likes will pop into our heads. But did you know that Japan has its own Halal Japanese beauty lines? In recent years, I have seen a few Halal Japanese beauty products come and go in the market. And you may have seen some introduced on Salam Groovy Japan.
◆ VKSARA
An organic skincare line by Vy Krásný. It is suitable for everyone of all ages as the products are gentle on the skin. The line is Halal-certified by Japan Islamic Trust (JIT)*1.
Check out the other products in our article, along with our exclusive interview with the company [link below].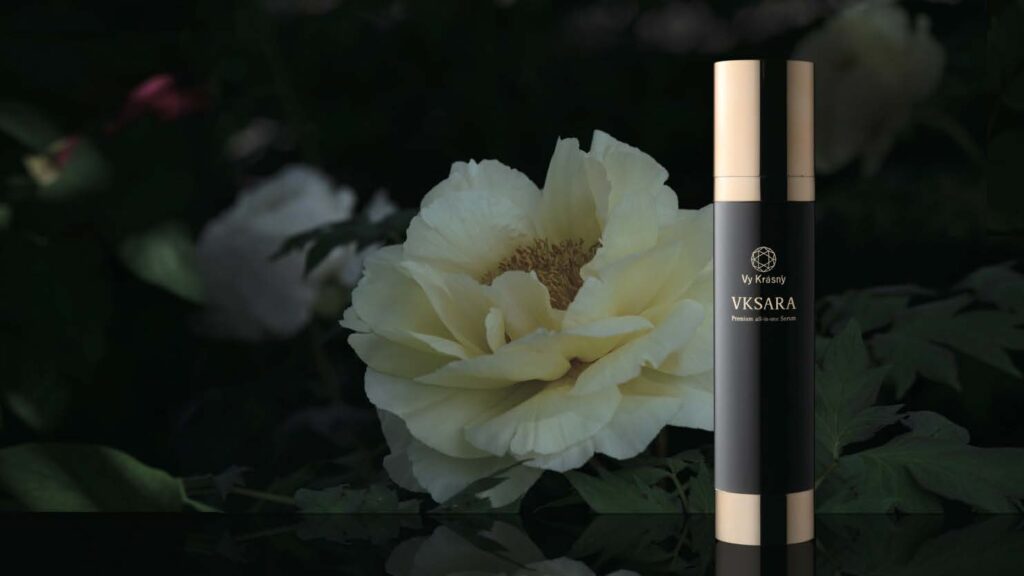 ◆HAPPINESS BEAUTE
A halal-certified, cruelty-free, clean skincare line by the long-established Momotani Juntenkan. See the article for more info [link below]. The Halal cert. is by Nippon Asia Halal Association (NAHA)*2.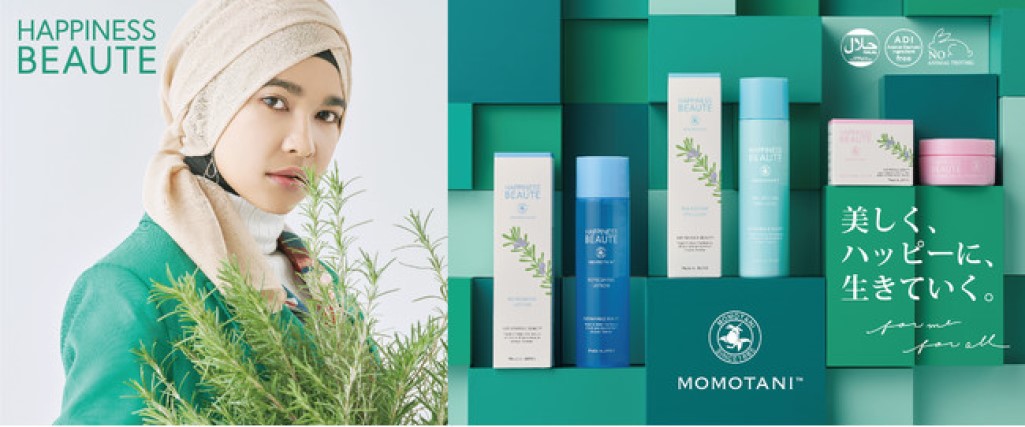 ◆ MOMOHIME
This skincare series is one of the earliest Halal Japanese skincare line. I've seen it sold in some Halal restaurants in Japan. The Halal cert. is by Japan Islamic Trust (JIT).
Its skincare trial set is currently available for you to try through our Muslim Influencer project. Go to our exclusive page for more info and apply now [link below].
If you're a skincare beginner, J-Beauty is a good start since it doesn't involve many steps. With its multi-purpose products and simplicity, it can help save your time, especially for busy people.
Nonetheless, skincare is a long journey. Even if we may have the same skin condition—dry, oily, acne, pigmentation, redness, etc—each product may work differently on your skin.
Who knows, maybe J-Beauty is the ONE for your skin. So why not add them in your routine?!
*1 JIT: a Japanese Islamic body operating mosques, Islamic school and issuing Halal cert in Japan. It has mutual recognitions from the highly rigorous EIAC (United Arab Emirates) and JAKIM (Malaysia).
*2 NAHA: a Halal issuing body in Japan, accredited by MUIS (Singapore) as a Halal certification body. The auditors are fully qualified by Halal Industry Development Corporation (HDC), the training body of JAKIM, to train people all about Halal.
Related Article:
Birth of The Organic Halal Skincare from Japan
Halal-certified beauty line to debut by Japan's cosmetics veteran
007. Halal Skincare "Momohime" Trial Set
Also see:
Halal-certified Premium Japanese Cosmetics to The World: Vy Krásný


We have a network of Japanese companies keen to expand into the Halal market in Malaysia & Indonesia.
If you are interested in connecting with sustainable technology companies in Japan, simply JOIN the network from below. We will match the right one for you!