Conducted Halal & Islamic market workshop in our company
Salam Groovy Japan operator J-Line consists of different divisions and teams involved in recruitment support, web marketing, e-commerce, regional promotion, and overseas project.
We conducted an in-company workshop for the members outside of the overseas project team to learn the basics of Halal and the Islamic market to be prepared for future collaboration.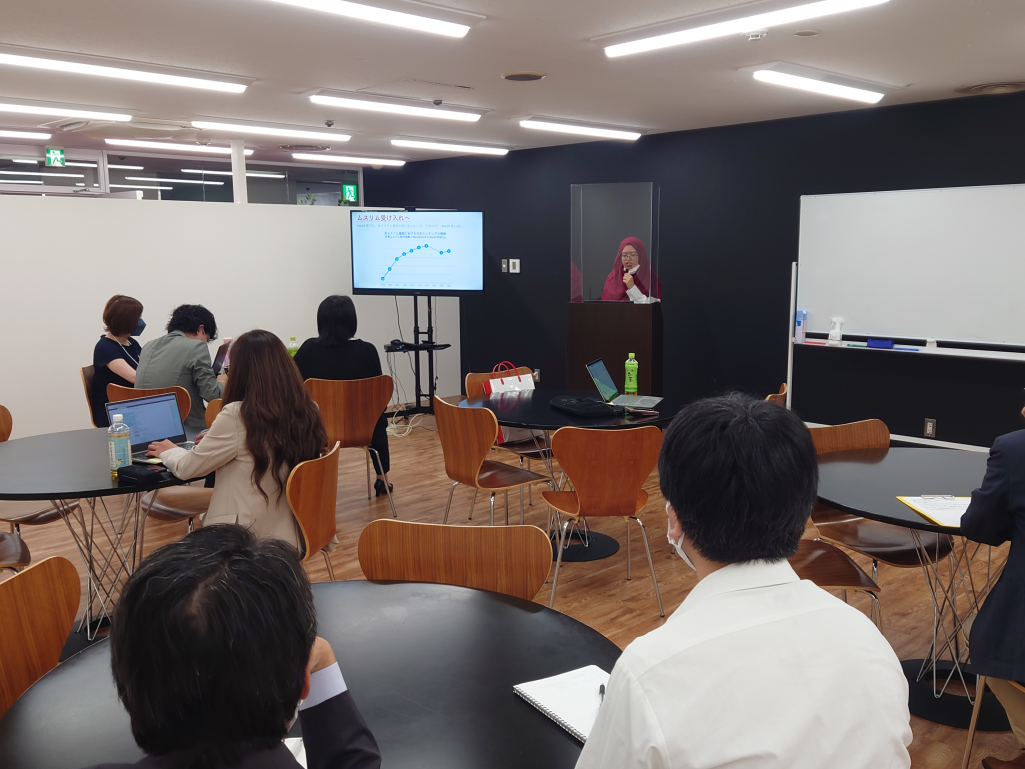 About The Islamic Market
Can you guess how many Muslims occupy the world's population?
The Islamic market is, in fact, huge, with Muslims occupying about 1/4 of the world's population, mainly in Southeast Asia and the Middle East.
And these regions are expected to expand their population more and more, rapidly expanding to about 1/3 of the world's population by 2050.
As the population decreases in Japan, maintaining and developing an economy driven only by domestic demands is a challenging and unrealistic problem. So, we at Salam Groovy Japan turned our focus to the fast-growing Islamic market, especially the ASEAN Islamic market centred on Malaysia and Indonesia, which have large populations. Plus, Malaysia is also where our subsidiary, JL CONNECT, operates. In this workshop, I (chief editor Okuma) was the one covering the topic of these markets.
On top of other hurdles in venturing into foreign markets, understanding the precept of Halal, which is unfamiliar to the Japanese, is essential to penetrate the Islamic market. In many cases, companies tend to exclude the Islamic market as an option due to the difficulty of accommodating Halal. But when you consider the future growth potential of this market, having a proper understanding and compliance with Halal is a must.
The fact that the market still has little competition might even make NOW a great time to be ready for Islamic market entry.
About Halal
Many people hear about the word 'Halal', but only a small percentage of the Japanese business community has a clear understanding of what it is.
To shed some light on the subject, I–a Malaysian-born Muslim–Iman, talked about the fundamentals of Halal.
When Muslim tourists visit Japan, I often hear concerns like "What food we can eat" or "What about praying". Some people even bring their own condiments, such as sugar and salt.
As a Muslim myself, FOOD was my main concern when I first came to Japan, which was a time when Halal restaurants and products were few. I could manage by reading the Japanese labels. But when I think of non-Japanese speakers, finding Halal food on their own may be hard since they can't read the labels nor confirm the ingredients directly.
In addition, many more Muslims demand services and products in line with their faith as their interest in diversity, quality, and so on increases. This is why the 'availability of Muslim-friendly services' is set to become an important factor in Muslim consumption and travel behaviour.
Living in Japan, the number of Muslim-friendly restaurants, services, and the like has gradually increased. But I feel the understanding of Islam and Halal is still not enough. I noticed some people in Japan have misunderstandings like "as long it's no alcohol-no pork, it's OK for Muslims" or "Halal is for Muslims ONLY". Well, these are NOT 100% TRUE.
Japan is a Muslim-minority country, so I understand that many things may be unfamiliar to them. They may also face certain difficulties and have uncertainty when it comes to accommodating Muslims.
In this workshop, I explained what is OK and what is NOT, from Halal certification to the Muslim-friendly concept, so that the other team members can learn and understand what 'Halal' actually is.
Many employees during the workshop showed great enthusiasm. So we are planning to continue holding our in-company study session on the Islamic market and Halal to ensure that each and every one of us at J-Line can be fully prepared for Muslims visiting Japan for pleasure and other purposes. We also hope to pass on what we have learned to our business associates.
Related Article:
Halal 101: From syubhah to halal
Ensuring quality through Halalan Toyyiban


We have a network of Japanese companies keen to expand into the Halal market in Malaysia & Indonesia.
If you are interested in connecting with sustainable technology companies in Japan, simply JOIN the network from below. We will match the right one for you!