NinjaPaste: A new healthy low-carb & low-calorie source, Sydecas
Say hello to the developer behind NinjaPaste, which uses konnyaku as its key ingredient— the food tech company Sydecas Inc. Launching the NinjaFoods brand, they offer an array of products catering to people with food restrictions.
Find out all about the features of this ingredient and future developments with the company's president, Mr Masahiro Yoritama.
When the company first started in 2016, our core business was planning and developing clothing and accessories for nursing and medical care. Food on display at medical exhibitions looked unappetising, so we asked ourselves, "What can we do to make people enjoy their medical treatment through food?". This is how we went into the food business.
Later, we focused on KONNYAKU as a healthy alternative for people with health concerns or dietary restrictions. Konnyaku is made by drying and grinding konnyaku potatoes to make konnyaku flour, hardening it into a paste with water, with konnyaku flour being a mass of dietary fibre.
Although konnyaku potatoes are believed to originate from around Malaysia and are widely distributed in Southeast Asia, it is only in Japan that it is widely eaten as part of the daily diet. This is probably why Japan is one of the few countries in the world with varied cuisine using konnyaku and a high interest in actively utilising this ingredient.
Moreover, Japan has a history of studying and using konnyaku as an adhesive alongside glue and lacquer, mainly in the industrial field. The idea of reapplying that to foods led us to perfect the NinjaPaste, which is made from konnyaku potato. NinjaPaste is low in calories, rich in dietary fibre and assimilates well with other foodstuffs, just like a 'ninja'.
Then in 2020, the NinjaFoods brand was launched. We have recently started selling NINJA JERKY as an original product under this brand.
The NINJA JERKY lasts a long time at room temperature; It is plant-based and sugar-free. With a satisfying chewiness that will even satisfy your hunger, it makes the perfect treat for your snacking pleasure. Preparations are in progress to obtain Halal certification.
We presented products seasoned with Halal soy sauce and Halal hot pepper paste at an exhibition in Dubai, hoping to offer them as healthy food products to Islamic countries where diabetes is prevalent.
As they were universally well-received as an alternative binder (substitute for food binders) and highly appreciated as "very good and healthy", we plan to make further improvements and supply products matching local market needs.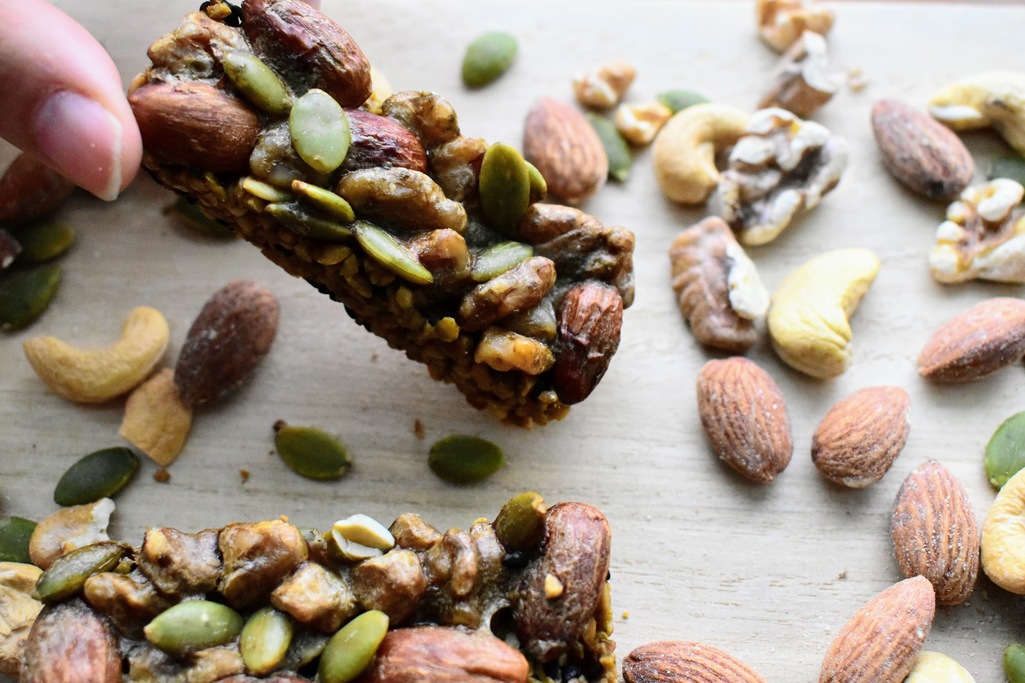 And now, our latest development initiative is a NUT BAR. Something that occupies many more shelves in UAE food outlets compared to what can be found in Japan.
Most nut bars are hardened with chocolate, dates, flour and sugar, which can be very high in sugar and fat.
However, by using our NinjaPaste as a binder, people can produce a very healthy product. As the paste does not melt with heat, the product will not be sticky and can be stored at room temperature.
Unlike chocolate and sugar, it has less effect on the taste, so you can use it to develop more than just sweets. The possibilities are endless.
We are currently working on new products for next year's exhibition to introduce them as a very healthy 'Japanese Snack'.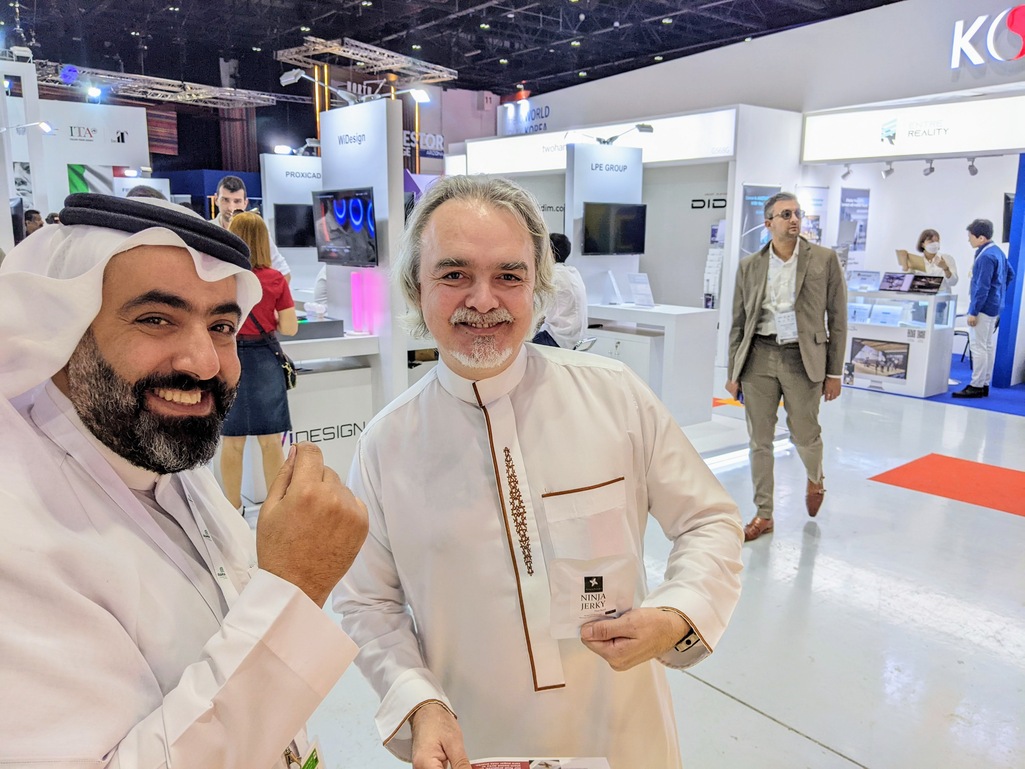 NinjaPaste is also highly compatible with processed foods such as hamburgers and sausages, thanks to its moisture-absorbing properties that could make the food so juicy. Since the local sausages we ate there were dry compared to Japanese ones, we would like to introduce such uses in the future and see how people react to them.
Meals are not just about nutrition. NinjaFoods wants to create a joyful time for everyone to eat without worrying about things like calories, so we will continue developing products that anyone can casually eat.
In collaboration with various food manufacturers, our key focus is to explore new possibilities and develop products using NinjaPaste.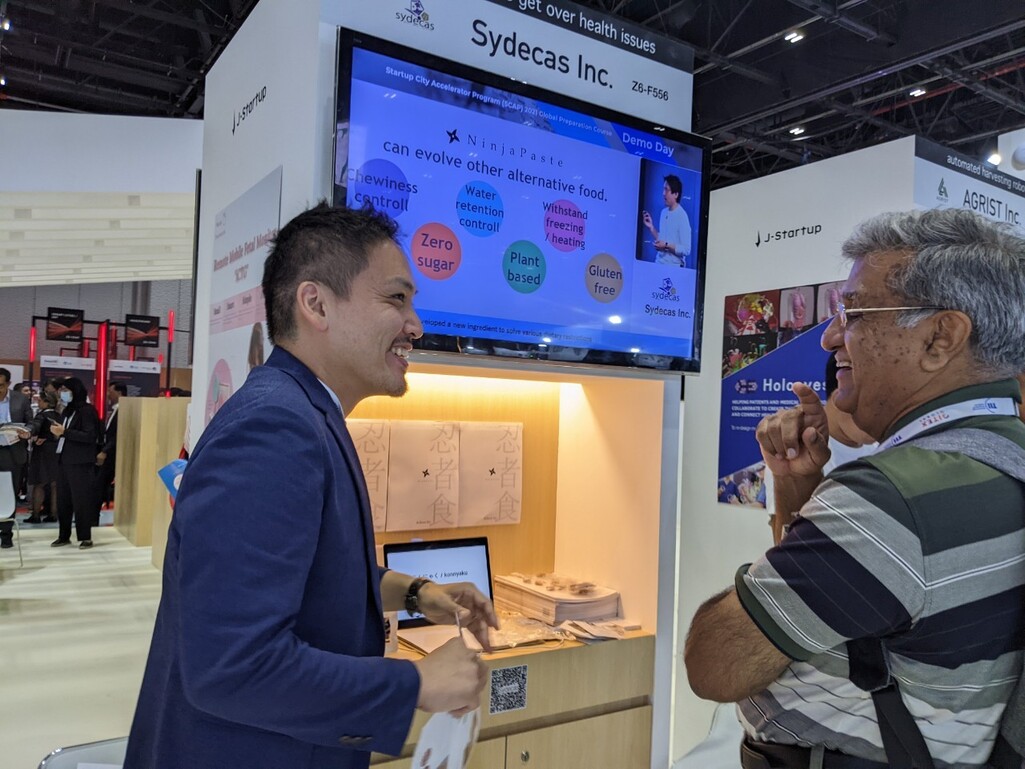 At the moment, we are expanding into the Middle East first, but of course, Southeast Asia is also in our sights.
The nut bar we are currently working on is also very healthy, just like our NINJA JERKY, so we are sure you will love it. Keep an eye out, as it's coming your way soon.
< Business Profile >
Company name: Sydecas Inc.
Head office: 2F JA Bldg., Jikemachi-621, Kakogawacho, Kakogawa, Hyogo 675-0066
Business outline: Foodtech business / Online factory tour business
Official HP: Sydecas Inc.
Online shop: NinjaFoods
Pre-sale: Makuake


We have a network of Japanese companies keen to expand into the Halal market in Malaysia & Indonesia.
If you are interested in connecting with sustainable technology companies in Japan, simply JOIN the network from below. We will match the right one for you!