TOYAMA HALALFOOD GIFTBOX by Toyama firms to offer halal gifts
5 companies in Toyama Prefecture collaborated to develop 'TOYAMA HALALFOOD GIFTBOX', a Muslim-friendly Toyama gift with mostly halal-certified products. Japan Halal Business Association (JHBA) took part in this project as the adviser.
We spoke with Representative Director Sakuma of JHBA about the Muslim-friendly scene in Toyama Prefecture and how the Halal gifts came about.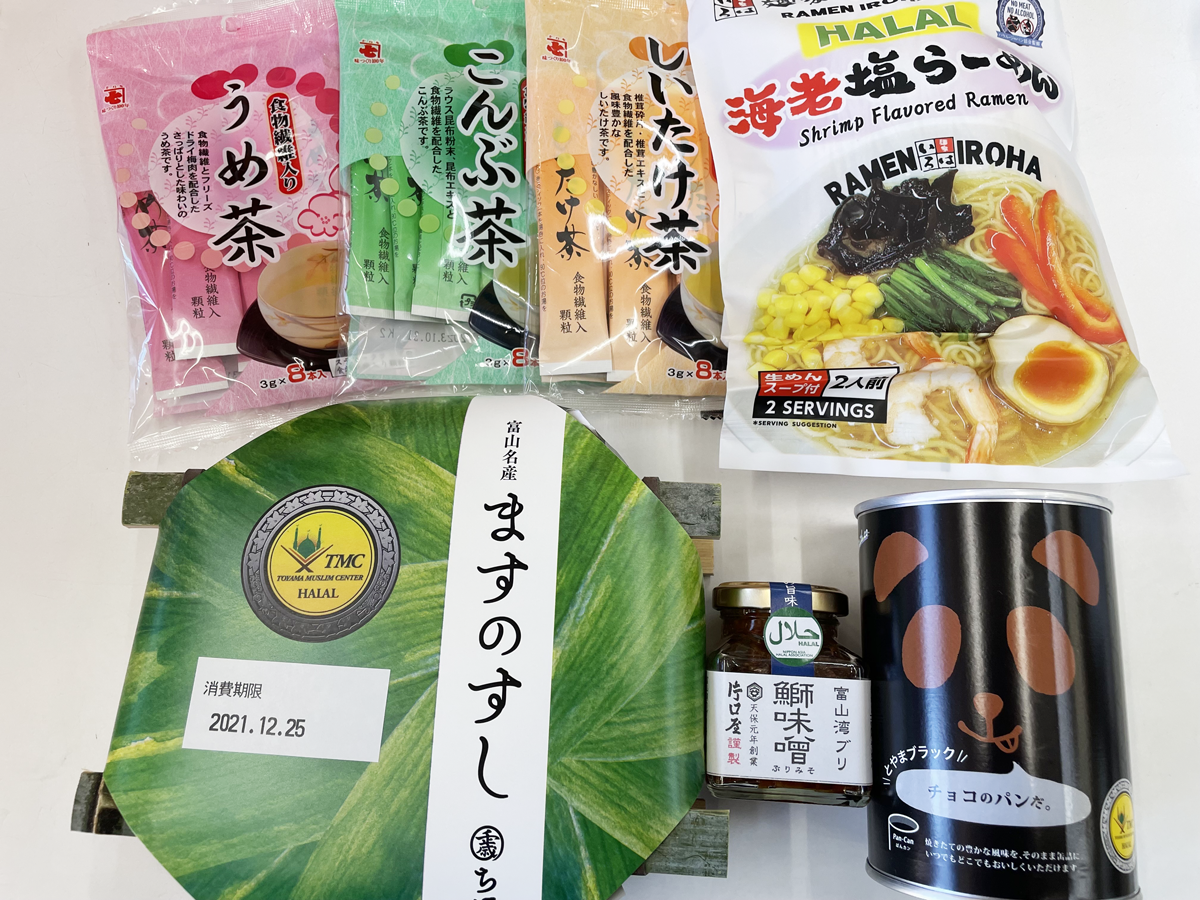 According to Director Sakuma: "Toyama Prefecture has a large community, including many Muslims living in Japan who work in the second-hand car dealership business. There are also many students from Malaysia and Indonesia studying here". "Compared to other prefectures, the region has more Muslim-friendly companies". Toyama Prefecture has been promoting Muslim-friendly restaurants since 2017 through the 'Southeast Asian, Foreigner-friendly Restaurant Promotion Initiative (東南アジア等外国人対応飲食店育成事業)'.
Due to the Covid-19 pandemic, inbound and domestic tourism demands are dropping in Toyama. Thus, five companies producing Toyama's specialities, including Chitose (maker/seller of 'Masu no Sushi'), have come together to launch the TOYAMA HALALFOOD GIFTBOX project. In the project, JHBA joins as an adviser through Toyama Prefecture's 'Inbound Support Skill Up Seminar / Expert Individual Tour Operation (専門家個別巡回事業)'. As a result, the TOYAMA HALALFOOD GIFTBOX was born, composed mainly of halal-certified products.
Shortly after the project kicked off, the participating companies were doubtful whether halal gifts would really sell. But once the sales began, orders started pouring in from Islamic organizations, reaching 1/5 of their annual sales target just one month after the beginning of sales. They are making steady progress in this project sales.
Going forward, they plan to revamp the gift sets by adding new products. Director Sakuma wishes: "We would like to continue and expand this project to show everyone how the local specialities of Toyama are halal-compliant and Muslim-friendly".
List of Participating Products/Companies of TOYAMA HALALFOOD GIFTBOX
Product Image
Product Name
Company Name
Masu no Sushi
CHITOSE
Ramen Iroha Black Soy-sauce Ramen
Ramen Iroha Shrimp Flavoured Ramen
TENTAKAKU Co., Ltd.
Toyama Bay Wild Yellowtail Miso
KATAGUCHI-YA
Panda Can (Pan-Can)
FAITH Co.,LTD.
Kombu (kelp) Tea (with dietary fibre)*
Shiitake Mushroom Tea (with dietary fibre)*
*In progress for halal certification
KANESHICHI Co., Ltd.
For Reference:
About seminar on inbound preparations ahead of Toyama Prefecture's tourism recovery period / Toyama Prefecture (in JAP)


We have a network of Japanese companies keen to expand into the Halal market in Malaysia & Indonesia.
If you are interested in connecting with sustainable technology companies in Japan, simply JOIN the network from below. We will match the right one for you!


Participating Products of TOYAMA HALALFOOD GIFTBOX Project
Company Name
Product Name
Product Image
CHITOSE
Masu no Sushi
TENTAKAKU
Black Soy-sauce Ramen
or
Shrimp Flavoured Ramen
KATAGUCHI-YA
Yellowtail Miso
FAITH
Panda Can
KANESHICHI
Kombu (kelp) Tea
Shiitake Mushroom Tea
*In progress for halal certification