Why tasting is vital? A step to spread out halal Japanese food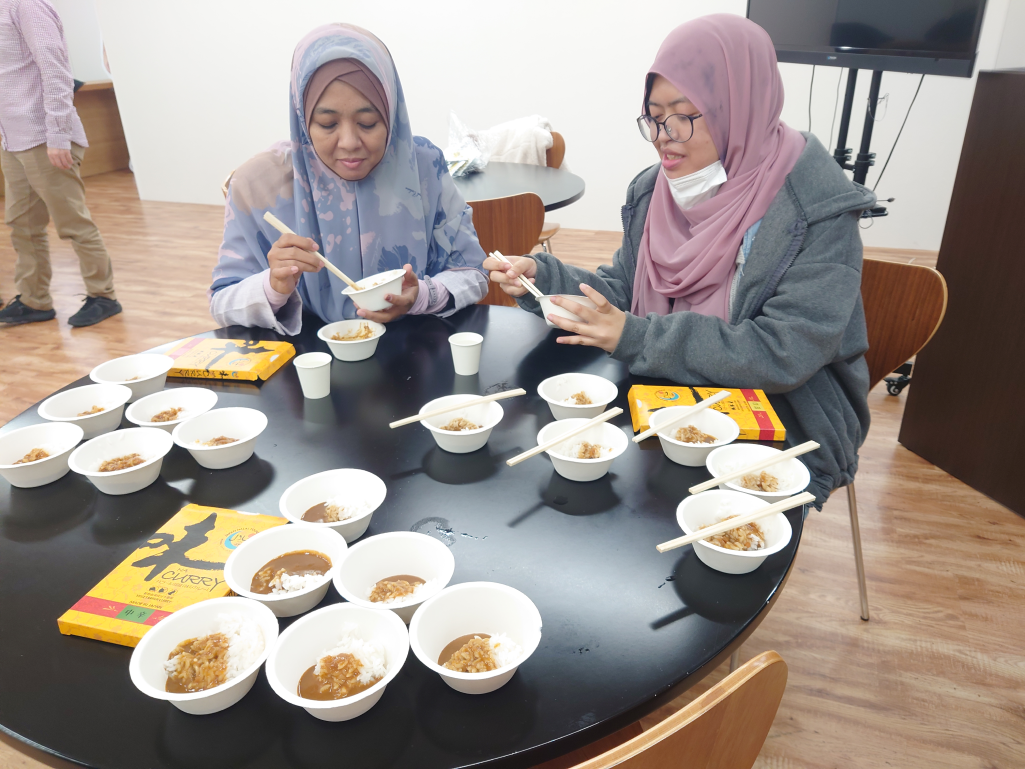 Hello, this is Salam Groovy Japan's Chief Editor Okuma back with another blog.
From time to time, we receive Japanese halal food products at our office as samples. So we would conduct taste-tasting session sometimes within our company, where both Muslim and non-Muslim Japanese staff can join.
On this day, the participants sampled Freedom Ramen, a range of halal cup noodles certified by Singapore's MUIS, and retort curry range developed by a one-Michelin-starred Kappo*1 cuisine restaurant (certified by Japan Halal Foundation*2).
Also joining the group were Director Hashimoto of JL Connect (our Malaysian subsidiary), and Representative Dazlina of Islah Venture (our Malaysian strategic partner), who happened to be visiting our head office. The session turned out great as we also got to try out Malaysian products, such as Malaysian dodol (sweet toffee-like confection), lattes and sambal (spicy chili paste), which Mrs Dazlina is currently marketing in Japan.
There are non-Muslims who think that halal food is for Muslims only, and this can be seen a lot among Japanese too. Of course, conducting tasting session will allow more and more Muslims to discover all kinds of halal Japanese products.
But apart from that, this kind of tasting session, where even Japanese people can try halal food, could help get rid of the misunderstandings they may have to better understand what halal food really is.
With food, there is a lot of info you can only discover after actually eating it. In business operations, tasting is important to capture all those pieces of information, that cannot be communicated through the internet or data alone, for product improvements and such.
You can say that tasting is "the first step in understanding the market (=marketing)".
As such, Salam Groovy Japan is also aiming to strengthen our system in providing more opportunities for Muslim Sampling Session to Japanese halal food product sellers. So we can let more people know about halal Japanese products, towards making them more easily accessible everywhere.
*1 Kappo cuisine (割烹料理; Kappo-Ryori): this is a type of Japanese fine dining with multi-course meal that is left entirely up to the chef. Kappo restaurants mostly have counter or table seating where you can watch the chef (the "itamae") cooking
*2 Japan Halal Foundation (JHF): an international-level Japanese certification body with mutual recognition with JAKIM (Malaysia) and MUIS (Singapore)
Related Article:
Held the 1st Halal Japanese Food Tasting Event / Salam Groovy Japan
Halal cup noodles to boost food diversity in Japan, Grit Capital


We have a network of Japanese companies keen to expand into the Halal market in Malaysia & Indonesia.
If you are interested in connecting with sustainable technology companies in Japan, simply JOIN the network from below. We will match the right one for you!