Halal food of Japan assemble! 9th Halal Market Fair Report
The 9th Halal Market Fair, Japan's largest BtoB specialised event for Muslim inbound and exports to the Muslim world, was held at Tokyo Big Sight for 3 days from 13 April 2022. Here is Salam Groovy Japan staff report on the exhibitors that our editorial team met at the venue.
The Halal Market Fair is part of the Premium Food Show 2022, which brings together food and ingredients for a diverse dietary needs. The exhibition booths divided into categories like Halal, Veg (vegan and plant-based), Gluten-free and Organic.
Overall, the Premium Food Show attracted a total of 37,781 visitors over the three days. This was 1.4 times more than last year, showing the significant interest in diversified foods.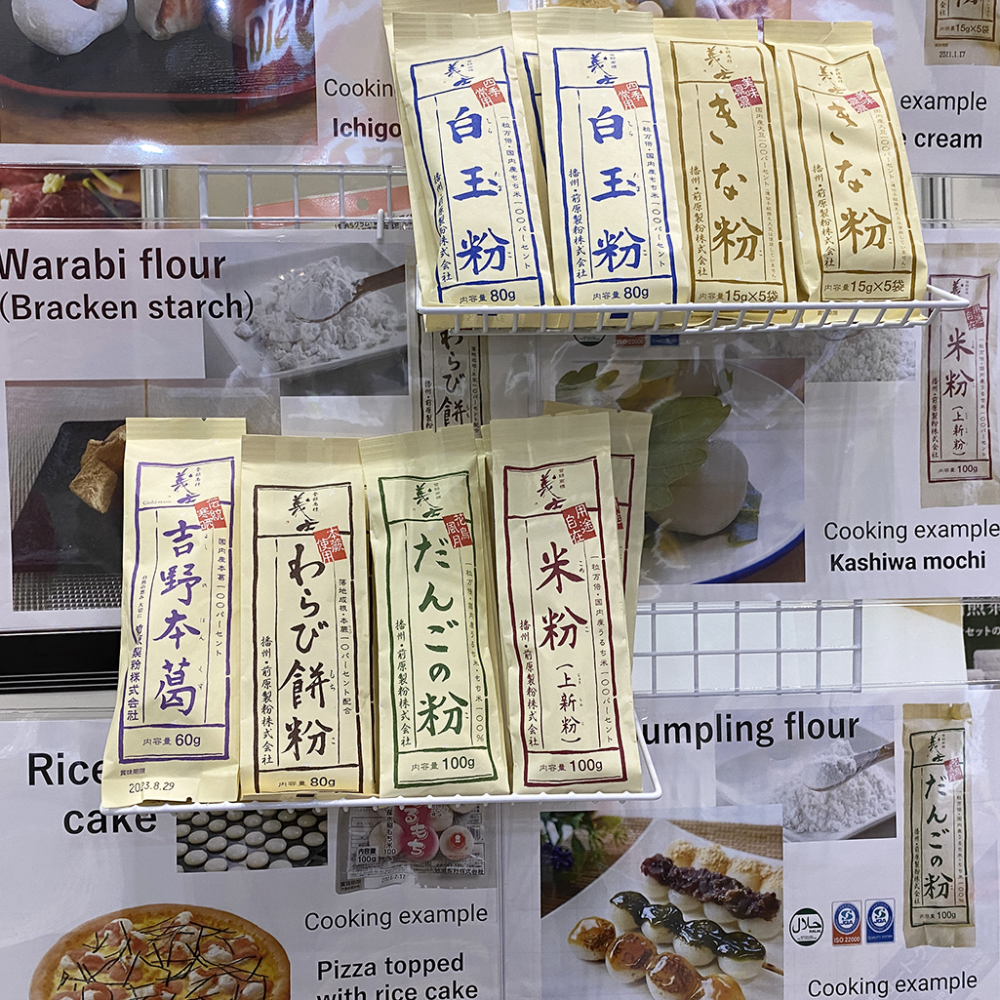 The first company we visited was Maeharaseifun Limited Company. Besides kinako (soybean flour), various types of Japanese flour and rice cakes such as shiratama flour, warabimochi flour (bracken starch) and kudzu powder were on display. The company has already made its way into Europe, the USA and Islamic countries. Japanese flour are from plants such as soybeans and bracken. But they got Halal certification for Muslims to feel more secure about buying their products.
Our staff tried the kinako sample he received with kudzu-mochi after returning home. It has that nice roasted taste, so good! Kinako is rich in protein and plant fibre; it is a very healthy Japanese sweet ingredient. We would recommend this to health-conscious Muslims.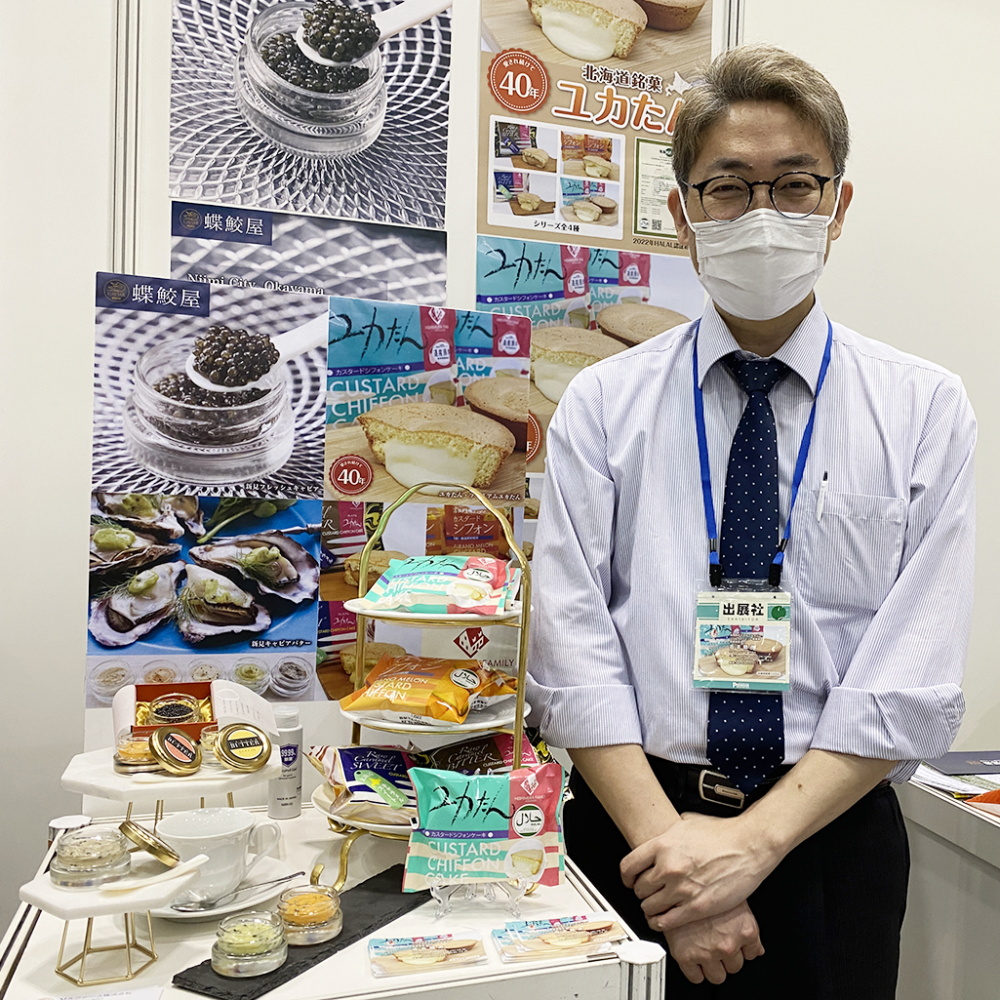 Dosanko Energy exhibited YUKATAN, a famous Hokkaido confectionery that is Halal-certified and made using only Hokkaido ingredients. Available in a frozen type for long-term storage and a refrigerated type for immediate eating. Previously sold in Hokkaido only, the Nishimura Family's YUKATAN is now available overseas.
After trying the sample, its soft-mild sweetness recharged our staff's energy.
For more in-depth story on how Dosanko Energy, a renewable energy business, started selling sweets, see Salam Groovy Japan's coverage below.
Fascinated by the cute logo, we visited the Apple & Snack Co. booth, displaying Apple Snacks, snacks made from 100% Aomori apples. They just obtained Halal certification on 3 February. This healthy snack contains no additives or preservatives.
Aomori's souvenir revenue has plummeted due to the Covid-19 pandemic. The company has expanded into Singapore to build a system that won't rely entirely on tourism revenue.
The Apple Snack Red (sweet and sour) offered for tasting has a delightful crunchy texture, with a subtle tartness and sweetness, just like an apple! They say that each apple variety has a different taste, so it would be fun to compare the flavours.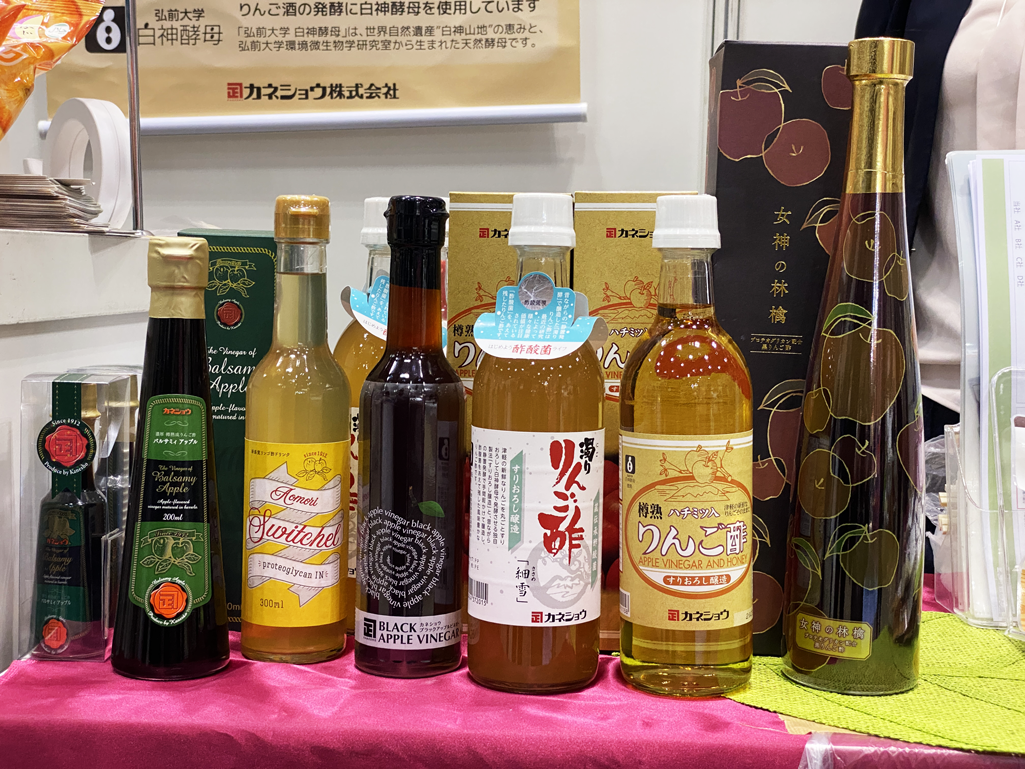 LOCOLABO Inc, which provides support to companies in developing sales channels, also exhibited products of Aomori. On display was apple cider vinegar from Kanesho Corporation, made from 100% ripe Tsugaru apples. Apple cider vinegar is said to be effective for weight loss, lifestyle-related disease prevention, skin beautification, and relieves fatigue.
Our staff tasted the 'Goddess Apple' (女神の林檎), which contains the beauty ingredient proteoglycan. He enjoyed it so much that he later purchased it.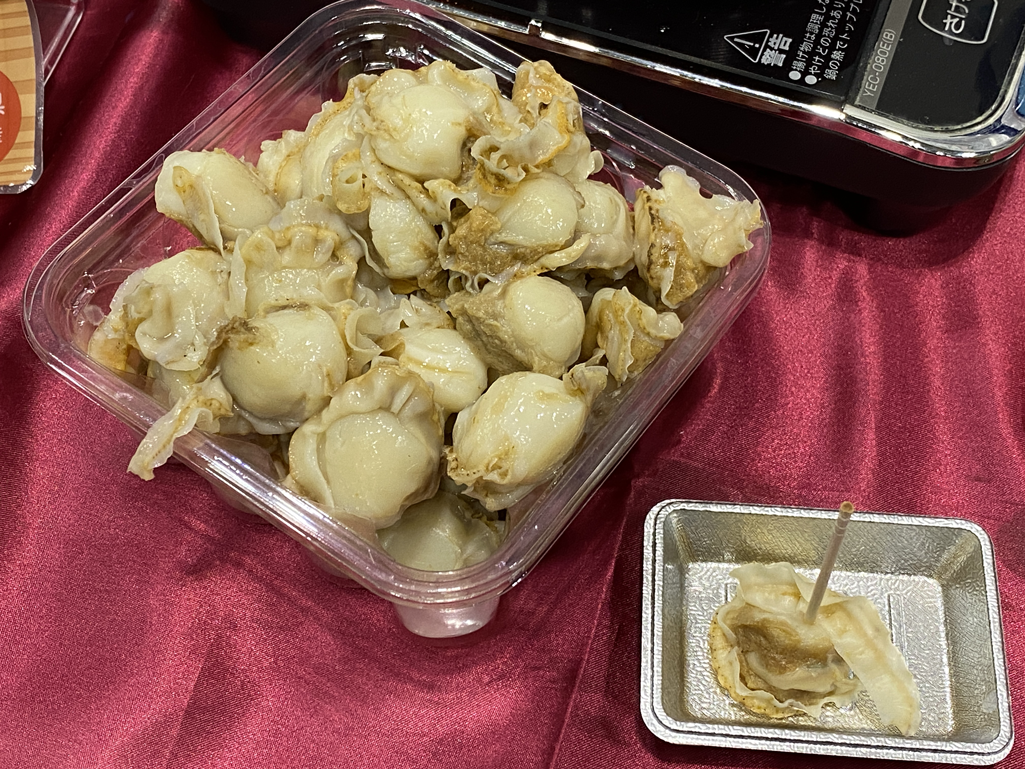 Next up is also from Aomori Prefecture, with Ajinokakunoya exhibiting products of Hachinohe. 'Yuagari Scallops', boiled scallops caught in Mutsu Bay, were exhibited. They have a plump firmness with a high umami flavour. Certification will be obtained very soon, and the company is considering exporting to Malaysia.
Isokoma Nori from Shizuoka Prefecture. They exhibited lattes mixed with laver and furikake*. To cope with a poor seaweed harvest, the idea of 'mixing' seaweed with furikake jumped started their latte production. As the ingredients are Halal, they exported to the Middle East before obtaining Halal certification, then got the certification to launch in Malaysia. Strawberry and green tea lattes are apparently popular in Malaysia.
*Furikake: Japanese condiment of various dried ingredients such as egg, seaweed, or sesame. You sprinkle it on top of cooked rice, vegetables, fish and such. It's also used as an onigiri ingredient.
Marumatsu from Hiroshima Prefecture displayed Halal products such as juice, fruit juice jelly and jam. For tasting, our staff sampled a drinkable jelly made from juice squeezed straight from fresh fruits. The Setouchi Citrus Mix Jelly is sweet with a hint of citrus tang, almost like eating real fruit. It's easy to drink, since it's a pouch type.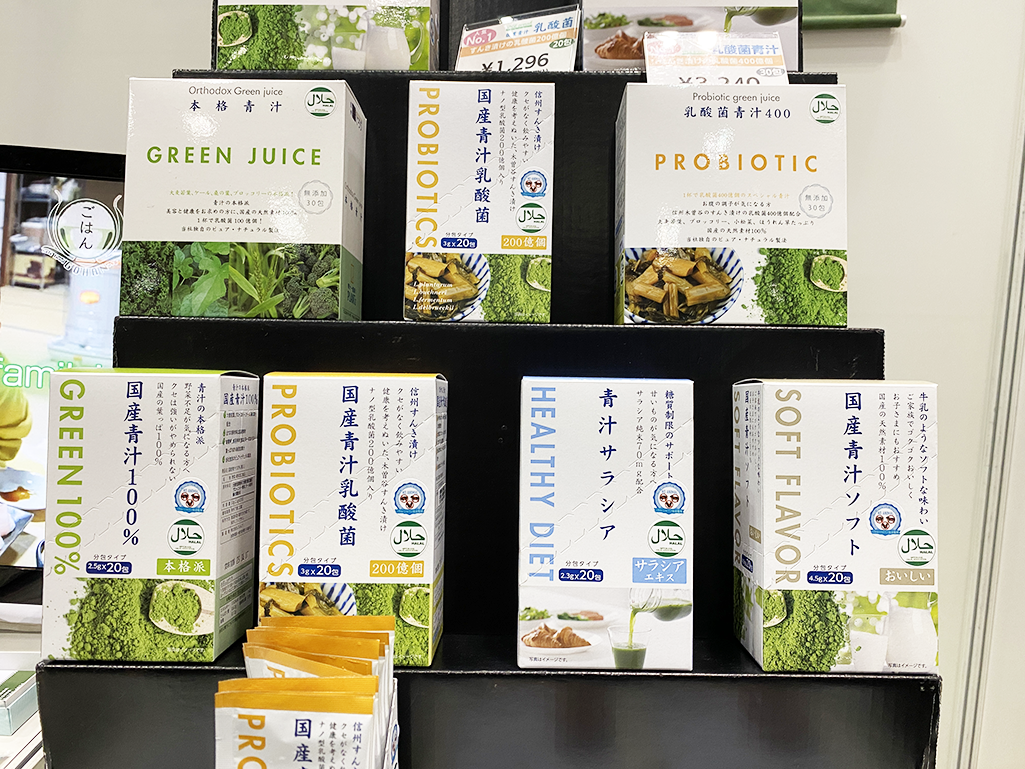 'Plantz Co., Ltd.' exhibited a domestic green juice certified Halal in March. It is additive-free and all ingredients are sourced locally in Japan. As the company name implies, they only deal in plant-based products. With the increased interest in probiotics, the domestic green juice with lactic acid bacteria was especially popular. The company said that its high-priced products were selling well.
Let's continue with the Malaysian booth at the centre of the exhibition hall. Exhibiting at this booth was TOKYO ORGANIC, an organic, Muslim-friendly skincare brand. The representative, Mrs Zunita, gave a seminar on Halal products at the venue as a speaker. She also showcased new products, such as Pure Vitamin C Powder.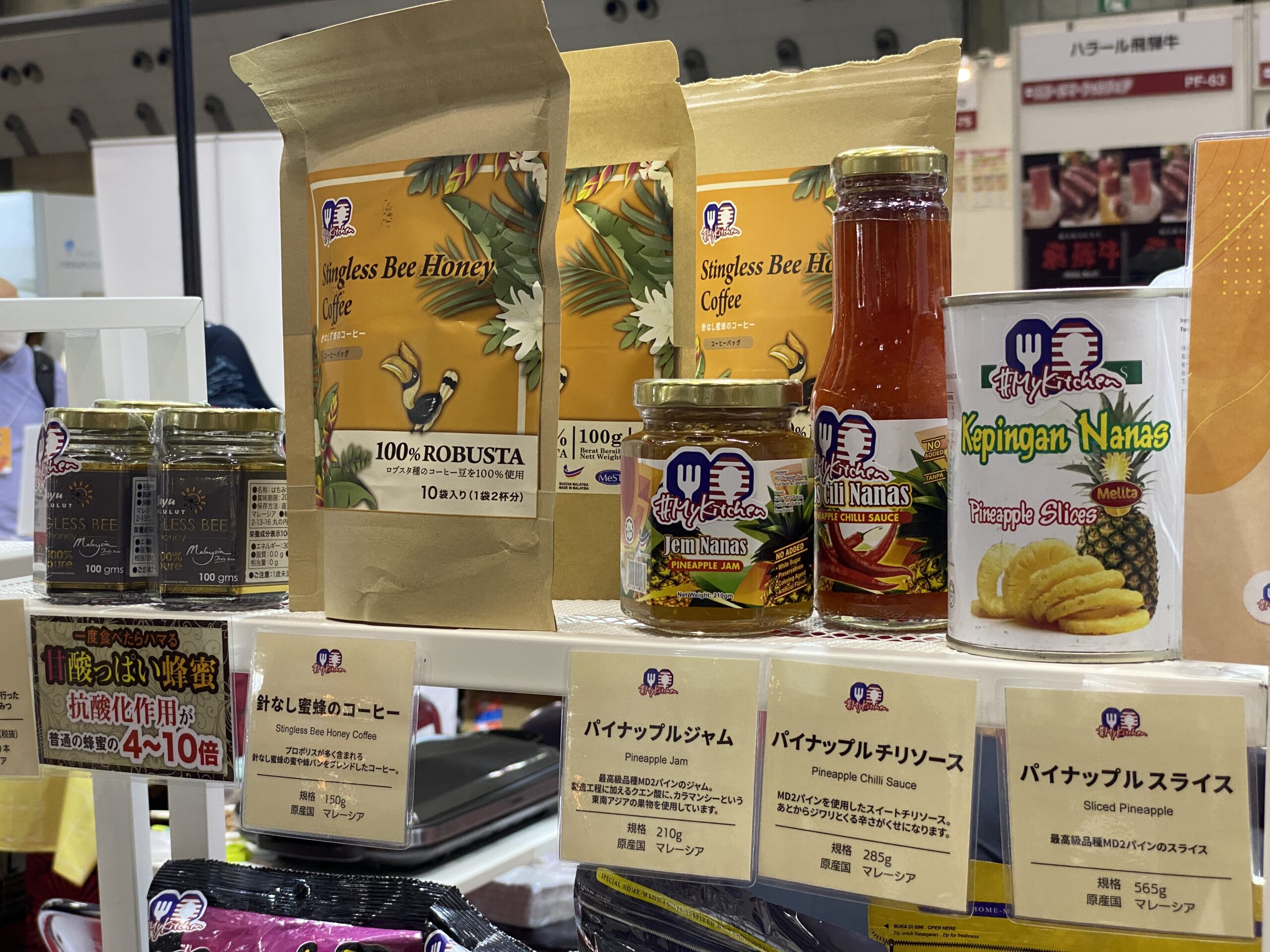 SD Impex Japan also participated in the Malaysian booth. Their stand brimmed with Malaysian spices, dried fruits, jams and other products. Our Chief Editor, Mr Okuma, tasted some of them.
The bottom left photo shows Mr Okuma (Salam Groovy Japan's chief editor) and Mr Amir (the company's representative). We are very grateful to Mr Amir for introducing us to the Malaysian Embassy and Malaysian companies attending the event.
Laying out their products in a refrigerated case was 7 HAM by Ramin Group Ltd. They were exhibiting Halal ham and sausages made in Japan. Japanese hams are usually lightly seasoned, but 7 HAM uses beef and chicken as the main ingredients, with added spices. Currently, their main focus is on wholesale to hotels and the like, but they are aiming to expand into retail outlets.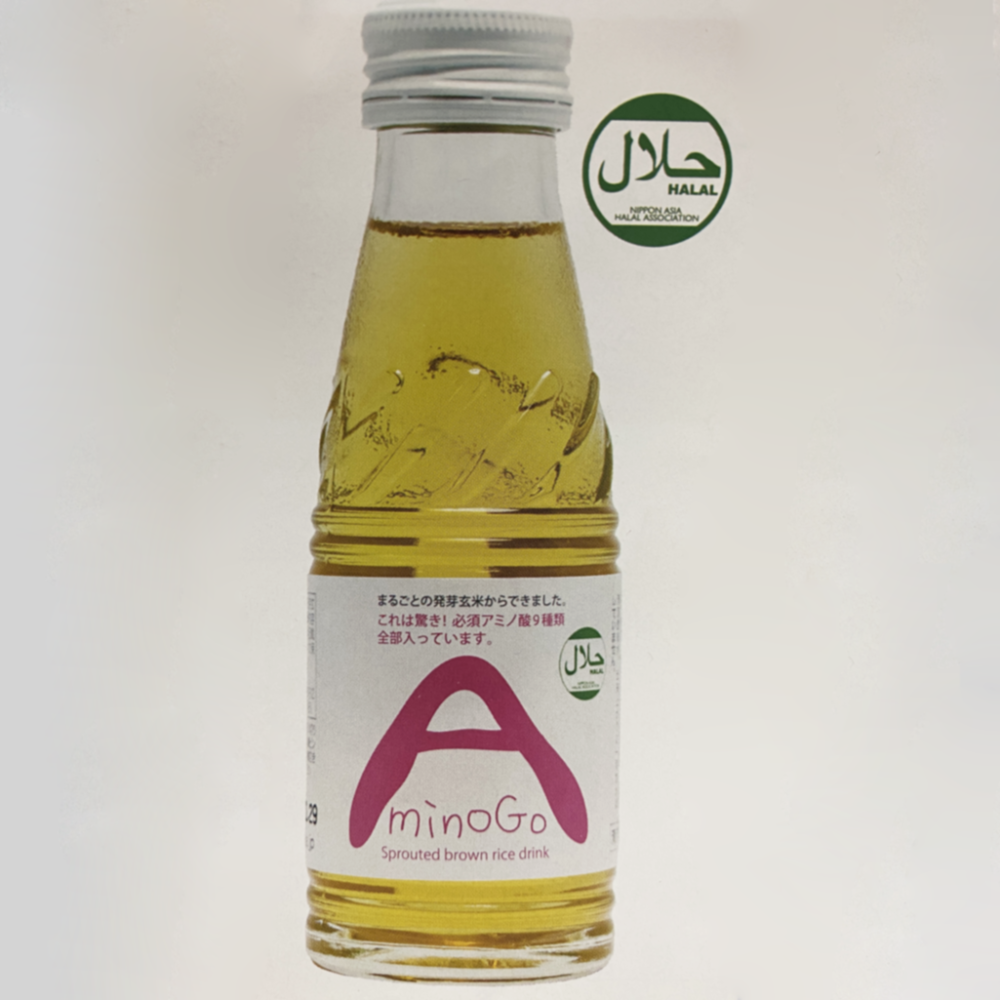 FABALA is involved in making and selling health foods and seasonings made from germinated brown rice.
The AminoGO HALAL exhibited is a soft drink made from germinated brown rice malt and water, with no sweetener and zero fat. It is an energising drink containing 9 essential amino acids. Ideal for nourishment during Ramadan!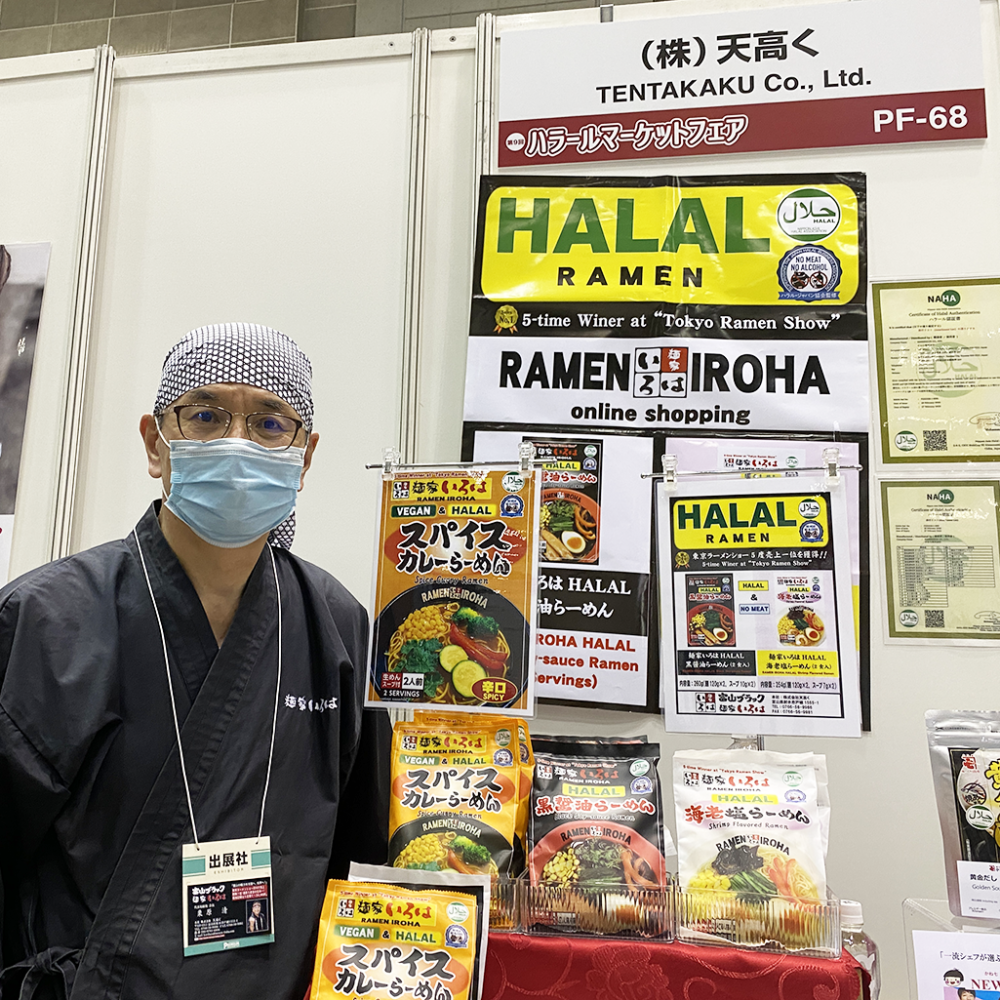 Next is the booth of TENTAKAKU from Toyama.
Introducing the new VEGAN & HALAL Spice Curry Ramen from Halal Ramen 'Ramen Iroha'! Its spiciness is sure to find its way to the hearts of Muslims.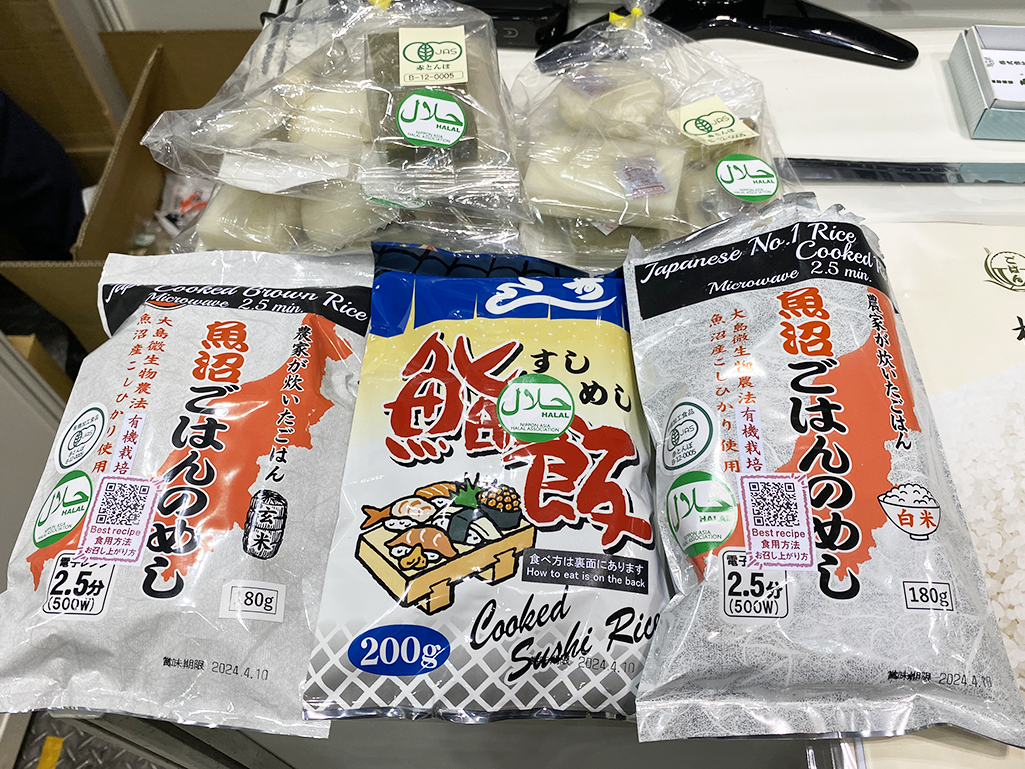 Next is Gohan Co., Ltd. showcasing their Halal-certified germinated brown rice 'Uonuma Gohan no Meshi' and 'Sushi Rice'. You can easily cook them in the microwave or boil them in hot water; they can be stored for a long time. This was our first time seeing a retort sushi rice. With this, you can easily eat delicious sushi overseas.
TOA FOOD INDUSTRIAL has been exhibiting at the Halal Market Fair since the first event. They have a diverse line-up of Halal noodles, including Somen, Udon, Soba and Ramen. The company has already expanded into Malaysia and Indonesia, the USA and India, where they are selling well.
That concludes our report on the Halal Market Fair. Thank you to all the companies we covered.
Salam Groovy Japan will keep on introducing you to wonderful Japanese products hereafter.
Related Article:
・Halal-certified famous Hokkaido sweets going overseas
・Halal Skincare: Tokyo Organic, A word with Zunita
---
We have a network of Japanese companies keen to expand into the Halal market in Malaysia & Indonesia.
If you are interested in connecting with sustainable technology companies in Japan, simply JOIN the network from below. We will match the right one for you!